KTN H2020 BRIEFING EVENT OCTOBER 2017
ABOUT - CONTACTS - FOUNDATION - HOME - A-Z INDEX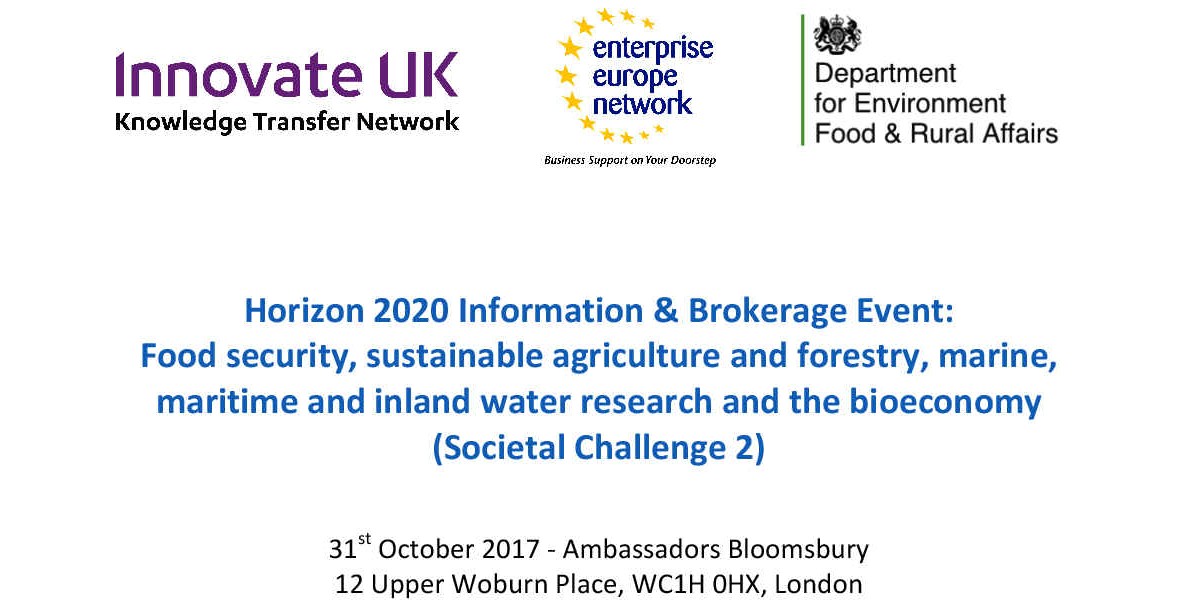 INNOVATE UK - The Knowledge Transfer Network and Enterprise Europe are working with the Department for Environment, Food & Rural Affairs to host this brokerage event.
What a superb brokerage event! Our BMWi3 became the crew vehicle to pick Richard up from Burgess Hill, and then Chris from Haywards Heath. Andrew was not well enough to make the event, suffering from a bout of man-flu, he elected not to infect his team mates or other delegates at the event.
We set out at about 6:30am, ending up at the railway station at Haywards Heath with enough time to spare thanks to the sporty electric Beamer that even managed to keep us warm on this chilly autumnal morning and still have enough range for the return journey. All hail the EVs of the future.
Victoria station was as lively as ever and the London Underground was crowded at this early hour, but we still managed to claw our way up and down escalators - and in and out of barriers - until we exited at Euston station, only a few minutes from the Ambassadors Bloomsbury Hotel and in good time to register and grab a much needed cup of coffee. That was after a hot chocolate with melted marshmallows on the platform at Haywards Heath.
Finding the venue was easy after exiting Euston station. The SeaVax musketeers: Chris, Richard and Nelson enjoyed the Horizon 2020 insights that the KTN team were providing. Then came the opportunity to network with all of the delegates, some of whom were keen to form consortiums and other more interested in joining. Taking the lead is of course a daunting and expensive administrative exercise that will leave you out of pocket if a bid fails - and that is unfortunately likely from the statistics. We noted that in relation to SC2 work packages, that the UK success rate was 14%, with only 2-3 projects funded per topic and that for Research & Innovation, a two stage application process, that only one project would be funded.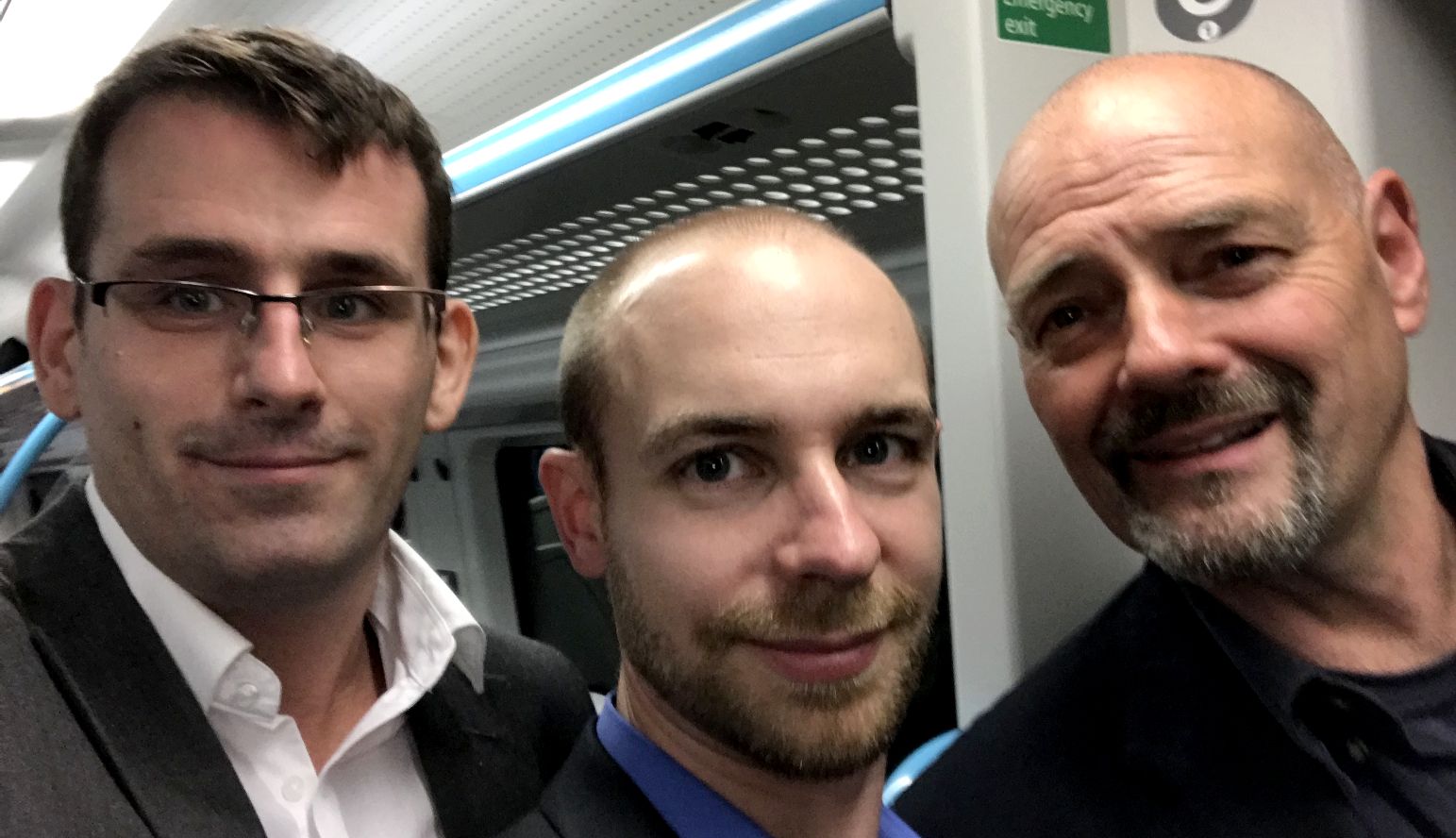 CHRIS, RICHARD & NELSON - The Three Musketeers returning home, riding the tube (London Underground) from Euston to Victoria, then from Victoria to Haywards Heath on the over-ground Gatwick Express. Getting in and out of London is expensive using the train, but it saves on parking charges and is reasonably reliable. Of course you will have to stand for most of the journey. We did, the entire way, in and out.
It appeared to us that SeaVax is at Technology Readiness Level (TRL) 3-5 where research is required before moving on to develop a SeaVax prototype at full scale. It seems that we come under Sustainability Development Goal SDG2 where this is to ensure Zero Hunger.
Of the SME Instrument, the funding rate would be 70% for SeaVax, but 100% if a health related project. Unfortunately, SeaVax is not health related project it is a food security concept and being a project adopted by the Cleaner Ocean Foundation, would not in any event be eligible under the Small to Medium Enterprise scheme. The same funding level applies to calls funded by the European Maritime and Fisheries Fund (EMFF), where one of our delegated is booked in the Brussels to find out more about their agenda and how they propose providing healthy fish for European consumption into the 2050s.
From what we have heard so far we are not inclined to risk £10-20,000 pounds or more putting together a bid at 7:1 odds against, where such monies would be better spent looking for funding from responsible corporations or other charities with similar objectives. Horizon 2020 money appears to be more for academics who already have reserves sufficient to write proposals and play the odds.
The good news is that we met a number of businesses and academics that we felt we could collaborate with in the future once funding for SeaVax is secured. We have included some of the delegates we met below with information as to how to contact them for your Horizon project if we should drop out of this particular research project, or hand over our research to another charity with similar objectives.
We need to raise around €10,000,000 million euros (£8,875,477 GBP) to give us a reasonable prospect of success, allowing for inflation and to include an adequate contingency. This is a not-for-profit estimate, where interest is not payable on any grant monies and the charity is reliant on non-commercial licenses and other intellectual property rights secured at low cost. If this was written up as a commercial proposal for venture capitalists rather than as a societal challenge, you would have to multiply our present estimate by a factor of at least five-ten.
If you want to incentivise an enthusiastic work force, you must provide the wherewithal for them to do your bidding. It is not acceptable in our view to provide something in between that is guaranteed to cause those willing to work for less, to fail and suffer potential hardship as a result, being negative encouragement. Motivation is the key to getting things done and money is simply the lubrication for the works.
We believe that with land farming on an industrial scale causing all manner of harm to marine life, that such activities should be notched down a peg or two, in favour of blue growth.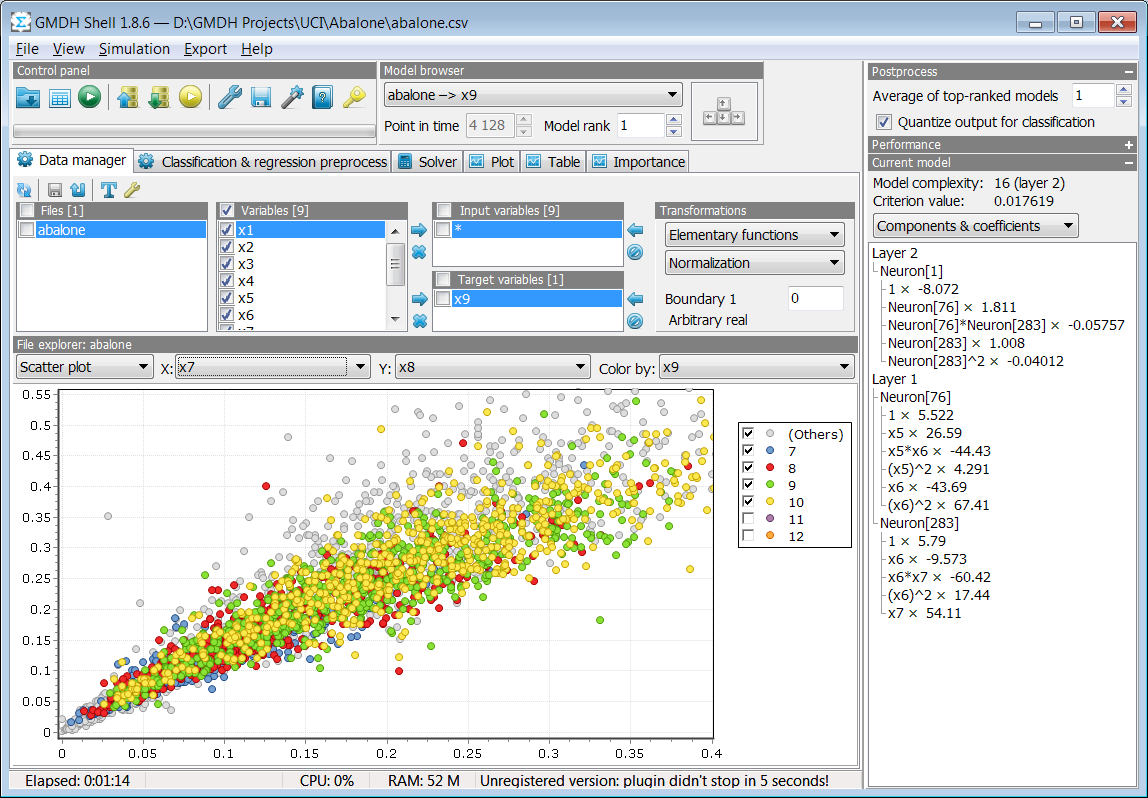 DATA ANALYSIS - Predictive analysis aims to build a foretelling model based on historical data, in other words, to forecast the future contamination of fish from marine plastic if we do nothing to prevent it, based on the present rate of increase. The term "predictive analysis" merges multiple disciplines and techniques, namely time series analysis, model building, forecasting, data mining and others. Such a tool would come into its own when feeding in SeaVax units into the equation in increasing quantities, until the ideal ratio of cleaning machines to ocean areas might be established with some degree of accuracy.
TESTING THE WATER
One way to test the water, so to speak, might be to seek to define a program or application that simulates ocean cleaning using mobile regenerating machines.
The package we had in mind was to create a predictive tool to estimate fish decline with SeaVax deployed variably around the world and the same scenario without SeaVax. We know that fish decline is approximately 0.7% a year and that plastic is predicted to increase so that by 2050 plastic will equal fish in the sea by volume.

In any application to try and predict how effective SeaVax might be we'd need to be able to increase the ratio of SeaVax to ocean areas as one of the variables (Atlantic, Indian, Mediterranean and Pacific) to show what might be possible based on 1% of what is theoretically possible - also a variable.

The problem is that a lot of fish decline is due to climate change and overfishing. Hence, these factors might also be included as variables.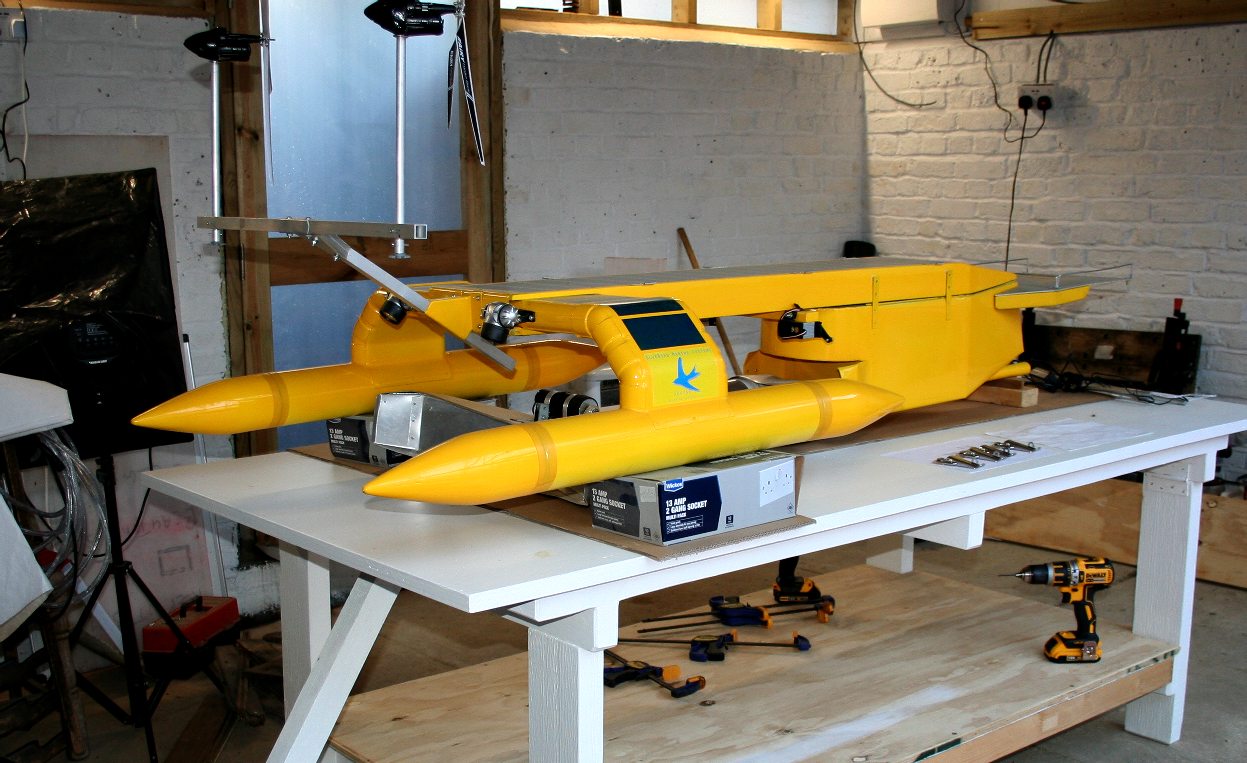 SEAVAX - Proof of concept model at 1/20th scale in the new robot laboratory, waiting for more outings in a test tank where experiments will continue into 2018 to define the best methods and most suitable machinery for filtering plastic waste from seawater. The results from this series of tests could be fed into a predictive application to further refine the concept to help development of the prototype vessel at quarter scale or even full size.
CLEANER OCEAN FOUNDATION LTD (COF) ATTENDANCE
We attended this event with Andrew Statham not making it due to a a viral infection. Attending was our independent consultant environmental engineer as technical support; Nelson Kay. Chris Close was at the event (SeaVax project director) and Richard Whelan (logistics) from Bluebird Marine Systems. These three delegates were available to answer questions on SeaVax and how machines like this could help the world achieve sustainable blue growth and food security.
COF is looking for partners within the UK and Europe for a possible H2020 application should a call materialize that significantly reduces the odds to a level that the risk of applying is worth the gamble. Partners could be in any of the following areas in connection with marine sustainability, ocean regeneration and related products or technology:
Batteries
Biology: marine, biotech
Boat building
Bow thrusters: hydraulic
Caterpillar tracked carriages for launch & recovery operations
Cranes: rough terrain
Computing: Mathematic modeling
Drones: UAVs
Electronics: power handling
Engineering: Pumps & filtration
Filtration: cyclonic, mesh and oil
Hydraulics: pumps, valves and cylinders
Instrumentation: navigation, ocean sampling
Jet drives: water drives and pumping
Media & Dissemination
Motors: diesel and electric, controllers
Pumps: plastic slurry handling
Robotics: programming
Satellites: plastic identification, fleet tracking
Solar Panels: marine, tracking
Sonar: detection and analysis
Waste: recycling, plastic treatment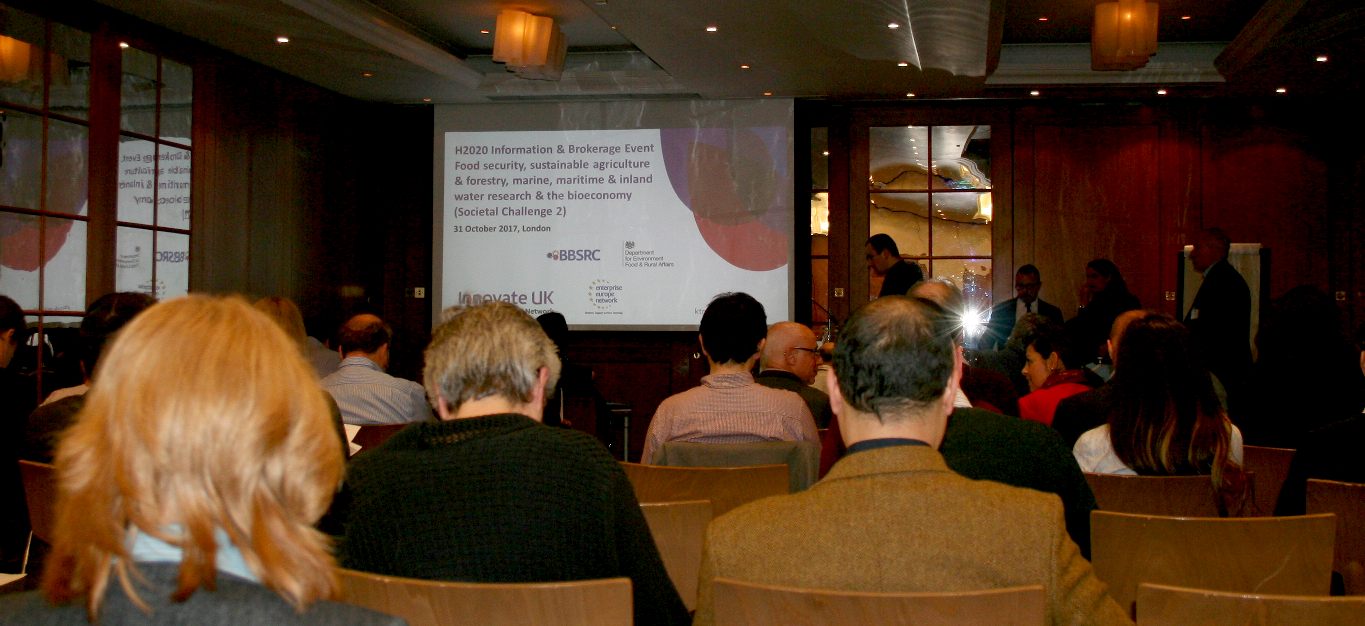 INTRODUCTION - Mike Collins (DEFRA) and Tim Willis (BBSRC) kicked off by welcoming us to the subject of the work program, Food Security. The Department for Environment, Food and Rural Affairs (Defra) is the government department responsible for environmental protection, food production and standards, agriculture, fisheries and rural communities in the United Kingdom of Great Britain and Northern Ireland. Concordats set out agreed frameworks for co operation, between it and the Scottish Government, Welsh Government and Northern Ireland Executive, which have devolved responsibilities for these matters in their respective nations.

Defra also leads for Britain at the EU on agricultural, fisheries and environment matters and in other international negotiations on sustainable development and climate change, although a new Department of Energy and Climate Change was created on 3 October 2008 to take over the last responsibility.
The Biotechnology and Biological Sciences Research Council is a UK Research Council and NDPB and is the largest UK public funder of non-medical bioscience. It predominantly funds scientific research institutes and university research departments in the UK.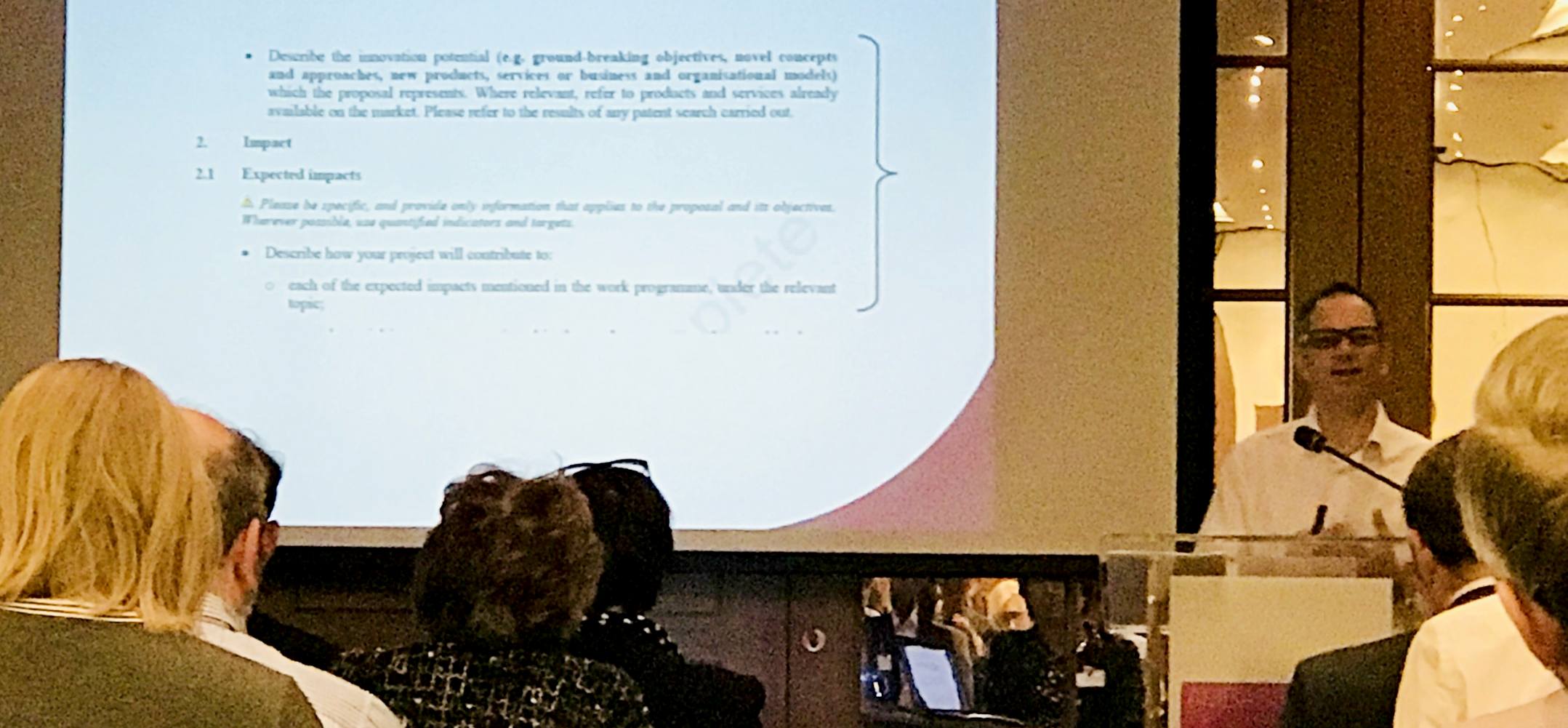 HOT TIPS - Ian Holmes from Innovate UK is seen here giving the audience some guidance on how to write a proposal to score anywhere near the magic 15 points to ensure a favorable assessment. We found that a lot of explanations as to where to concentrate your efforts would not have occurred to us. Ian seemed to be up to speed on calls that were in the pipeline for 2019 as well as current calls for 2018.
COLLABORATIVE SUPPORT - Bryan Hanley helped to fill in the gaps in our knowledge of how the Knowledge Transfer Network could help those interested in forming or joining a consortium, find match partners.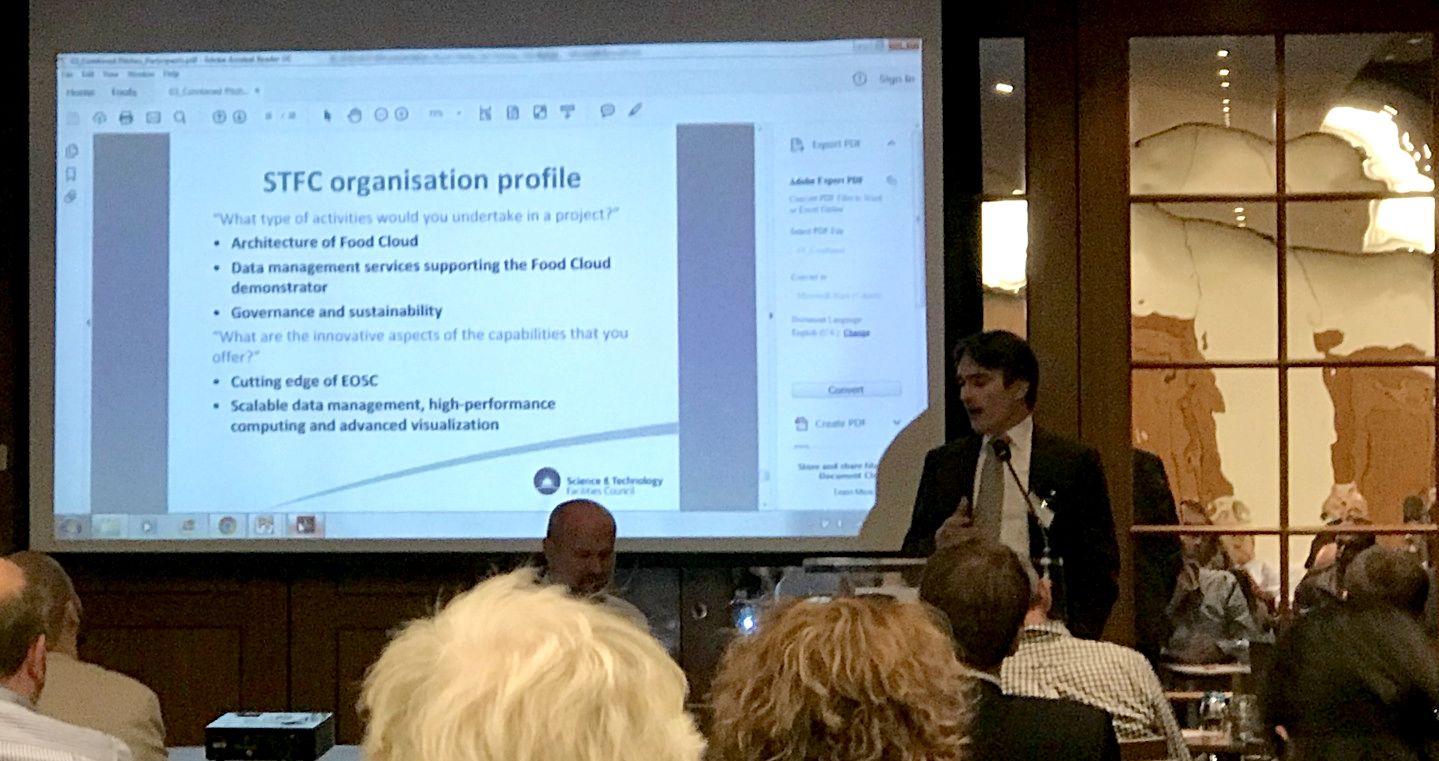 FOOD CLOUD - We'd been told how important it is to give a project a name that gave the assessors a clue as to what the subject matter was, when the "Food Cloud" came up during the pitch sessions in the afternoon. At first we thought that food was floating around in the sky, but soon tumbled that it was to do with data management about food and not actual sustenance in some kind of huge gravity defying food mountain.
The Science and Technology Facilities Council is one of Europe's largest multidisciplinary research organisations supporting scientists and engineers worldwide. Through research fellowships and grants, it is responsible for funding research in UK universities, in the fields of astronomy, particle physics, nuclear physics and space science. STFC operates its own world-class, large-scale research facilities (such as materials research, laser and space science and alternative energy exploration) and provides strategic advice to the UK government on their development. It manages international research projects in support of a broad cross-section of the UK research community and directs, coordinates and funds research, education and training. It is a partner in the UK Space Agency (formerly British National Space Centre or BNSC) providing about 40% of the UK government's expenditure in space science and technology.
PRE EVENT AGENDA
Registration starts at 9:00am with a prompt event start at 9:30am. The formal programme will finish at 3:15pm, however if you have 1-to-1 meetings booked these will continue until 4:15pm. See the details below on what to expect during the Consortia Building & Proposal Writing session in the afternoon (note there will be plenty of networking time with all delegates during breaks).

SESSION STRUCTURE

Following the morning presentations, delegates will split into two parallel sessions. In the Consortia Building & Proposal Writing session we have done a lot of work in preparation to make sure you can gain the most benefit, so it is over to you to get busy: first by taking part in the tour de table and then by participating in group discussions dedicated to particular areas of your interest.
TOUR DE TABLE - Your introduction to other session attendees
Please be prepared to introduce yourself briefly but in no more than 1 minute to everyone in the room. We have approximately half an hour to get through 40+ delegates so we will be strict!
In your introduction please include your name, organisation and a brief description of your expertise most relevant to the day.
WORKING GROUPS

On arrival to the session you will find tables marked with interest areas, we will ask you to select a table. You may change tables during the session, however we recommend you start off in one group and do not change tables frequently to get the most out of the discussions. Each group will be provided with working templates which mimic proposal preparation to aid the discussions. Take the opportunity to discuss project ideas, then decide in the group which to work on using the templates. The templates are there to help you think and define your project with regard to the specific call scope and expected impacts and to evaluate the consortium composition needed to deliver the required expertise to address the call topic. At the end of the session each group will be asked to present the results of their work to the room for feedback in a short 1 Minute Elevator Pitch.

1-TO-1 MEETINGS

If you have booked 1-to-1 meetings through Meeting Mojo you will be provided with your meeting schedule on the day. Please make sure you attend your meetings and keep them to the allocated 10 minutes to avoid affecting someone else's schedule.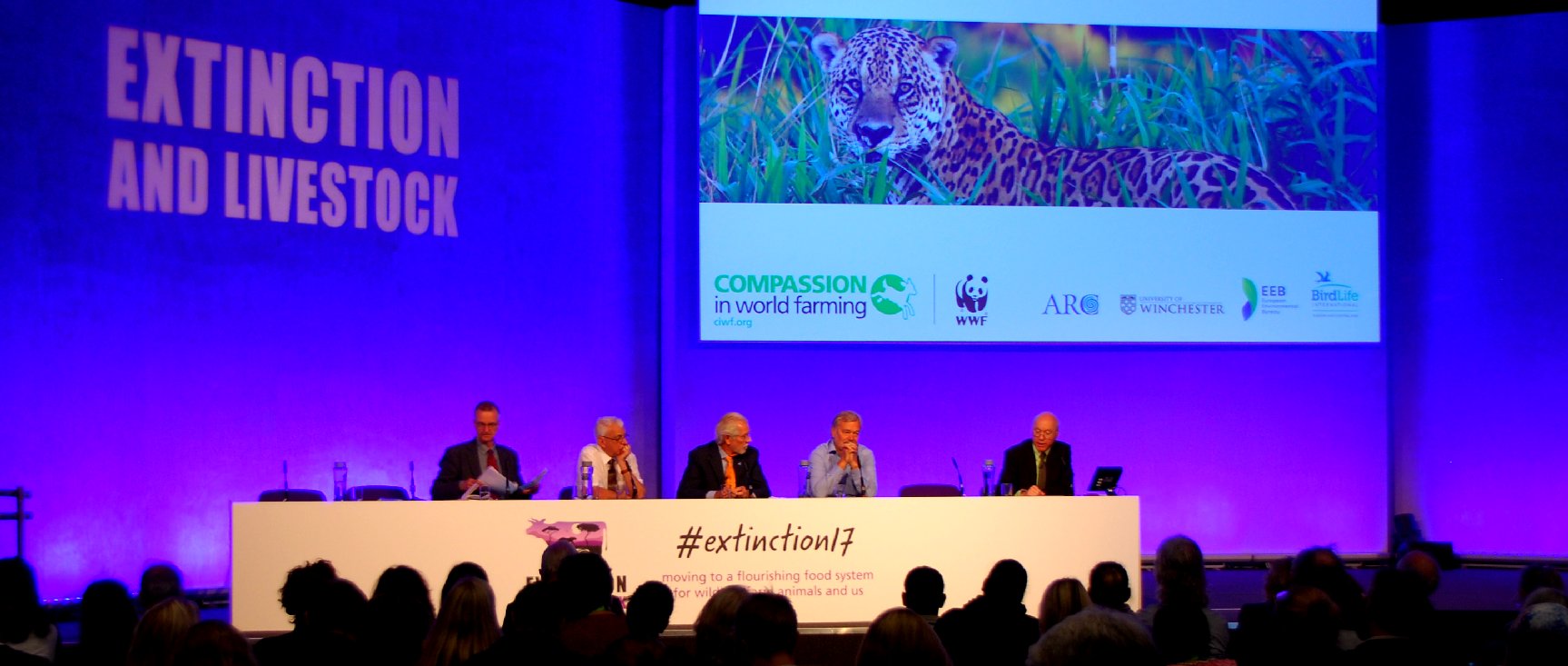 COMPASSION IN WORLD FARMING: The Extinction & Livestock Conference, organised by CiWF in partnership with World Wildlife Fund (WWF), was the world's first ever conference to explore the impact of livestock production on animals, people and the planet. It attracted more than 500 people from 30 different countries who heard from many world leading experts on the environment, conservation, food policy, animal welfare and human health.

The event, which took place at the QEII Centre in London in October 2017, achieved widespread national and international media coverage including reports on BBC R4's Today Programme, BBC R4's Farming Today, BBC World Service, and in-depth articles in The Times, The Guardian, and The Independent and on BBC News Online. It also attracted media coverage in 26 countries around the world and the conference-dedicated Twitter account, managed by Minerva, trended in the UK during the event.

The key message to come out of the conference was that in order to safeguard the future of life on Earth we must all eat less and better meat (such as free-range, organic or pasture-fed) as well as more plants. Actress Joanna Lumley attended a food innovation event at the conference, which show-cased plant-based foods, and became one of the first people in the UK to taste the new Beyond Burger – currently only available in the US.
WHAT DELEGATES CAN EXPECT FROM THE EVENT ORGANISERS:

- pointers and tips on achieving success in Horizon 2020
- valuable insights on topics around the Societal Challenge 2 to be funded by the EU in 2018
- an overview of the support available locally and nationally to develop applications
- brokerage sessions throughout the day
- consortium building and proposal development on specific calls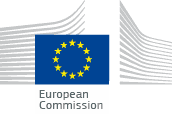 EU HORIZON 2020 - FOOD SECURITY, SUSTAINABLE AGRICULTURE and FORESTRY, MARINE, MARITIME and INLAND WATER RESEARCH and the BIOECONOMY
A transition is needed towards an optimal and renewable use of biological resources and towards sustainable primary production and processing systems. These systems will need to produce more food, fibre and other bio-based products with minimised inputs, environmental impact and greenhouse gas emissions, and with enhanced ecosystem services, zero waste and adequate societal value.

Agriculture, forestry, fisheries and aquaculture, together with the bio-based industries, are integral parts of the European economy and society. Relying on the use of limited natural resources, these sectors produce and process biological resources to satisfy the demand of consumers and a wide range of industries for food, feed, bio-energy and bio-based products. While they enhance Europe's self-reliance and provide jobs and business opportunities essential for rural, coastal and marine areas, these sectors are also facing significant challenges which require solutions based on research and innovation.

Agriculture and forestry

Agriculture and forestry have always had and maintain an important role for EU's society: they supply reliable, healthy and nutritious food as well as feed and non-food products for a wide range of industries, shape and take care of our landscapes, provide public goods, and keep the countryside alive by providing jobs. Research activities and policies will help to cope with the three main challenges these sectors are facing today: securing viable food production in face of a growing world food demand; ensuring sustainable management of natural resources and climate action; and finally to contribute to a balanced territorial development of the EU's rural areas and their communities.

Agri-food sector for a safe and healthy diet

Ensuring food security goes beyond securing a sufficient supply. It also requires social and economic access to safe and nutritious food. Food consumption has an impact on human health and the environment. The challenge is how to meet consumers' needs and preferences while minimising the related impact on health and the environment. Research and innovation will address food and feed security and safety, the competitiveness of the European agri-food industry and the sustainability of food production, processing and consumption. It will cover the whole food chain and related services from primary production to consumption.
Aquatic living resources and marine research

Oceans and seas represent over 70% of the earth's surface, and living aquatic resources can provide a significant contribution to food, energy and bio-based products. The objective is to sustainably manage and exploit aquatic living resources to maximise benefits from Europe's oceans, seas and inland waters. This includes optimising the sustainable contribution of fisheries and aquaculture to food security, boosting innovation through blue biotechnologies and fostering cross-cutting marine and maritime research to harness the potential of Europe's oceans, seas and coasts for jobs and growth.

Bio-based industries

The transition from fossil-based European industries towards low carbon, resource efficient and sustainable ones is a major challenge. It entails the transformation of conventional industrial processes and products into environmentally friendly bio-based ones, the development of integrated bio-refineries and the opening of new markets for bio-based products. Research and innovation will provide the means to reduce the Union's dependency on fossil resources and contribute to meeting its energy and climate change policy targets for 2020.

Investments in research and innovation under this societal challenge will support Europe in contributing to food security, climate protection and sustainability. It will also enable Europe to take leadership in the concerned markets and will play a role in supporting the goals of the Common Agricultural Policy, the European Bioeconomy Strategy, and more broadly of the Europe 2020 strategy and its flagship initiatives 'Innovation Union' and 'Resource-efficient Europe'.

BACKGROUND INFORMATION
See the background to the development of the Horizon 2020 work programme at:
https://ec.europa.eu/programmes/horizon2020/en/what-work-programme#Article and
https://ec.europa.eu/programmes/horizon2020/en/food-security-sustainable-agriculture-marine-maritime-research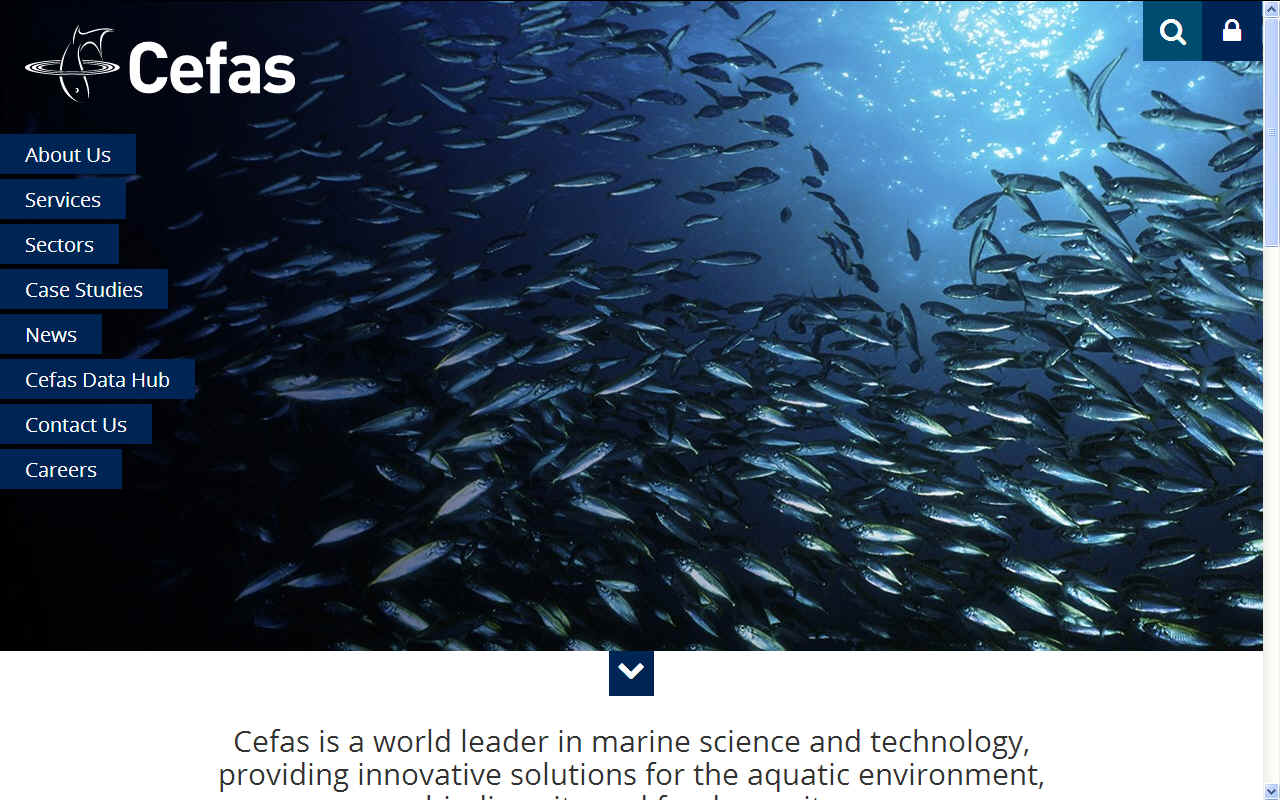 CEFAS - The Centre for Environment, Fisheries and Aquaculture Science (Cefas) is a world leader in marine science and technology, providing innovative solutions for the aquatic environment, biodiversity and food security. They are the UK's most diverse centre for applied marine and freshwater science and research, covering a breadth of specialist areas to provide a fully integrated, multi-disciplinary approach to their customers' needs. Customers include the UK government and UK Overseas Territories, international governments, public and private sector organisations, educational and research institutions, as well as non-governmental organisations. Cefas employs approximately 530 staff based at two specialist laboratories within the UK. They also operate an ocean-going research vessel Cefas Endeavour. They work with industries across a range of sectors including: Aquaculture - Fisheries - International government capability development - Marine and coastal infrastructure - Nuclear energy - Offshore renewable energy - Oil and gas
CONTACT - Pakefield Road, Lowestoft, Suffolk NR33 0HT
Tel: +44 (0) 1502 562244

The Nothe, Barrack Road, Weymouth, Dorset DT4 8UB
Tel: +44 (0) 1305 206600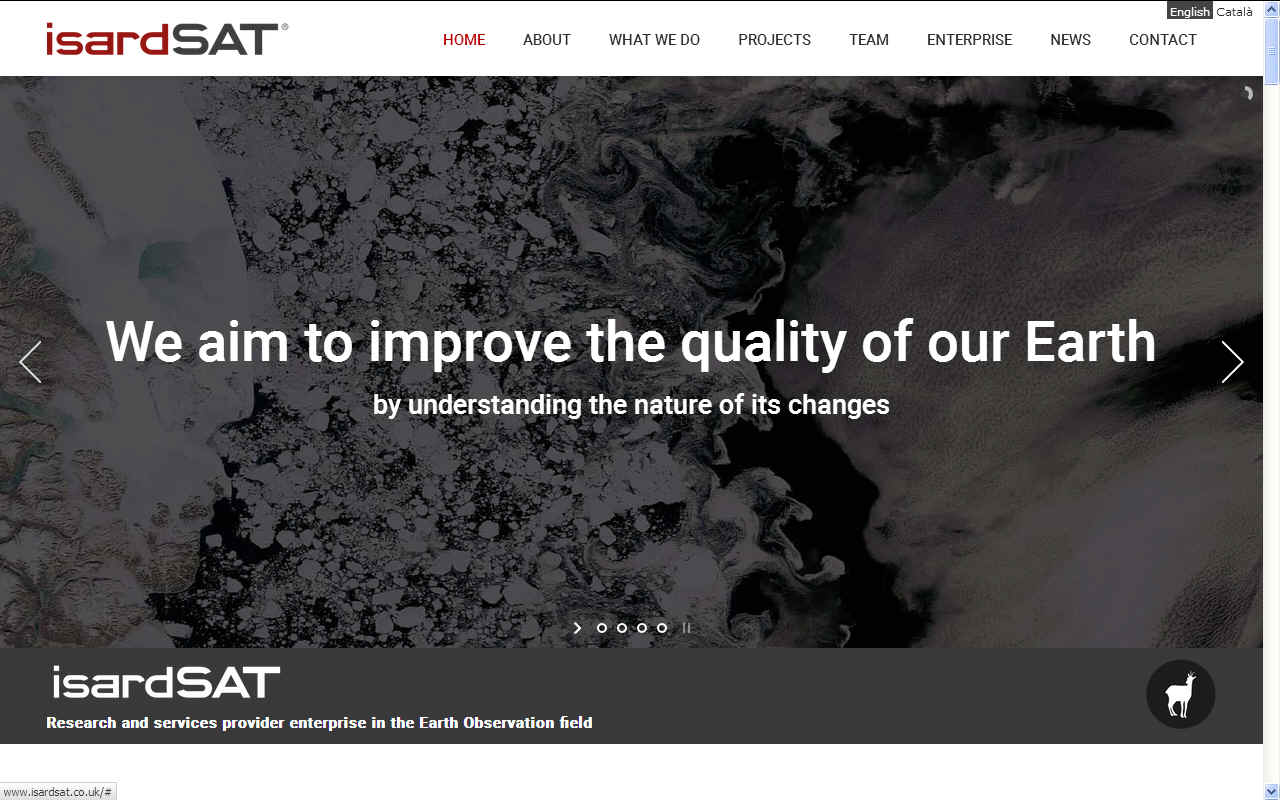 isardSAT - isardSAT was founded in 2006 in Barcelona with the mission to improve the knowledge of our planet Earth through Remote Sensing. isardSAT develops engineering and scientific projects with the objective of becoming the leading company in active and passive microwave remote sensing and preferred partner in the Earth Observation research field. isardSAT is involved in the design, calibration and maintenance of civil remote sensing instruments, it means, from the development of algorithms for data processing to calibration and maintenance after the launch. Finally, isardSAT performs studies for scientific applications with the data acquired by these instruments and develops customised services using EO data.

CONTACT - Carrer Marie Curie, 8-14, A213. 08042. Barcelona
Email: info@isardSAT.cat Tel: + 34 93 350 55 08

Surrey Space Incubator, 40 Occam Road, Surrey Research Park, Guildford, GU2 7YG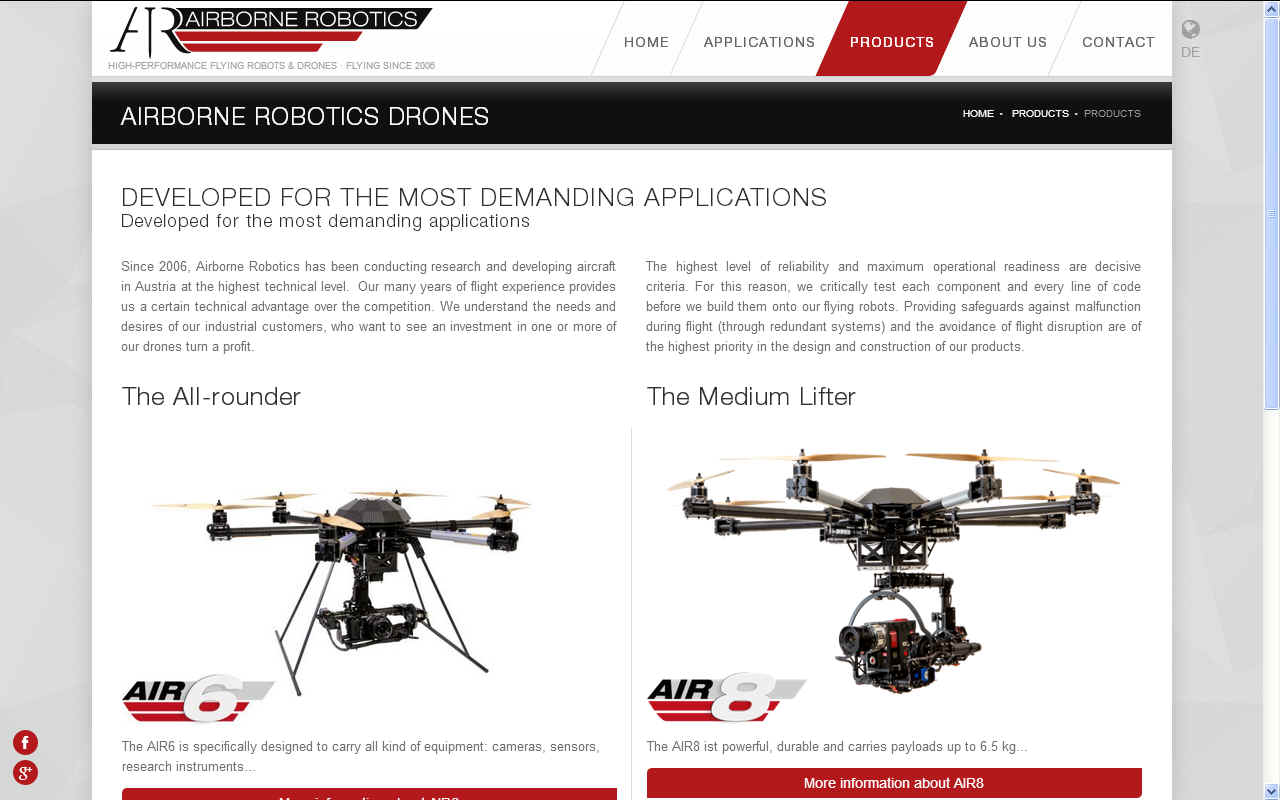 AIRBORNE ROBOTICS - Since 2006, Airborne Robotics has been conducting research and developing aircraft in Austria at the highest technical level. Target customers are surveyors (for LiDAR / LaserScan applications) as well as agriculture & forestry companies, professional film producers, photographers with heavy SLR systems, industrial customers and universities / research institutes who need to transport various measuring instruments or high-resolution thermal imaging cameras.

The AIR8 flight system is an eight-motor drone - with 4 or 8 arms - that can be specially tailored to customers' requirements. The recommended additional cargo weight (camera or instrument weight) is 6.5 kg (14.33 lbs). The flight time is quoted as 60 minutes with a battery swap in 30 seconds.
CONTACT - AIRBORNE ROBOTICS GmbH, Pharmaziegasse 5, 9020 Klagenfurt am Wörthersee, Austria. Tel: +43 463 273155 Email: info@airborne-robotics.com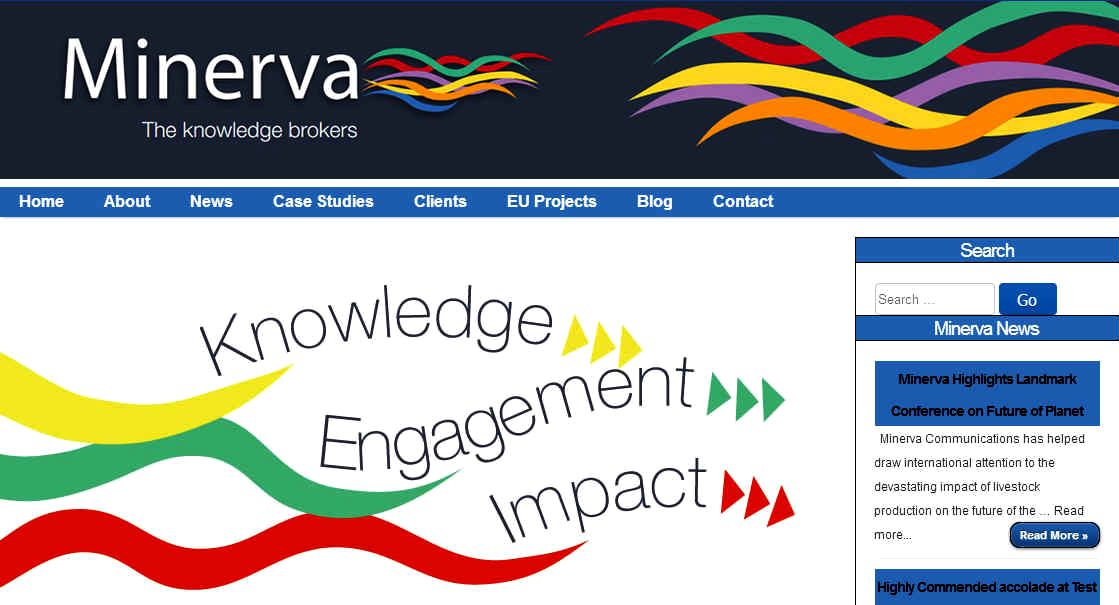 MINERVA - Minerva UK supports organisations across health, care and science research to build capacity, competence and confidence, delivering strategies that work. They work with charities, not-for-profits and European research projects, the goal being to improve knowledge flow, create insights, share expertise and so create impact to advance the social good. They see themselves as knowledge brokers, a definition of which is: An organisation or person skilled in the planning, development and delivery of knowledge exchange between researchers, practitioners, policy-makers and the public, by providing linkages, knowledge sources, and knowledge itself.
CONTACT - Rhonda Smith (director), Minerva Communications Ltd., 16 Basepoint Innovation Centre, Caxton Close, Andover, Hampshire, SP10 3FG, United Kingdom

Tel: +44(0)1264 326427
Fax: +44(0)1264 326327
Email: info@minervacomms.net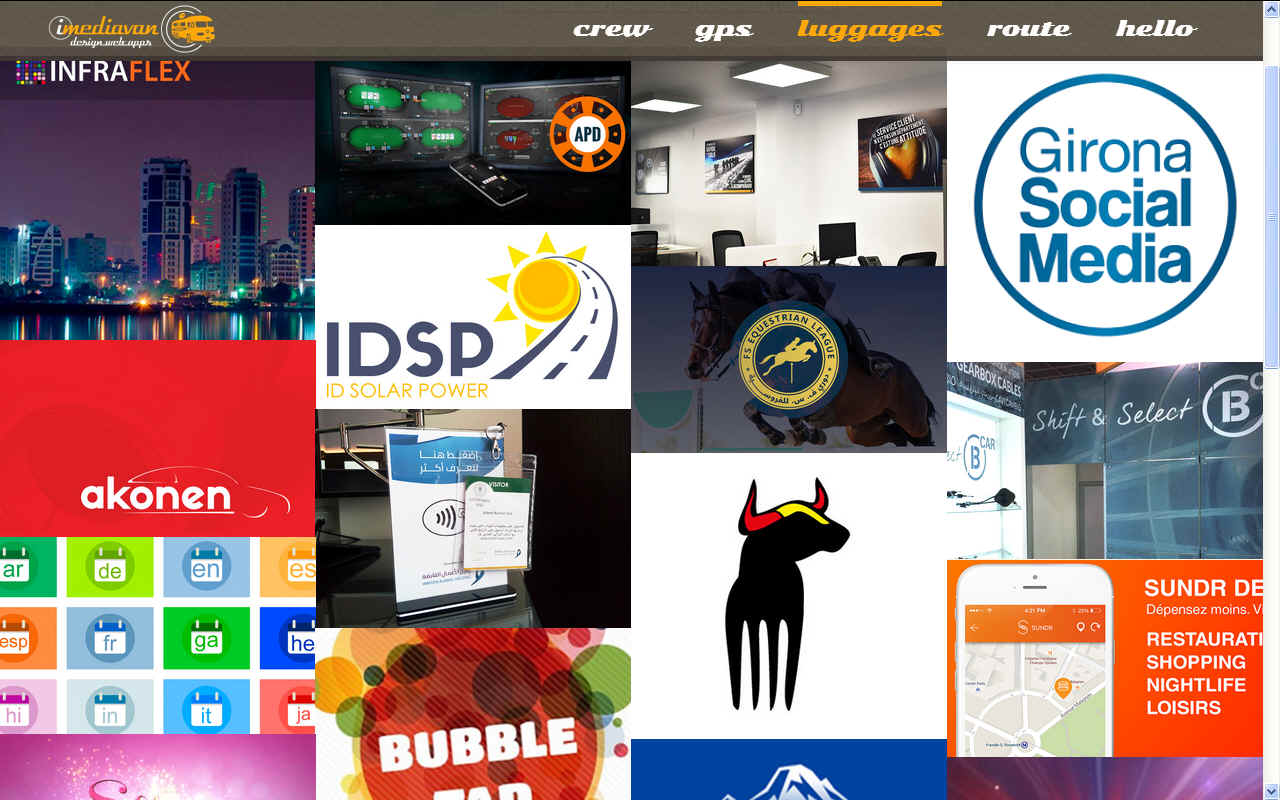 IMEDIAVAN - Storyboards, scripts and animation in 2D or 3D. AI and Machine Learning is being applied on almost all the fields. They recently discovered a practical application for an "intelligence system" to help the fast-food industry, such as Pasadena-based Miso Robotics who is rolling out kitchen assistant robots (Flippy) to make fast-food kitchens more efficient.
CONTACT - Angus Gardens, NW9 5LG London, UK. Tel: +44 (0) 20 3287 0342 Email: info@imediavan.com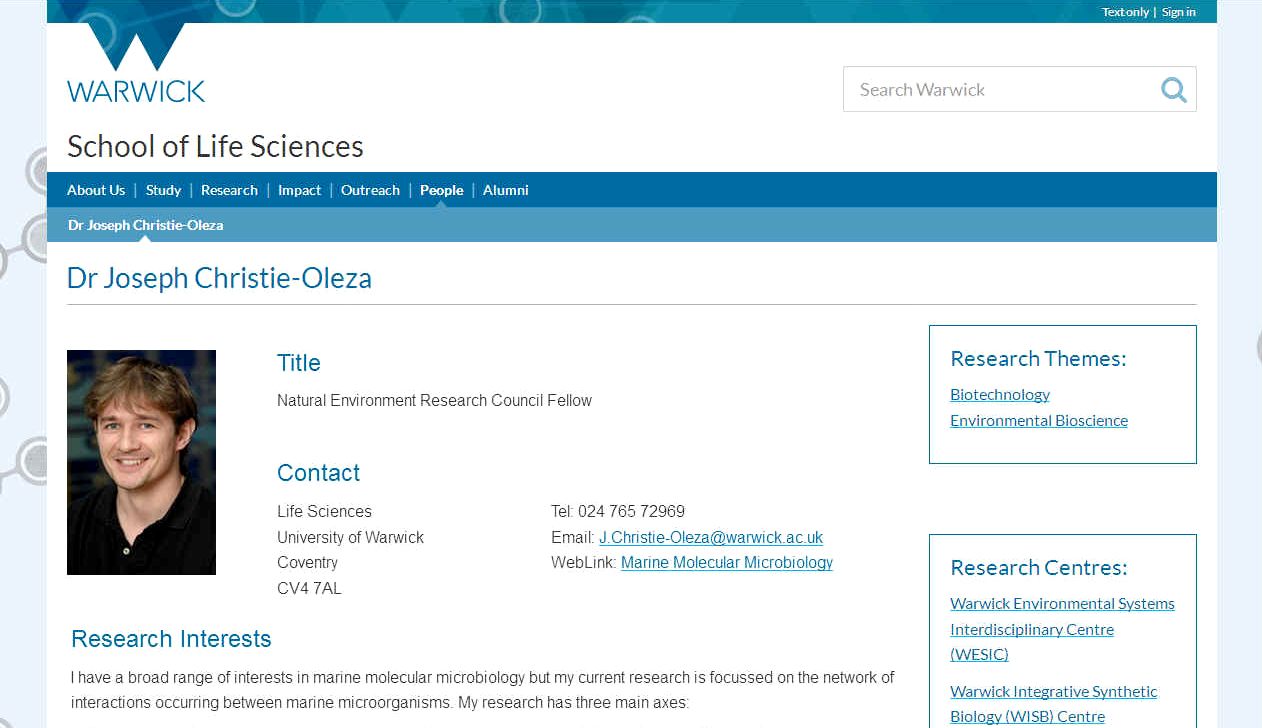 WARWICK UNIVERSITY - The University of Warwick is a plate glass research university in Coventry, England. It was founded in 1965 as part of a government initiative to expand access to higher education.

Warwick is primarily based on a 290 hectare campus on the outskirts of Coventry with a satellite campus in Wellesbourne and a London base at the Shard in central London. It is organised into four faculties - Arts, Medicine, Science and Social Sciences - within which there are 32 departments. Warwick has around 25,600 full-time students and 2,400 academic and research staff and had a consolidated income of £573.6 million in 2015/16, of which £117.1 million was from research grants and contracts

School of Life Sciences
University of Warwick
Coventry, CV4 7AL, UK
Tel: 024 765 72969
Tel: +44 (0)24 7657 4251
Email: J.Christie-Oleza@warwick.ac.uk

School of Life Sciences
Wellesbourne Campus
University of Warwick
Wellesbourne
Warwick, CV35 9EF, UK
Tel: +44 (0)24 7657 5270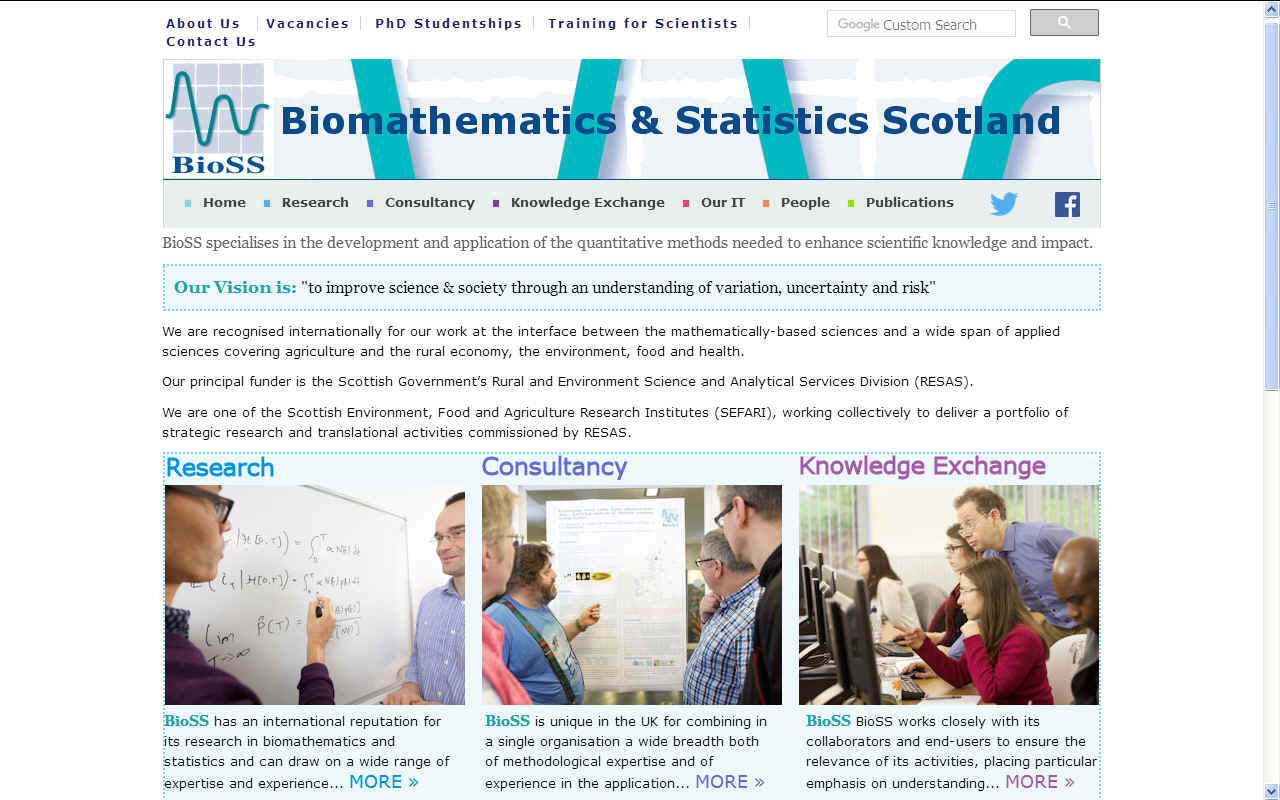 BIOMATHEMATICS SCOTLAND - BioSS are recognised internationally for their work at the interface between the mathematically-based sciences and applied sciences covering agriculture and the rural economy, the environment, food and health. They comprise of a group of statisticians, mathematicians and computing experts located at biological research centres in Edinburgh, Dundee, Aberdeen and Ayr.

Their principal funder is the Scottish Government's Rural and Environment Science and Analytical Services Division (RESAS). BioSS are one of the Scottish Environment, Food and Agriculture Research Institutes (SEFARI), working collectively to deliver a portfolio of strategic research and translational activities commissioned by RESAS.

Biomathematics and Statistics Scotland
JCMB, The King's Buildings,
Peter Guthrie Tait Road,
EDINBURGH, EH9 3FD,
Scotland, UK.

Tel: +44 (0)131 650 4900
Tel: +44 (0)131 650 7365
Email: elwood.vogt@bioss.ac.uk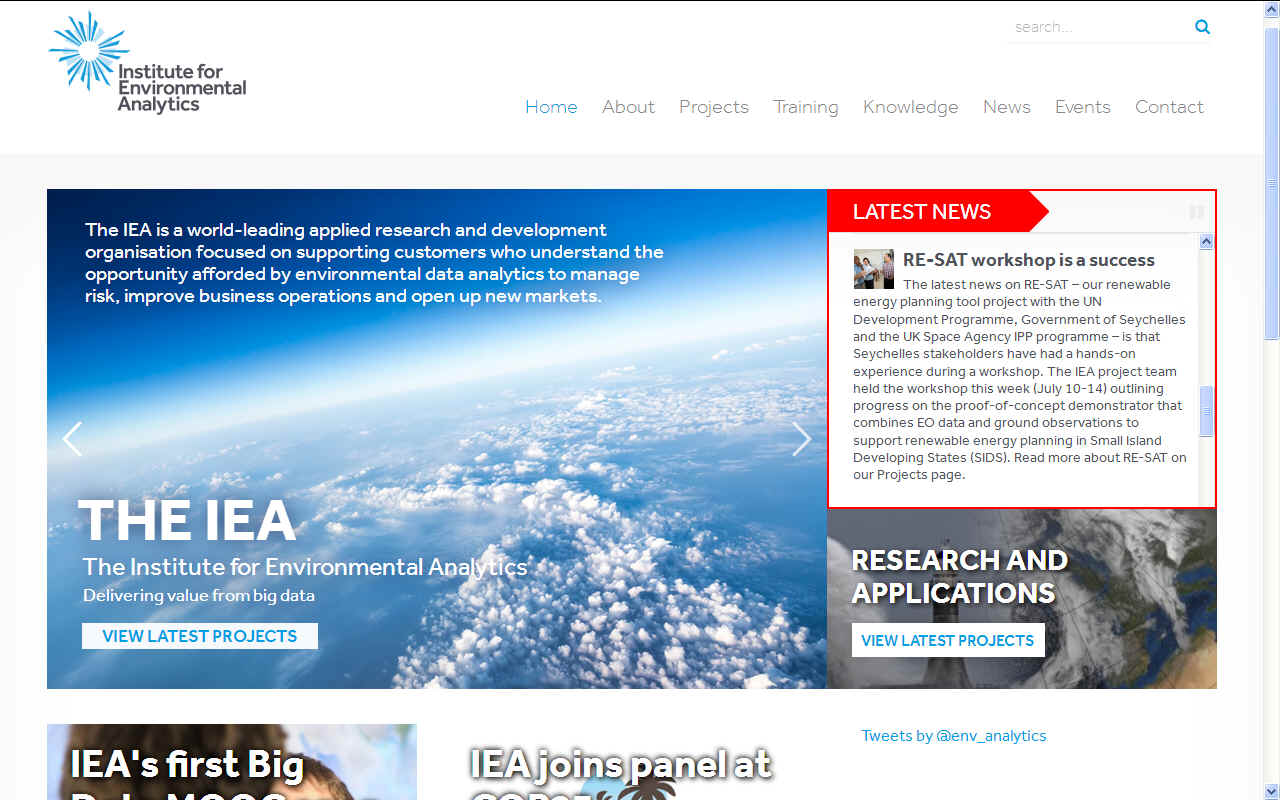 IEA - Climate and environmental change already has an impact on every aspect of business and society. Extreme events and severe weather conditions are becoming more frequent, with the estimated costs of adapting to these conditions expected to rise to $70-100bn globally by 2030.

The far-reaching impacts of extreme weather events have been brought into sharp focus by the flooding in winter 2013-14 with recent estimates putting the insurance costs at £500m and the damage to the UK economy at £630m.

The Institute for Environmental Analytics was launched in 2015 with £5.6m of start-up funding from the HEFCE Catalyst Fund to address these challenges.
CONTACT - Alison Arkell: Institute for Environmental Analytics, Philip Lyle Building, Whiteknights Campus, Reading RG6 6BX

Tel: 0118 378 6820 Email: a.arkell@the-iea.org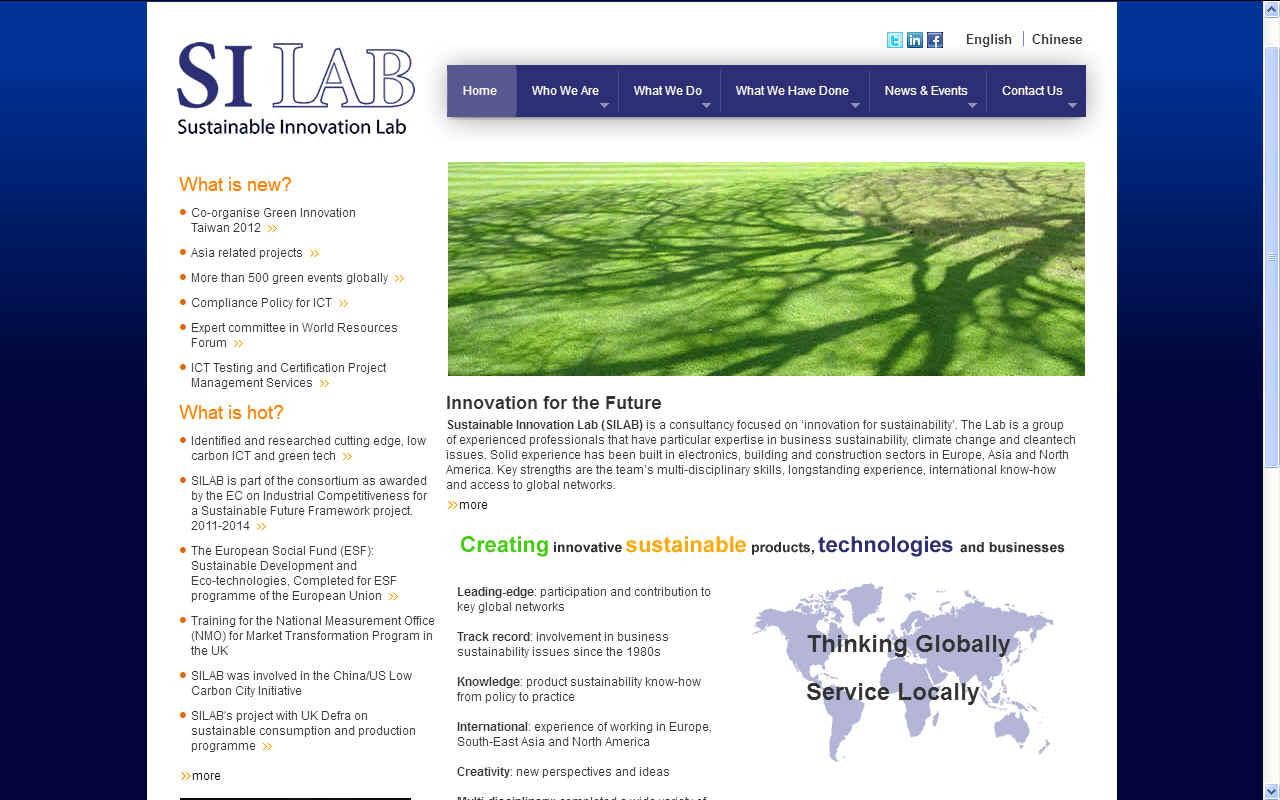 SI LAB - Sustainable Innovation Lab (SILAB) is a consultancy focused on 'innovation for sustainability'. The Lab is a group of experienced professionals that have particular expertise in business sustainability, climate change and cleantech issues. Solid experience has been built in electronics, building and construction sectors in Europe, Asia and North America. Key strengths are the team's multi-disciplinary skills, longstanding experience, international know-how and access to global networks.
CONTACTS - Surrey Office: 24 Vale Close, Lower Bourne, Farnham, Surrey, GU10 3HR, UK. Tel: 44-(0)1252-790818 Email: info@the-si-lab.com

Sussex Office: Brighton, Sussex, UK. Tel: 44(0)1403-711177

Copenhagen Office: Copenhagen, Danmark Tel: 45 30 279 111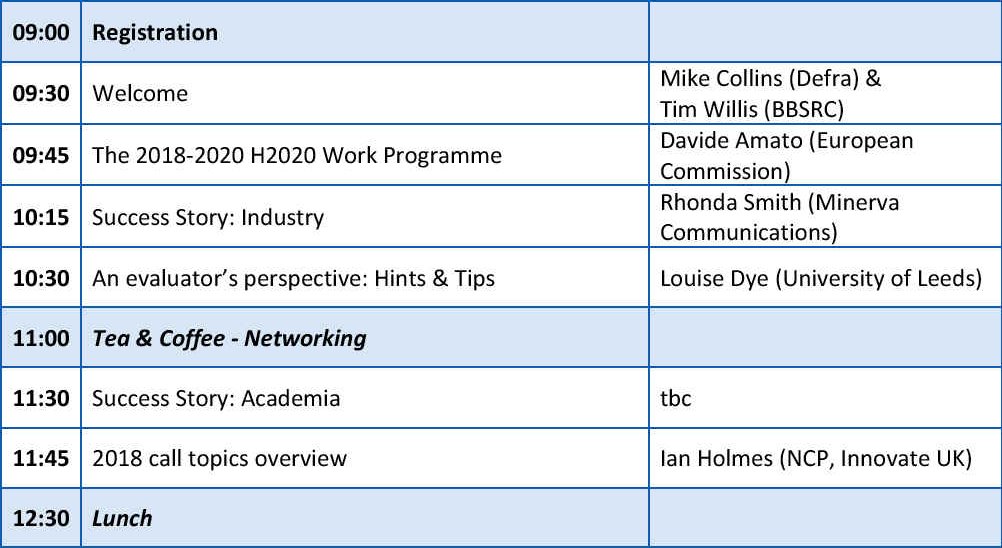 OCTOBER 31 2017, LONDON - BRIEFING ON HORIZON 2020 EUROPEAN FUNDING
Innovate UK and the Knowledge Transfer Network (KTN) hosted the H2020 Societal Challenge 2 (Food security, sustainable agriculture and forestry, marine, maritime and inland water research and the bioeconomy) event which is aimed at supporting collaboration across the UK and Europe.
They promoted funding opportunities available for food security, sustainable agriculture and forestry, marine, maritime and inland water research and the bioeconomy through Horizon 2020, the EU's largest research and innovation funding programme, with over 1 billion Euros earmarked for calls in 2018-2020 [SC1].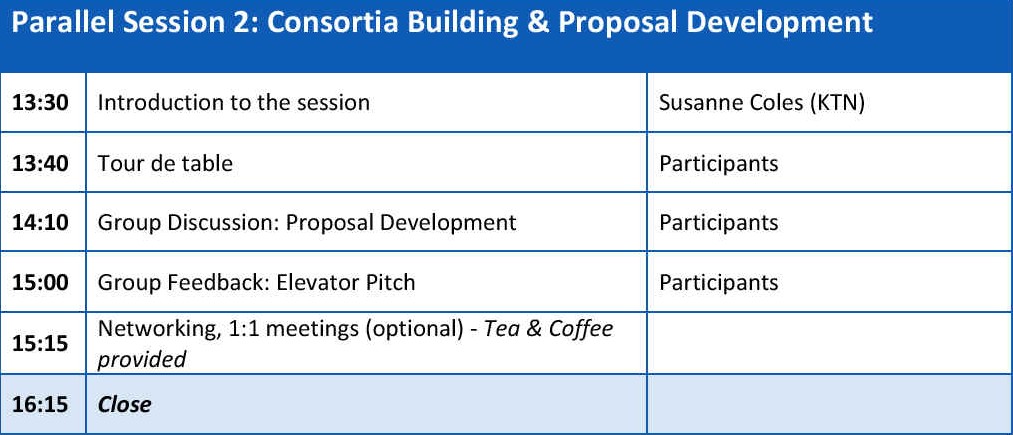 THE VENUE
Tuesday, 31 October 2017 at 9:30 am
Ambassadors Bloomsbury Hotel
Upper Woburn Place
London, United Kingdom
51°31'36.0"N 0°07'46.8"W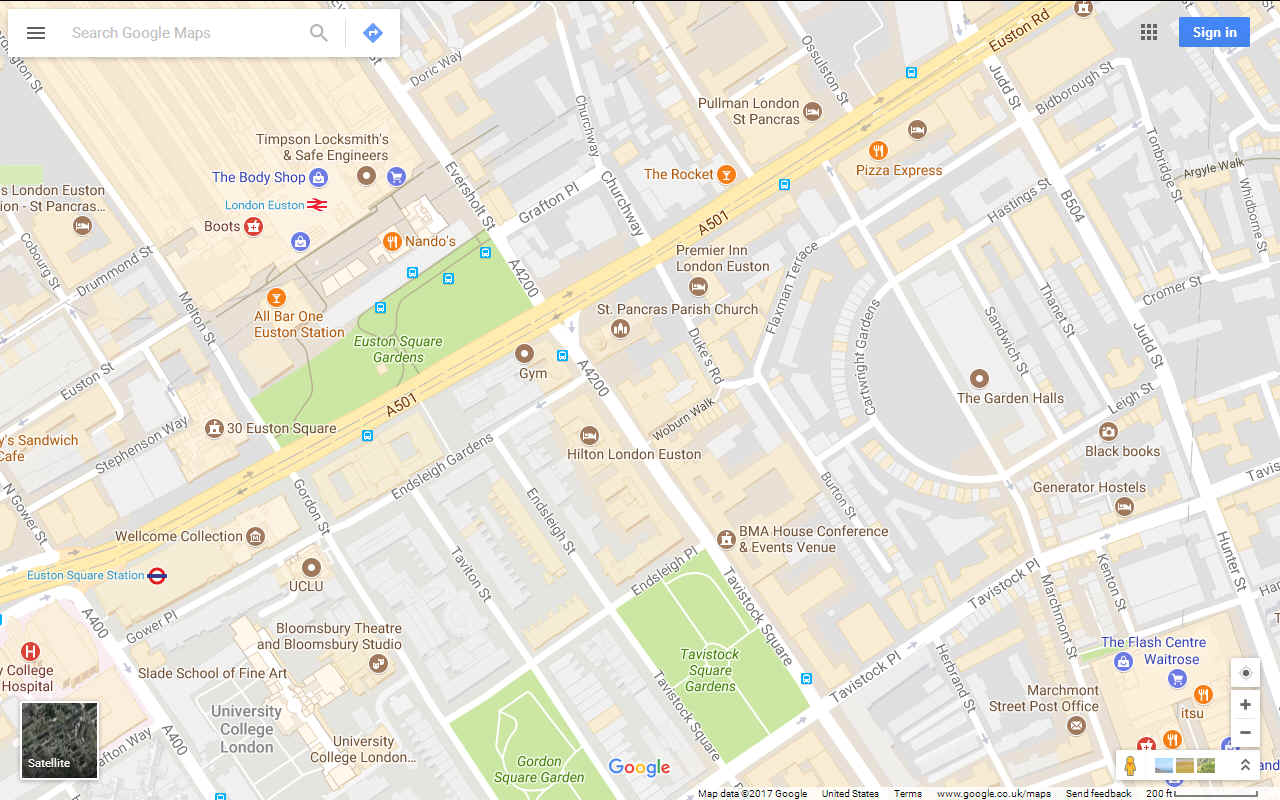 CONTACTS
If you experience any problems on the day please contact either myself or Natalie Withenshaw as follows:
Tel.: +44 (0) 7807 260 585

Tel.: +44 (0) 7972 847 981
The Knowledge Transfer Network is Innovate UK's network partner and also provides innovation networking and support for other funders in line with its mission to drive UK growth. They are active across the whole of the United Kingdom and work out of the following hubs:

General Enquiries

Telephone: 03333 403250
Email: enquiries@ktn-uk.org

KTN HUBS:

KTN London (Head office)
Unit 218,
Business Design Centre,
Upper Street,
Islington,
London N1 0QH

KTN Horsham
Bailey House,
4 – 10 Barttelot Road,
Horsham,
West Sussex,
RH12 1DQ

KTN Edinburgh
KTN 3rd Floor,
Hanover House,
45 Hanover Street,
Edinburgh EH2 2PJ

KTN Oxford
Rutherford Appleton Laboratory,
Harwell,
Oxfordshire,
OX11 0QX

Press and PR - If you have a press or PR enquiry please contact KTN via Email: press@ktn-uk.org

Finance Enquiries - For any finance questions or issues please contact KTN via the following:

Telephone: 01235 446 079
Email: finance@ktn-uk.org
SOCIAL MEDIA
KTN maintains a strong presence across social media. They manage a wide range of sector specific groups through LinkedIn:
Advanced Materials
Aerospace
Agri-Food
Bioscience & Biotechnology
Built Environment
Chemistry
Connected and Autonomous Vehicles (CAV)
Creative, Digital & Design
Cybersecurity
Defence and Security
Design Foundations
Electronics, Sensors, Photonics
Energy
Forensic Science
Future Infrastructure Systems
Health
Industrial Mathematics
Manufacturing
Quantum Technology
Robotics, Automation & Artificial Intelligence (RAAI)
Space
Sustainability & Resource Efficiency
Sustainable Aviation Fuel
Synthetic Biology
The Internet of Things (IoT)
Transport
UK Additive Manufacturing

Knowledge Transfer Network Limited is a company limited by guarantee. Registered in England No 8705643.
LINKS & REFERENCE
https://www.cefas.co.uk/
http://www.isardsat.co.uk/
https://www2.warwick.ac.uk/fac/sci/lifesci/people/jchristie-oleza
http://www.bioss.ac.uk/
http://www.minervacomms.net/
http://www.the-si-lab.com/
http://www.airborne-robotics.com/
http://imediavan.com/
http://www.bbsrc.ac.uk/
http://www.the-iea.org/
https://www.gov.uk/government/organisations/department-for-environment-food-rural-affairs
http://www.bbsrc.ac.uk/
http://www.stfc.ac.uk/
http://europa.eu/rapid/press-release_IP-17-4122_en.htm
https://ec.europa.eu/maritimeaffairs/policy/blue_growth_en
https://www.youtube.com/watch?time_continue=4&v=Sg7D5GfiXyo
https://ec.europa.eu/programmes/horizon2020/en/h2020-section/food-security-sustainable-agriculture-and-forestry-marine-maritime-and-inland-water
https://www.exeter.ac.uk/postgraduate/taught/biosciences/foodsecurity/
http://www.citizensreport.org/2015/09/30/fish-and-food-security/
http://rstb.royalsocietypublishing.org/content/365/1554/2869
http://marinesciencetoday.com/2014/03/20/overfishing-has-significant-impact-on-global-food-security/
https://ec.europa.eu/programmes/horizon2020/en/what-work-programme#Article
https://ec.europa.eu/programmes/horizon2020/en/food-security-sustainable-agriculture-and-forestry-marine-maritime-and-inland-water-research-and-0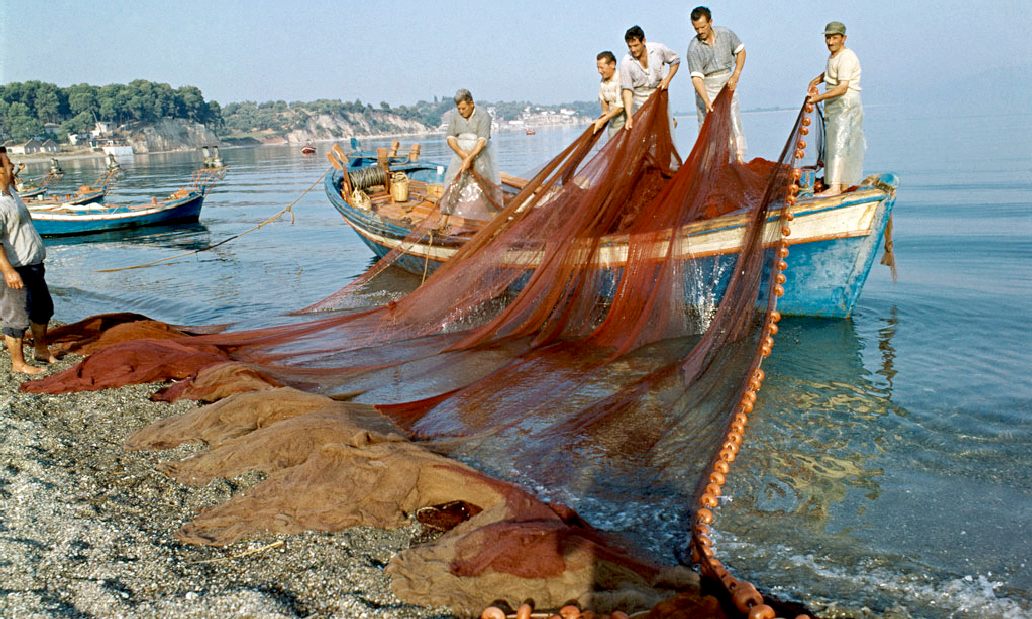 SUSTAINABLE FISHING: UN picture of fishermen in Evia, Greece fishing using nets from small boats as they have for hundreds of years without destroying our fisheries. Marine capture fisheries are a critical component for food security. Their production is close to the maximum ecosystem productivity (NRC 2006), cannot be increased substantially in the future and could decline if not properly managed, leaving the world to solve a significant new food deficit.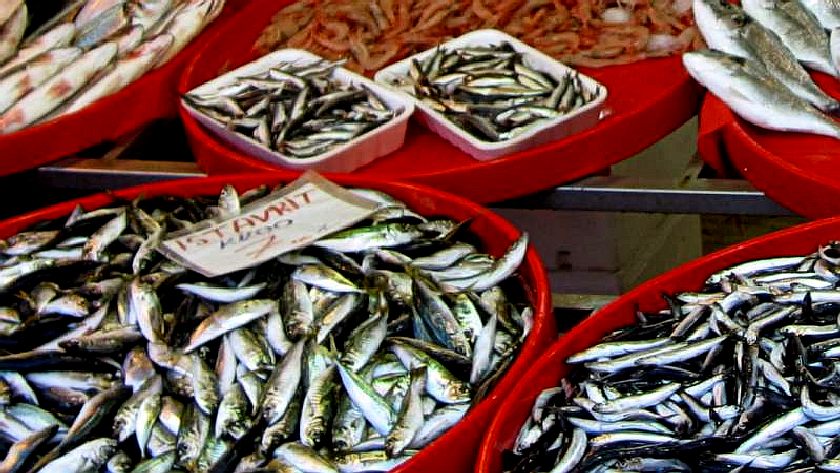 WILD FISH SHORTAGES: According to the United Nations Department of Economic and Social Affairs (UN-DESA 2009), the world population is expected to grow from the present 6.8 billion people to about 9 billion by 2050, mostly in developing countries (5.6–7.9 billion).
Discarding of unwanted catch in 1990–2000 has been estimated by FAO at 9.5 million tonnes (Kelleher 2005) or about 10 per cent of reported landings. Some studies have indicated that discarding rates may be substantially greater, regionally or globally (Harrington et al. 2005; Davies et al. 2009), but more recent estimates are not available. Discards appear to have decreased from about 27 million tonnes in 1980–1990 (Alverson et al. 1994) owing to bycatch reduction efforts as well as an increasing use of bycatch for local consumption, aquaculture feeds, etc.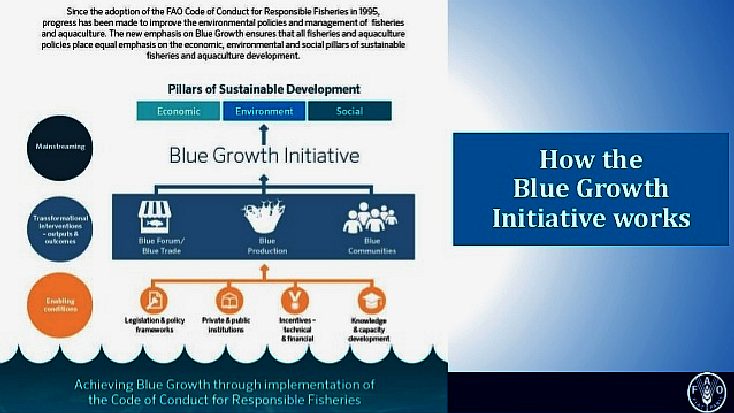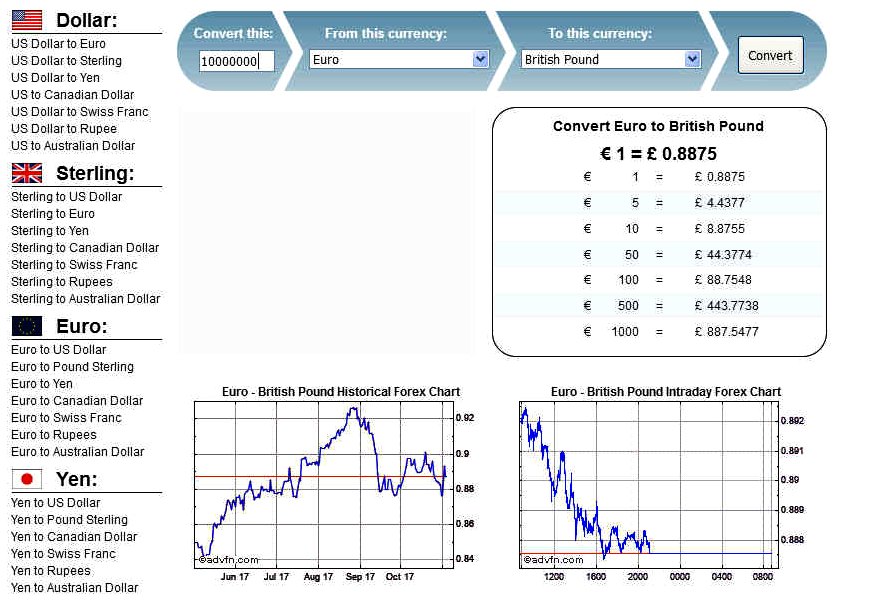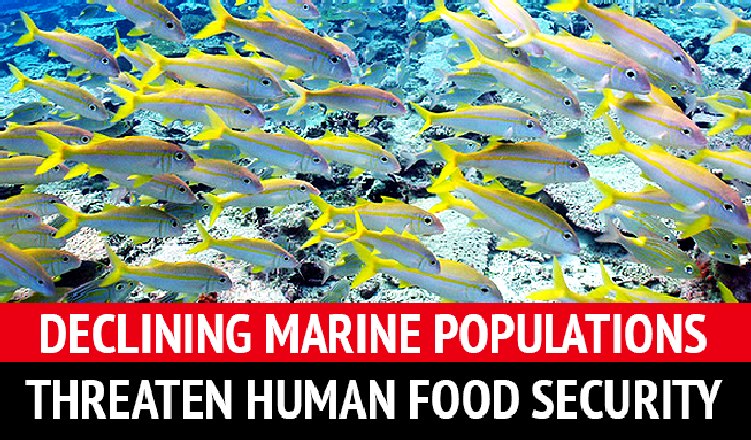 THREAT TO FOOD SECURITY: The growing need for nutritious and healthy food will increase the demand for fisheries products from marine sources, whose productivity is already highly stressed by excessive fishing pressure, growing organic pollution, toxic contamination, coastal degradation and climate change. Looking towards 2050, the question is how fisheries governance, and the national and international policy and legal frameworks within which it is nested, will ensure a sustainable harvest, maintain biodiversity and ecosystem functions, and adapt to climate change. This paper looks at global fisheries production, the state of resources, contribution to food security and governance. It describes the main changes affecting the sector, including geographical expansion, fishing capacity-building, natural variability, environmental degradation and climate change. It identifies drivers and future challenges, while suggesting how new science, policies and interventions could best address those challenges.
There are no complete or consistent time series but according to FAO (2009, SOFIA 1990–2008), the global fleet size, all vessel sizes included, had doubled from about two million vessels in the 1970s to some four million in the 2000s. The largest number operates from Asia. According to FAO (2009), the size of the Chinese fleet of vessels over 100 tonnes in 1996 was approximately 15 000. Adding these to the vessels registered by the Lloyds Maritime Information Services (LMIS; FAO 1999, p. 73) leads to an estimate of the world fleet size of 43–45 000 vessels over 100 tonnes in 1996. The global fleet capacity index (fishing power) appears to have increased by a factor of six between 1970 and 2005, a period during which the global harvesting productivity decreased by the same amount (World Bank 2009).
This website is provided on a free basis as a public information service. copyright © Cleaner Oceans Foundation Ltd (COFL) (Company No: 4674774) October 2017. Solar Studios, BN271RF, United Kingdom. COFL is a charity without share capital. The names AmphiMax™, RiverVax™ and SeaVax™ are trade names used under license by COF in connection with their 'Feed The World' ocean cleaning sustainability campaign.