HOT DEBATE USA
ABOUT - CONTACTS - FOUNDATION - HOME - A-Z INDEX
Turning up the heat, President Trump appears to like it hot in the kitchen as he brings his business ethics with him to the White House, amid a global consensus for change, he is swimming against the tide of a United Nations that is not as united as it might be with America included in plans to cool the planet down.
No harm done if the President elect catches up quickly enough, but confusion abounds while the left and right arms of his administration fail to communicate effectively in this international business deal that is likely to be one of Donald's failures that will follow him to the grave (and take with him millions more) if he cannot pull out of this political nose dive and save the day.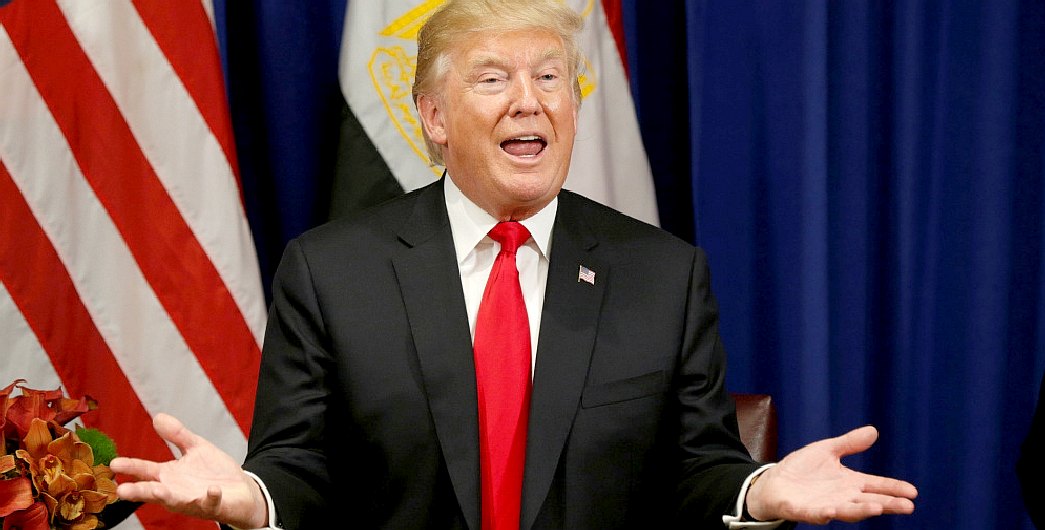 WHAT! - Business success does not go hand-in-glove with conservation, where there is no profit in doing the right thing. This begs the question, do we want hard nosed business non-ethics entering the political arena. Want it or not the US have got it, while the entrepreneur is doing his best to develop a conscience and reconcile that with the economy. Please Mr President, help the world recover and grow towards a sustainable future.
GRIST CLIMATE DESK SEPTEMBER 20 2017
Over the weekend, the Wall Street Journal reported that a White House staffer told foreign officials the president is considering remaining in the 2015 landmark Paris climate change agreement. The reported shift came on the eve of a United Nations General Assembly meeting in New York, where climate remains a main issue on the agenda. Within hours of publication, a posse of Trump officials went out of their way to discredit the story — which only added to the confusion.

"As the president has made abundantly clear, the U.S. is withdrawing unless we can re-enter on terms that are more favorable to our country," deputy press secretary Lindsay Walters said in a statement Saturday. As reported in Talking Points Memo, a senior White House official told traveling press, "Consistent with the President's announcement in June, we are withdrawing from the Paris Agreement unless we can reengage on terms more favorable to the United States." The official said that White House economic advisor Gary Cohn made that position "very clear" to foreign representatives Monday. Adding to the confusion, Secretary of State Rex Tillerson appeared on CBS Sunday and said, "The plan is for Director Cohn to consider other ways in which we can work with partners in the Paris Climate Accord."

Is it a shift? It may be, especially when compared to Trump's rhetoric when he unveiled his decision in June: "I cannot in good conscience support a deal that punishes the United States." (Technically, since Paris is not a treaty, the U.S. cannot be punished for non-compliance.)

Repeatedly, the Trump administration has invoked the notion of negotiating "better deals" with allies, and the climate agreement may be no exception. But even if this were technically possible, Trump doesn't have the staff needed to remake a deal that was signed by nearly 200 countries in 2015, when they put forward domestic plans for how to tackle rising greenhouse gas emissions.

As Jake Schmidt, international program director at the Natural Resources Defense Council, observes, "It's hard to do that on a shoestring budget."

Any global agreement is an ambitious undertaking, and Paris was especially so. At various points, the Environmental Protection Agency, Department of Energy, Department of Transportation, and the U.S. Trade and Development Agency were involved in the programs surrounding the final compromise. The State Department played the lead role, as it does anything U.N.-related. But today, as with many government agencies, the State Department has dozens of vacancies, especially for ambassadorships, positions in the United Nations, and in its environmental offices. The Trump administration has also eliminated climate positions across the government and hopes to zero out funding for any program that mentions "climate."

In addition, Tillerson in late August eliminated the position of the Special Envoy for Climate Change that Obama created to coordinate the role and provide the public face of the U.S. during international climate negotiations. The State Department announced it was cutting the office entirely — along with other special envoys positions — and made it a part of the Bureau of Oceans and International and Scientific Affairs, a lower office that is now being led by an acting assistant secretary.

There are still a few career officials around, but not many. According to E&E News, by the end of August only three skilled staff members remained in the envoy's office. "The crew that's there now, while smaller than it was before, has moved through and contributed to the most intensive period in the history of climate diplomacy," Paul Bodnar, who led climate initiatives on Obama's National Security Council, told the publication. The question, though, is whether they still have any authority.

Without a functioning State environment office, Trump administration would have to reassign Paris negotiation duties elsewhere. In this case, Trump's economic advisor Cohn, who favored staying in the agreement in the first place, would lead the renegotiation. Even if Cohn undertakes a good-faith effort to renegotiate, staff is necessary to put forward a credible proposal, quantify it, and then convince other countries they're better off embracing this new deal — which major allies of the U.S. say they have no interest in doing.

Add to that the mixed signals the Trump administration gives the world: How do you renegotiate a deal when you don't even show up to the meetings? The U.S. had seven staff registered for a meeting about the Paris agreement this spring, after sending 44 representatives last year. The State Department still hasn't said who will attend the annual United Nations climate meeting that will begin November 6 in Bonn, Germany.

Obama mobilized many parts of his administration when negotiating the Paris agreement, which came six years after a much greener Obama administration tried to negotiate an ambitious treaty in Copenhagen — only to fail to convince major polluters to come on board. In the subsequent years since Copenhagen, Obama announced a series of bilateral deal with countries that have big carbon footprints, like India, China, and Brazil. These sweetened the prospect of compromising on Paris, helping lead to a major turning point in bridging old divides when China agreed to its first cap on emissions by roughly 2030.

NRDC's Schmidt couldn't see how the Trump administration plans on undertaking such a herculean effort, when it's not even clear what the president will do next, and all his underlings give conflicting messages. "If you're another country one of your main questions is, 'Am I talking to someone who can actually influence the president? Am I getting the right person?' In general when administrations talk, they talk with one voice. And the Trump administration talks with 19 different voices at once."
From an original article by Mother Jones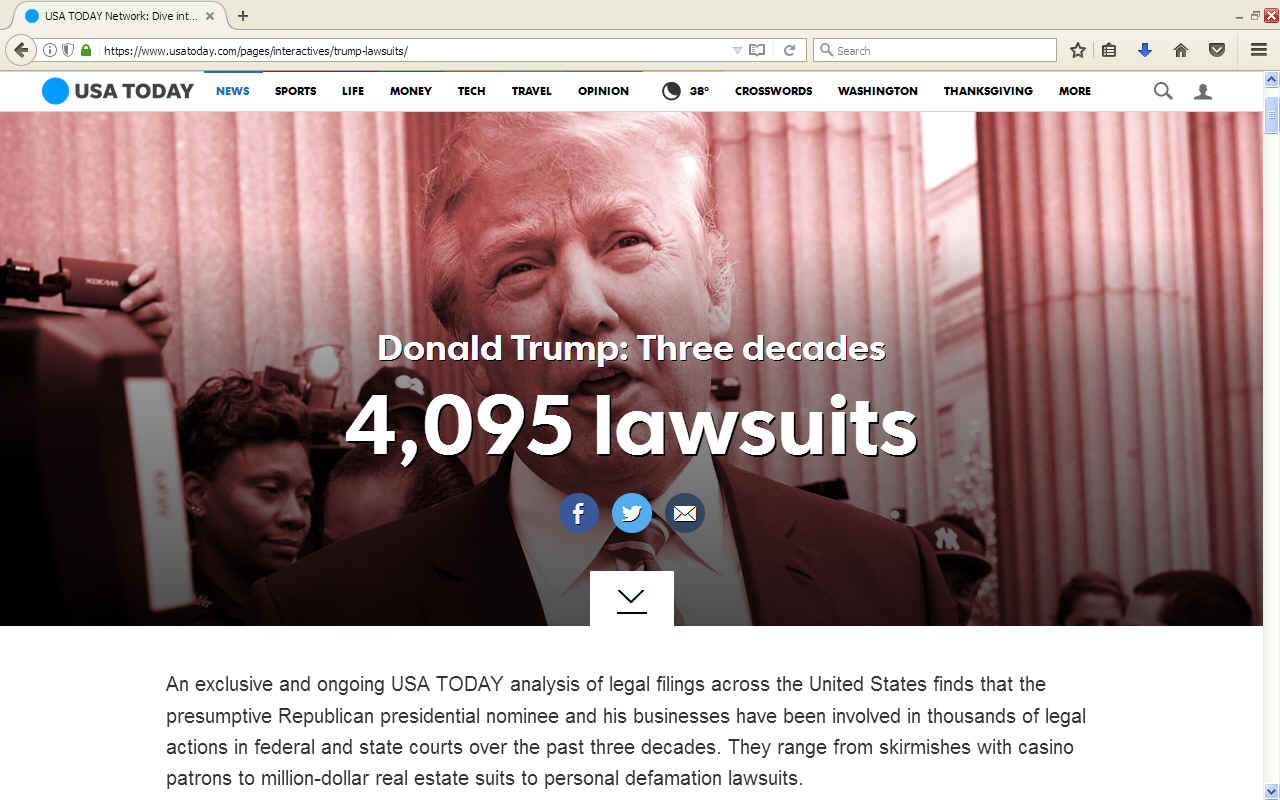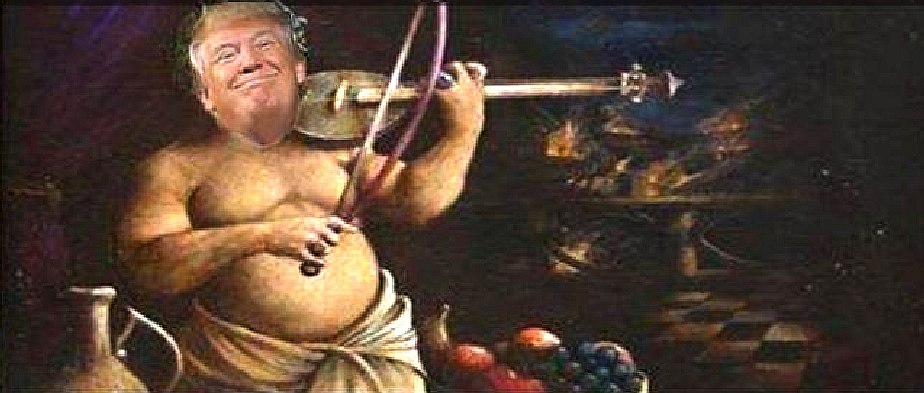 HOW MUCH TROUBLE ARE WE IN - Big trouble. Over the coming 25 or 30 years, scientists say, the climate is likely to gradually warm, with more extreme weather. Coral reefs and other sensitive habitats are already starting to die. Longer term, if emissions rise unchecked, scientists fear climate effects so severe that they might destabilize governments, produce waves of refugees, precipitate the sixth mass extinction of plants and animals in the Earth's history, and melt the polar ice caps, causing the seas to rise high enough to flood most of the world's coastal cities. The emissions that create those risks are happening now, raising deep moral questions for our generation.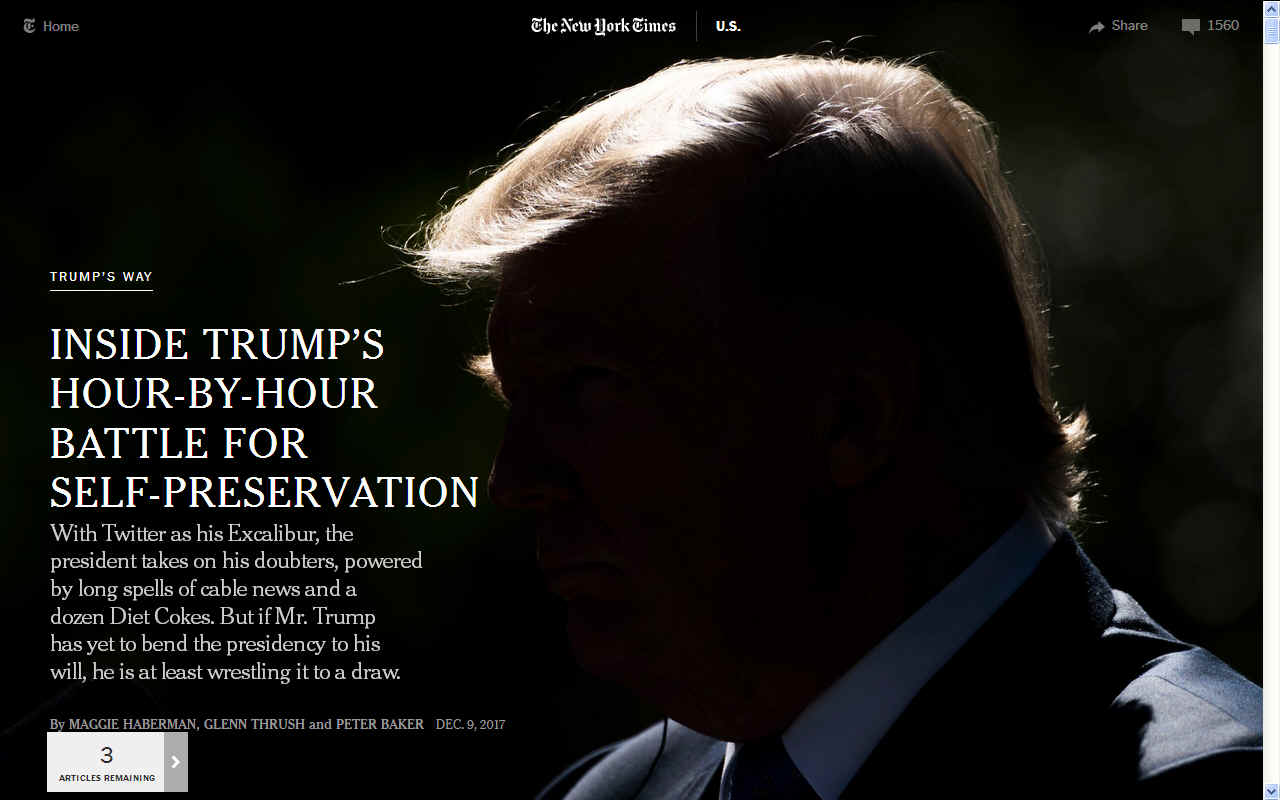 On the subject of fiddling while Rome (or California) burns, Nero, was perhaps the most famous of the Roman Caesars. He began rather modestly in his plans, that is, until his participation in theater (his famous fiddling) and other sportsmanship gained him praise, which he appeared to become intoxicated on. This eventually unloosed a kind of madness, from paranoia about threats to his life and the loyalty of his followers, to a false confidence in natural resources and excessive spending and sexual debauchery. All of which led him to the moment he burns down Rome as the spectacle of all spectacles. According to many media stories Trump, in his tweeting has touched on every one of these conceits. Believe it or not, the Roman emperor Nero was very popular with Rome's lower class. Yes, the Emperor who "fiddled while Rome burned.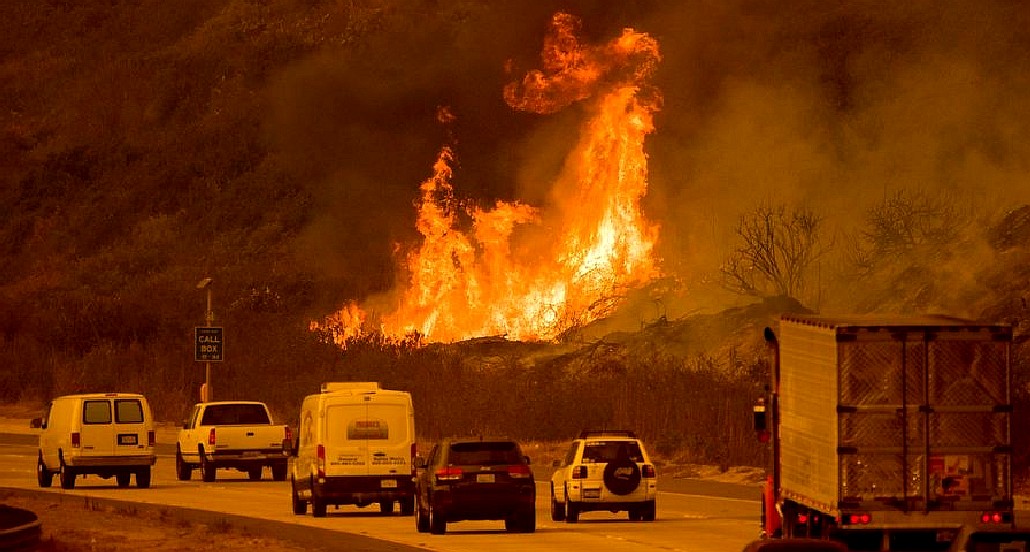 The burning question is: How long will the President elect take to smell the smoke and will that be in time to reverse any damage done? US presidents are elected to a four-year term. The maximum number of full terms that a president can serve is two. A lot of climate damage can be done in 8 years if the worst comes to the worst, meaning that other countries should work even harder to expose and isolate powers that effectively promote global warming policies. The only place to hit some policy makers is in the wallet!
BBC NEWS - President Trump declared a state of emergency after fires started in December 2017, to free up funding to "help alleviate the hardship and suffering that the emergency may inflict on the local population". Nearly 200,000 residents have been evacuated from their homes as firefighters battle the wildfires on several fronts.

Governor Jerry Brown declared a state of emergency in San Diego on Thursday after a new blaze spread from 10 acres to 4,100 acres in just a few hours. Authorities have issued a purple alert - the highest level warning - amid what they have called "extremely critical fire weather".

The powerful desert-heated Santa Ana winds have been fanning the flames. Devastating wildfires fuelled by climate change are "the new normal", California's governor has said.

Jerry Brown said vast fires, such as the ones that have ravaged southern California in recent days, "could happen every year or every few years". "We're facing a new reality in this state," he said. Mr Brown made the comments after surveying the damage in Ventura County, north of Los Angeles.
Mr Brown, a Democrat who has attacked the Trump administration's stance on climate change, said: "We're facing a new reality in this state, where fires threaten people's lives, their properties, their neighbourhoods, and of course billions and billions of dollars. "With climate change, some scientists are saying southern California is literally burning up."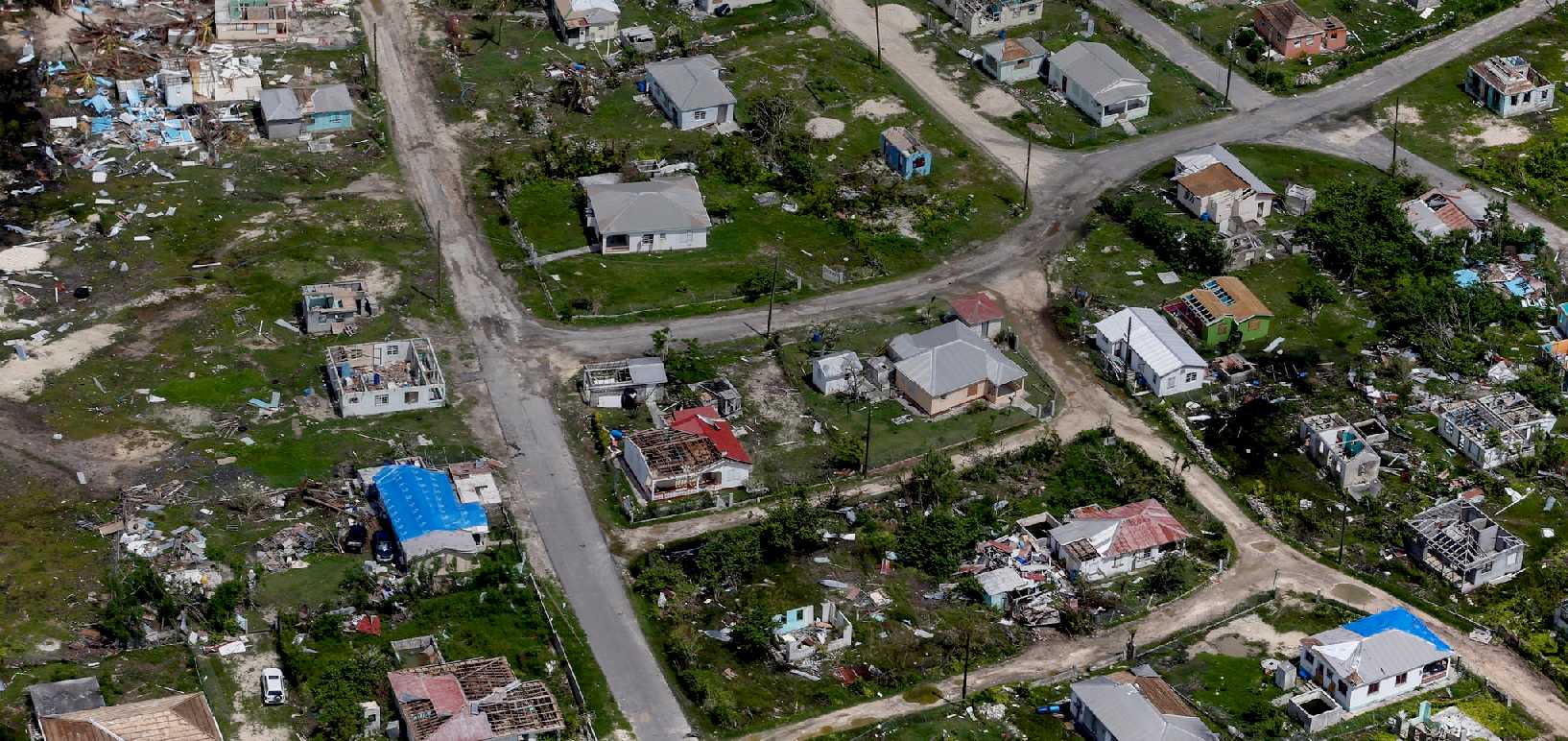 HURRICANE IRMA - Barbuda (seen above) is a small island in the eastern Caribbean that forms part of the sovereign Commonwealth nation of Antigua and Barbuda. It is located to the north of Antigua in the middle of the Leeward Islands. As of September 2017, due to massive destruction to the island's infrastructure during Hurricane Irma Barbuda has been abandoned. Most of its population of about 1,638 (at the 2011 Census) lived in the town of Codrington. Antigua and Barbuda became a sovereign nation on 1 November 1981, but remained part of the British Commonwealth and a constitutional monarchy. The island has since become a popular tourist destination because of its moderate climate and coastline.

The location of the island in the tropics makes it vulnerable to Atlantic hurricanes. In September 2017, Hurricane Irma caused catastrophic damage on the island; it damaged or destroyed 95% of the island's buildings and infrastructure, leaving Barbuda "barely habitable" according to Prime Minister Gaston Browne. Everyone on the island was evacuated to Antigua, leaving Barbuda uninhabited for the first time in modern history.
"The Trump Administration is having its Katrina-moment this week. Katrina being the hurricane that struck New Orleans during the Bush 32 Administration, and became the poster-child for both horrible government policy and the cost of ignoring the effects of climate change. We'll leave the government policy issues to other people who care about that sort of thing. What we care about is the increase in extreme weather events, as predicted by climate scientists over many years, and the cost of maintaining infrastructure (highways, airports, etc) along the coasts. What's shocking is that just a few days ago the Trump Administration overturned Obama-era rules that infrastructure projects built on coastlines must consider sea level rise. And, right now we have a huge demonstration of the cost of sea level rise and extreme weather patterns, both of which are the result of a heating climate." David Herron August 28, 2017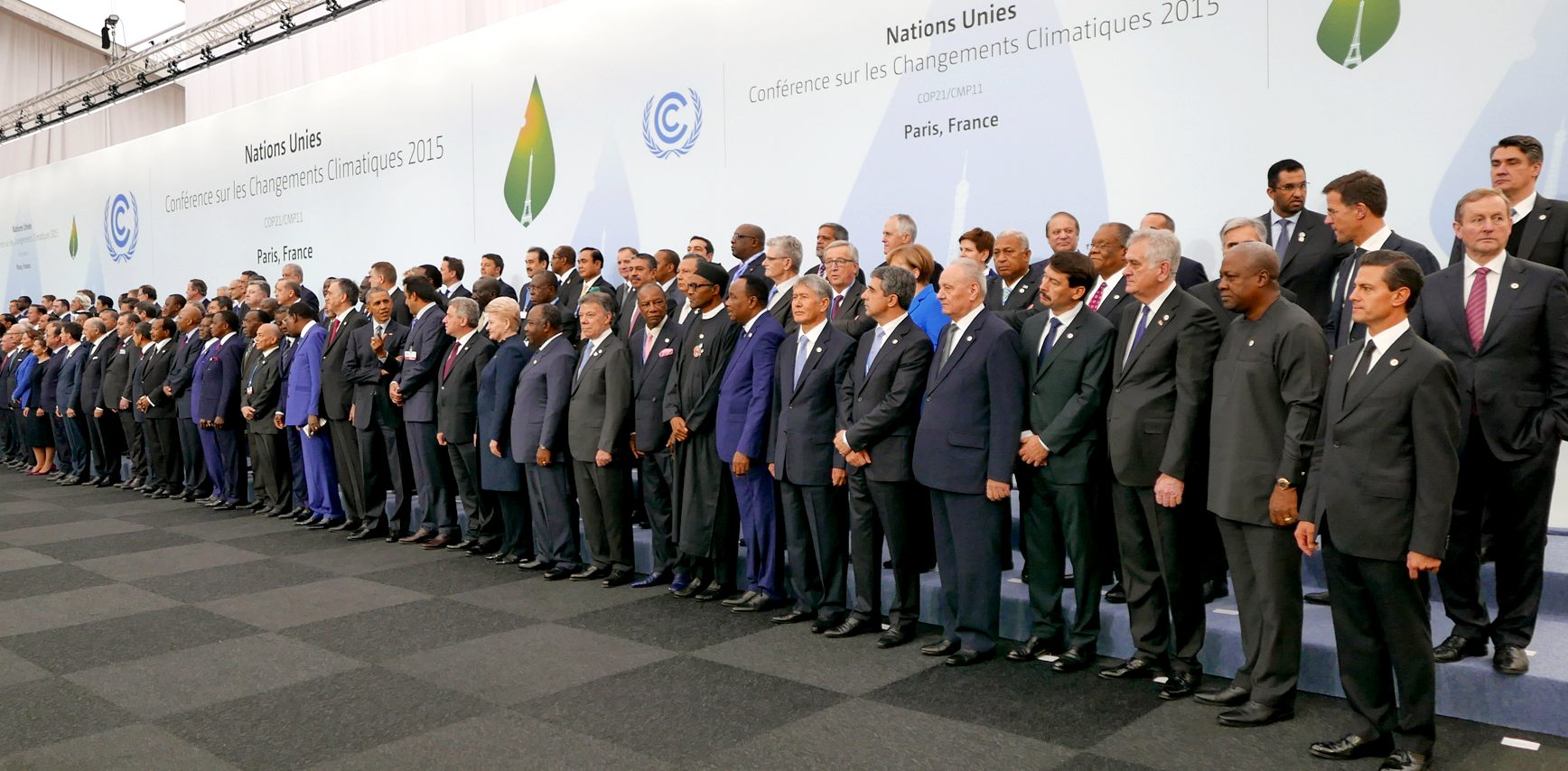 UNITED AGAINST CLIMATE CHANGE - The United Nations Climate Change Conferences are yearly conferences held in the framework of the United Nations Framework Convention on Climate Change (UNFCCC). They serve as the formal meeting of the UNFCCC Parties (Conference of the Parties, COP) to assess progress in dealing with climate change, and beginning in the mid-1990s, to negotiate the Kyoto Protocol to establish legally binding obligations for developed countries to reduce their greenhouse gas emissions. From 2005 the Conferences have also served as the "Conference of the Parties Serving as the Meeting of Parties to the Kyoto Protocol" (CMP); also parties to the Convention that are not parties to the Protocol can participate in Protocol-related meetings as observers. From 2011 the meetings have also been used to negotiate the Paris Agreement as part of the Durban platform activities until its conclusion in 2015, which created a general path towards climate action. The first UN Climate Change Conference was held in 1995 in Berlin.
1995 COP 1, BERLIN, GERMANY
1996 COP 2, GENEVA, SWITZERLAND
1997 COP 3, KYOTO, JAPAN
1998 COP 4, BUENOS AIRES, ARGENTINA
1999 COP 5, BONN, GERMANY
2000:COP 6, THE HAGUE, NETHERLANDS
2001 COP 7, MARRAKECH, MOROCCO
2002 COP 8, NEW DELHI, INDIA
2003 COP 9, MILAN, ITALY
2004 COP 10, BUENOS AIRES, ARGENTINA
2005 COP 11/CMP 1, MONTREAL, CANADA
2006 COP 12/CMP 2, NAIROBI, KENYA
2007 COP 13/CMP 3, BALI, INDONESIA
2008 COP 14/CMP 4, POZNAN, POLAND
2009 COP 15/CMP 5, COPENHAGEN, DENMARK
2010 COP 16/CMP 6, CANCUN, MEXICO
2011 COP 17/CMP 7, DURBAN, SOUTH AFRICA
2012 COP 18/CMP 8, DOHA, QATAR
2013 COP 19/CMP 9, WARSAW, POLAND
2014 COP 20/CMP 10, LIMA, PERU
2015 COP 21/CMP 11, PARIS, FRANCE
2016 COP 22/CMP 12/CMA 1, MARRAKECH, MOROCCO
2017 COP 23/CMP 13/CMA 2, BONN, GERMANY
2018 COP 24/CMP 14/CMA 3, KATOWICE, POLAND
2019 COP 25/CMP 15/CMA 4 TBA
LINKS & REFERENCE
https://newrepublic.com/article/120242/us-and-china-reach-agreement-climate-change
https://www.pri.org/stories/2017-05-12/unusually-small-us-delegation-will-defend-us-climate-policies-bonn-weekend
https://www.nbcnews.com/video/macron-at-u-n-paris-climate-accord-not-up-for-renegotiation-1049978947893
https://www.scientificamerican.com/article/trumps-team-is-split-over-the-paris-agreement/
https://www.eenews.net/stories/1060059076
http://www.cnn.com/2017/08/28/politics/tillerson-state-dept-envoys/index.html
https://www.washingtonpost.com/graphics/politics/trump-administration-appointee-tracker/database/
https://newrepublic.com/article/123223/plan-save-world
http://talkingpointsmemo.com/livewire/cohn-reiterates-un-breakfast-us-still-leaving-paris-accord
http://newsroom.unfccc.int/unfccc-newsroom/join-the-unfccc-at-climate-week-nyc-2017/
https://www.wsj.com/articles/trump-administration-wont-withdraw-from-paris-climate-deal-1505593922
http://www.motherjones.com/
http://www.bbc.co.uk/news/world-us-canada-42297370
https://www.usatoday.com/pages/interactives/trump-lawsuits/
https://longtailpipe.com/2017/08/28/trump-administration-fiddles-in-washington-while-houston-drowns-under-extreme-weather-hurricane/
This website is provided on a free basis as a public information service. Copyright © Cleaner Oceans Foundation Ltd (COFL) (Company No: 4674774) 2017. Solar Studios, BN271RF, United Kingdom. COFL is a charity without share capital.