B R E X I T B R I T A I N T O G O I T A L O N E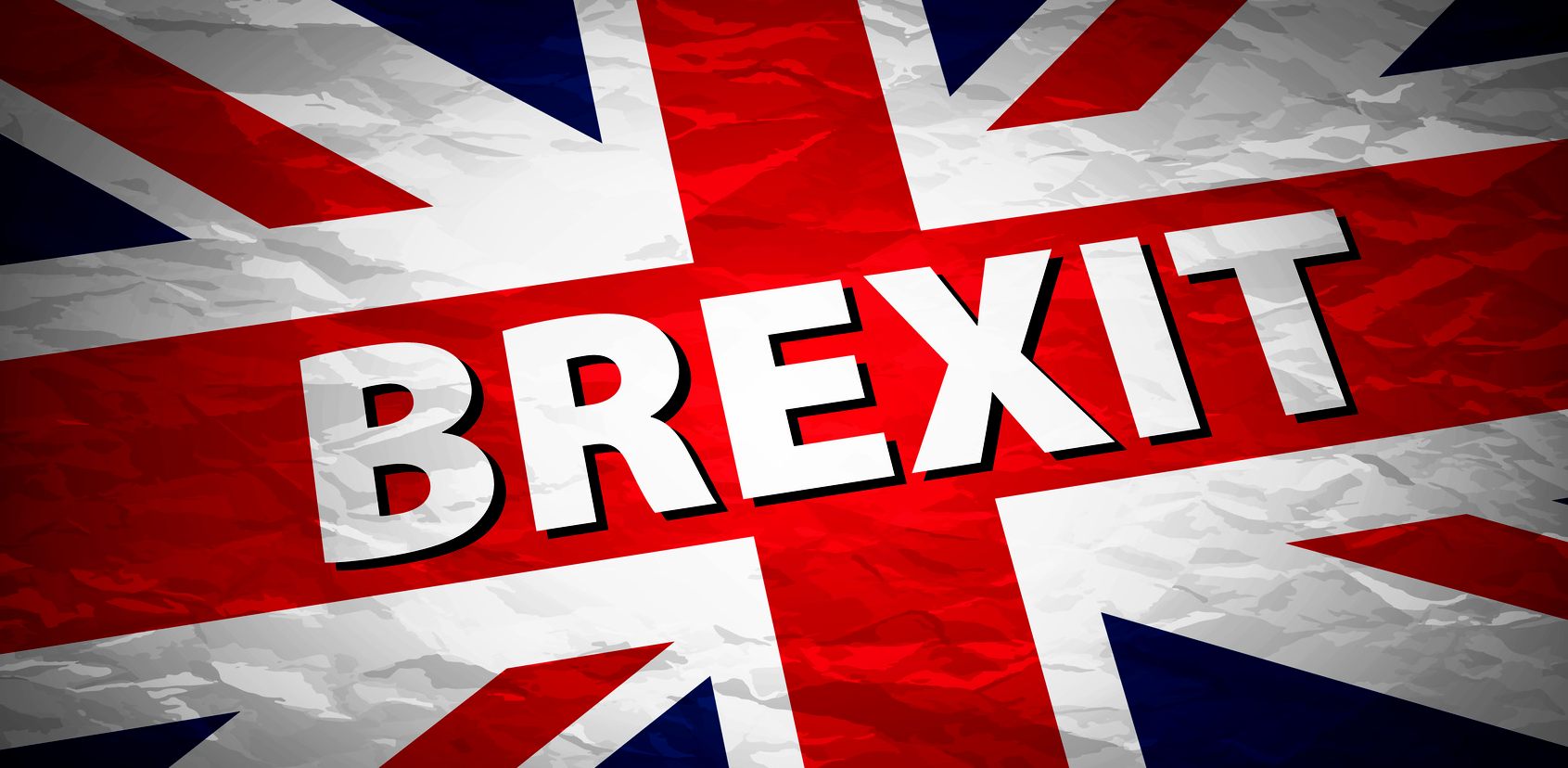 e are about 3

The Cleaner Ocean Foundation is not normally concerned with the politics of Europe or the United Kingdom. We are though worried about ocean plastic, climate change and conserving our natural environment. Unfortunately, European politics appears to us as a potential blocker to a possible (part) funding avenue that may have helped SeaVax and RiverVax cleaning vessels see the light of day. Since 2017, Brexit has bogged the UK down in a political mire. In 2023, the truth of the matter is surfacing, against a background of corruption allegations in the European Union. With the UK being barred from Horizon Europe by the EU, suggesting that when the Foundation applied for funding under their Horizon 2020 programme, the word was already out to sideline applications from the UK. If that is true, SeaVax never had a chance. Also, as it turns out, rather a shame for the Caribbean islands affected by Sargassum. Indeed, Brexit politicians (Cameron, May and Johnson: Conservative Party) may have cost the ocean a potential clean up solution, in addition to a cost of living and pension devaluation crisis. We wonder if this is how it appears to readers?
For this reason and this reason only, we are forced to follow the negotiations and if possible, inject some common sense into the Brexit equation across all parties (doubtful). We have reprinted some of the media coverage on the proceedings and if appropriate, included comment.
DAILY EXPRESS 12 FEBRUARY 2023 - BREXIT BRITAIN TO 'GO IT ALONE' AND SNUB £85BN EU SCHEME FOR NEW 'INTERNATIONAL ALLIANCE'

Brexit Britain is poised to snub the European Union's £85billion flagship research project, opting for an international deal with countries like the US, Japan and Switzelernad instead. The UK's new Secretary of State for Science, Innovation and Technology, Michelle Donelan has said that Britain is "more than ready to go it alone" after the bloc was slammed for "dragging its feet" on negotiations about the UK's involvement in Horizon Europe, the EU's key funding programme for research and innovation with a budget of €95.5billion (£85billion). Britain had previously negotiated to stay in the programme as part of the 2020 Trade and Cooperation Agreement.

However, the bloc told Britain it cannot rejoin until the Northern Ireland Protocol dispute is resolved. As a result, UK-based scientists who had access to prestigious EU grants and were ready to form partnerships with European collaborators have had their funding cut as access to the scheme remains blocked

Now, the new Science Secretary said that should the bloc not agree to the UK's post-Brexit terms of membership, Britain will join with the United States, Japan and Switzerland under a new research alliance.

The European Commission has been accused of "dragging its feet" over negotiations to get the UK back into Horizon, in an effort to "blackmail" the Government in negotiations over the Northern Ireland Protocol.

As part of its inclusion in the seven-year scheme, the UK had pledge to contribute £2.1billion a year, allowing British researchers to access and apply for prestigious EU grants and facilitates collaboration with European scientists who work on projects of all kinds, from climate change studies to quantum mechanics and AI.

While Prime Minister Rishi Sunak is scrambling to resolve the Northern Ireland Protocol dispute with the EU, Ms Donelan's statements suggest that Government intends to remain tough on the bloc.

She wrote in the Telegraph: "If we cannot associate, we are more than ready to go it alone with our own global-facing alternative, working with science powerhouses like the US, Switzerland, and Japan to deliver international science collaborations. I will not sit idly by while our researchers are sidelined."

This comes after the EU told around 150 UK-based winners of Horizon Europe grants that they can only receive their awards if they move to a country within the bloc, or to one that has Horizon Europe association. Up to 27 researchers have already left.

However, heads of science have called on the EU and the UK to resolve their disputes, arguing that the exclusion of British researchers is damaging science across the continent.

Before Brexit, the UK set to become one of the largest contributed to scheme, while also having among the highest number of recipients being awarded funding.

Ms Donelan added: "I know too that the sector is keen to know about our future association with Horizon, the EU's science funding programme. I will set out our position in the coming weeks."

Following Ms Donelan's appointment to her new role, Sir Adrian Smith, President of the Royal Society, said: "A dedicated Department for Science, Innovation and Technology and secretary of state with a seat in cabinet is a clear signal that research and innovation sit at the heart of the Prime Minister's productivity and growth agenda.

"The Royal Society has long called for such a cabinet level position. Michelle Donelan's first job must be to secure association to Horizon Europe and other EU science programmes.

"These schemes support outstanding international collaboration and without being part of them we are undermining the Prime Minister's stated ambition for the UK to be at the forefront of science and technology globally."

Sir Paul Nurse FRS FMedSci HonFREng, Director of the Francis Crick Institute, said: "A first step will be to deliver Government policy to safeguard our long standing and valuable research relationships with the rest of Europe through association with Horizon Europe, which will be possible if there is agreement over the Northern Ireland Protocol."

As at 2022, the failure of the parties to conclude Brexit negotiations has prevented the UK from either applying for or joining Horizon Europe grant funding, in any measure, including hydrogen, solar or other marine zero emission waterborne transport research. We also feel, the Brexit played a part in the Commission refusing applications under the Horizon 2020 agenda, by scoring down applications that included our Foundation - because were are based in England.
This is of course the fault of the British voting public, and British politicians fueling Anti-European sentiment for their own political gain. Moves that were bound to antagonize Brussels in voting to leave. And to cap it all, based on untruths during campaigns, where it appears that a gullible British electorate were not furnished accurate facts. Even the Crown was duped. One reason we advocate complete transparency and accountability in policy making - and on that score - Brexit underlines what happens when politicians are allowed to exaggerate. We advocate zero tolerance to what amounts to fraud.
Leaving the EU was not a sentiment of the Foundation. Despite which, our ocean cleaning research has suffered. Bringing to a halt, our efforts on SeaVax. Now shelved to prevent mounting losses sinking other worthwhile projects.
The message is clear. Politics decides research funding. For that reason, we will endeavour to take more of an interest in policies and policy makers - perhaps even, with a view to lobbying against climate deniers and ecocide. For that might help us decide what projects may achieve funding, and help to get like minded projects funded, for others and ourselves. For it matters not who carries out the R&D, so long as it get done.
NO DEAL BREXIT: 13 December 2018, EU leaders gave Theresa May assurances this evening that they would try to agree on Brexit by 2021 – so that the contentious backstop is never triggered. However, on the Prime Minister's Withdrawal Agreement, the 27 national leaders were firm, saying: 'It is not open for renegotiation.' Tusk also called for heightened preparedness at all levels for all possible outcomes - including a 'no deal' scenario. That deal was struck last month but she has since gone back to Brussels for more assurances so that she can get it past her own MPs.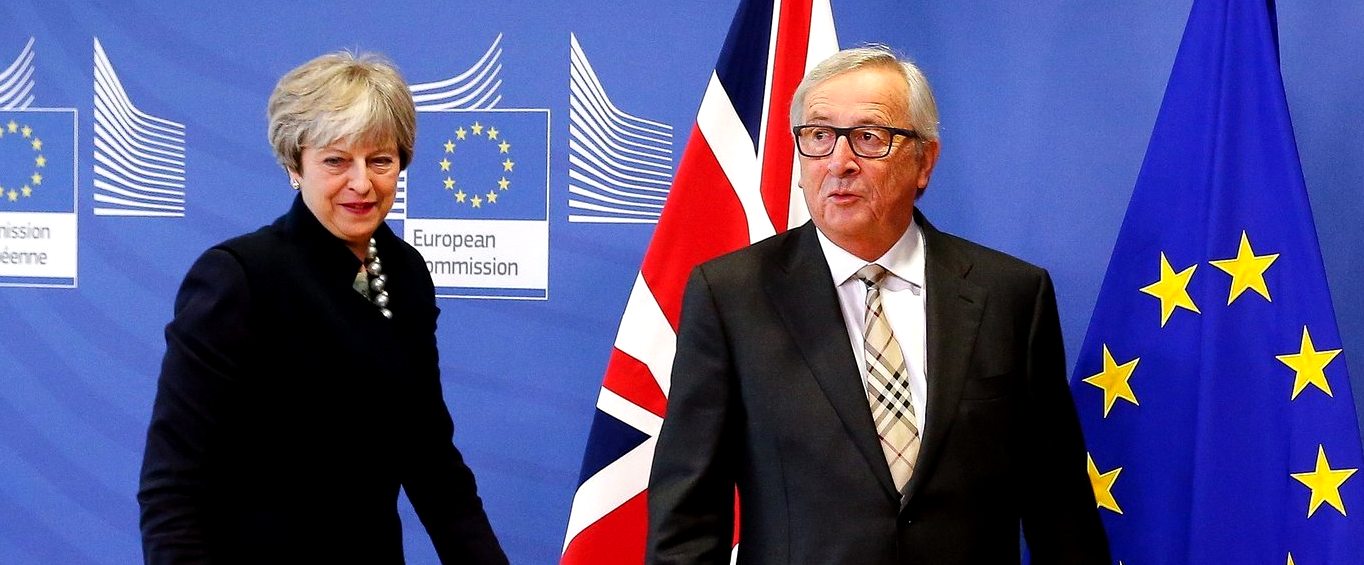 DIVORCEES: Theresa May and Jean Claude Juncker looking something like the state of Brexit negotiations - a little uneasy as they work to decouple in the public glare. Why it was that some politicians said that the UK could enjoy the same benefits as non EU members, as when EU members is a mystery. Clearly, this cannot be the case, or why bother joining the EU in the first place. Another question might be - what are the tangible benefits. Is there any law about misleading the public during elections? If not, perhaps there should be.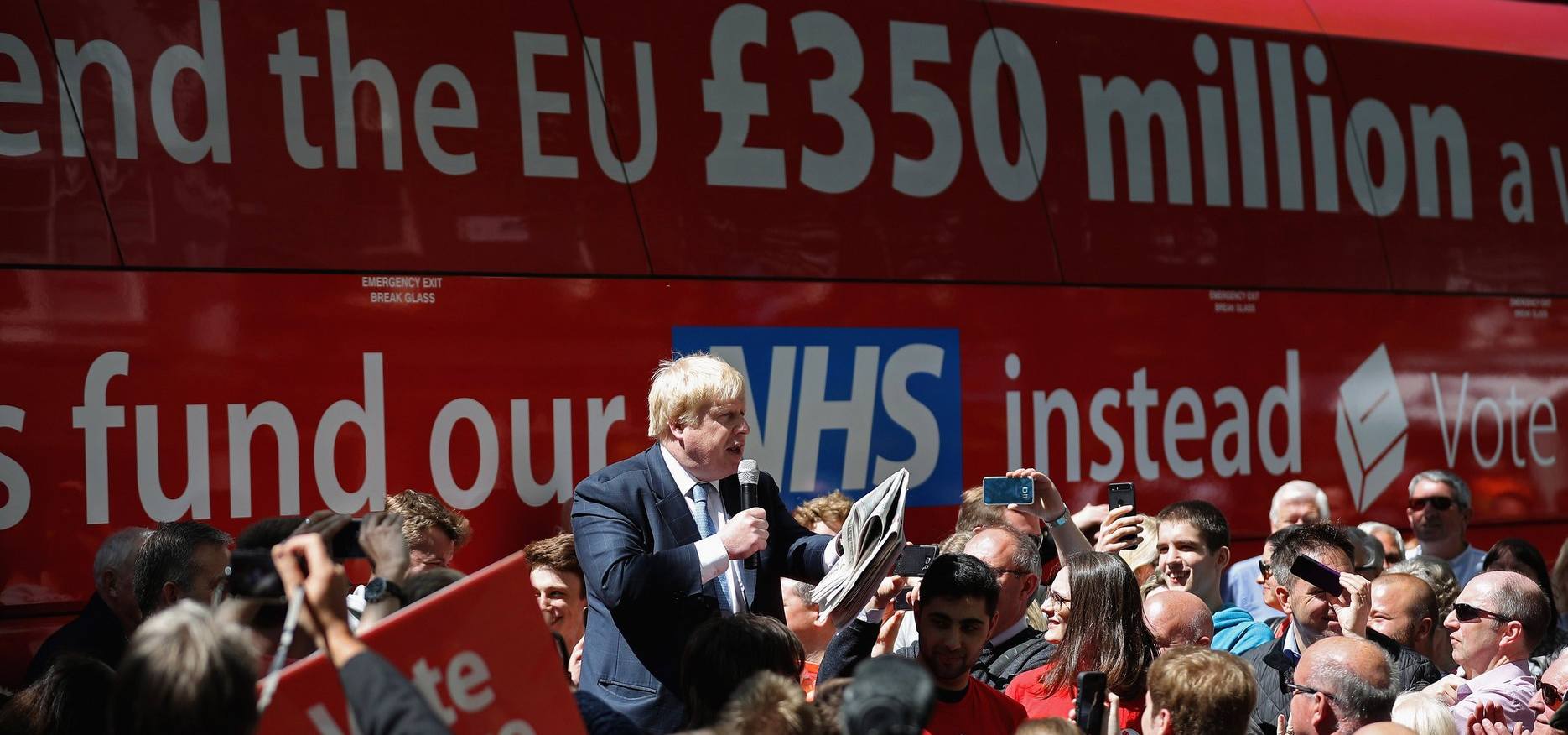 DISGRACED EX PRIME MINISTER: Boris Johnson campaigning in favor of Brexit in York, England. The then Foreign Secretary Boris Johnson, one of the leaders of the 2016 'Leave' campaign, is quoted as saying it was: "time to get the ship off the rocks". Funny that. To which rocks was he referring to and is not the UK now firmly squeezed between a "rock and a hard place"? Bojo was held to be the Clown of Europe, a great speaker, but what he says has proven to be unreliable in the extreme. Wild parties during Covid 19 lockdown, gold wallpaper in return for honours. How is that possible? The truth is the UK could benefit from a Written Constitution, banning of secret societies, and fully independent justice system - that is at present infected with built in corruptions. For starters, the Queen (RIP) was a patron of the Masons. Is King Charles?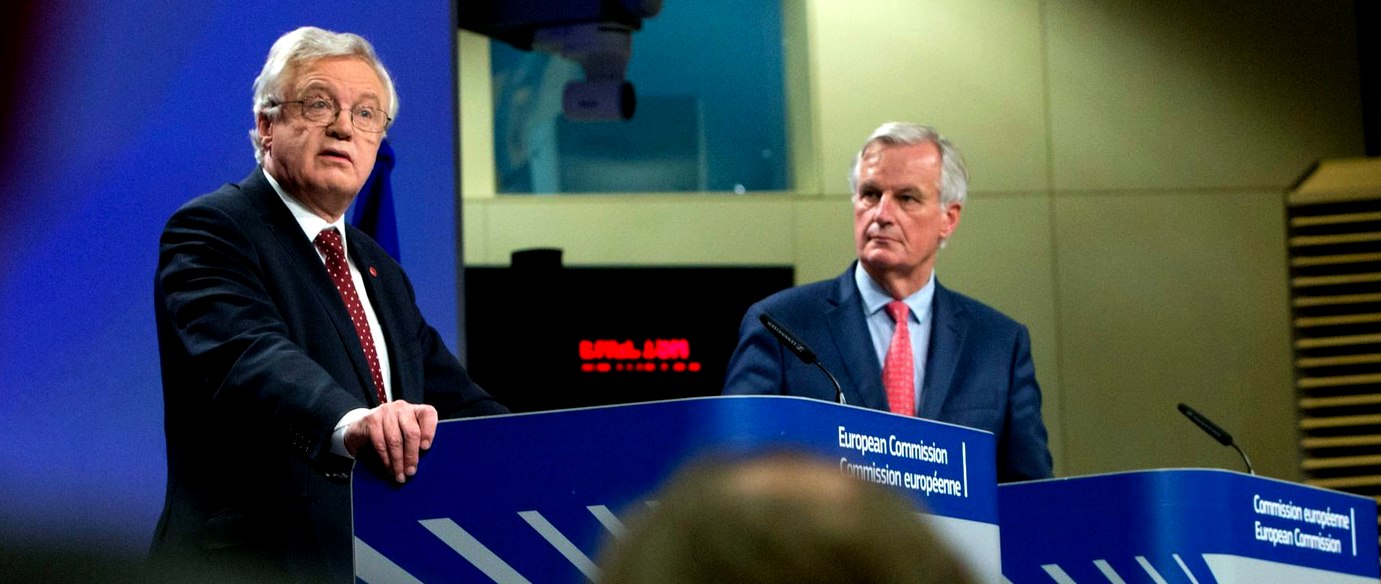 NEGOTIATORS: Britain's chief Brexit negotiator, David Davis, left, and his European Union counterpart, Michel Barnier, in Brussels, November 2017.
Britain reportedly agreed in principle to a divorce check of around $47 billion to $53 billion in the hope of securing the start of talks on a future trade arrangement with the 27 nations.

The unofficial offer, which covers commitments made while a member of the club, roughly doubles Britain's initial $24 billion pledge, made in September, which fell flat with the European Union leadership.

For months, supporters of the withdrawal, known as Brexit, have rejected the idea of paying a substantial exit bill to honor commitments. Some, like the Euroskeptic lawmaker John Redwood has insisted that Britain owed nothing at all. Yet, with time running out for Britain before it departs in March 2019, such pledges have collided, brutally, with reality.

Earlier this year, Britain's chief Brexit negotiator, David Davis, told Parliament he could achieve a trade deal with the European Union that provided the "exact same benefits" as its current membership in the bloc's single market and customs union. He has not repeated that promise recently, probably because European leaders have said repeatedly that Britain cannot possibly enjoy the benefits of membership if it is outside the bloc.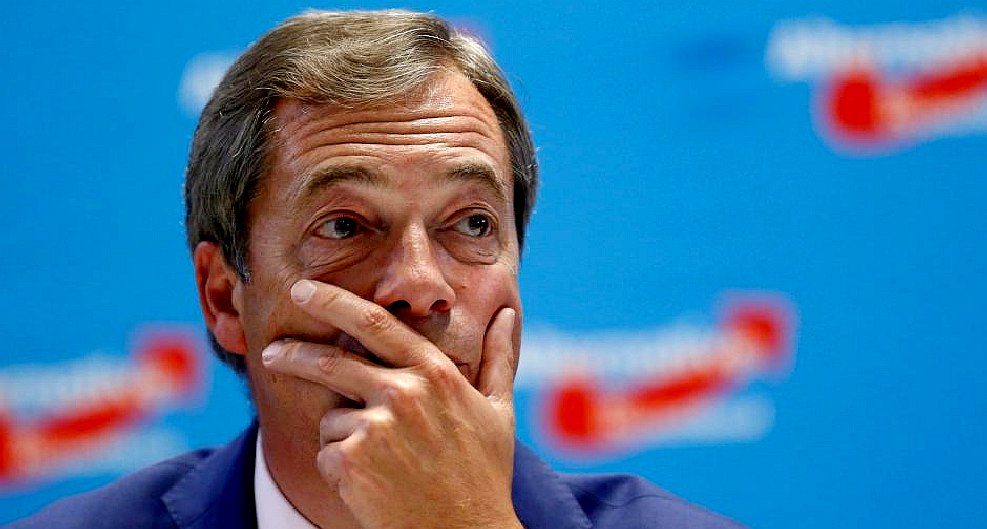 UKIP: Veteran Brexit campaigner Nigel Farage said Britain should walk away from the talks rather than offer such huge sums.

"This is a complete sell-out that is not in our national interest," said Farage, a former leader of the UK Independence Party (UKIP) who played a big role in the 2016 referendum in which 52 percent of Britons voted to leave the EU.

"The British prime minister needs to say: 'Look, either start to behave reasonably, either start to behave in a grown-up way, or ... we are walking away'," Farage, who remains a member of the European Parliament, told Reuters.

Many businesses and investors fear such an approach, leading to a "disorderly Brexit", would spook financial markets, sow legal chaos and badly harm the British and EU economies by disrupting trade ties and cross-border supply chains.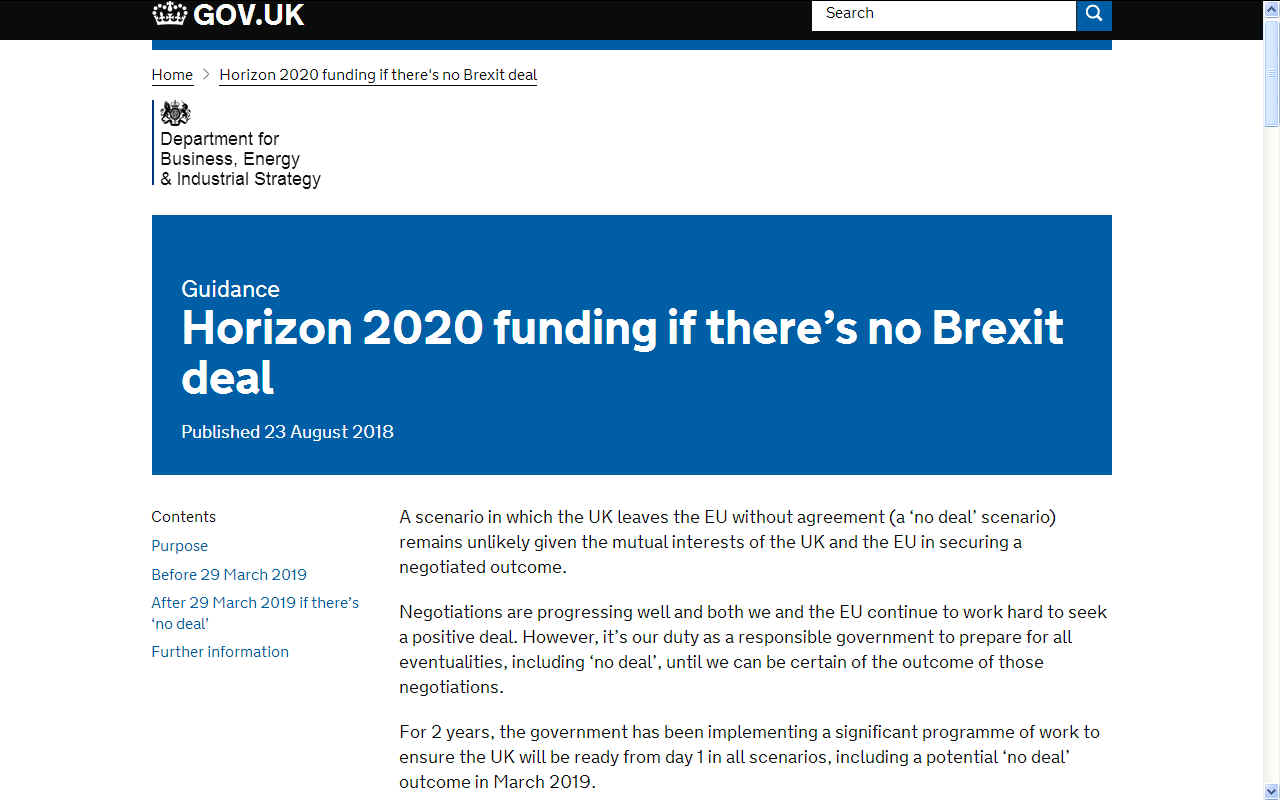 IT'S OFFICIAL - Where speculation has prevented many British concerns from applying for Horizon 2020 funding, let alone considering building a consortium, the UK Government has published their promise to underpin development costs for all grants that are made prior to exit. In terms of international and European innovation for cleaner seas, the Cleaner Ocean Foundation hopes that the media hype that caused the rift will do no further damage, in the hope that one day people of Britain once again endorse the advantages of fuller cooperation by agreement.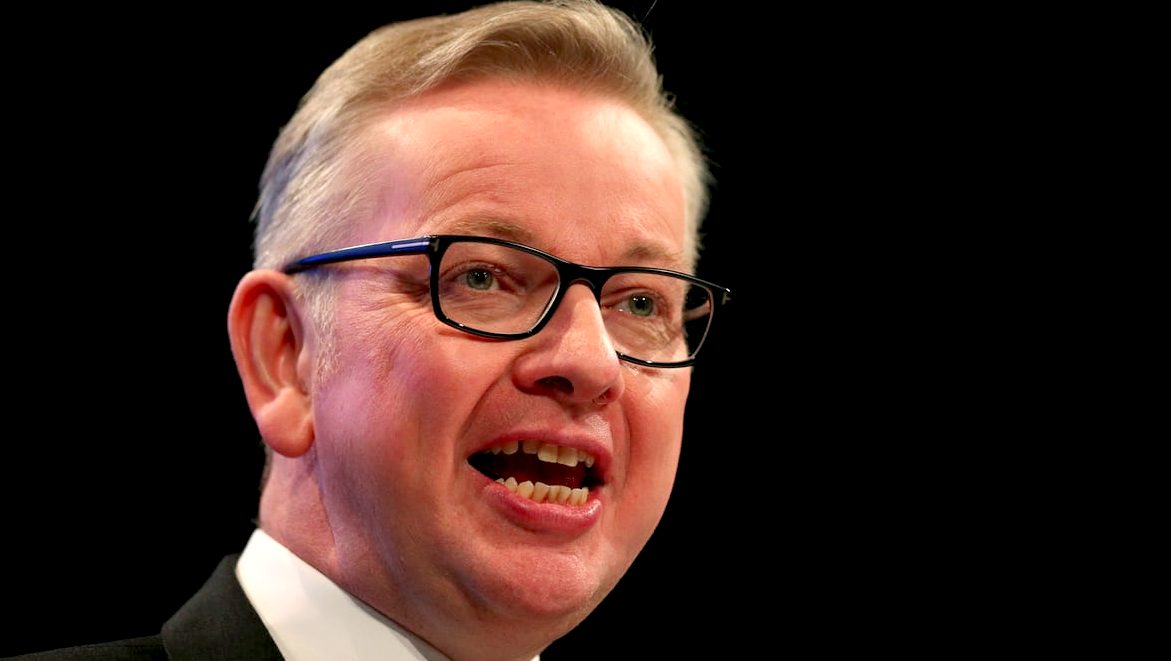 THE GUARDIAN OCT 2017 - A deposit return scheme aimed at slashing plastic pollution has moved significantly closer after environment secretary Michael Gove said he would work with the industry to see how a scheme can be implemented in England.

Gove, speaking at the Conservative party conference in Manchester, announced a four-week call for views to inform how a deposit return scheme (DRS) would be designed. The government's working group on the issue will also consider DRS for metal and glass containers.

Over eight million tonnes of plastic enter the oceans every year, with 80% coming from land. Plastic bottles are a major contributor; in June the Guardian revealed that a million are made every minute and the rate is rising quickly, with annual consumption forecast to top half a trillion by 2021.

At least a dozen nations already have DRS, in which a small deposit is paid when purchasing the bottle, which is then returned when the empty bottle is brought back.

In Germany and Denmark, which have DRS schemes, more than 90% of bottles are returned. In England, just 57% of plastic bottles are recycled, mostly through streetside collection schemes. Gove was pressured this summer by opposition parties and NGOs to introduce a DRS in England, and Nicola Sturgeon announced in September that Scotland would introduce a DRS.

"We must protect our oceans and marine life from plastic waste if we are to be the first generation to leave our environment in a better state than we found it," Gove said. "We want to hear people's ideas on how we could make [a DRS] work in England." In September, Gove said a plastic bottle DRS was a "great idea" but it was vital to devise a programme "that others can buy into".

Gove noted the huge reduction in plastic bag use resulting from the 5p charge placed on single-use bags, and that the government was drawing up "one of the world's toughest bans on plastic microbeads". The DRS working group has been asked to report early in the new year.

"The continuous stream of disposable plastic bottles running into our oceans has been growing alarmingly," said Greenpeace oceans campaigner Elena Polisano. "We urgently need solutions, and we think a DRS is probably the best way to raise the collection rate."

Coca-Cola is one of the world's biggest producers of plastic bottles and in February reversed its opposition to a DRS in Scotland. In July, the company announced it would use more recycled plastic in its bottles. However, on Monday Greenpeace revealed that Coca-Cola has increased its production of plastic bottles by a billion in the last year.

Louise Edge, oceans campaigner for Greenpeace, said: "Coca-Cola talks the talk on sustainability but the astonishing rate at which it is pumping out single-use plastic bottles is still growing."
THE SUN 10 NOV 2017: Theresa May has been branded economically illiterate by Treasury insiders as relations with the Chancellor plunge to new depths.

Sources from within Philip Hammond's team at No.11 have hit out at the PM's refusal to approve a change to planning laws to end the housing crisis.

They claim that however much money is thrown at the problem, only a relaxation of the planning rules will trigger a housebuilding boom.

In today's column by James Forsyth one source says: "Philip Hammond has explained the economic reality to her. "And she just doesn't want to listen."

Sources close to the PM insist the pair are sharing details about the Budget and dismissed reports of a breakdown in relations.

But others claim relations between Philip Hammond and Theresa May are now as bad as Tony Blair and Gordon Brown during the Labour government.

In Whitehall, insiders claim the Treasury is trying to shield the Budget from Number 10 . The Sun last week revealed the PM and Chancellor clashed at a story Budget meeting.

They met in No.10 to plan big measures in the Chancellor's annual economic blueprint on November 22.

The Budget is the last big chance this year to reboot Theresa May's premiership. But one MP admitted the party simply needed to "get through" the Budget without any gaffes. He told the Sun: "We need a B plus rather than an A Star."
BREXIT ON WIKIPEDIA

Brexit is the popular term for the prospective withdrawal of the United Kingdom (UK) from the European Union (EU).

In a referendum on 23 June 2016, 51.9% of the participating UK electorate (the turnout was 72.2% of the electorate) voted to leave the EU. On 29 March 2017, the British government invoked Article 50 of the Treaty on the European Union. The UK is thus on course to leave the EU on 29 March 2019.

Prime Minister Theresa May announced that the UK would not seek permanent membership of the single market or the customs union after leaving the EU and promised to repeal the European Communities Act of 1972 and incorporate existing European Union law into UK domestic law. A new government department, the Department for Exiting the European Union (DExEU), was created in July 2016, with Eurosceptic David Davis appointed its first Secretary of State. Negotiations with the EU officially started in June 2017.

The UK joined the European Communities (EC) in 1973, with membership confirmed by a referendum in 1975. In the 1970s and 1980s, withdrawal from the EC was advocated mainly by Labour Party members and trade union figures. From the 1990s, the main advocates of withdrawal were the newly founded UK Independence Party (UKIP) and an increasing number of Eurosceptic Conservative Party members.
LIFE RAFT: No more gripes about the EU from the UK might be a good thing. It's looking good for Scotland who may decide to remain in the EU and severe ties with the UK. Incredible in a world that is shrinking as technology advances us closer to our neighbours and so becoming more of a global community, that any player would wish to step back into the dark ages. The UK are sending themselves to Coventry, simply because David Cameron threw all his toys out of the pram in earlier negotiations - not realizing that he was opening the UK to die hard nationalists waiting in the wings to fuse immigration issues with sovereignty.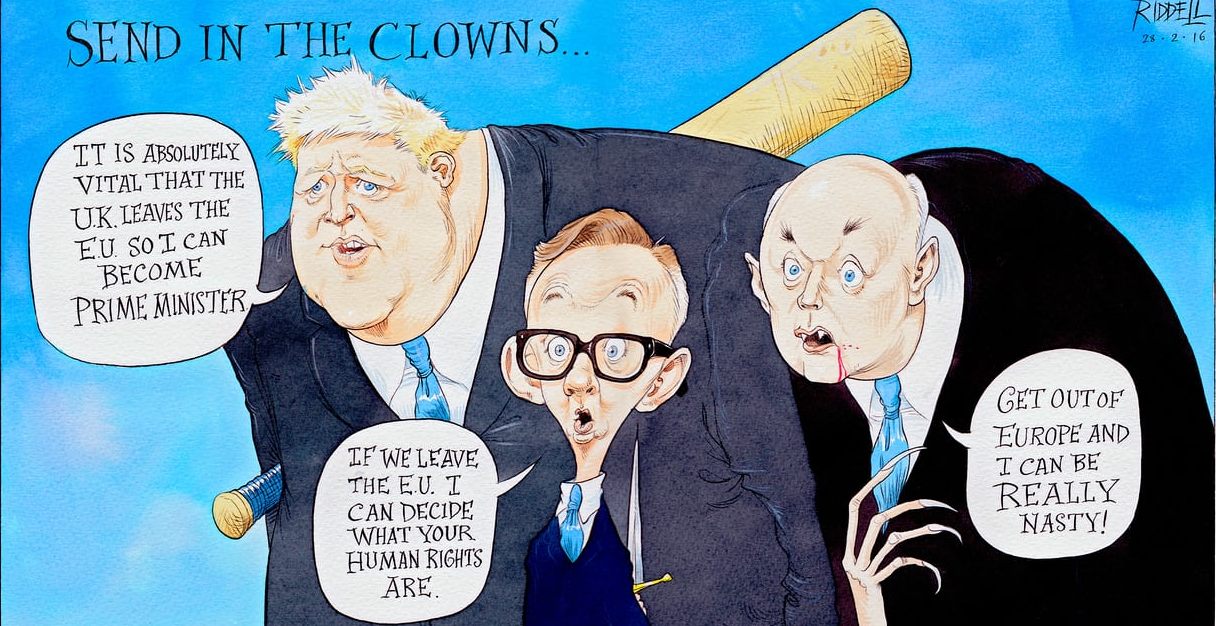 BORIS GOING FOR GOLD: A referendum promised by an insecure leader in an attempt to keep his critics quiet in the run up to the last election, this showdown has been coming for years with anti-human-rights campaigners trying to all but eliminate the inconvenience of every persons basic right to be treated like a human being. Now as the "bastards" who made John Major's life a misery cheer on from their bath chairs, today's rightwing clowns are having their moment in the limelight. Bloodsucking civil servants will be doing all they can to write out as much of the European Convention as they can, knowing full-well that in the end a more civilized society is at the end of the road - where the writing on the wall in sustainability - an invisible intellectual barrier that limits the harm we might invoke on natural resources before that harm comes back to create food shortages and civil unrest. These cartoonists are saying it all.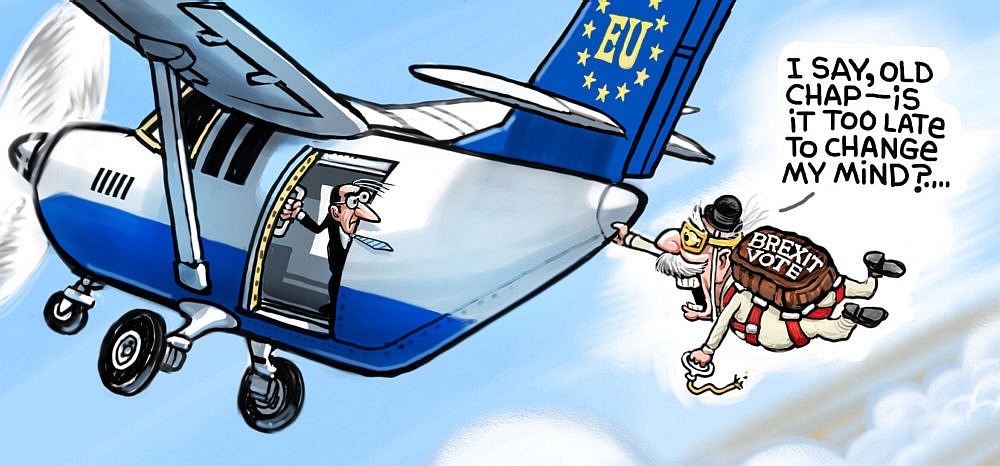 CARTOONS
The above collection of cartoons from around the world more or less sums up how the UK is perceived for staging this particular political tantrum. However you may view the situation, one thing at least is that a process of review could be established.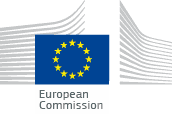 LINKS & REFERENCE
https://www.msn.com/en-gb/news/world/brexit-britain-to-go-it-alone-and-snub-85bn-eu-scheme-for-new-international-alliance/ar-AA17nUFF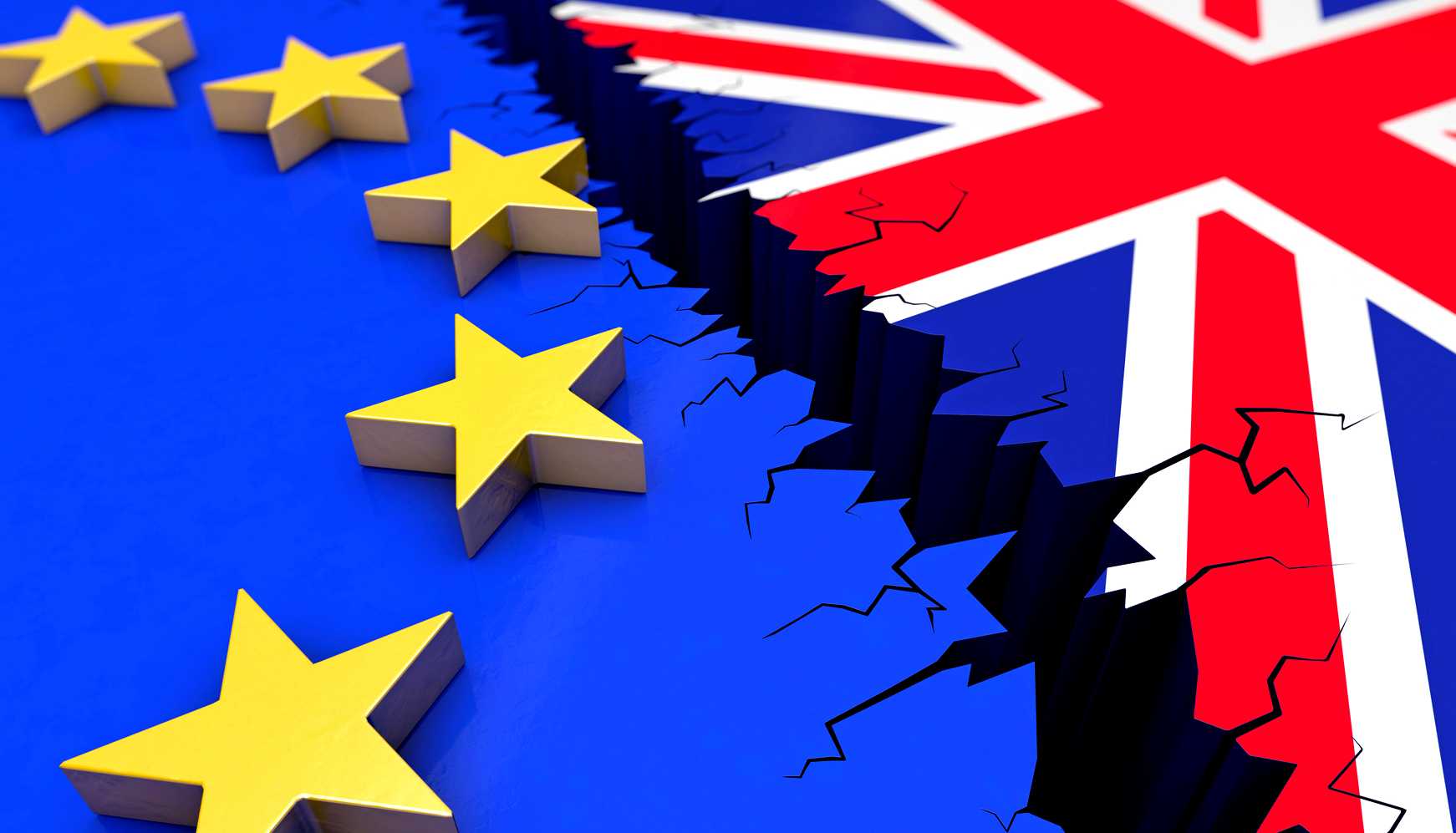 This website is provided on a free basis as a public information service. copyright © Cleaner Oceans Foundation Ltd (COFL) (Company No: 4674774) 2023.
Solar Studios, BN271RF, United Kingdom. COFL is a charity without share capital. The names AmphiMax™, RiverVax™ and SeaVax™ are trade names used under license by COF in connection with their 'Feed The World' ocean cleaning sustainability campaign.