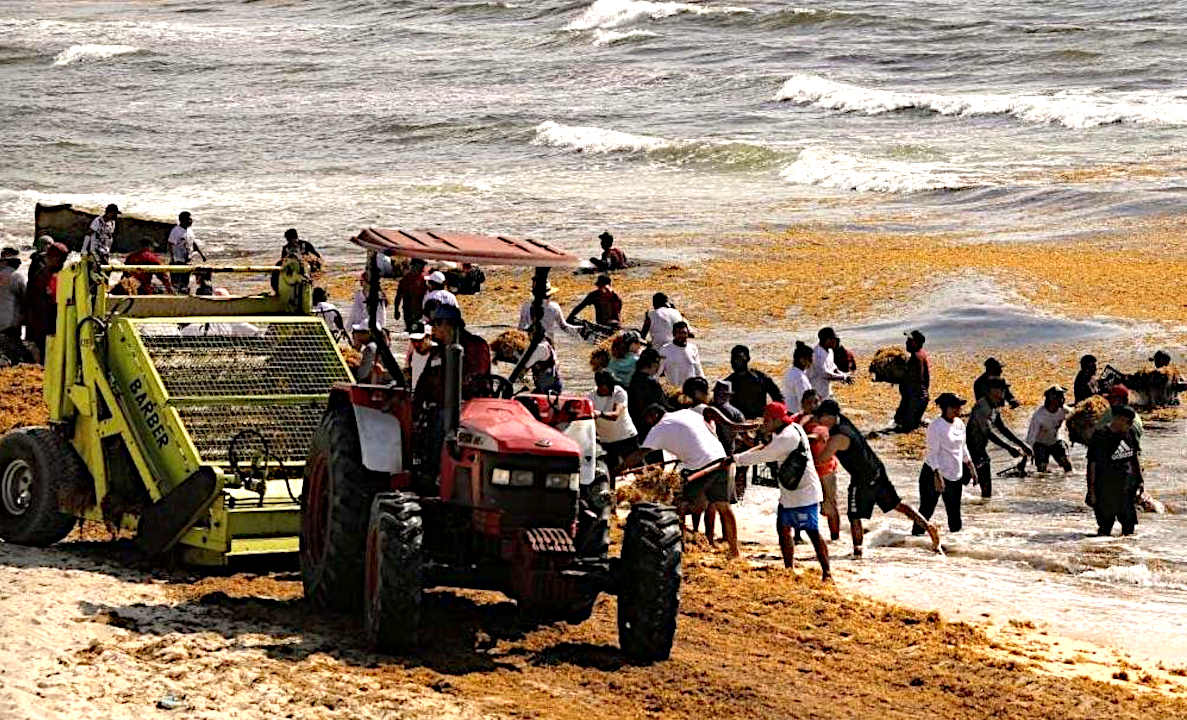 Sargassum is found in the tropical oceans of the world. They are also called planktonic (free-floating species) which inhabits coral reefs and shallow water and are the genus of brown algae of sargassaceae family. These are small in size and have leaf-like toothed edges. Some of its species are reproduced sexually and pelagic species are reproducing by fragmentation. The term Sargassum was initiated by Portuguese sailors who found it in the Sargasso Sea. They are brown genus which may grow to a length of meters.
Sargassum is a genus of large brown algae that includes over 300 species. Two prevalent species in the Atlantic Sargassum natans and Sargassum fluitans, are found in free-floating mats, held afloat by gas-filled bladders.

Floating rafts of Sargassum can stretch for miles across the ocean. This floating habitat provides food, refuge, and breeding grounds for an array of animals such as fishes, sea turtles, marine birds, crabs, shrimp, and more. Some animals, like the sargassum fish (in the frogfish family), live their whole lives only in this habitat. Sargassum serves as a primary nursery area for a variety of commercially important fishes such as mahi mahi, jacks, and amberjacks.

When Sargassum loses its buoyancy, it sinks to the seafloor, providing energy in the form of carbon to fishes and invertebrates in the deep sea, thus serving as a potentially important addition to the deep-sea food web.

Because of its ecological importance, in 2003, Sargassum within U.S. Exclusive Economic Zone off the southern Atlantic states was designated as Essential Fish Habitat, which affords these areas special protection. However, Sargassum habitat has been poorly studied because it is so difficult to sample. Further research is needed to understand, protect, and best conserve this natural resource.

Once confined to the Sargasso Sea, recent studies suggest that changing wind patterns has caused Sargassum to proliferate across the tropical Atlantic (Johns et al. 2020). Thousands of tons of Sargassum end up on beaches in the Caribbean, Americas, and West Africa. It releases gas that smells like rotten eggs, which attracts flies, deters tourists, and causes respiratory problems. Mounds of algae on beaches and dense mats in the ocean harm marine ecosystems and disrupt recreation and fishing, costing local communities millions of dollars. Removal and containment efforts are often expensive and puts marine life at risk

In limited amounts, washed-ashore Sargassum plays an important role in maintaining Atlantic and Caribbean coastal ecosystems. Once ashore, sargassum provides vital nutrients such as carbon, nitrogen, and phosphorus to coastal ecosystems which border the nutrient-poor waters of the western North Atlantic tropics and subtropics. Additionally, it decreases coastal erosion.

However, beginning in 2011, unprecedented quantities of Sargassum began inundating coastal areas in record amounts. Coastlines in Brazil, the Caribbean, Gulf of Mexico, and the east coast of Florida saw quantities of sargassum wash ashore up to three feet deep. The first major Sargassum inundation event occurred in 2011 and had a biomass increase of 200 fold compared to the previous eight years average bloom size. Since 2011 increasingly stronger inundation events have occurred every 2–3 years. During a Sargassum inundation event in 2018, one Sargassum bloom measured over 1600 square kilometers, more than three times the average size. Recent inundation events have caused millions of dollars of lost revenue in the tourism industry, especially hurting small Caribbean countries whose economies are highly dependent on seasonal tourism.

While the Sargasso Sea is a known source of sargassum blooms, variations in the sargassum types composing these inundation events have led researchers to believe that the Sargasso Sea is not the point of origin of inundating Sargassum. [Pointing to the Equatorial Belt] Sargassum natans I and Sargassum fluitans III are the dominant sargassum species found in the Sargasso Sea. Recent net sampling studies have found Sargassum natans VIII, a previously rare type, is constituting a dominating percentage of Sargassum biodiversity in the Western Atlantic and Sargasso Sea.
Seaweeds such as kelp and sargassum, from the Sargasso Sea, might be harvested in bulk using adaptations of the SeaVax concept: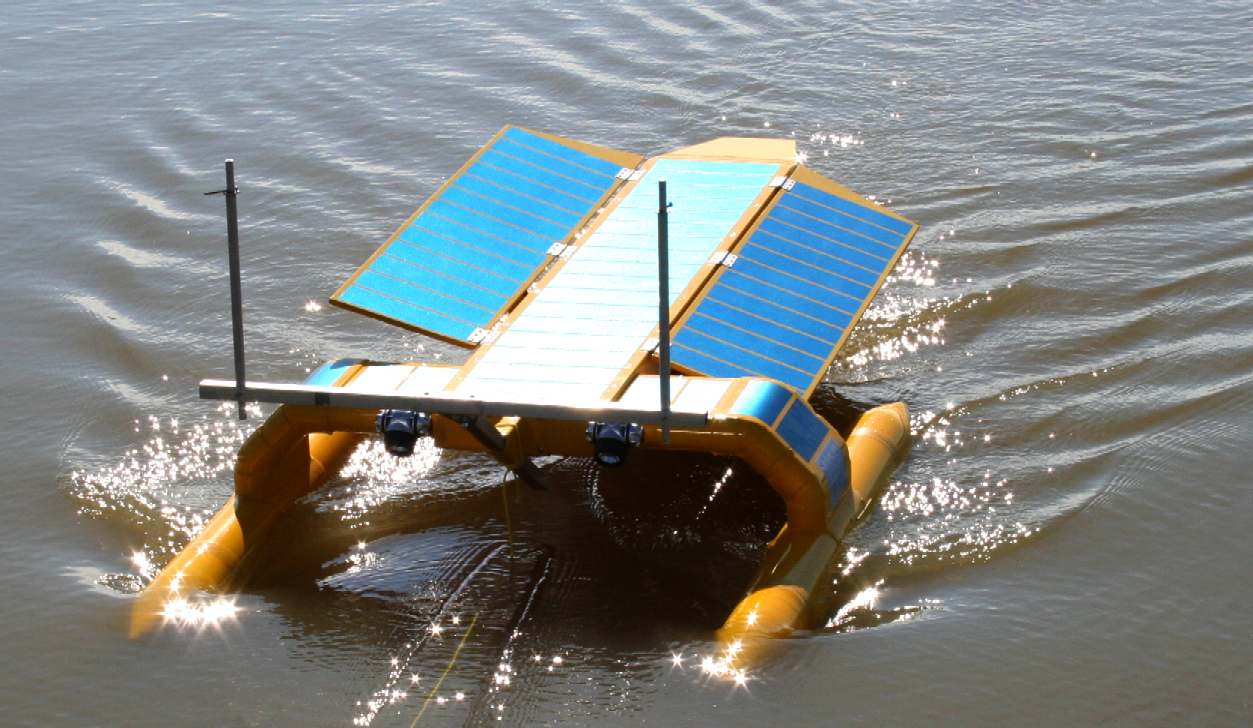 MARINE COMBINED HARVESTER - The basic SeaVax machine is seen here as a proof of concept (working model). It was designed to filter macro & micro plastics from seawater - in bulk, and recover ghost fishing nets of up to 150 tons. It was to be solar and wind powered when conceived in 2015. Today, the vessel would need more power if a fleet of them are to deal with something like 24 million tons of sargassum a year. Around triple the 8 million ton capacity envisaged for marine litter. Any revised specification would probably need to include renewable hydrogen in the energy equation. The Foundation is open to expressions of interest, looking for partners in the affected regions, who may be looking to operate a business, working with a charity that will provide IP, marketing and technical support.

BIOMASS - BUILDING MATERIALS - CANCER TREATMENTS - CLOTHING & SHOES - CO2 SEQUESTRATION
COSMETICS - FERTILIZERS - FOODS - MEDICINES - MINERALS - PACKAGING - SUPPLEMENTS - VITAMINS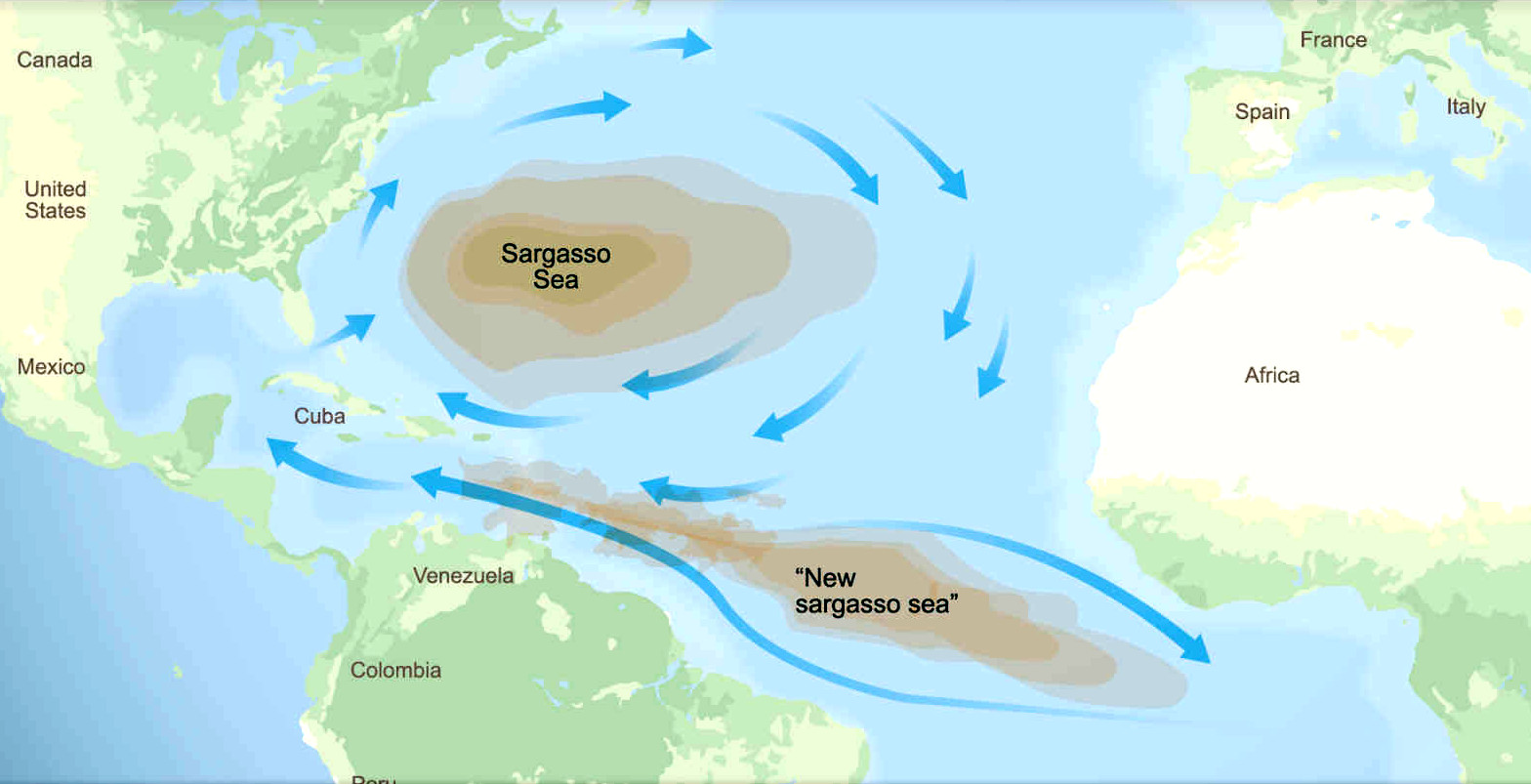 SARGASSUM - The giant brown seaweed, having shown that it can spread from North to South Atlantic oceans, could spread to the Indian and Pacific oceans as a potentially invasive species.

SARGASSUM NEGATIVES AND POSITIVES

It is possible to transform a threat into an opportunity. In 2018, at the request of the Mexican government, a group of scientists from UNAM formed a permanent working group to try to provide solutions to this problem on the beaches of Quintana Roo. Efforts have been made to collect sargassum, for example with the installation of barriers, and to monitor the phenomenon, both to give early warnings and to rule out possible human health problems.

One machine that may have been adapted to harvesting sargassum en mass, is the SeaVax, ocean filtration vessel, working in conjunction with the SeaNet fleet control system. Unfortunately, that project faltered due to lack of commitment from any G20 country, including European Union funding. The project was active from late 2015, shelved in 2020. Where at the time development estimates using volunteers and academics was in the $6-11 million region. Today, that would be $60-120 million at the very least. Taking it out of reach of Caribbean nations, with their allotted budgets being significantly lower. Reluctantly, the SeaVax dream team championing the system was disbanded in 2020 to avoid further loss making, and would almost need to start again, with the Foundation's chief designer getting on a bit - it's a tall order. There would have to be serious expressions of interest, presumably garnered via the Cartagena Convention, and emergency contingency funds.
The Cartagena Convention was ratified by 26 United Nations Member States in the Wider Caribbean Region, but not the European Union. It covers the marine environment of the Gulf of Mexico, the Caribbean Sea and the areas of the Atlantic Ocean adjacent thereto, south of 30 north latitude and within 200 nautical miles of the Atlantic Coasts of the United States.
There is nothing to prevent other technology champions coming forward to form Gulf or Caribbean island cooperatives - or both. The Cleaner Ocean Foundation will donate a free licence to any bona-fide research group, to utilize the SeaVax™ trademark for grant application purposes, provided that technology advancements are shared for the common good. In the alternative, the Foundation will join any cooperative that is serious about working together to beat the manifold state of emergency situations. Expressions of interest welcomed. Please contact our Managing Trustee in the first instance.
With an efficient method of harvesting the macro-algae, there is potential to turn a nuisance into opportunity:

TO GENERATE BIOMASS
Biomass can be used as fuel or for the generation of biofuels, etc. Though, such use may be cause for concern in terms of combustion gases and global warming.
FOR USE AS A FERTILIZER
Fertilizers: Organic fertilizers are produced for the cultivation of horticulture crops like kharif, rabi, zaid, food crops, and plantation. The agricultural world is facing a fertilizer shortage.
Sargassum has a high content of nitrogen and other important nutrients, which can be used to fertilize fields if done properly. Various species of sargassum have potassium chloride; they are used for making fertilizers in different countries like US, Japan, South India, France, and England. In South India, these are used as manures for plantations of coconut. They are also used for producing various crops.
Plantation: You can use sargassum products as manures for plantations. It may help you in better yielding of plants and kitchen gardens. It provides for organic veggies and fruits.
MATERIALS FOR THE FOOD & COSMETIC INDUSTRIES
Sargassum also helps in making food products which has their own nutritive value and composition. These products are prepared under hygienic conditions; it can be served as soups, salads, veggies, curries and many more. Gel form: Sargassum is also used as a gel form. This gel is used for the manufacturing of agricultural products. Snacks form: Sargassum is also available in snacks form. Different flavors of seaweed snacks are available online. It could be either in chips, nuggets, and sushi or in rice form.
Sargassum is especially rich in sodium alginate, a polysaccharide that is often used as a thickener in food products (tomato ketchup) and even cosmetics. Sargassum is used for making agar which is obtained from several species. They are used in several ways for example, in preparation of jellies, ice cream, and other desserts. It can be also used for purifying liquids and in textile sizing. We can also use agar in preparing cosmetics, shoe polishes, shaving creams. It is also used by science students for media preparations.
Sargassum is also used as a source of food such as food supplements, pills, seafood, rice, sauce, curries, vegetables, soups, and seasonings.
FOR MEDICAL USE - MEDICINES
Most of the seaweeds are salty in taste. The presence of iodine in sargassum is used for maintaining thyroid gland in our body. It helps in preventing goiter testicular pain and swelling. It helps in maintaining healthy blood sugar and blood pressure.
Different minerals like calcium, zinc, phosphorus, sodium, copper, etc are the main nutritive constituents of the body. The daily intake of iron, zinc helps in controlling anemia, high menstrual loss, and pregnancy.
Sargassum also has its own nutritional value. It has different nutrients like essential amino acids, minerals, carbohydrates, protein, cellulose, vitamins, carotenoids, and fatty acids. This nutrient supports antioxidant and antibacterial properties.
Sargassum also contains high concentrated saturated fatty acids, polyunsaturated fatty acids; even it has a low level of lipid.

Sargassum also contains amino acids which have a high range of proteins. All essential amino acids like arginine, leucine, valine, tryptophan, lysine, etc.
Sargassum is enriched with vitamins. Different vitamins A, B, C, D, E, and K help in different ways. It may help in maintaining healthy bones, tissues, eye health, and healthy skin.
HEALTH PRODUCTS, SUPPLEMENTS
Sargassum also helps in maintaining our health. Supports in blood pressure: Some species of sargassum helps in maintaining the blood pressure of the body. It keeps you healthy and active throughout the day. Supports thyroid health: Sargassum is rich in iodine, thus it helps in maintaining thyroid gland of the body. It also helps in preventing hypothyroidism.
Anti-cancer health: Sargassum also helps in controlling cancer. It helps in the proliferation of anaplastic cells in the body. Acts as anti-coagulant property: It also helps in preventing coagulation as it helps in stopping blood from clotting. Maintains sugar levels in the body: Sargassum also helps in maintaining sugar levels in the body. When we add seaweed to our diet, it helps in improving blood sugar levels in our body. Helps in losing weight: Sargassum helps in reducing excessive fat from the body. It may help in delaying hunger and you can lose weight.

Managed effectively, it may be possible to reduce the negative impact of sargassum and even benefit from this environmental nuisance.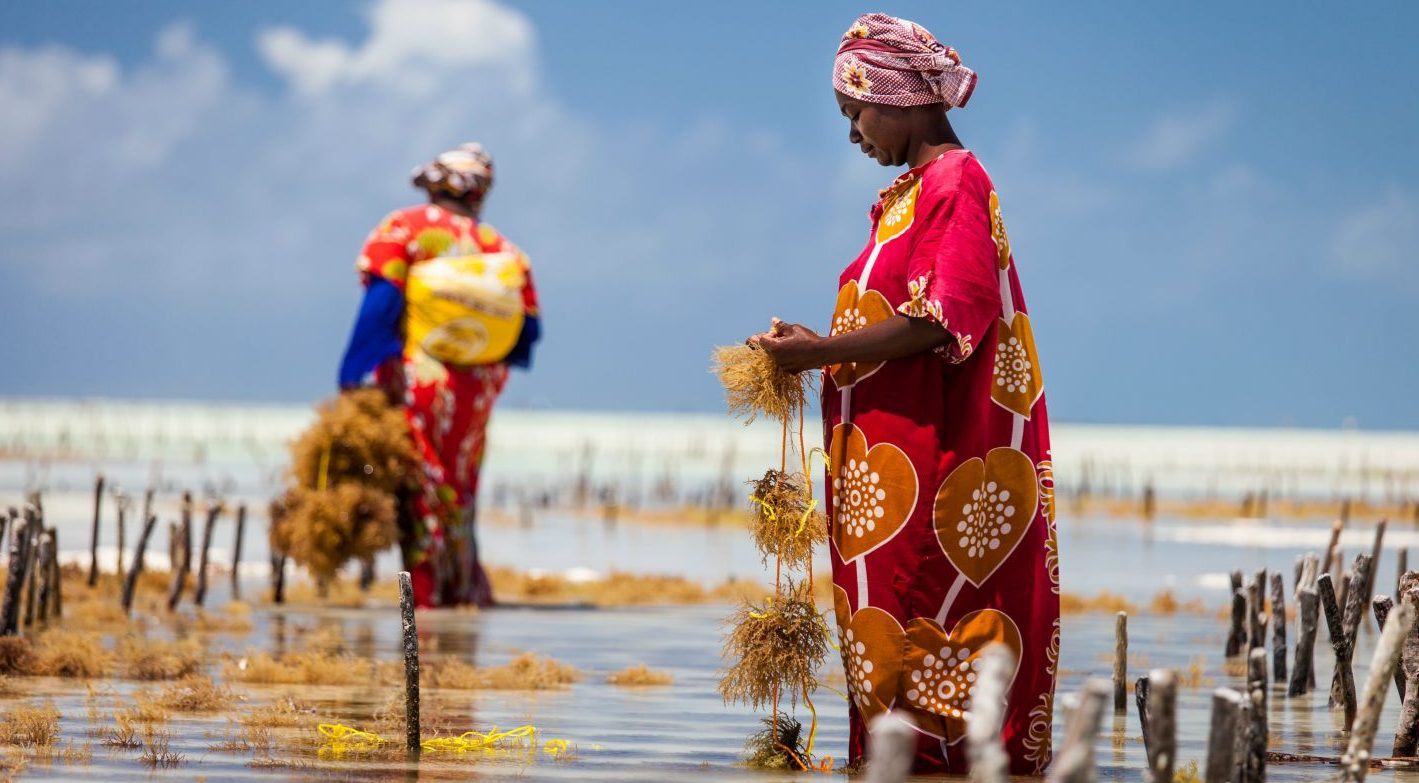 ISLAND NATIONS

Parts of the Caribbean are dealing with a most unwelcome visitor these days that threatens to be a buzzkill for beachgoers, swimmers and strollers along the shorelines of several islands.

Although harmless, sargassum is a stinky type of seaweed, an eyesore that rolls in on ocean currents and tides, chokes the shores and guests' nostrils and is difficult to clean up.

Sargassum is naturally occurring and begins washing up on shorelines in March. But the levels typically increase over the summer when temperatures soar, creating ideal conditions for its propagation. Global warming and runoff from fertilizers in waters emptying from Brazil's rivers into the Atlantic as well as hurricanes and tropical storms that churn up ocean waters are two probable causes for its appearance each summer.

Sargassum showed up briefly in the Caribbean in 2011 and had a massive comeback in 2015, which continued each summer through 2021. Now it's back.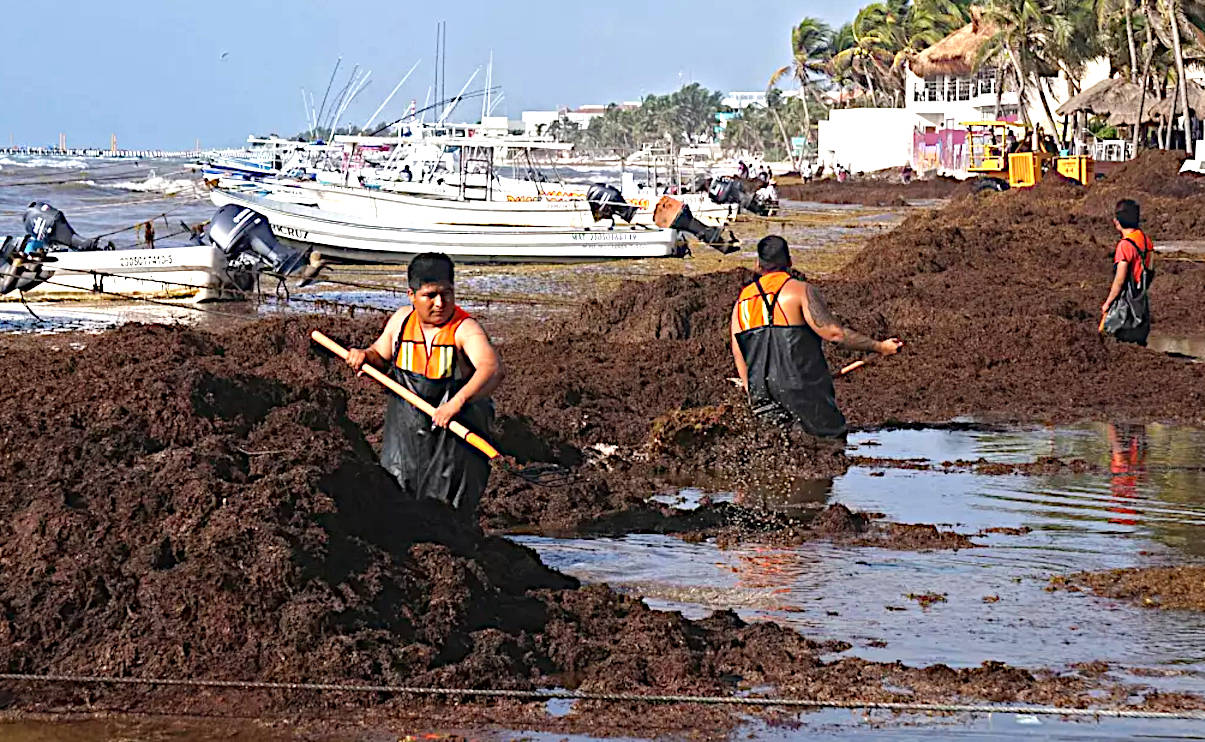 "In all regions combined — the tropical Atlantic, the Caribbean Sea and the Gulf of Mexico — the total sargassum amount increased from 18.8 million tons in May 2022 to 24.2 million tons in June 2022, thus setting a new historical record," the University of South Florida Optical Oceanography Lab reported.

Hard hit this year are fishermen (the stuff gets tangled in fishing lines and engine rotors), tour boat operators, beachfront resorts, restaurants and attractions along portions of the coastlines of Barbados, the Cayman Islands, the Dominican Republic, Puerto Rico, St. Maarten/Martin, Jamaica and the Mexican Caribbean.

Ramped up efforts to keep the beaches clean include floating barriers and nets deployed beyond the surf line to catch and redirect the sargassum before it can wash ashore. Collection of the sargassum caught by the barriers is done by boats. Heavy-duty tractor-style machines are used to remove the seaweed from the sand. Armies of hotel workers rake the beaches daily, sometimes twice a day.

The DR has installed an eight-mile-long barrier in the sea to try and control the spread of sargassum along the beaches in the Punta Cana area.

And then there's the problem of what to do with it once it's been cleared from the beaches. According to the Jamaica Gleaner, Jamaican officials are studying whether sargassum could be processed and reutilized.

In late July, the Cayman Islands' Department of the Environment launched a cleanup trial using a giant pumping system to suck a huge blanket of sargassum from the edge of North Sound in West Bay, filter it out and return the water to the sea, according to the Cayman Compass. Workers managed to remove more than 2,800 square feet of sargassum before it became too difficult to handle the pump once the seaweed had decomposed.

"Cayman is among many Caribbean nations dealing with larger and more frequent infusions of sargassum," Premier Wayne Panton said. "We are all trying to figure out how to effectively anticipate and manage the influxes in appropriate ways."

"The presence of sargassum in the Caribbean is part of the 'new normal'," according to a spokesperson for Jamaica's National Environment and Planning Agency.

SPREAD OF THE CONTAGION
Even if we transition to renewables immediately, global warming will not reverse for 30-50 years at best, and that is with a fair political wind. Meaning that the conditions for sargassum to populate in welcoming equatorial waters (rich in nutrients) around the globe, remains a distinct possibility.
Especially where the water temperature is never lower than 18С degrees (+64F degrees), as in the Sargasso Sea. Such as these regions:
Atlantic - North & South Equatorial
Banda Ceram Molucca & Timor Seas
Pacific Ocean - North & South, Equatorial Belt (Costa Rica, Ecuador, Panama regions)
Seas and oceans in these latitudes could become inundated with macro algae, if the rafts of floating seaweed manage to navigate less hospitable barriers, such as colder regions. Which at the moment, Cape Horn and the Cape of Good Hope appear to offer some protection from invasion. See below for the current (unconfirmed) state of the art.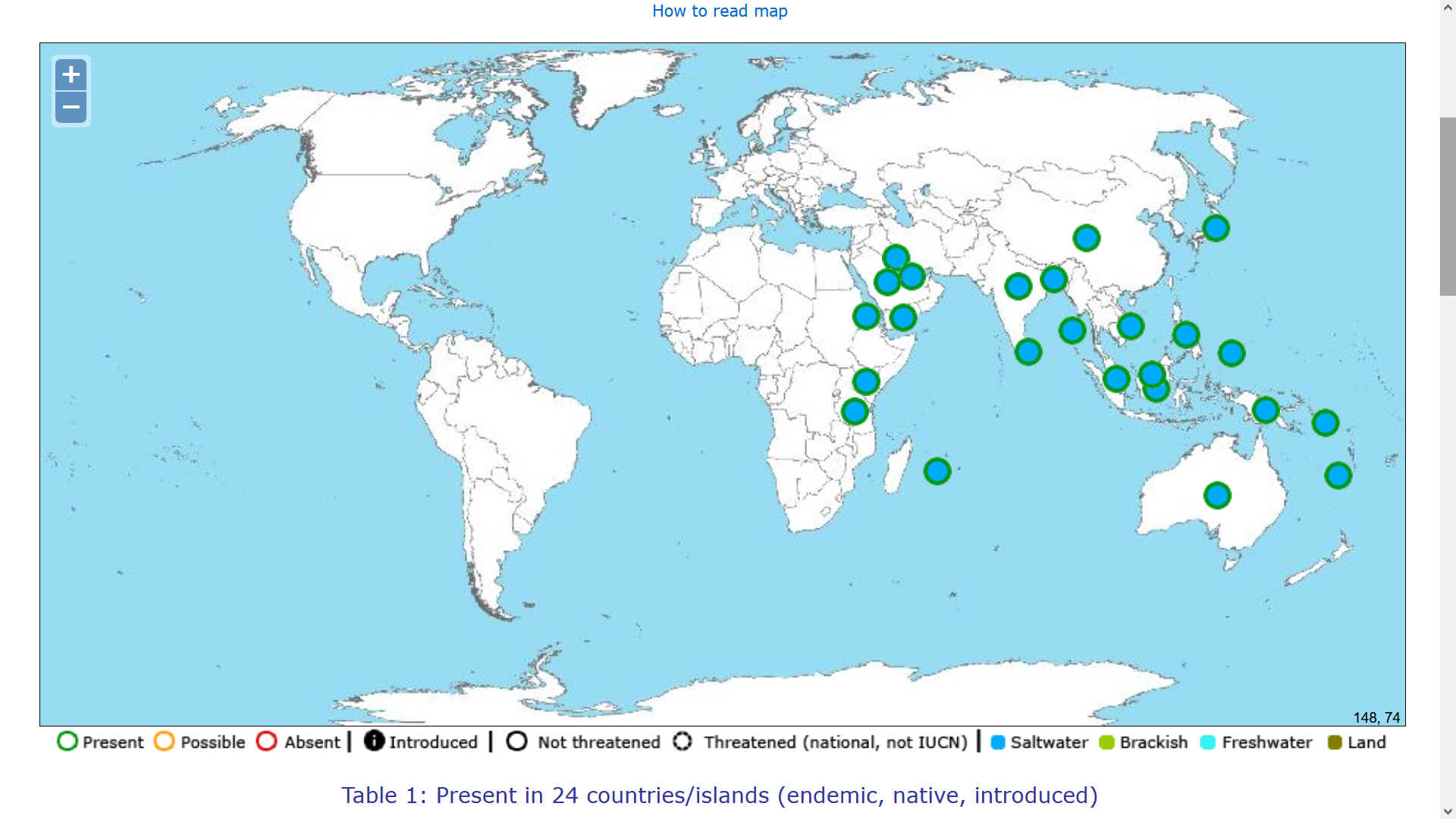 HOW TO READ THE MAP - The literature species report in a country is represented by an icon (a circle) in the middle of the country polygon.
Important: a report in the literature does not necessarily mean that the species is currently present in the country! There are errors in literature, misidentifications, and some species have been locally or globally extirpated or eradicated.

The patterns and colours of the icon give 4 additional indications (see the legend under the map for the signification of the different colours and patterns):

Presence status: the colour of the ring (green: Present; orange: Possible; red: Absent)
Introduction status: a white 'i' in the middle of the circle indicates that the species has been introduced, if the presence ring is green it means that the species established itself or that we don't know the current presence status, if the presence ring is red it means that the species did not established itself.
Threat status: the pattern of the ring (not dashed: not threatened or no information; dashed: any status indicating that the species has a national threatened).
Important: This is the national threatened status, not the global IUCN one.
Salinity status = milieu: the colours in the middle circle (blue: Marine; green: Brackish; light blue: freshwater; dark green: Land).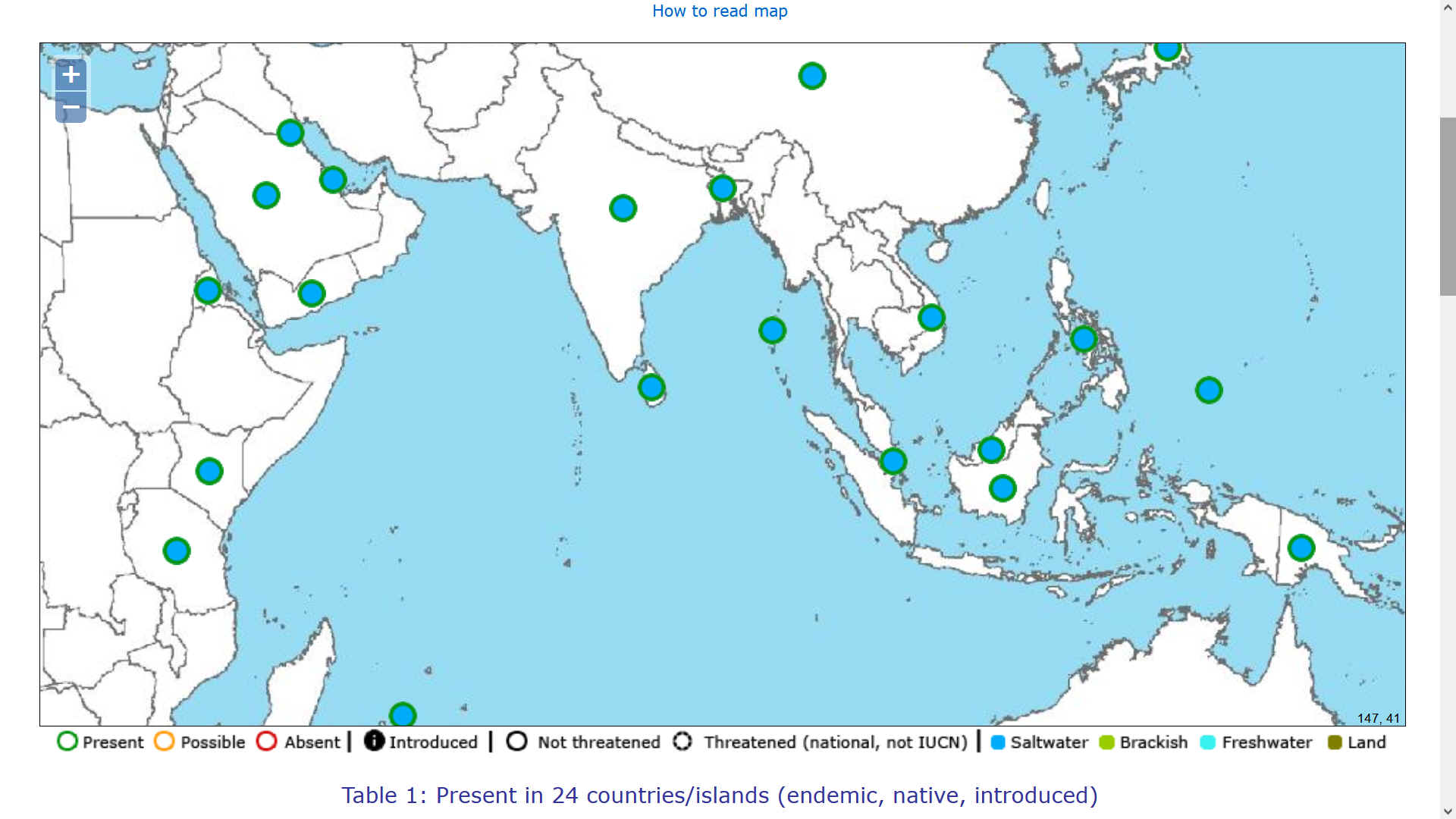 HOW TO INTERPRET THE MAP - The icon in a country polygon indicates that the species has been reported at least once in the country, BUT NOT NECESSARILY that it is present IN THE ENTIRE COUNTRY. This is particularly so for large countries such as Brazil, USA, Canada, Russia, China, India, Indonesia, Australia, etc.
For example, a number of freshwater species present in western European countries are also present in the western part of Russia, but not beyond the Ural mountains. Still the icon for Russia is placed in its Asian part.
The icon is placed approximately in the middle of the country, even for the species that are marine only.
For marine species, it does not mean either that the species is present in all oceanic coasts of the countries (e.g., Atlantic and Pacific for USA and Canada). So the map needs to be interpreted carefully, but we think it helps to give a quick view of the distribution by country, in a better way than the textual list of countries when it is over a dozen countries.
LINKS & REFERENCE
https://agrocorrn.com/what-is-sargassum/
https://eatalgae.org/sargassum-health-benefits-nutritional-facts-and-uses/
https://www.travelweekly.com/Caribbean-Travel/Insights/Sargassum-is-back-What-can-Caribbean-islands-do
https://islandinnovation.co/sargassum-is-back-what-can-caribbean-islands-do/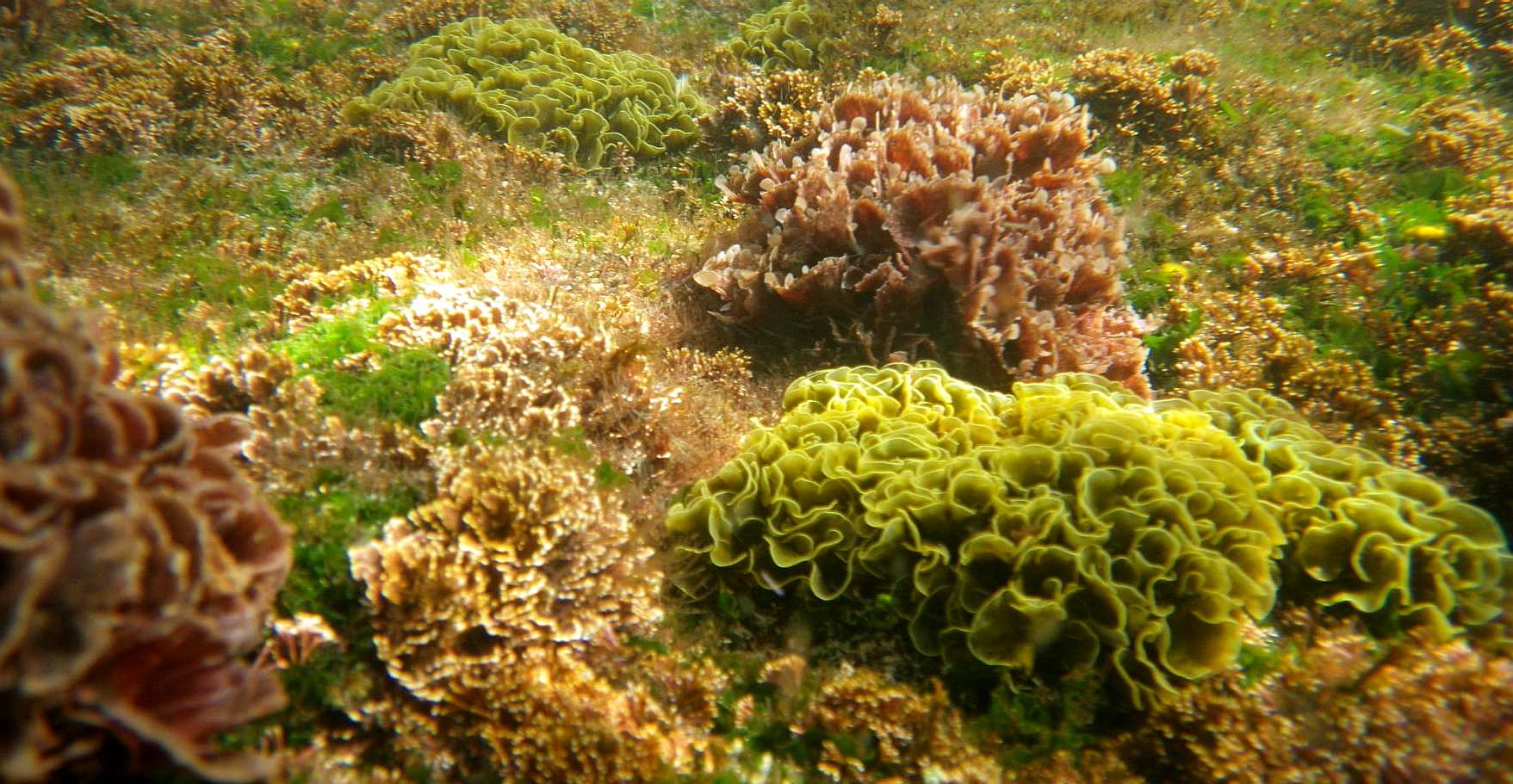 IN ABUNDANCE - Seaweed as a bed on the Australian coast.