GREEN SHIPS
ABOUT - CIRCUMNAVIGATION - CLIMATE CHANGE A-Z - CONTACTS - DONATE - FOUNDATION - HOME - OCEAN PLASTIC A-Z
Please use our A-Z INDEX to navigate this site

SUSTAINABLE CONTAINER SHIPPING - This is a 50 meter solar and wind turbine powered prototype container transport shown with the turbines furled, as if docked in port. When folded down like this the blades do not revolve and may be locked. By this means ports do not have to make special provision for zero emission ships. Is this the way forward? If we don't try out the concept, we'll never know.
This formula may be doubled and quadrupled without too much trouble. You'd need to up-scale by a factor of 8 to match the 400 meter giants that operate today to carry 960 standard containers. That is nowhere near the capacity of a heavy bunker fueled behemoth, but it is a prescription for zero carbon transportation that is theoretically workable. We believe that such a system could replace diesel fuels and eliminate the need for liquid fuels that may be potentially dangerous.
Green ships and boats are vessels that use renewable energy to power themselves through the water, no matter what the type of ship. Before the advent of coal powered steam ships, sailing (tall ships) were all green and non polluting in terms of climate change. Reciprocating piston steam engines led to steam turbines with the famous Turbinia from Parsons.
ROTOR POWERED VEHICLES - Rotor-powered vehicles are wind-powered vehicles that use rotors - instead of sails - which may have a shroud around them (ducted fan) or constitute an unducted propeller, and which may adjust orientation to face the apparent wind. The rotor may be connected via a drive train to wheels or to a generator that provides electrical power to electric motors that drive the wheels. Other concepts use a vertical axis wind turbine with airfoils that rotate around a vertical axis. The designer of the stunning catamaran above is Charles-Henri Viel. The land yacht is Baltic Thunder, placing 2nd in the Aeolus drag races in the Netherlands in 2019, proving that the concept works on land and water. Land vehicles may achieve more than double the apparent wind speed downwind, with the Google sponsored Blackbird setting such records officially between 2010-2012.
Then came diesel engines and worst of all nuclear powered submarines and aircraft carriers, none of which is ultimately sustainable for a truly circular economy. The problem being that at the moment our economies are reliant on cheap ocean transport for international trade - something that we take for granted with globalization; ignoring the harm that the burning of fossil fuels is causing. That said, MARPOL marine anti-pollution legislation is beginning to bite with LNG powered ships kicking off a move to cleaner burning internal combustion engined leviathans. The fact is that cargo ships are still the most efficient way of moving goods around the world and we cannot do without them - so must work toward vessels that are totally clean running, while allowing fleet operators to reap the rewards of current investments so that forward profits may be invested in zero carbon transport.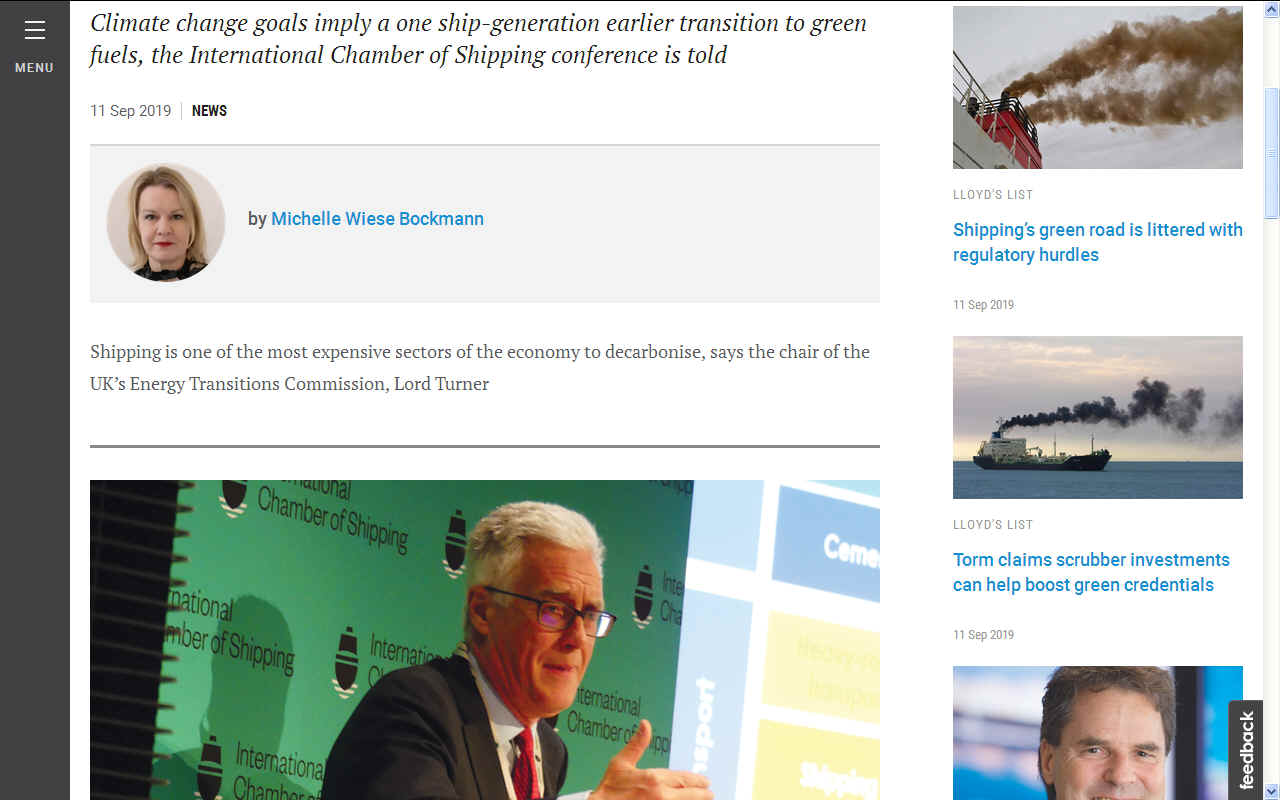 LLOYD'S LIST MARITIME INTELLIGENCE 11 SEPTEMBER 2019
SHIPPING emission targets need to be brought forward a generation earlier than expected to meet world climate change goals, while freight rates will likely double during the transition to greener, zero-carbon marine fuels, an International Chamber of Shipping conference has been told.

Policy makers and climate change scientists outlined the challenges faced by owners and charterers of the world's 60,000-vessel commercial fleet to decarbonise shipping, and the enormous scale and pace of change needed.

Despite environmental and regulatory imperatives to reduce maritime greenhouse gas emissions, shipowners were told freight rates would likely double to fund zero-carbon fuels, even as the commercial viability of these remained uncertain. Carbon taxes were also probable, the conference on future fuels held in conjunction with London International Shipping Week was told.

Emanuele Grimaldi, managing director of the Italy-based Grimaldi Group, told Lloyd's List: "I'm really concerned about these extra costs."

The group operates a fleet of more than 100 ro-ro and short-sea shipping vessels, and higher prices could divert freight to road or air, which was more carbon intensive, he said.

Leading climate change scientist Anders Hammer Strommen suggested greenhouse gas emissions from international shipping must be cut 50% by 2030 and reach zero by 2050 if global average temperatures were to rise no more than 1.5°C. The 50% cut is some 20 years earlier than agreed at the International Maritime Organization last year.

Norway-based Mr Strommen contributed on shipping to the Intergovernmental Panel on Climate Change that assessed the difference between a 1.5°C rise in global temperature over the next generation versus an increase of 2°C.

He said a 2°C rise equated to once-a-decade summer when Arctic ice completely melted, accelerating global warming, versus a once-a-century summer of no ice under a 1.5°C scenario.

Meeting the 1.5°C target "implies a one ship-generation earlier transition", he said.

The technology to shift international shipping to zero emissions by 2050 is there, but freight rates will have to double to fund the higher cost of green marine fuels, according to the chair of the UK's Energy Transitions Commission. Lord Turner said: "Shipping is one of the most expensive sectors of the economy to decarbonise.

"That is reflected in the fact that when we work out the cost of the [alternative fuel] product, the cost of providing a voyage and the freight rates, we think the decarbonisation of shipping might have to produce a significant increase in freight rates over the time, as much as a doubling of freight rates."

This would add very little to the overall price to consumers for purchasing sugar, smart phones or jeans, he added.

"Even if you assume that the freight rates go up very significantly, the total cost of the global economy is very small. We may be able to get that cost down with good technological innovation, by driving the efficiency improvements of the ship... but I suspect there will be always a cost.''
ZERO CARBON CONTAINER VESSEL - A prototype 50 meter container ship with 6 TEU standard containers shown in red rust inhibitor paint. They can be loaded from the rear if overhead loading is not available. An enhanced solar and wind turbine rig like this could generate 108kW (145hp) of energy peak. The average energy available 24/7 is likely to be around 62.4kW (83.6hp) and 70.7kW (94.8hp) or more in the trades. Rigged for passenger transport a vessel like this might weigh in @ 90 tonnes. An increase in solar panel area and bigger wind turbines will improve performance more, but development will be longer and more costly. If this vessel performs as expected, the age of zero carbon shipping is getting closer.
The turbines can be raised and lowered to cope with different running conditions as seen on the end view left. The main hull is cylindrical for minimum wetted area, while the outriggers provide stability, with a small wetted area for a low drag hull. The superstructure is low to reduce frontal area and air drag. Another important feature of this design is that the turbines may be furled for safe docking in ports or during storm conditions. Please note that these drawings are Design Copyright © October 17&19 2019, Bluebird Marine Systems Ltd and Cleaner Ocean Foundation Ltd.
Lord Turner — who as Adair Turner was chairman of the UK financial regulator the Financial Services Authority, but is also a past chairman of the Committee on Climate Change and former director-general of the Confederation of British Industry — said the challenge facing the industry was one of co-ordination.

"As long as you all move together, then that's not a threat to your profitability," he said.

UK shipping minister Nusrat Ghani told the conference that global shipping industry was not doing enough research on alternative fuels, nor was there consensus on appropriate fuels.

"The sector can work at a pace that isn't in step with what the world wants it to look like," she said, noting that the UK's shipping decarbonisation target aimed for zero emissions by 2050. That compares to the IMO's 50% target.

Green hydrogen and ammonia emerged as the preferred alternative fuels with the most potential to meet emissions targets and reach commercial scale. Financing the development of the fuels for use in ship engines and then developing the infrastructure to supply them to vessels remained problematic.
Inevitably some form of tax may need to be placed on the industry, said Bryony Worthington, the Environmental Defense Fund executive director, Europe.
"Quite frankly, this is a sector that enjoys tax-free propulsion at the moment," she said on the conference sidelines. Shipping needed to contribute to any solution to reaching a zero-carbon economy.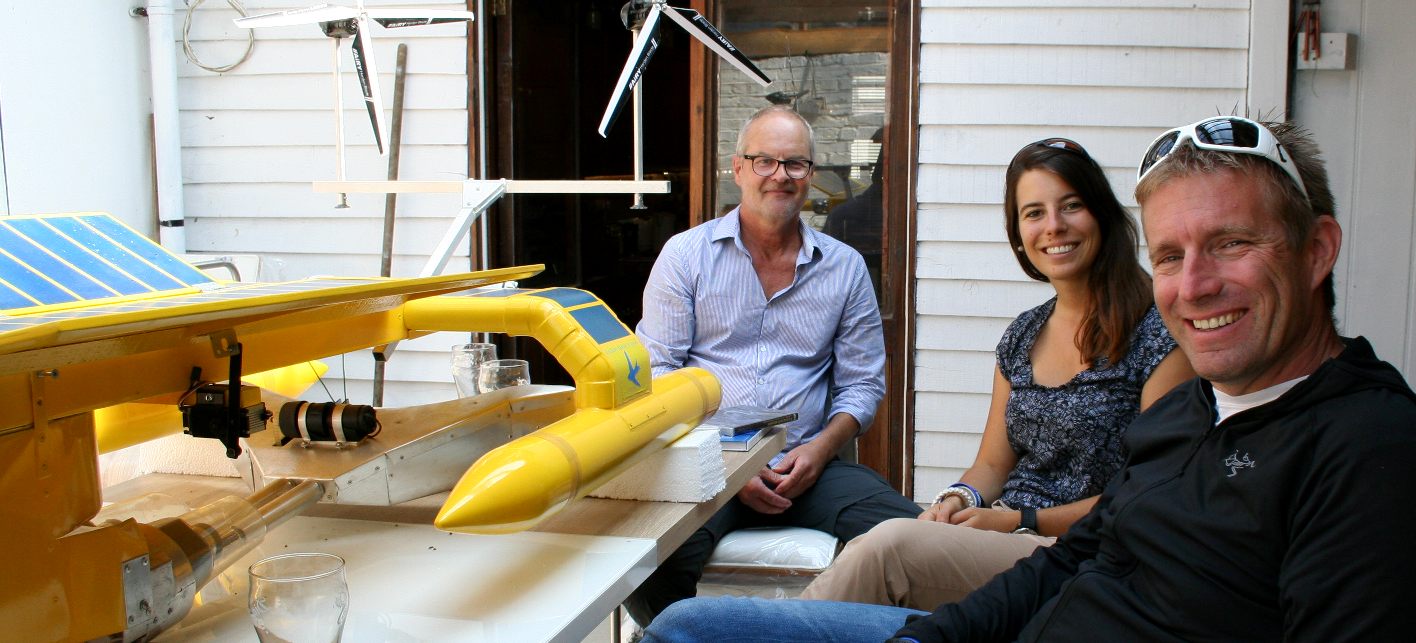 SOLAR PIONEERS - Stephane Chopard & Raphaelle Javet (communications) and Raphael Domjan (pilot) on a visit to the SeaVax solar powered project in the UK in August 2017. Raphael's PlanetSolar project set the benchmark when it comes to zero carbon transport. We would like to see a return to ships powered by nature, not quite to the days of sail and the tall ships, but using a more technology based approach with robotic safeguards.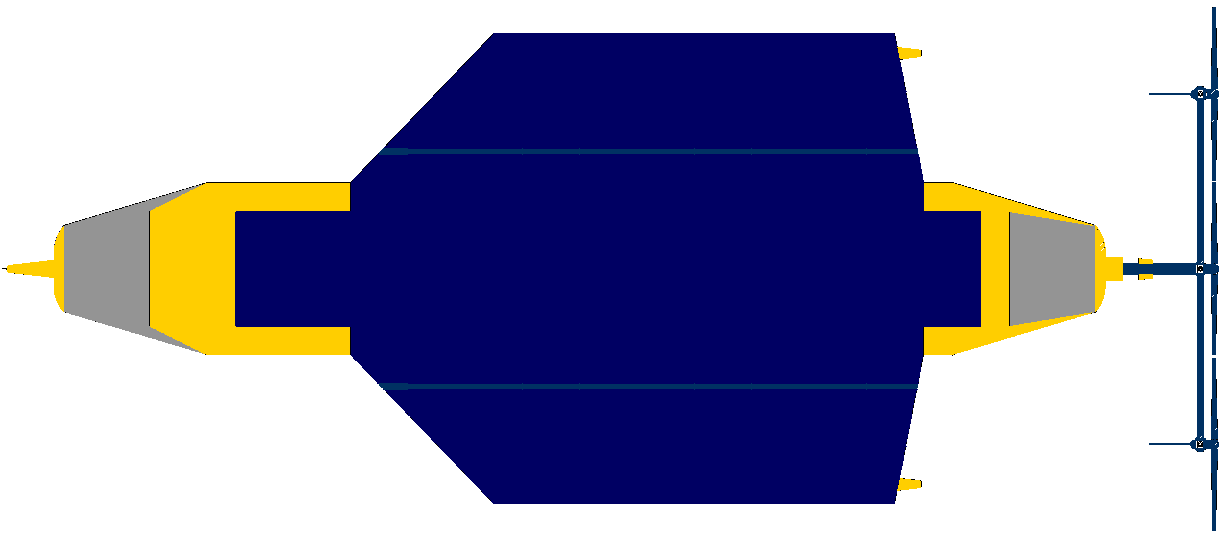 CLIMATE CHANGE CHALLENGE (CCC)
The CCC is a project to design and build a long range zero carbon cruiser called the Elizabeth Swan. Then to prove the concept with a zero carbon world navigation, designed to shatter existing records.
CIRCUMNAVIGATION STUDY - As part of our ocean awareness drive, we are conducting a 'blue-sky' study to reveal if the current world record might be challenged by the Elizabeth Swan. Such an expedition could provide useful research in the fight against climate change.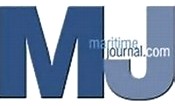 MARITIME JOURNAL 30 NOVEMBER 2017
Marine fuel suppliers should anticipate that there may no longer be significant demand for fossil fuels from shipping within as little as 25 years, if not sooner, and that the sector is now on an inevitable trajectory towards a future of zero CO2 emissions.

This was the message that the International Chamber of Shipping (ICS) delivered to the Platts' Mediterranean marine bunker fuel conference in Athens at the close of November 2017.

ICS is representing the world's national shipowner associations at the UN IMO negotiations on CO2 reduction.

"Addressing an audience of bunker fuel suppliers about the imminent transition to zero carbon fuels is perhaps like Henry Ford addressing suppliers to horses and carts." said ICS Director of Policy, Simon Bennett.

"Henry Ford remarked that if, in say 1890, you had asked someone in the street what they wanted, they would have asked for a faster horse."

He added: "Governments need to recognise that many ships will remain dependent on fossil fuels probably at least until around 2050, just as some people in developed nations were still using horses in 1920. But the momentum created by the Paris Agreement on climate change means that the wholesale switch to alternative fuels and propulsion systems will be relentless and inevitable."

ICS says that the most challenging area in the ongoing IMO negotiations is agreement on the levels of ambition for CO2 reduction, by the sector as a whole, before zero CO2 fuels become widely available.

This is the process of managing the transition to alternative fuels, which has to be set against projections for increased demand for maritime transport (over which the industry has no control) due to massive global population growth, plus increasing prosperity and economic development which international shipping directly facilitates.

The shipping industry, including ICS, has therefore proposed that IMO Member States should agree that the initial goal should be to hold the entire sector's total CO2 emissions below 2008 levels.

"This is actually very ambitious' said Mr Bennett, as the CO2 emissions from the rest of the world economy are predicted by the UN to continue increasing until the 2030s.

NUCLEAR POWER & WARMONGERING
Nuclear power is unthinkable and should be banned internationally. It is impossible to eliminate the risks from nuclear waste, it is just dumping future problems in our own back yard - and for what? So that world powers can strut around and threaten or impress other nations with the size of their weapons. It is truly Freudian in an age of cyber attacks, robotics and drones and a complete waste of taxpayers money where there are other more pressing world issues to resolve, such as food security.
We should exchange military growth (expenditure) for Blue Green Growth, change out military careers for jobs in peaceful, sustainable sectors. Obviously, in the process keeping pace with technology and using that technology to help us maintain world peace. World peace can only be sustained with stability in terms of energy, food and climate security. Apart from the suffering caused by war, it is more economical to invest in security for peace than to retain an arsenal of weapons to protect diminishing supplies.

LLOYD'S AWARDS 2015 - Initiated by DNV GL, the Green Coastal Programme was kicked off at DNV GL's headquarters in 2015 when the Norwegian Minister of Trade and Industry, Monica Mæland, and the State Secretary for the Ministry of Climate and Environment, Lars Andreas Lunde, signed a declaration of cooperation with key players in the Norwegian coastal shipping industry. The programme declaration aims to ensure that Norway has the world's most environmentally friendly fleet of coastal vessels, realized by the industry and government working together in a long-term partnership program.

Richard Meade, editor of Lloyd's List, is quoted as saying: "They stood out as an impressively ambitious example of environmental aspiration coupled with a pragmatic understanding of business and politics. The prospect of a long-term public-private partnership programme that offers tangible targets struck our panel as a potential game-changer worthy of public support."
RETURN TO NATURE
One of the first true (blue-water) green ships, was the Planet Solar that in 2012 set a world first record for a solar powered circumnavigation. Other landmark vessels include the Solarsailer, and now there is a move to wind and solar assisted cargo ships, some of which are fitted with solar panels.
Eventually, it is hoped that internal combustion power can be replaced altogether with wind and solar powered ships like the SeaVax and Bluefish concepts that are under development (subject to funding). This will only happen with the support of the people and the political will to change.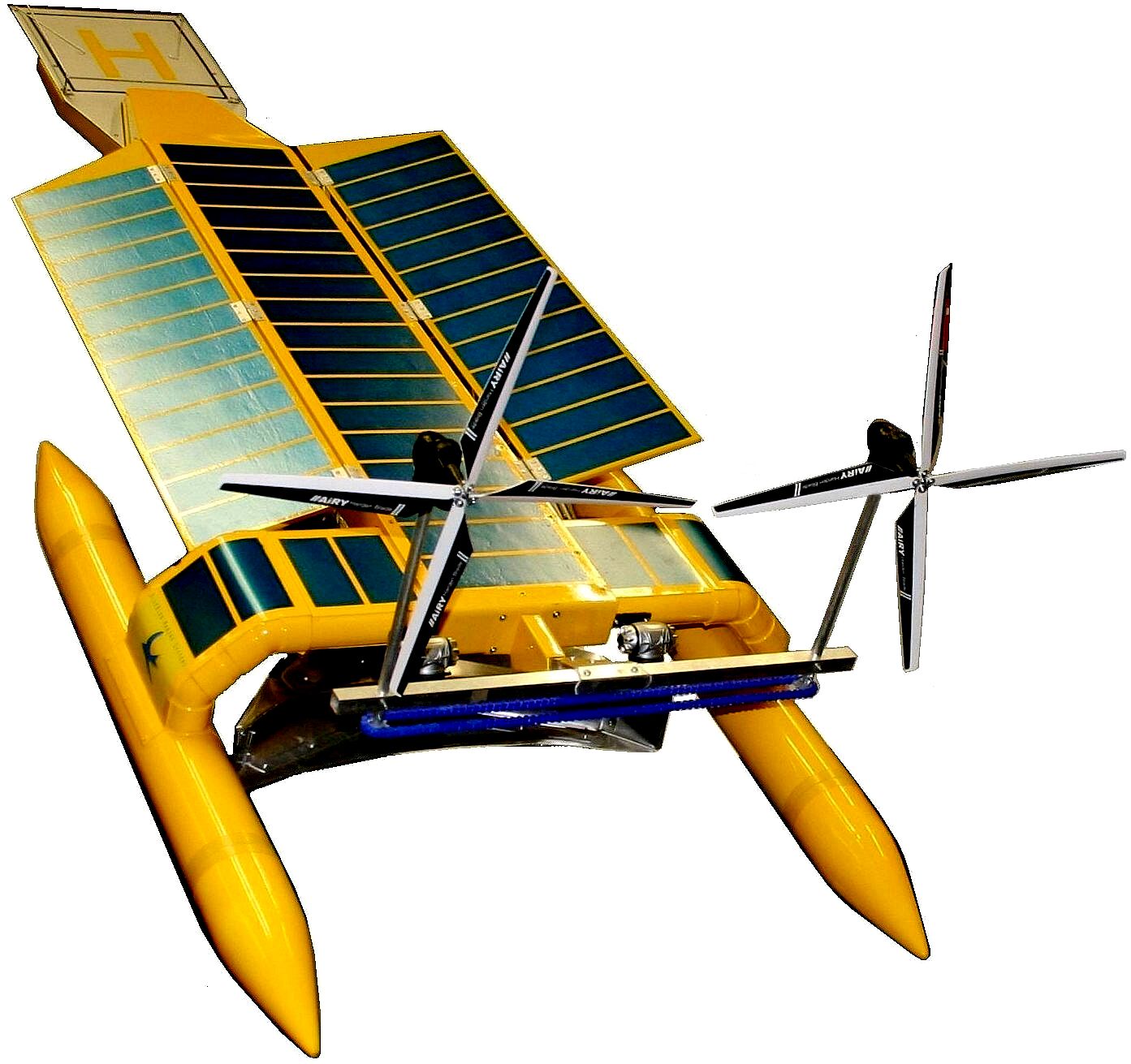 SOLAR POWERED VESSEL - This vessel is designed to operate in fleets to target ocean waste before it settles on the ocean floor where nobody can recover it. There is nothing like it in existence today, though other ideas for trapping plastic waste are being developed, such as that of Boyan Slat and the Seabin.
MARINE LINK 5 SEPTEMBER 2017, FULL ELECTRIC AUTONOMOUS FERRY CONCEPT FROM KONGSBERG
KONGSBERG said it has signed a Research & Innovation (R&I) contract with technology acceleration organization PILOT-E for the development of zero emission, full-electric, autonomous ferry concepts. The overall vision for the PILOT-E Autonomous Ferry concept is to develop a state-of-the-art ferry as an integrated, zero emission aspect of a total national transportation plan.

The PILOT-E program, a collaboration between the Norwegian Research Council, Innovasjon Norge and Enova, is designed to accelerate time to market for cutting-edge technology concepts, while at the same time ensuring that the solutions produced are viable and sustainable. Its goal is to ensure that the benefits of advanced projects result in actual deliveries to the market.

For KONGSBERG, the R&I contract provides partial funding for developing new autonomous functionality such as Auto Docking and Auto Sailing, giving the Norwegian maritime technology specialist the momentum to continue its pioneering development of autonomous functionality for commercial vessels.

KONGSBERG said it has already established a number of key industry partnerships on projects that will result in new connected, autonomous and environmentally friendly ships within the next two years, including the YARA Birkeland container feeder and the Hrönn offshore service vessel.

To fulfill the PILOT-E mission, KONGSBERG is heading a consortium with Grenland Energy on marine battery technology, Fjellstrand shipyard on vessel design, Grønn Kontakt on the charging of electric cars both quay-side and on board, and NTNU as a research partner within autonomy and energy management. The partners in the PILOT-E project have been chosen due to their complementary technology and a shared ambition of developing robust solutions for the future.

An-Magritt Tinlund Ryste, Project Manager, Kongsberg Maritime, is quoted as saying: "The stakes are high and the autonomy vision is materializing as we speak. The PILOT-E Autonomous Ferry project introduces a new mindset encouraging us to look beyond the traditional organizational setup. To meet the ambitious time-to-market expectations, we must really adopt the true meaning of collaboration and step-up the work across technological areas within KONGSBERG and between partners, to harvest the best from each area of expertise."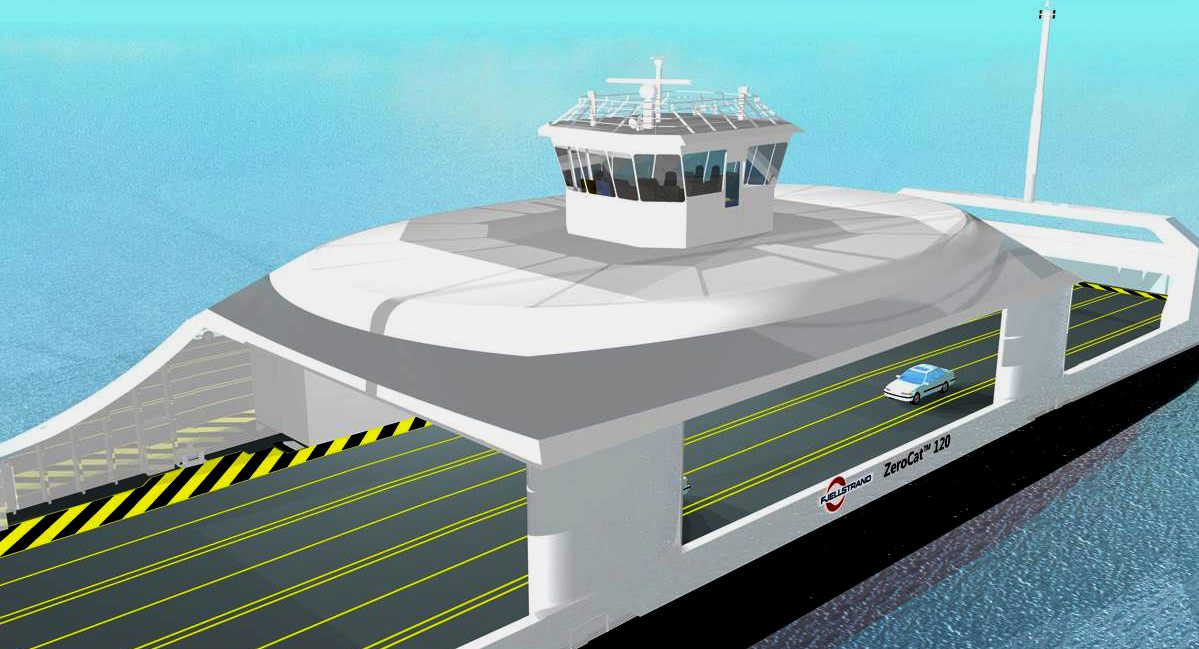 AUTONOMOUS FERRY - Kongsberg Gruppen (KONGSBERG) is an international technology group that delivers advanced and reliable solutions improving safety, security and performance in complex operations and under extreme conditions. KONGSBERG works with customers in the global defence, maritime, oil and gas, fisheries and aerospace sectors. The above picture is of a new ferry concept with autonomous functionality in development including Auto Docking and Auto Sailing / Auto Crossing.
SHIPPING IN CHANGING CLIMATES (SCC) CONSORTIUM FOR SUSTAINABLE RESEARCH
The consortium in the SCC project seeks to understand the scope for greater energy efficiency of the supply side, understand the demand side drivers and understanding the supply and demand interactions in shipping.
To research these themes the consortium utilises its access to 'big data' and modelling to understand real performance trends and drivers, validate assumptions, computational simulations and models and verify whole systems results. The overall aims of the SCC project are to achieve the following:
* Connect, for the first time, the latest climate change impact and adaptation analysis with knowledge and models of the shipping industry to explore its vulnerability to changing climates.

* Develop greater understanding of the role of shipping in underpinning future food and fuel security in a carbon and climate constrained world.

* Consolidate research taking place across a number of research projects (engineering, energy systems and shipping), both in the UK and elsewhere

* Further develop the modelling capacity developed under RCUK Energy's 2009 Low Carbon Shipping project to answer the increasing number of new questions that are emerging both since 2009 and as a result of research carried out in the last 3 years.

* Achieve, through improved data and modelling techniques, an unprecedented level of credibility for models and analysis of the shipping system to enable shipping industry stakeholders and policy makers to manage uncertainty, and take the long term view.

* Integrate knowledge about public and private law to identify policy options at all levels of governance and the options for private standard setting bodies (such as classification societies) to achieve significant GHG savings in a manner which is consistent with other concerns.

* Engage in the UK and EU debate around control of its shipping GHG emissions, and to provide the tools to assess how governments and stakeholders can most effectively influence the pathway of a global industry, while taking into account legal and other constraints.

SCC - Shipping in Changing Climates is a recently initiated research project funded by the UK Engineering and Physical Sciences Research Council (£3.5m funded for 3.5 years), Lloyds Register, Rolls Royce, Shell, BMT and MSI . The SCC project seeks to understand the scope for greater energy efficiency of the supply side, understand the demand side drivers and understanding the supply and demand interactions in shipping. The multi-university, multi-disciplinary systems research project will use 'big data' sources such as the Satellite AIS data, ship level smart data, to which the consortium has unparalleled access aswell as combining quantitative with qualitative research methods in which the consortium has a solid background.
SCC CROSS CUTTING THEMES
The whole systems approach is crucial in order to meet the objectives and address our perceptions of the knowledge deficits exposed by the state of the art and to meet the project's aims. In recognition of the challenge of managing and delivering outcomes in a multi-university, multi-disciplinary systems research, the SCC project is organised as a three themed research structure:

Theme 1: Understanding the scope for greater energy efficiency on the transport's supply side – the ship as a system, (UCL Mechanical engineering, Strathclyde, Newcastle)

Objective: The interconnection of ship design techniques and performance analysis with environmental conditions and operational strategy validated using real-world operator data to propose improvements to existing vessels and step-change solutions for future shipping. The theme will develop tools to simulate the ship as a system taking full account of interactions between the hydrodynamics of the hull, propulsor, main machinery and auxiliary systems in a range of realistic conditions. The tools will be used to assess the impact of modifications to existing ships and to explore step-change solutions, including both synergies and unintended negative consequences.

Theme 2: Understanding demand side drivers and trends – trade and transport demand, (UCL Energy, Manchester, Southampton)

Objective: To investigate plausible future developments of international trade and resource availability to produce a suite of global scenarios for shipping demand and its drivers. To assess a) the direct impacts of climate change and mitigation policies on the shipping system (including polices aimed specifically at ships and ports, or climate impacts on shipping infrastructure) and b) the equally important indirect impacts, such as the effect of energy system decarbonisation on the trade of fossil fuels, or climate impacts on key trading commodities.

Theme 3: Understanding supply/demand interactions – transition and evolution of the shipping system, (UCL-Energy, UCL Mechanical engineering, UCL Laws, Strathclyde Newcastle, Manchester)

Objective: Development of tools and their deployment in combination with the project's work on supply side energy efficiency and demand side drivers for the analysis of the different pathways for the shipping industry and how transitions can be accelerated.
SCC CONTACTS
Dr Tristan Smith
Telephone: +44 203 108 5984
Email: tristan.smith@ucl.ac.uk

Dr Nishatabbas Rehmatulla
Telephone: +44 7540051942
Telephone: +44 203 108 5965
Email: n.rehmatulla@ucl.ac.uk

UCL Energy Institute
Central House
14 Upper Woburn Place
London
WC1H 0NN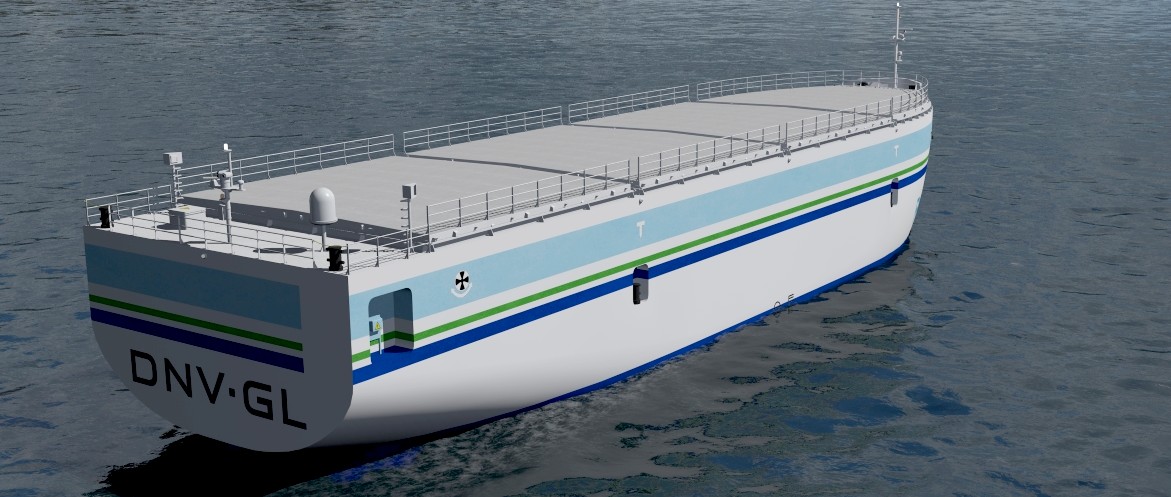 DNV-GL 2015 - The Green Shipping program aimed to revolutionize the way coastal shipping operates, converting fleets to run partly or entirely on batteries, liquefied natural gas (LNG) or other green fuels. The concept above is battery operated.

Norway launched an award-winning joint programme between government and industry to create the world's most environmentally-friendly fleet of coastal vessels. The first five pilot projects have a particular focus on environmentally-friendly fuels and energy efficient design. Programme director (DNV GL) Narve Mjøs is quoted as saying:

"When we launched the Green Coastal Shipping Programme, we said we wanted to make Norway a world showcase for green coastal shipping. With these five pioneering pilot projects we are well on our way."

DNV GL provide classification, technical assurance, software and independent expert advisory services to the maritime, oil & gas and energy industries. They also provide certification services to customers across a wide range of industries.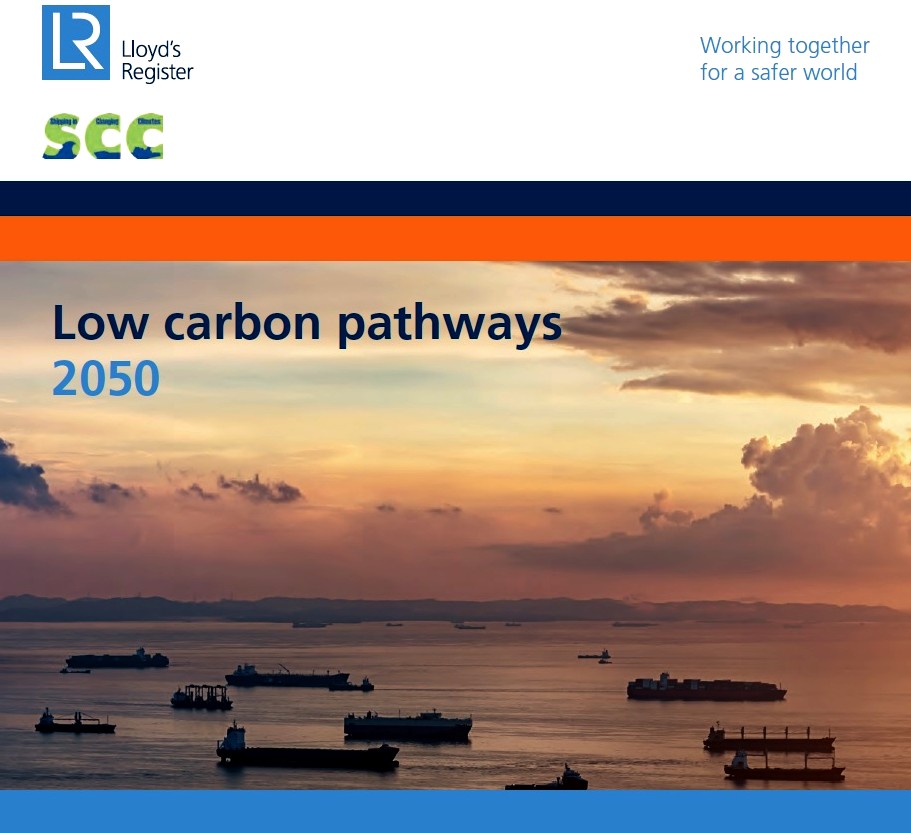 LLOYD'S REGISTER - Lloyd's Register (LR) and Shipping in Changing Climates released Low Carbon Pathways 2050 – a new study that details a number of potential pathways for the shipping industry's transition to a low carbon future. The report underlines the need for shipping to start its decarbonisation imminently – as stringency increases over time, increasingly high-cost mitigation steps are required. The later we leave decarbonisation, the more rapid and potentially disruptive it will be for shipping.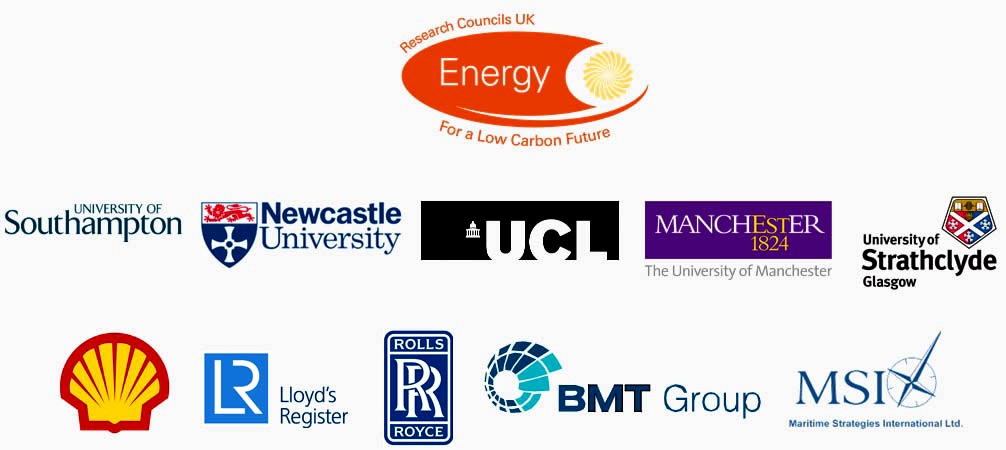 LCS - Low Carbon Shipping – A Systems Approach, was a research project that started in January 2010 and ended in June 2013 funded by the UK Engineering and Physical Sciences Research Council (£1.7m) and a number of industry partners. In addition to the research that was undertaken at the five universities including University College London, Newcastle University, University of Strathclyde, University of Hull and University of Plymouth, the project was supported by substantial in-house research and data from the consortium members from industry, NGO and government departments, including Shell, Maersk, Rolls Royce, BMT and Lloyds Register.
NATURE - INTERNATIONAL WEEKLY JOURNAL OF SCIENCE 17 FEB 2016
It is time to crack down on the emissions and destructive development caused by vast container vessels that pollute the air and seas, write Zheng Wan, Mo Zhu, Shun Chen & Daniel Sperling.

On 26 April 1956, US entrepreneur Malcom McLean watched a converted oil tanker leave Port Newark in New Jersey carrying 58 of his inventions: the modular shipping container. By 2015, the largest container ship in the world, with a deck the area of 3.5 soccer fields, could carry about 20,000 of the units.

Ever-bigger container ships carry 90% of global consumer goods such as clothes and food (non-bulk cargo). The seaborne container trade has grown from 100 million tonnes in 1980 to about 1.6 billion tonnes in 2014. Standardized 20-foot (6-metre) containers are moved using automated systems that connect seaports, airports and train stations2. Bigger ships carry more containers, ideally consuming less oil and releasing fewer pollutants for each unit of goods carried.

Nonetheless, the human and environmental costs of shipping are vast. Low-grade marine fuel oil contains 3,500 times more sulfur than road diesel. Large ships pollute the air in hub ports, accounting for one-third to half of airborne pollutants in Hong Kong, for example. Particulates emitted from ships cause 60,000 cardiopulmonary and lung-cancer deaths each year worldwide4. Expanding harbours to take vast ships destroys coastal ecosystems. And scrapping fleets of obsolete smaller ships pollutes seas and soils, and damages workers' health, especially in the developing world5.

The industry is at a crossroads. The expected profits from larger ships are being undermined by excess capacity, slowing trade and plunging transport prices. In 2015, container freight rates for the world's busiest shipping route — between Asia and northern Europe — dropped by nearly 60% in three weeks. A dozen shipping companies went bankrupt, including Denmark's Copenship and China's Nantsing. Even the giant container-conveying Danish conglomerate Maersk announced that it would lay off 4,000 employees by 2017 and delayed or cancelled orders to build mega-ships.

Companies face a dilemma. If they buck the trend of scaling up, they risk being less competitive. Yet running mega-ships only part full wipes out the benefits of economies of scale. Ships use more fuel per container when half-loaded than for a full cargo.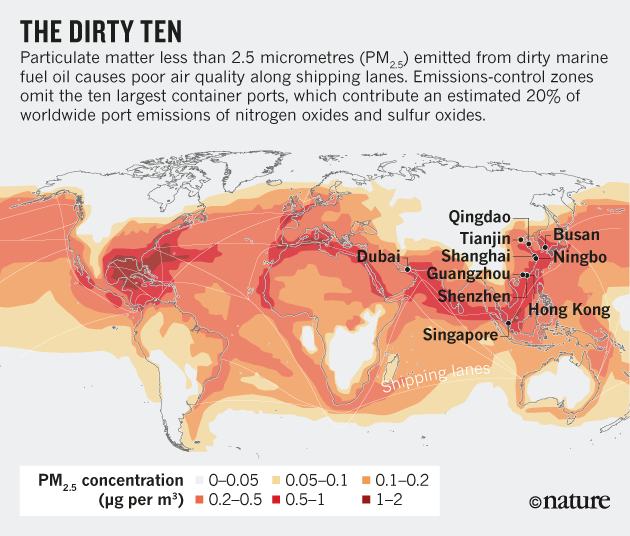 The future is green shipping: efficient marine transport with minimal health and ecological damage6. Cleaner practices — especially on ship scrapping, emission control and port management — are needed. Achieving this will require heroic efforts by the industry and its engineers in collaboration with regulators, port authorities and communities. Environmental impacts should be considered in determining optimal routes and modes for delivery of goods.
Pollution problem

Shipping is the most energy-efficient way to move large volumes of cargo. Yet ships emit nitrogen oxides (NOx), sulfur oxides (SOx), carbon dioxide and particulate matter (PM) into the atmosphere. Worldwide, from 2007 to 2012, shipping accounted7 for 15% of annual NOx emissions from anthropogenic sources, 13% of SOx and 3% of CO2. In Europe in 2013, ships contributed 18% of NOx emissions, 18% of SOx and 11% of particles less than 2.5 micrometres in size (PM2.5). For road transport, the figures were 33%, 0% and 12%, respectively. Aviation, by contrast, accounted for only 6%, 1% and 1%, respectively, and rail just 1%, 0% and 0%.

Shipping policies must be applied worldwide to be effective. Shipping and aviation emissions are not addressed by global climate-change agreements, including the deal made in Paris last December. The International Maritime Organization (IMO), which regulates international shipping, is engaging — slowly. Releases into the oceans of oils, noxious liquids, harmful substances, sewage and garbage have been restricted since the 1980s by the International Convention for the Prevention of Pollution from Ships (MARPOL), following a spate of oil-tanker accidents. Air-pollution limits for shipping were adopted in 1997 but came into force only in 2005.

Energy efficiency is the IMO's present focus. Starting in 2013, its Energy Efficiency Design Index and Ship Energy Efficiency Management Plan aim to lower CO2 emissions from shipping through tighter technical requirements on engines and equipment, maintenance regimes and voyage plans. No absolute emissions-reduction targets were set. Unfortunately, long-term expansion in global trade and growing ship numbers mean that even if these measures are fully implemented, total shipping emissions are projected to quadruple from 1990 to 2050.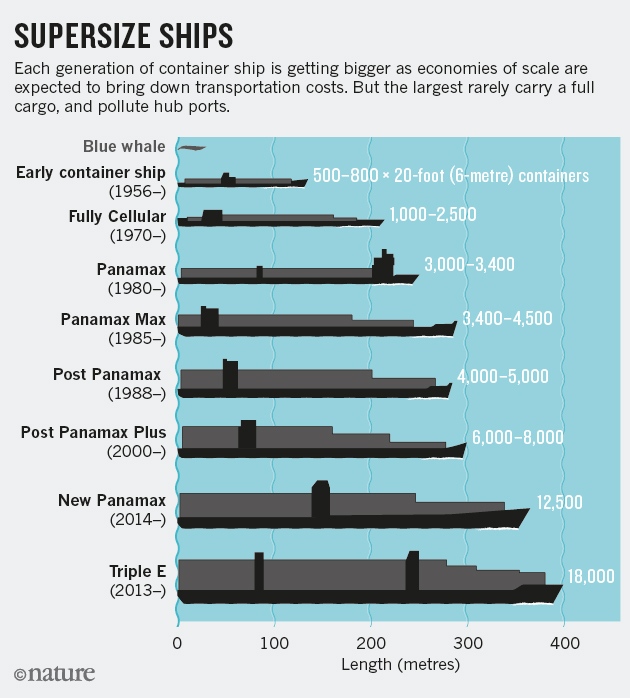 The IMO has set up four 'emission-control areas' — the Baltic Sea, the North Sea, the US Caribbean and the coastal waters of Canada and the United States — where ships are required to minimize emissions mainly of SOx and NOx. These regions exclude the world's ten largest container ports, such as the Chinese ports of Shanghai, Shenzhen, Hong Kong and the South Korean port of Busan, which are all in Asia (see 'The dirty ten'). We estimate that these ten sites alone contribute 20% of port emissions worldwide.

A few developed countries, including the United States, the United Kingdom and Norway, limit the sulfur content of marine fuel in their national waters to within 1,000 parts per million (p.p.m.). Most developing countries, including India and China, permit dirtier fuels with 35,000 p.p.m. of sulfur. The European Union fuel standard for cars is 10 p.p.m.

Ship scrapping is heavily polluting. Asbestos, heavy metals and oils are toxic. Workers are exposed to hazardous fumes. The EU has laws requiring that ships registered in Europe be broken up only in licensed yards that meet strict guidelines. But it is easy to change a ship's registration and demolish it in a country with a more lax approach to labour and environmental protection.

India, Bangladesh, and Pakistan are popular for ship scrapping. In Bangladesh for example, 40,000 mangroves — trees that stabilize many tropical coasts and are habitats and breeding grounds for many species — were chopped down in 2009 alone to accommodate shipbreaking yards. The pollution from scrapping there has caused an estimated 21 fish and crustacean species to become extinct. And reportedly, each week one worker dies and seven are injured in the scrap yards of Bangladesh.
Congestion adds to pollution and disruption. Large volumes of cargo overwhelm ports, surrounding roads and waterways. Hasty expansion or construction of berths and canals to take more large ships can be environmentally disastrous. Where the water in existing harbours is too shallow, port authorities may reclaim land from the sea or build artificial islands in deeper waters.
Coastal changes destroy ecosystems. Over the past three decades, about 75% of mangroves have disappeared from Shenzhen, following port expansion and land reclamation. Plans for the Porto Sul port in Brazil — slated to open in 2019 — identified 36 potential environmental impacts, including driving away dolphins and whales and killing seabed fauna.
Traditional shipping routes cannot keep up. The Panama Canal, which connects the Pacific and Atlantic oceans, can currently handle vessels carrying only up to about 5,000 standard containers. A project to expand it to accept ships with 13,000 containers (the 'New Panamax' class) should be completed by May. But the largest mega-ships, such as Maersk's E-class and Triple E-class (with capacities between 14,000 and 18,000 containers), will still be unable to cross (see 'Supersize ships'). In the meantime, heavy traffic at Panama, complicated navigation and constant maintenance have led to a ten-day delay in voyage times.

To take advantage of the business opportunity, construction is scheduled to start this year on a 280-kilometre-long canal through Nicaragua. This US$50-billion project, funded by a billionaire-owned Hong Kong company, could destroy almost 400,000 hectares of tropical forests and wetlands, home to threatened and endangered wildlife and indigenous communities.

Public concern about the pollution and health impacts of shipping remains muted because the industry is a backbone of the global economy, and its activities happen far from where most people live and often beyond the jurisdiction of local regulators. We cannot rely only on new ship designs and engine innovation to minimize the ecological footprint of shipping: today's ships might be in use for another 20 years or more. Several issues must be addressed together to make the industry greener.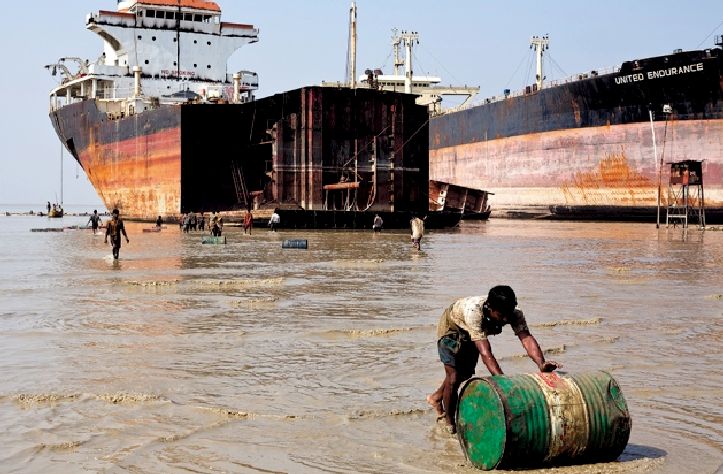 Green shipping

Implementing the following recommendations could save thousands of lives each year, ensure cleaner coastal air and reduce ecological damage from shipping.

Clean up ship scrapping. The IMO adopted the Hong Kong International Convention for the Safe and Environmentally Sound Recycling of Ships in 2009, but only Norway, Congo and France have acceded as of February 2016. The IMO's priority should be to ensure that the principal scrappers — India, Bangladesh and Pakistan — adhere to these guidelines. The first step is to set up local offices in these countries to collect and analyse monitoring data independently and to propose improvements to local governments. International loan or aid programmes to these countries, sponsored by the World Bank or the Asian Development Bank, for example, should demand clean ship-scrapping practices as an incentive. To discourage transfer of scrapping elsewhere, a watch list of poorly performing countries needs to be updated by IMO regularly until an international convention enters into force.

Control emissions. Stricter IMO emissions regulations are needed, including a cleaner worldwide standard for sulfur released by combustion of marine fuel. A 97% cut in SOx can be achieved by reducing the sulfur content from 35,000 p.p.m. to 1,000 p.p.m. fuel oil. Today's low oil price provides a great opportunity for this transition to happen. The current cost of 1,000-p.p.m.-grade fuel oil (around US$300 per tonne in Singapore, for example) is less than half of that of the cheapest dirty fuel four years ago.

Marine fuel is a sideline for oil refineries — only 2–4% of the total fuel market. Stricter emissions standards will stimulate demand for high-quality fuel. Incentive programmes (tax rebate and subsidies for producers) will be needed to ensure a reasonable profit margin to recover the initial high investment in developing countries, where there is little current capacity. Government interventions will be needed in countries with state-run oil companies, such as in China and India.

An alternative is to install scrubbers for exhaust-gas cleaning on ships. Scrubber units blend the exhaust gas with water or caustic soda to remove up to 99% of SOx and 98% of particulate matter from high-sulfur fuel. At the moment, scrubbers are expensive, costing $2 million for one ship. But China, for instance, could equip its entire container fleet in one year by funding a 50% subsidy for scrubbers. The total cost? Just 0.5% of the $150 billion per year it has spent since 2013 to fight pollution. Shipping companies could recoup the other 50% in one year from fuel savings. With a stricter emissions standard, the demand for scrubbers would go up, and the costs down, as production scales.

Improve port management. Port authorities should review the environmental impact of their previous construction and disclose information on their future development plans to demonstrate responsible management of public assets. They should coordinate with transport-planning bureaus to seek the most economical and environmentally friendly strategy to dispatch goods; the optimal capacities of its terminals; and how to assist ships to load and unload quickly. Making port-business statistics and the results of environmental-impact studies accessible will allow the research community to be involved in the decision-making process. Environmental non-governmental organizations should campaign to increase public awareness of port development.

After decades of loose oversight, it is time for shipping to get a whole lot greener. COMMENT: COF could not agree more.
ABOUT THE AUTHORS
Zheng Wan is associate professor at the College of Transport and Communications, Shanghai Maritime University, Shanghai, China.

Mo Zhu is assistant professor at the College of Transport and Communications, Shanghai Maritime University, Shanghai, China.

Shun Chen is associate professor at the College of Transport and Communications, Shanghai Maritime University, Shanghai, China.

Daniel Sperling is distinguished professor of civil engineering and environmental science and policy, and founding director of the Institute of Transportation Studies, at the University of California, Davis, USA.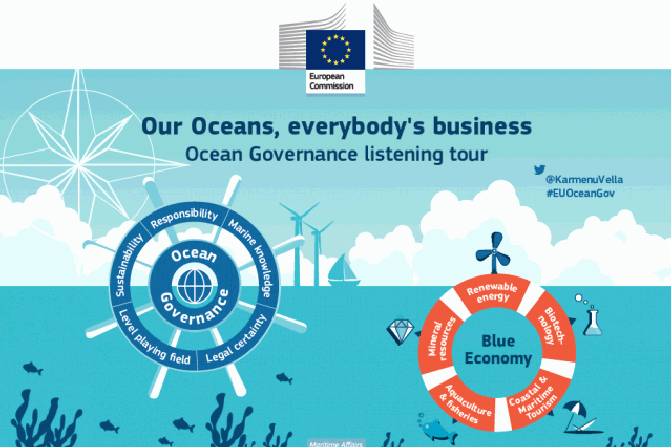 MAIN BLUE GROWTH AREAS
5. Ocean Regeneration - cleaning our oceans to preserve the resource and cleanse the toxic food chain
6. Aquaculture - now generates around 50% of world produce, mostly subject to wild fish feed
7. Ocean Energy - offshore wind and wave energy for clean power
8. Biotechnology - Identifying, harvesting and producing medicines
9. Coastal Tourism - To engage the public in ocean matters and reduce air travel
10. Green Ships - Cargo and cruise ships that are cleaner, preferably zero carbon
LINKS & REFERENCE
https://www.theguardian.com/environment/2019/sep/24/pacific-islands-seek-500m-ocean-shipping-zero-carbon
https://lloydslist.maritimeintelligence.informa.com/LL1129143/Zerocarbon-shipping-to-double-freight-costs
http://www.maritimejournal.com/
http://www.innovasjonnorge.no/
https://www.marinelink.com/news/fullelectric-autonomous429071
http://www.lowcarbonshipping.co.uk/index.php
http://www.nature.com/news/pollution-three-steps-to-a-green-shipping-industry-1.19369
https://www.km.kongsberg.com/ks/web/nokbg0238.nsf/AllWeb/C436FADB888BFD55C1258192003B8148
https://gronnkontakt.no/english/
https://www.dnvgl.com/maritime/research-and-development/futuristic-projects-transform-coastlines/index.html
https://www.dnvgl.com/news/dnv-gl-s-green-coastal-shipping-programme-wins-lloyd-s-list-environment-award-40864
http://www.ecomarinepower.com/en/green-shipping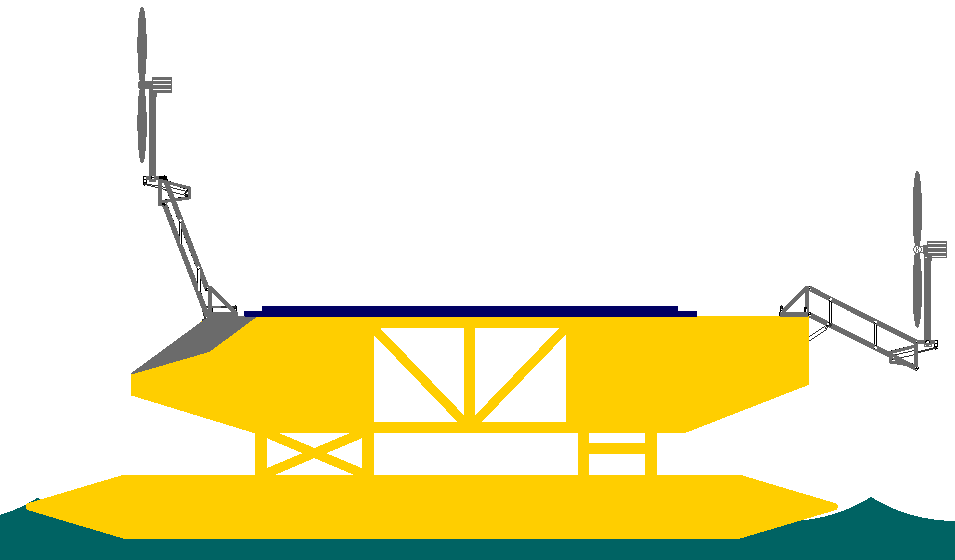 THE FUTURE - The Cross Channel Challenger (CCC) is a project currently on the drawing board looking for backing to develop a coastal cruiser that is zero carbon.
This project has been costed to come in at around the £350k mark, hence the vessel does not include the latest lithium batteries or higher output solar cells, nor exotic materials in the build. It is a budget vessel to allow us to start the ball rolling against a tide of nervous governmental departments looking for solutions at bargain basement rates. The vessel is small for cross channel work, whereas as the length grows, so does the efficiency. Please bear this is mind; things can only get better.
The theoretical performance is therefore lower than we would like, but is considered to be a useful stepping stone. For example we might expect 16.7kW of harvesting power, for around 12 tons of vessel, multiplying the current benchmark of .98kW/ton x 1.42 to give 1.39kW/ton. Not exactly startling gains, but a nice little hike.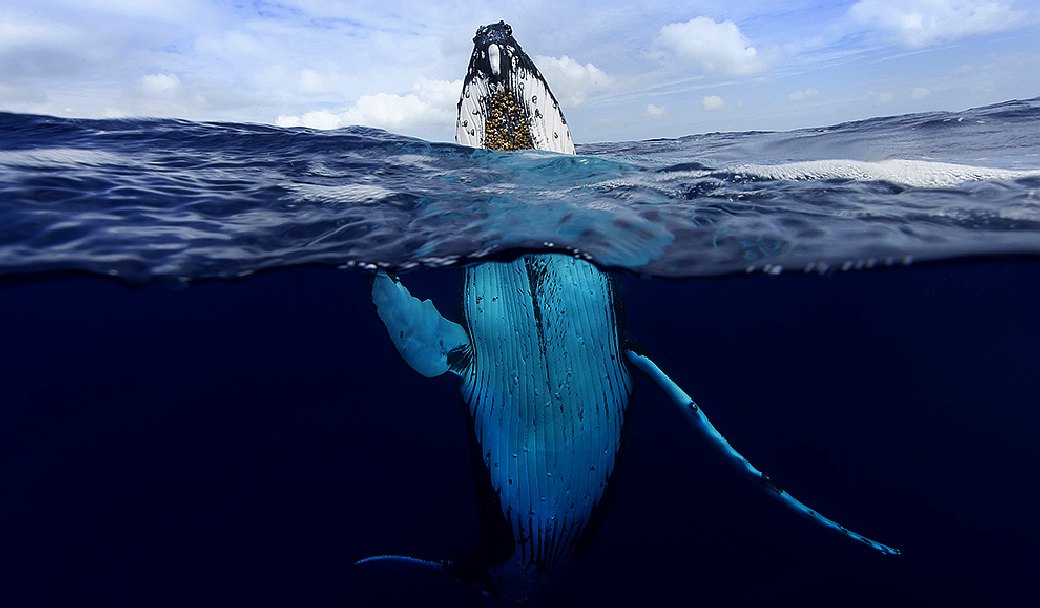 MARINE LIFE - This humpback whale is one example of a magnificent animal that is at the mercy of human activity. Humans are for the most part unaware of the harm their fast-lane lifestyles are causing. We aim to change that by doing all we can to promote ocean literacy.
This website is provided on a free basis as a public information service. Copyright © Cleaner Oceans Foundation Ltd (COFL) (Company No: 4674774) September 2017. Solar Studios, BN271RF, United Kingdom. COFL is a charity without share capital.