PLASTIC PACKAGING DESIGN
ABOUT - CONTACTS - FOUNDATION - HOME - A-Z INDEX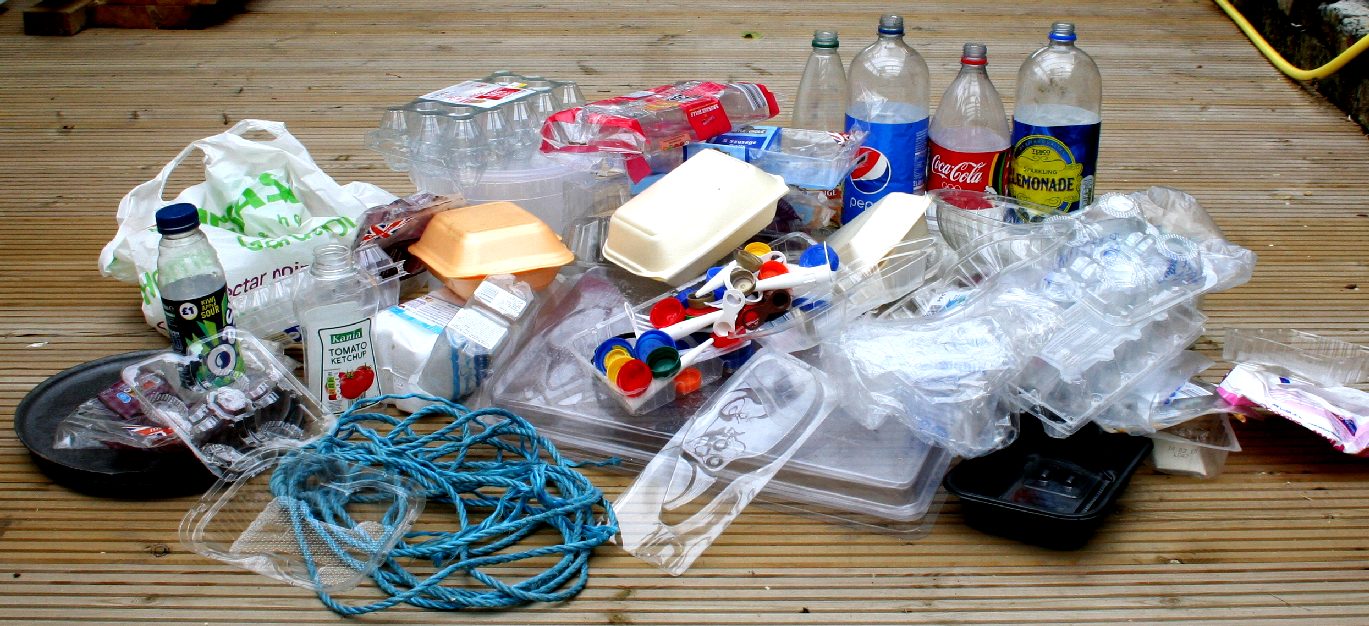 SINGLE USE PLASTICS - This is just a small sample of the plastic packaging that you will find in retails stores all over the world. A good proportion of this packaging - around 8 millions tons a year, will end up in our oceans, in the gut of the fish we eat, in the stomachs of seabirds and in the intestines of whales and other marine mammals. Copyright photograph © 22-7-17 Cleaner Ocean Foundation Ltd, all rights reserved.
The design, use and recycling of plastic packaging is crucial to reducing spillage that may end up in our oceans and landfill. Shoppers tend not to think about it, but the volume of plastic that is produced is directly related to the volume of food or other goods that are being purchased.
It is not our intention to single out any manufacturer or apportion blame. Our aim is to work with producers to help come to terms with the problem and try to find solutions. Apologies then to any company whose products are shown on this site or who is mentioned, they are merely pictured or mentioned here as examples.
KTN KNOWLEDGE TRANSFER NETWORK 21 JUNE 2018 - Findings from the UK Packaging sector focussed report
The KTN have released a new report entitled 'The UK Packaging Industry – A Strategic Opportunity: A Landscape Review and Technology Roadmap Report'.

Packaging is a sector that supports other key manufacturing and service industries but is also in itself a provider and spur for innovation, as well as contributing to UK Gross Domestic Product (GDP). It is a sector that warrants further investigation and examination.

Packaging can be defined as an enclosure of products in various types of packaging format such as wrapped pouch, box, bag, can, tray, and others. It is part of a complex system for delivering products from point of production to point of consumption, while its main purpose is to protect the product and ensure it is delivered safely and in perfect condition to the end user. Its role in a circular economy is to maintain the value in a product for as long as necessary and to help eliminate product waste. Packaging is very useful in information-sharing – to impart health and safety information or to support brand loyalty and promotion.

On average ten times more resources – materials, energy and water – are invested in products compared with the resources used to produce their packaging. The direct costs associated with using packaging are therefore relatively small compared to the value it adds to the supply chain in ensuring that these embedded resources do not go to waste.

KTN has previously arranged a number of networking and briefing events for the UK Packaging and related communities:

Smart Packaging Workshop – York, 27th November 2014
Smart Packaging for Pharmaceuticals – Westminster, 13th April 2016
The UK Packaging Roadmap and Landscape – NEC Packaging Innovations, 27th March 2017
Plastics use in the Food Industry – Birmingham, 1st May 2018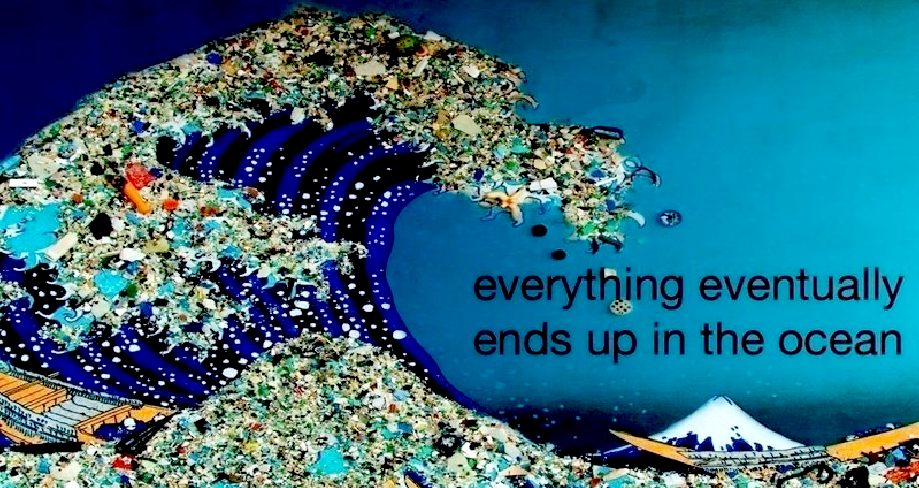 Current developments in a range of emerging technologies will impact on the UK Packaging Industry:

» Printed electronics
» 2D materials and nanomaterials
» Smart technologies
» Additive manufacturing/3D printing
» Novel biomaterials and biopolymers
» Internet of Things
» Robotics and autonomous systems
» Energy Harvesting and Storage
» Embedded sensors
» Functional materials
» Industry 4.0
» Biorenewables
Packaging community consultations- Conclusions and recommendations
-- Public and private investment is needed for innovation and R&D to help turn emerging and developing issues into market opportunities.

-- New investment is needed to address the ageing workforce and skills gap – appropriate structures must be put in place to address the clearly apparent skills and training deficit and sector-wide requirement. The sector has a particular requirement for apprenticeships (nationalcareerservice.direct.gov.uk).

-- There are pockets of academic expertise spread across a number of UK Universities distributed in dedicated silos of knowledge – the community suggest this issue may be addressed for the long term by the possible creation of a UK Centre of Excellence for UK Packaging.
-- The sector is currently (June 2018) dealing with the major impact of global attention to plastic use (in particular the issue of single use plastic in packaging) – which will have long-term implications and provide a major incentive to innovate.

For more information concerning the report or the sector contact Brian McCarthy. You can download the full report HERE.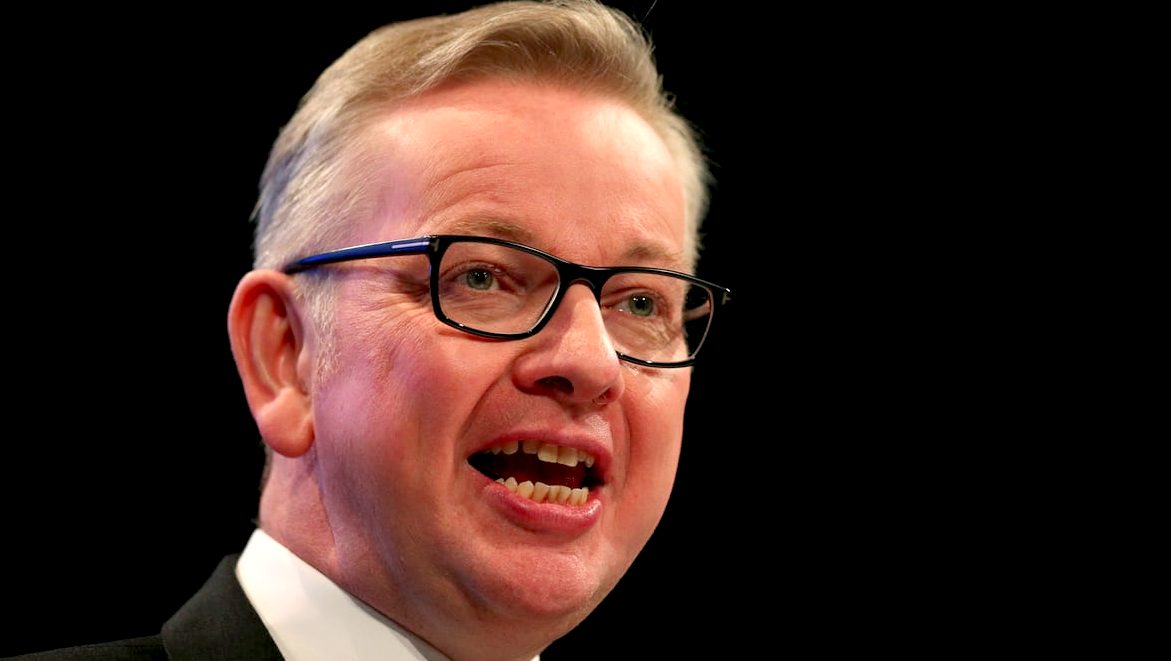 THE GUARDIAN OCT 2017 - A deposit return scheme aimed at slashing plastic pollution has moved significantly closer after environment secretary Michael Gove said he would work with the industry to see how a scheme can be implemented in England.

Gove, speaking at the Conservative party conference in Manchester, announced a four-week call for views to inform how a deposit return scheme (DRS) would be designed. The government's working group on the issue will also consider DRS for metal and glass containers.

Over eight million tonnes of plastic enter the oceans every year, with 80% coming from land. Plastic bottles are a major contributor; in June the Guardian revealed that a million are made every minute and the rate is rising quickly, with annual consumption forecast to top half a trillion by 2021.

At least a dozen nations already have DRS, in which a small deposit is paid when purchasing the bottle, which is then returned when the empty bottle is brought back.

In Germany and Denmark, which have DRS schemes, more than 90% of bottles are returned. In England, just 57% of plastic bottles are recycled, mostly through streetside collection schemes. Gove was pressured this summer by opposition parties and NGOs to introduce a DRS in England, and Nicola Sturgeon announced in September that Scotland would introduce a DRS.

"We must protect our oceans and marine life from plastic waste if we are to be the first generation to leave our environment in a better state than we found it," Gove said. "We want to hear people's ideas on how we could make [a DRS] work in England." In September, Gove said a plastic bottle DRS was a "great idea" but it was vital to devise a programme "that others can buy into".

Gove noted the huge reduction in plastic bag use resulting from the 5p charge placed on single-use bags, and that the government was drawing up "one of the world's toughest bans on plastic microbeads". The DRS working group has been asked to report early in the new year.

"The continuous stream of disposable plastic bottles running into our oceans has been growing alarmingly," said Greenpeace oceans campaigner Elena Polisano. "We urgently need solutions, and we think a DRS is probably the best way to raise the collection rate."

Coca-Cola is one of the world's biggest producers of plastic bottles and in February reversed its opposition to a DRS in Scotland. In July, the company announced it would use more recycled plastic in its bottles. However, on Monday Greenpeace revealed that Coca-Cola has increased its production of plastic bottles by a billion in the last year.

Louise Edge, oceans campaigner for Greenpeace, said: "Coca-Cola talks the talk on sustainability but the astonishing rate at which it is pumping out single-use plastic bottles is still growing."
REVERSION
Some products could be packaged in cardboard boxes as they were before plastic became so cheap and where there is no appreciable marketing value or savings using plastic. A prime example is egg boxes. There is nothing wrong with the original cardboard egg boxes so why change to clear plastic? Tesco and Lidl and many others sell their value eggs in clear plastic boxes that are relatively unappealing and use a good deal of plastic in the moulding process to achieve a stronger box for transport purposes. Okay, so that reduces transport costs, but increases the plastic to food ratio - and that means more plastic in the system.
One drinks maker that is doing the right thing is Idris, who make a particularly fine 'Jamaica' ginger beer in our opinion. Their aluminium can 8 pack comes in a cardboard sleeve. Magnificent! All recyclable for 10 points.
PET DRINKS BOTTLES
Two of the biggest users of plastic bottles for soft drinks are Coca Cola and Pepsi Cola but these producers are by no means the only contributors to the undersea plastic mountain that is accumulating as micro and other plastics sink to the bottom of the ocean where even eco machines like SeaVax cannot reach them .........
There are ways that these companies might reduce their plastic footprint ........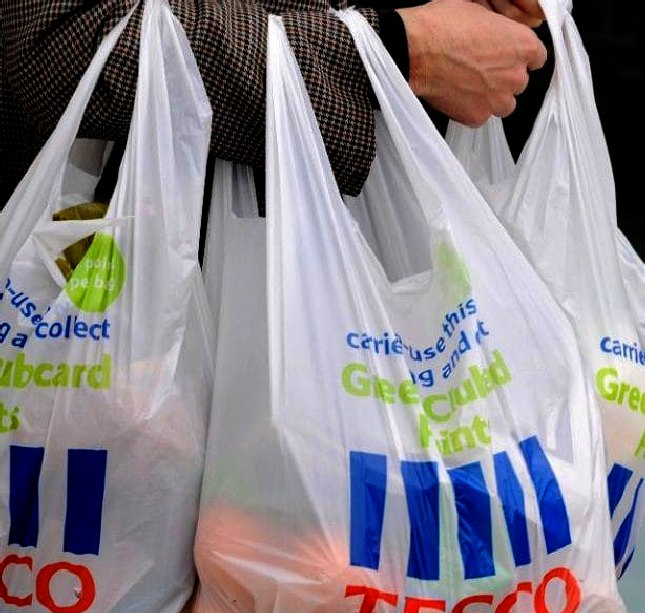 EVERY LITTLE HELPS - 1.3 billion plastic carriers may not be seen as a "little" bit of waste and nothing to worry about. It is still a large plastic mound that combines with all the other mounds around the world to poison our oceans. Contributing to ocean waste research would help us significantly and if a vessel like SeaVax hits the oceans as a result, then every donation would count no matter how small.
CARRIER BAGS
A tax on plastic carrier bags has already been imposed on supermarkets and other stores in the United Kingdom, but so far none of this tax appears to be going to dealing with the problem ........ Where is the logic in that ?
It is typically English thinking that a tax can be raised and squandered on something else. Did you know that in the UK only 5% of Road Tax is used to build roads. The other 95% goes to making weapons and warships. What are we like ?
In an honest administration, If a tax is levied, the money should be used for the purpose it is claimed to be necessary transparently. Our warmongers should be honest and tell us how much of our income tax, VAT and other taxes are being used to pay for fat military contracts and procurement fraud that is so prevalent in the US that a percentage is allowed for by congress. Our society is top heavy with taxes that do not deal with serious pollution problems, affordable housing and climate change.
SUPERMARKETS
As some of the operators and users that benefit the most from plastic packaging, supermarkets could cooperate with organizations like the Ellen MacArthur Foundation to formulate a business model to set an example to other industries that use plastic ........ In the UK Tesco has been named as selling the most of the 1.3 billion bags sold last year. We are sure that now the supermarkets are aware of the growing public concerns that they will want to do something about it .....
CONFECTIONARY
Cadbury use plastic in the packaging of their products and one product in particular could be redesigned to reduce plastic in the mix ........... Nobody would want to stop this producer from making the world some of the most delicious coca based products, or from making us happy with chocolate. Chocolate is a valuable food supplement taken in moderation. It is the packaging that is the problem, not the product.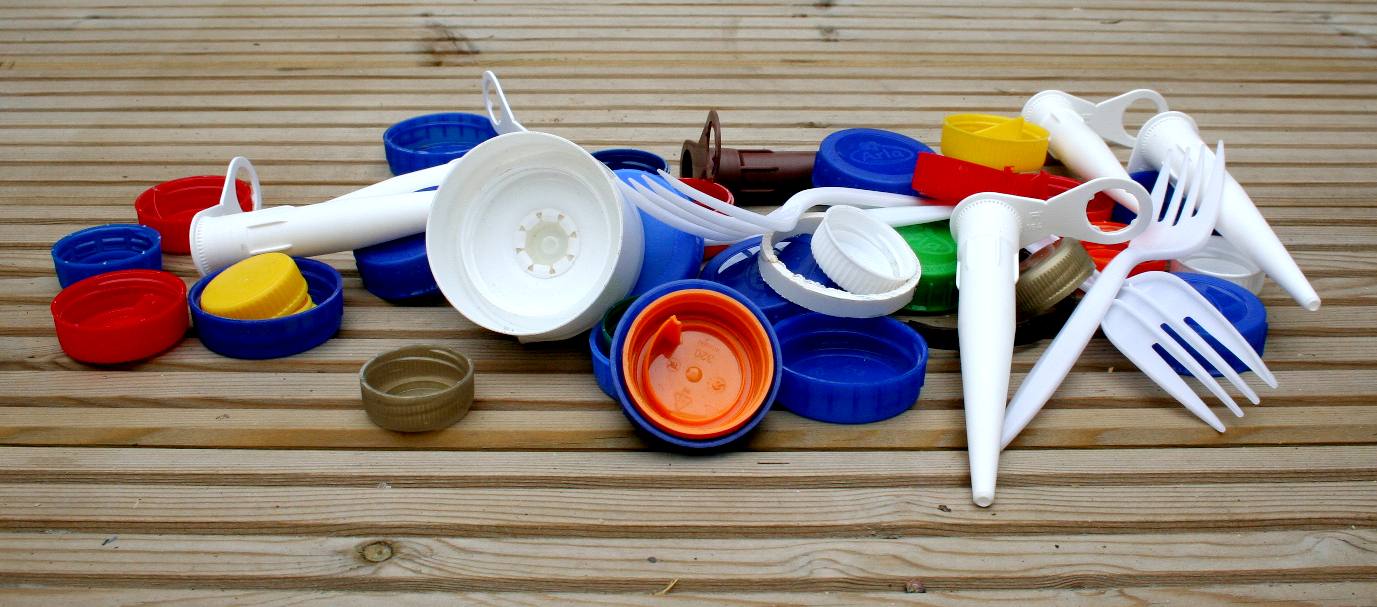 BOTTLE CAPS - If you have a family to feed your weekly shop is likely to exceed this quantity of plastic bottle caps. About half this quantity is regularly found in the stomachs of dead seabirds. We live in a plastic society and a plastic age - where we could not do without the advantages that plastic offers - that is a good thing for mankind. What is not so good is exploiting our skills in a way that harms other life on this amazing planet, and will eventually come back to haunt us as reduced food capacity and maybe even diseases. Copyright photograph © 22-7-17 Cleaner Ocean Foundation Ltd, all rights reserved.
ECONOMICS
We can think of a number of ways that plastic packaging can be reduced and recycled that is sure to have a bounce down effect on the volume of waste that enters our oceans. If we had the funding for such review, proposals and campaigning, we would be able to suggest ways of improving operations so that supermarkets might not only help the ocean pollution problem but also save money on their packaging.
AWARENESS CAMPAIGN
To draw attention to the single use plastic issue we are planning an Ocean Literacy campaign, involving a competition to identify Miss Ocean and Mister Ocean, and events where the winner tours England using a VW Camper that we are kitting out at the moment, to explain why we should all think about changing our shopping habits, or maybe even help us to help manufacturers and retailers to see what they might be able to do to ease the present situation.
If you are a major user of plastic packaging and would like to explore the opportunity for working on this together to reduce your plastic footprint, please email Christina or Andrew to find out more.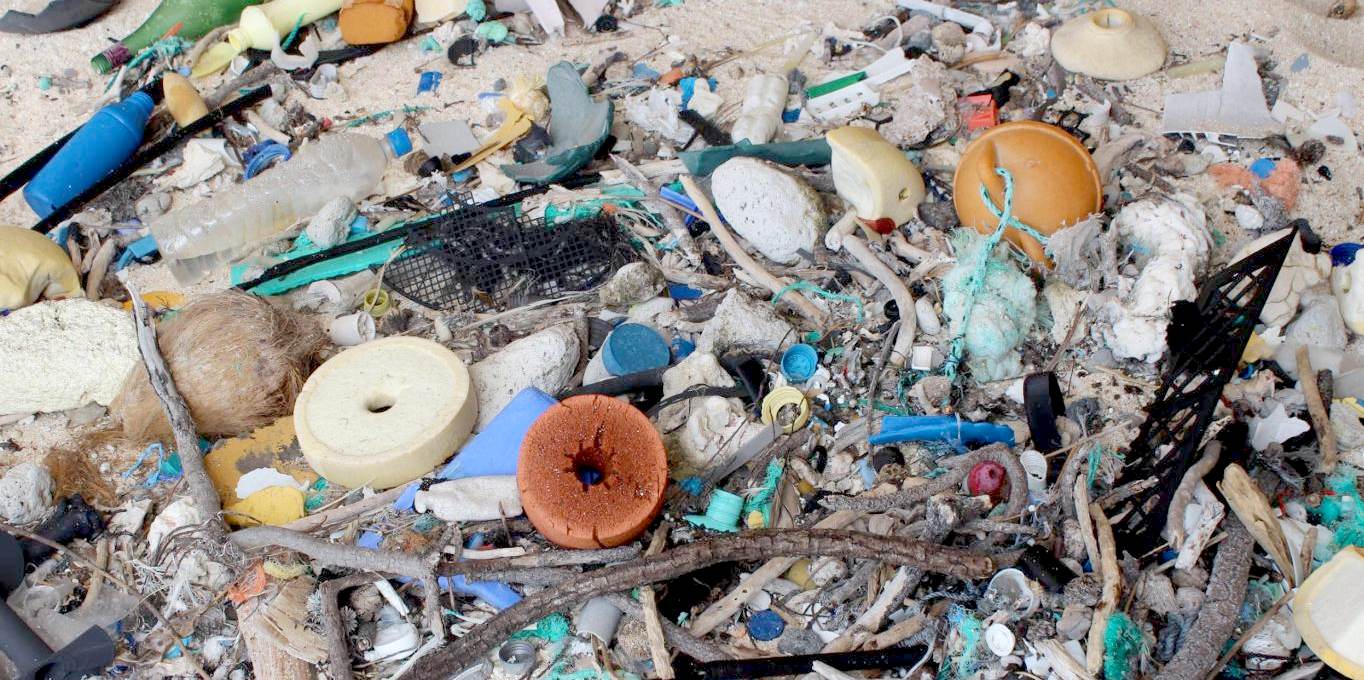 THE INDEPENDENT HENDERSON ISLAND - Beaches of a remote British island in the South Pacific are littered with an estimated 37.7 million pieces of plastic, only discovered in 2017. You may be able to identify some of the caps in this picture, but you will net be able to see the micro particles that come from the myriad of clear containers from your friendly local supermarket store that is more than likely at the time of this article: ocean unfriendly.

EXPRESS FEBRUARY 5 2015 - 10 FACTS ABOUT PLASTIC

1. The creation of Bakelite, the first commercially successful totally synthetic plastic, was announced by its inventor Leo Baekeland on February 5, 1909. Dr Baekeland devised the plastic as a possible man-made replacement for shellac, which was made from excretions of the kerria lacca insect.

2. The very first plastic was Parkesine, invented by Alexander Parkes in 1856. It cracked and was flammable, so was not a total success.

3. The word 'plastic' comes from the Greek plastikos, meaning 'capable of being shaped and moulded.

4. That sense of 'plastic' has been recorded in English since the late 16th century.

5. 'Plastic explosives' were first referred to in 1907 and 'plastic bag' arrived in 1941.

6. 'Plastic surgeon' came in 1863 and credit and debit cards were first called 'plastic money' in 1969.

7. About 500 billion plastic bags are used worldwide every year.

8. The Great Pacific Garbage Patch is the name given to a collection of marine debris mostly comprising plastic in the North Pacific Ocean.

9. A fleece jacket can be made from 25 recycled plastic drinks bottles.

10. "She got her looks from her father. He's a plastic surgeon," (Groucho Marx).
LINKS & REFERENCE
National Geographic – Eight Million Tons of Plastic Dumped in Ocean Every Year
The Washington Post – By 2050, there will be more plastic than fish in the world's oceans, study says
UK Business Insider – By 2050, the oceans could have more plastic than fish
http://wef.ch/plasticseconomy
FOAM & BOTTLES - Expanded polystyrene is used to package household electrical goods, while soft drinks and water is sold in PET plastic bottles by the billions every year. The numbers are staggering. It's no wonder then that some of this plastic will end up on our plate in one form or another, potentially as a toxin carrier. Copyright photograph © 22-7-17 Cleaner Ocean Foundation Ltd, all rights reserved.
ABS - BIOMAGNIFICATION - BP DEEPWATER - CANCER - CARRIER BAGS - CLOTHING - COTTON BUDS - DDT - FISHING NETS
FUKUSHIMA - HEAVY METALS - MARINE LITTER - MICROBEADS - MICRO PLASTICS - NYLON - OCEAN GYRES - OCEAN WASTE
PACKAGING - PCBS - PET - PLASTIC - PLASTICS - POLYCARBONATE - POLYSTYRENE - POLYPROPYLENE - POLYTHENE - POPS
PVC - SHOES - SINGLE USE - SOUP - STRAWS - WATER
This website is provided on a free basis as a public information service. copyright © Cleaner Oceans Foundation Ltd (COFL) (Company No: 4674774) 2018. Solar Studios, BN271RF, United Kingdom. COFL is a charity without share capital.