NYLON
ABOUT - CLIMATE CHANGE - CROWDFUNDING - CONTACTS - DONATE - FOUNDATION - OCEAN CLEANUP - HOME - A-Z INDEX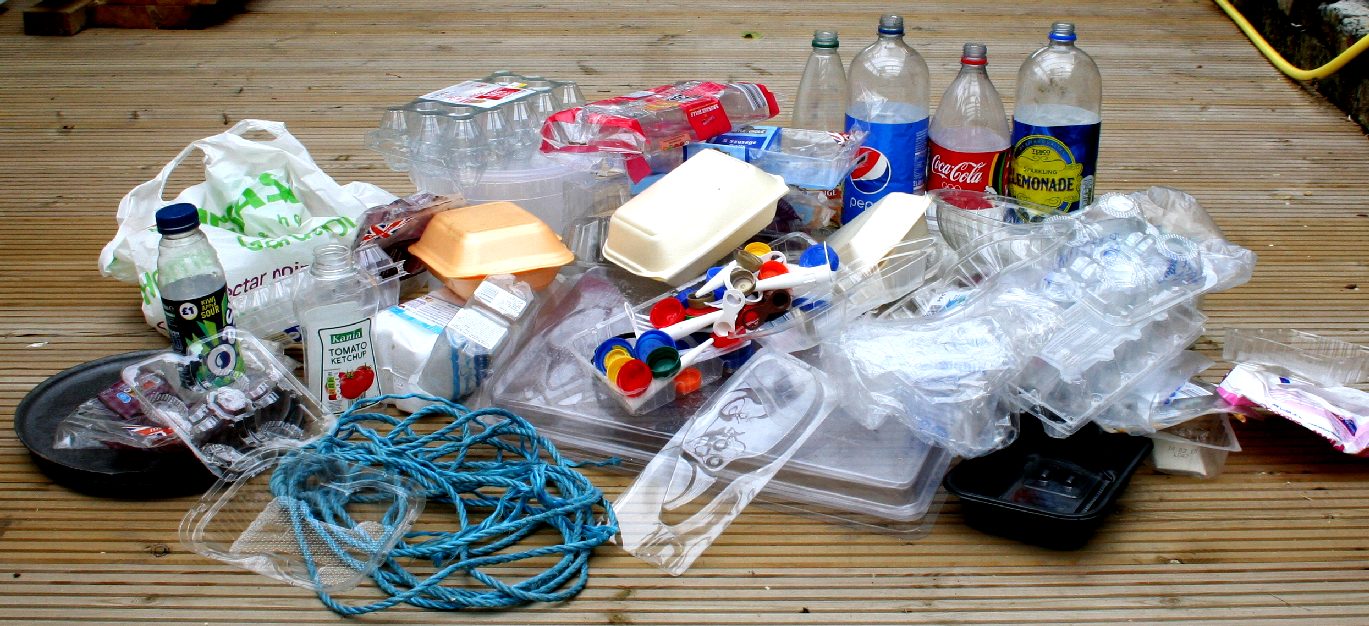 SINGLE USE PLASTICS - This is just a small sample of the plastic packaging that you will find in retails stores all over the world. A good proportion of this packaging - around 8 millions tons a year, will end up in our oceans, in the gut of the fish we eat, in the stomachs of seabirds and in the intestines of whales and other marine mammals. Copyright photograph © 22-7-17 Cleaner Ocean Foundation Ltd, all rights reserved.
Unlike single use plastics, nylon is an engineering plastic that is considered to be essential for sustainable development in a modern world.
Nylon resins are widely used in the automobile industry especially in the engine compartment.

Molded nylon is used in hair combs and mechanical parts such as machine screws, gears and other low- to medium-stress components previously cast in metal. Engineering-grade nylon is processed by extrusion, casting, and injection molding. Type 6,6 Nylon 101 is the most common commercial grade of nylon, and Nylon 6 is the most common commercial grade of molded nylon. For use in tools such as spudgers, nylon is available in glass-filled variants which increase structural and impact strength and rigidity, and molybdenum disulfide-filled variants which increase lubricity.
Its various properties also make it very useful as a material in additive manufacturing; specifically as a filament in consumer and professional grade fused deposition modeling 3D printers. Nylon can be used as the matrix material in composite materials, with reinforcing fibers like glass or carbon fiber; such a composite has a higher density than pure nylon. Such thermoplastic composites (25% to 30% glass fiber) are frequently used in car components next to the engine, such as intake manifolds, where the good heat resistance of such materials makes them feasible competitors to metals.

Nylon was used to make the stock of the Remington Nylon 66 rifle. The frame of the modern Glock pistol is made of a nylon composite.

Food packaging - Nylon resins are used as a component of food packaging films where an oxygen barrier is needed. Some of the terpolymers based upon nylon are used every day in packaging. Nylon has been used for meat wrappings and sausage sheaths. The high temperature resistance of nylon makes it useful for oven bags.


ENGINEERING PLASTICS

Nylon is an engineering plastic.

LINKS & REFERENCE
https://
FOAM & BOTTLES - Expanded polystyrene is used to package household electrical goods, while soft drinks and water is sold in PET plastic bottles by the billions every year. The numbers are staggering. It's no wonder then that some of this plastic will end up on our plate in one form or another, potentially as a toxin carrier. Copyright photograph © 22-7-17 Cleaner Ocean Foundation Ltd, all rights reserved.
ABS - BIOMAGNIFICATION - BP DEEPWATER - CANCER - CARRIER BAGS - CLOTHING - COTTON BUDS - DDT - FISHING NETS
FUKUSHIMA - HEAVY METALS - MARINE LITTER - MICROBEADS - MICRO PLASTICS - NYLON - OCEAN GYRES - OCEAN WASTE
PACKAGING - PCBS - PET - PLASTIC - PLASTICS - POLYCARBONATE - POLYSTYRENE - POLYPROPYLENE - POLYTHENE - POPS
PVC - SHOES - SINGLE USE - SOUP - STRAWS - WATER
This website is provided on a free basis as a public information service. copyright © Cleaner Oceans Foundation Ltd (COFL) (Company No: 4674774) 2018. Solar Studios, BN271RF, United Kingdom. COFL is a charity without share capital.