PET
ABOUT - CONTACTS - CROWDFUNDING - DONATIONS - FOUNDATION - HOME - A-Z INDEX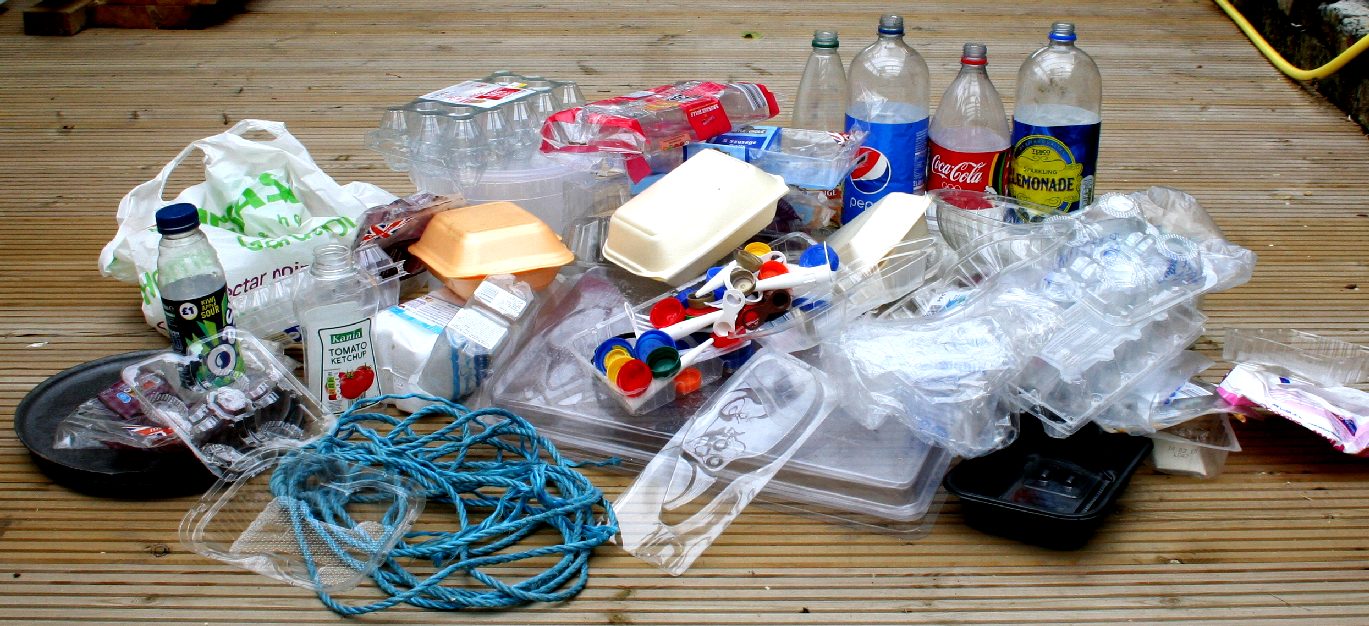 SINGLE USE PLASTICS - This is just a small sample of the plastic packaging that you will find in retails stores all over the world. A good proportion of this packaging - around 8 millions tons a year, will end up in our oceans, in the gut of the fish we eat, in the stomachs of seabirds and in the intestines of whales and other marine mammals.
Yet plastic has many uses in our modern society and cannot easily be replaced. For example, PET is a very energy-efficient packaging material. Although its raw materials are derived from crude oil and natural gas, it enjoys a very favorable sustainability profile in comparison to glass, aluminum and other container materials.

Its sustainability jumps even higher when recycling is introduced, since approximately 40% of PET's energy use is attributable to its "resource energy" - the energy inherently trapped in its raw materials that can be recaptured and reused through recycling.

The high strength of PET in comparison to its light weight is a major key to its energy efficiency, allowing for more product to be delivered in less packaging and using less fuel for transport. Ongoing advances in light-weighting technology continue to improve its energy efficiency even further.
Life cycle studies of PET have consistently confirmed the environmental benefits of PET as a packaging material. Copyright photograph © 22-7-17 Cleaner Ocean Foundation Ltd, all rights reserved.
The PET Industry has experienced phenomenal growth in the last 10 years, to a degree that has seen the output of PET bottle manufacture double in this period. Consequently, the industry at large now boasts combined production figures in excess of 120 billion units worldwide. Such growth can only occur if there is robust infrastructure to support well orchestrated efforts that have supply meeting demand. Strange as it may seem though, this industry is still somewhat adolescent to a certain degree. It is forever developing and with the prospect of emerging markets looming on the horizon, full potential is yet to be realised.
In an age of environmental concern, PET is a preferred material for packaging worldwide because of its recyclability. The ability to recycle is much improved where the PET container in question is made entirely from PET as there are then no contaminants in the PET entering the recycling process as with a separately attached handle container.
The main issue with PET soft drink bottles is when they enter the oceans as marine litter. As yet there is no effective way to recover such waste for recycling, though it is a business in its infancy that provides an income for those bounding the South Atlantic and Indian Oceans. For example, if ocean cleaning dustcarts were deployed effectively by way of a SeaNet, even plastic in the ocean could be recovered in an acceptable way that environmentalists would find difficult to argue against. Unfortunately, we are at least ten years away from that ideal in terms of technology readiness.

PET or Poly Ethylene Terephthalate is a light weight, durable plastic with excellent clarity and recyclability benefits.

PET is the only material other than glass that has sufficient barrier properties to successfully contain ambient juice and carbonated beverages.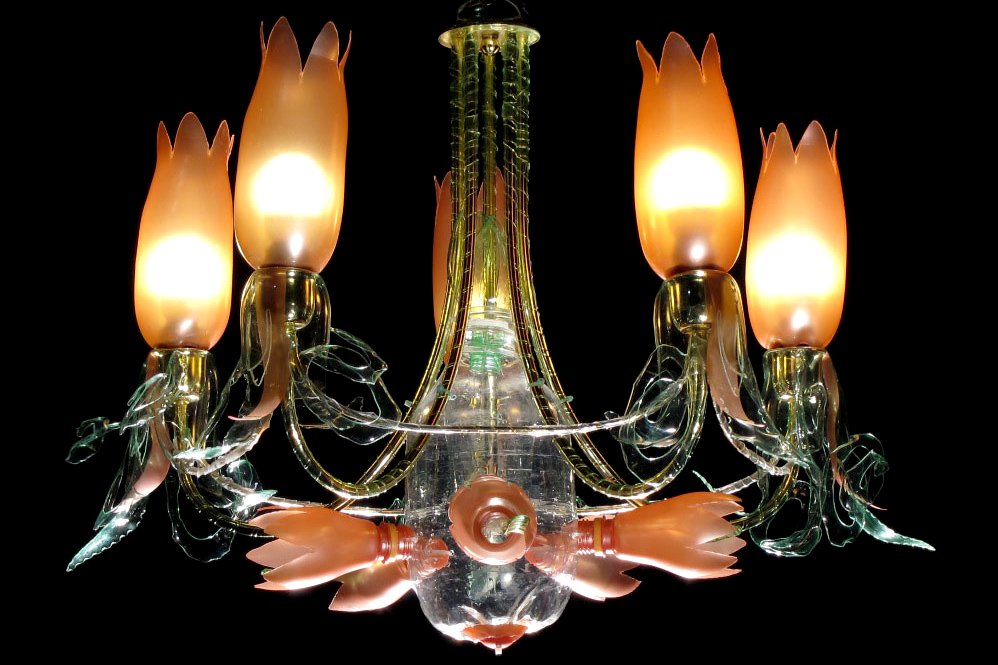 ART - Czech artist Veronika RichterovŠ uses the near indestructible nature of plastic PET bottles to her advantage. By snipping, twisting, and heating the drinking vessels, she forms long-lasting sculptures that visually mirror the qualities of glass. This similarity inspired her series of PET luminaries, a project composed of fully functioning light systems in the form of chandeliers and lamps.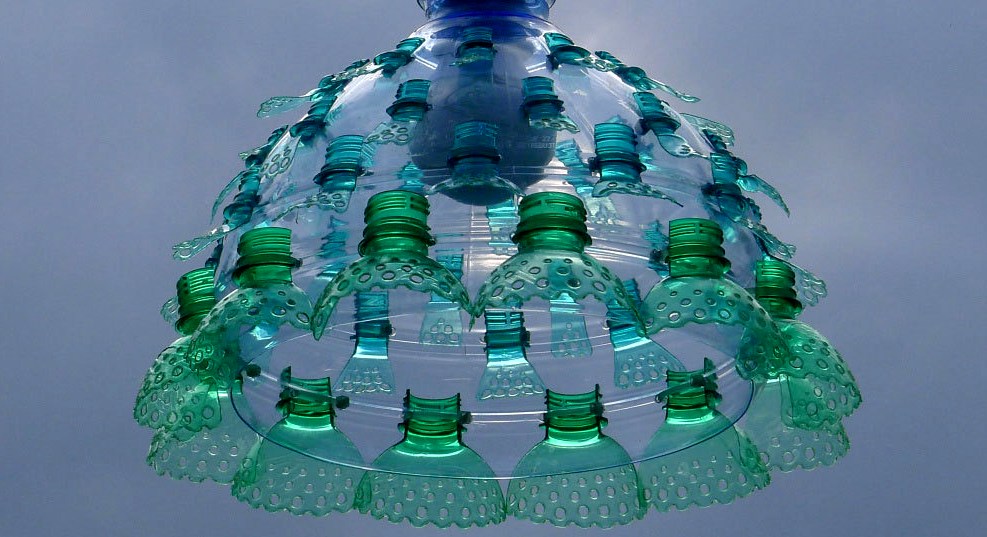 The included works are decorated with tulip-shaped light bulb covers, scalloped edges, and long, twisted segments of recycled bottles that imitate electrical cords. In order to protect these heat-sensitive sculptures, RichterovŠ installs her works with bulbs and cables that produce minimal heat.
A few of RichterovŠís plastic chandeliers are currently included in the 50-artist exhibition Eden Unearthed at Sydneyís Eden Gardens through February 2018. You can see more recycled works in the form of cacti, animals, and more on the artistís website. (via Lustik)
MOLDING

There are two basic molding methods for PET bottles, one-step and two-step. In two-step molding, two separate machines are used. The first machine injection molds the preform, which resembles a test tube, with the bottle-cap threads already molded into place. The body of the tube is significantly thicker, as it will be inflated into its final shape in the second step using stretch blow molding.

In the second step, the preforms are heated rapidly and then inflated against a two-part mold to form them into the final shape of the bottle. Preforms (uninflated bottles) are now also used as robust and unique containers themselves; besides novelty candy, some Red Cross chapters distribute them as part of the Vial of Life program to homeowners to store medical history for emergency responders. Another increasingly common use for the preforms are containers in the outdoor activity geocaching.

In one-step machines, the entire process from raw material to finished container is conducted within one machine, making it especially suitable for molding non-standard shapes (custom molding), including jars, flat oval, flask shapes, etc. Its greatest merit is the reduction in space, product handling and energy, and far higher visual quality than can be achieved by the two-step system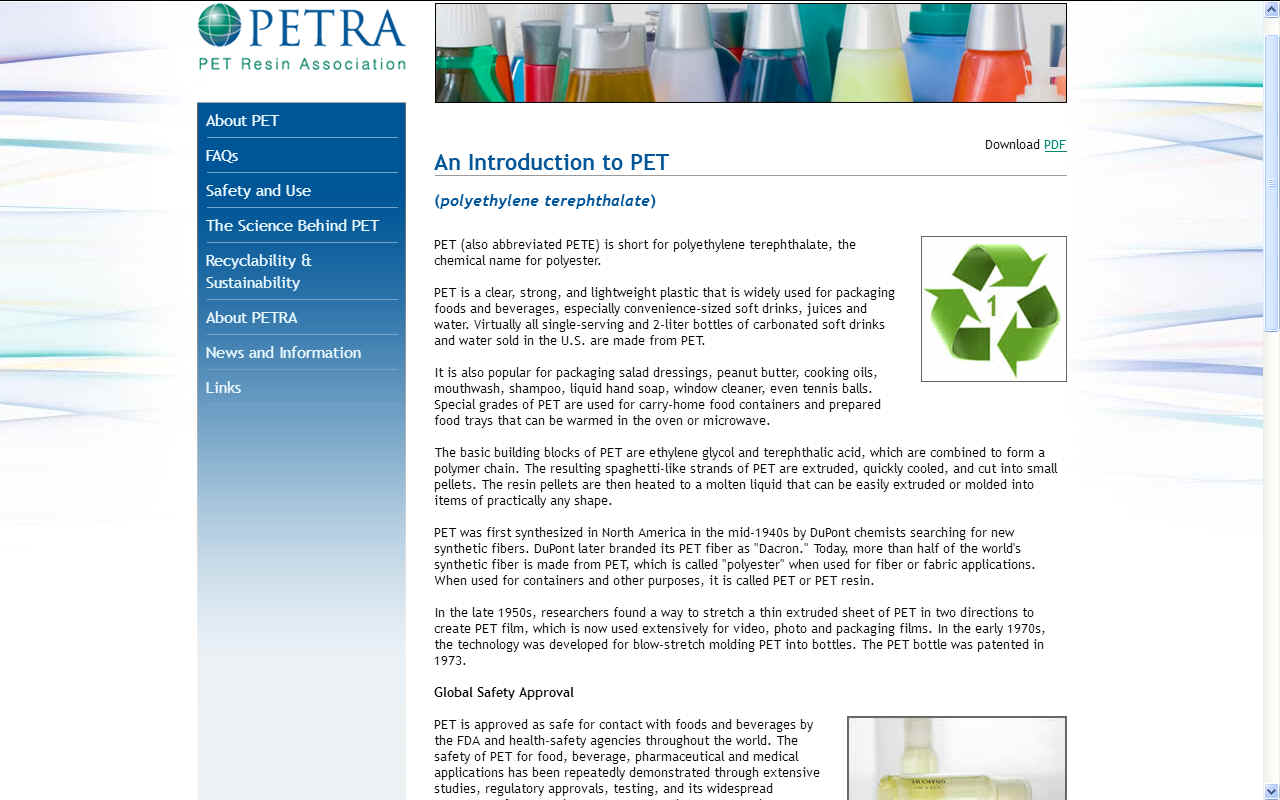 PET RESIN ASSOCIATION - PET is approved as safe for contact with foods and beverages by the FDA and health-safety agencies throughout the world. The safety of PET for food, beverage, pharmaceutical and medical applications has been repeatedly demonstrated through extensive studies, regulatory approvals, testing, and its widespread acceptance for more than 30 years. PET does not contain bisphenol-A (BPA) or phthalates (plasticizers).

Because of PET's unique properties, it is rapidly becoming the world's preferred packaging material for foods and beverages. Like glass, it is a very strong and inert material that does not react with foods, is resistant to attack by micro-organisms, and will not biologically degrade. But unlike glass, PET is extremely lightweight, easy and efficient to transport, and shatterproof.
USES
Plastic bottles made from PET are widely used for soft drinks. For certain specialty bottles, such as those designated for beer containment, PET sandwiches an additional polyvinyl alcohol (PVOH) layer to further reduce its oxygen permeability.

Biaxially oriented PET film (often known by one of its trade names, "Mylar") can be aluminized by evaporating a thin film of metal onto it to reduce its permeability, and to make it reflective and opaque (MPET). These properties are useful in many applications, including flexible food packaging and thermal insulation (such as space blankets). Because of its high mechanical strength, PET film is often used in tape applications, such as the carrier for magnetic tape or backing for pressure-sensitive adhesive tapes.

Non-oriented PET sheet can be thermoformed to make packaging trays and blister packs. If crystallizable PET is used, the trays can be used for frozen dinners, since they withstand both freezing and oven baking temperatures. Both amorphous PET and BoPET are transparent to the naked eye. Color-conferring dyes can easily be formulated into PET sheet.

When filled with glass particles or fibres, it becomes significantly stiffer and more durable.

PET is also used as a substrate in thin film solar cells.
RECYCLING

In 2016, it was estimated that 56 million tons of PET are produced each year. While most thermoplastics can, in principle, be recycled, PET bottle recycling is more practical than many other plastic applications because of the high value of the resin and the almost exclusive use of PET for widely used water and carbonated soft drink bottling. PET has a resin identification code of 1. The prime uses for recycled PET are polyester fiber, strapping, and non-food containers.

Because of the recyclability of PET and the relative abundance of post-consumer waste in the form of bottles, PET is rapidly gaining market share as a carpet fiber. Mohawk Industries released everSTRAND in 1999, a 100% post-consumer recycled content PET fiber. Since that time, more than 17 billion bottles have been recycled into carpet fiber. Pharr Yarns, a supplier to numerous carpet manufacturers including Looptex, Dobbs Mills, and Berkshire Flooring, produces a BCF (bulk continuous filament) PET carpet fiber containing a minimum of 25% post-consumer recycled content.

PET, as with many plastics, is also an excellent candidate for thermal disposal (incineration), as it is composed of carbon, hydrogen, and oxygen, with only trace amounts of catalyst elements (but no sulfur). PET has the energy content of soft coal.
COMMODITY PLASTICS

PET is a commodity plastic.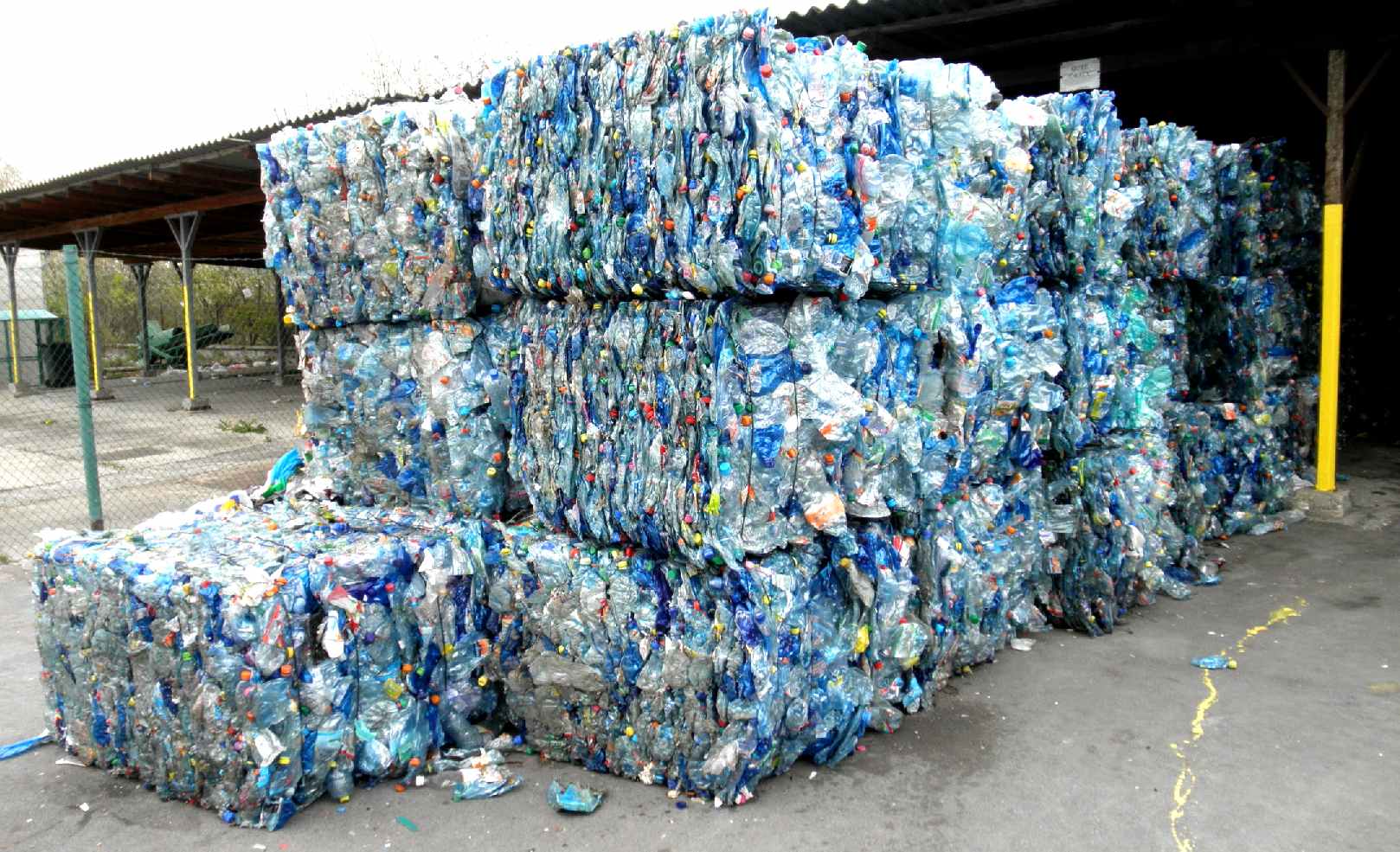 RECYCLING - PET is completely recyclable, and is the most recycled plastic in the U.S and worldwide. More than 1.5 billion pounds of used PET bottles and containers are recovered in the United States each year for recycling. PET can easily be identified by the #1 in the triangular "chasing arrows" code, which is usually found molded into the bottom or side of the container. No other plastic carries the #1 code.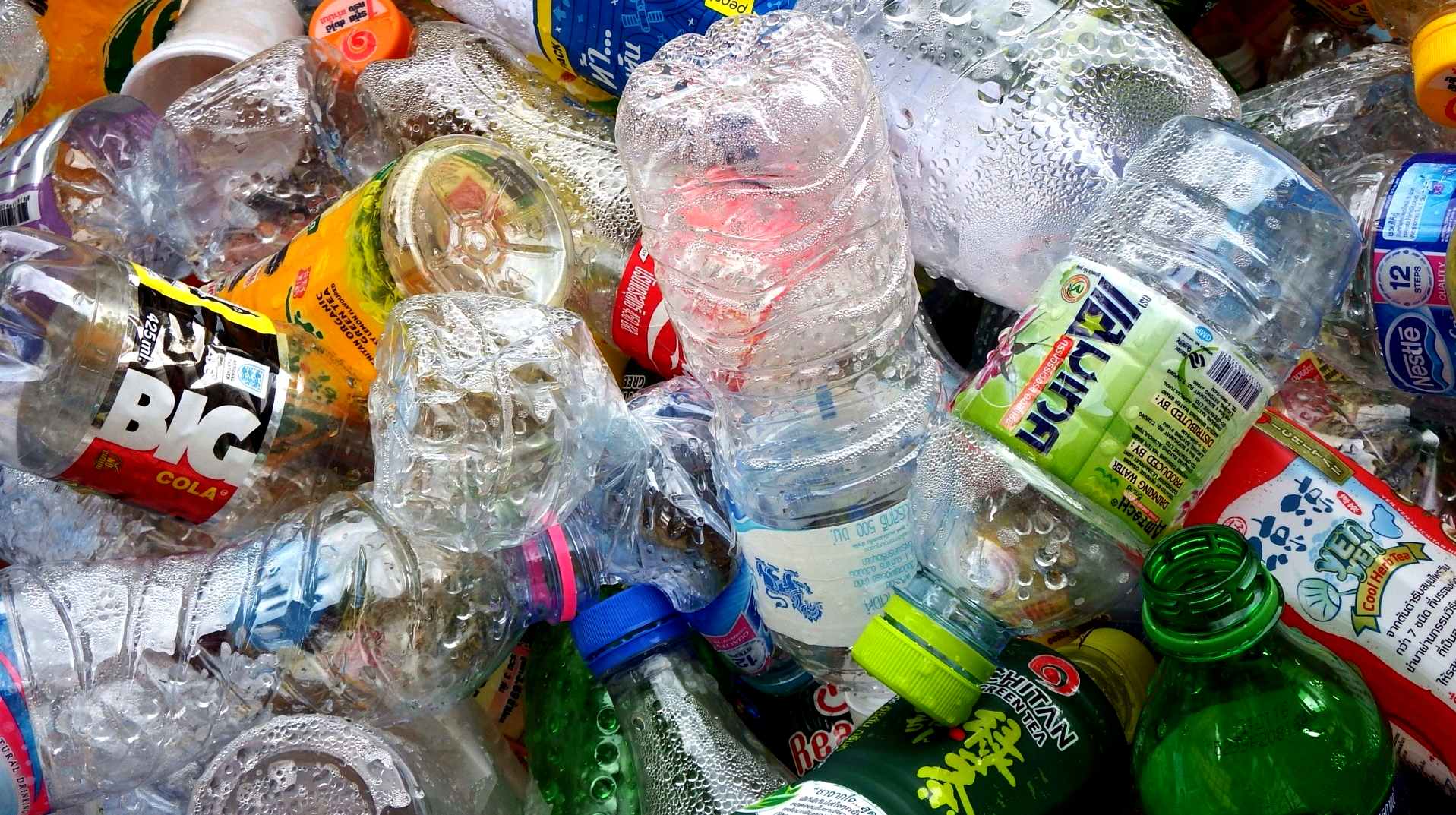 PET - can be commercially recycled by thorough washing and re-melting, or by chemically breaking it down to its component materials to make new PET resin. Almost every municipal recycling program in North America and Europe accepts PET containers.

LINKS & REFERENCE
https://www.thisiscolossal.com/2017/10/chandeliers-constructed-from-recycled-plastic-pet-bottles-by-veronika-richterova/
http://petresin.org/
FOAM & BOTTLES - Expanded polystyrene is used to package household electrical goods, while soft drinks and water is sold in PET plastic bottles by the billions every year. The numbers are staggering. It's no wonder then that some of this plastic will end up on our plate in one form or another, potentially as a toxin carrier. Copyright photograph © 22-7-17 Cleaner Ocean Foundation Ltd, all rights reserved.
ABS - BIOMAGNIFICATION - BP DEEPWATER - CANCER - CARRIER BAGS - CLOTHING - COTTON BUDS - DDT - FISHING NETS
FUKUSHIMA - HEAVY METALS - MARINE LITTER - MICROBEADS - MICRO PLASTICS - NYLON - OCEAN GYRES - OCEAN WASTE
PACKAGING - PCBS - PET - PLASTIC - PLASTICS - POLYCARBONATE - POLYSTYRENE - POLYPROPYLENE - POLYTHENE - POPS
PVC - SHOES - SINGLE USE - SOUP - STRAWS - WATER
This website is provided on a free basis as a public information service. copyright © Cleaner Oceans Foundation Ltd (COFL) (Company No: 4674774) 2019. Solar Studios, BN271RF, United Kingdom. COFL is a charity without share capital.