ONE WORLD ONE OCEAN - In the role of guardians of their geographical regions, there is also a responsibility to develop the blue economy for the international circular economies that a sustainable society requires if we are not to burn planet earth out. This does not mean economic growth so much as a shift to cleaner practices that allow us to maintain the status quo.
The USA is one of the top twenty countries of the world that in our view would benefit from joining a World Ocean Anti-Plastic Alliance, where President Trump values efficiency over bureaucracy and streamlining operations. Imagine then the complications of overseeing organized ocean cleaning with multiple agencies in every member country - all trying to justify their part, when one dedicated group would go straight to the heart of the matter - without communication delays, to work on the problem, rather than work on ways around the problem; leading us to a plastic planet while non-experts seek to maintain an unsustainable status quo.
The President cares about children, hence must be gambling that climate change is bearable for the sake of not disrupting the US economy, that fish will adapt to acid and we don't need our ice caps, where sea levels are another thing to learn to live with. The crunch though is the plastic and toxin build up in our diets. Will these turn out to have health benefits? Unlikely. Or, maybe the plan is to reduce world population by increasing the death rate in the countries that pollute their fishing grounds the most. Check out the dirtiest rivers in the world and compare those with the USA's most polluted.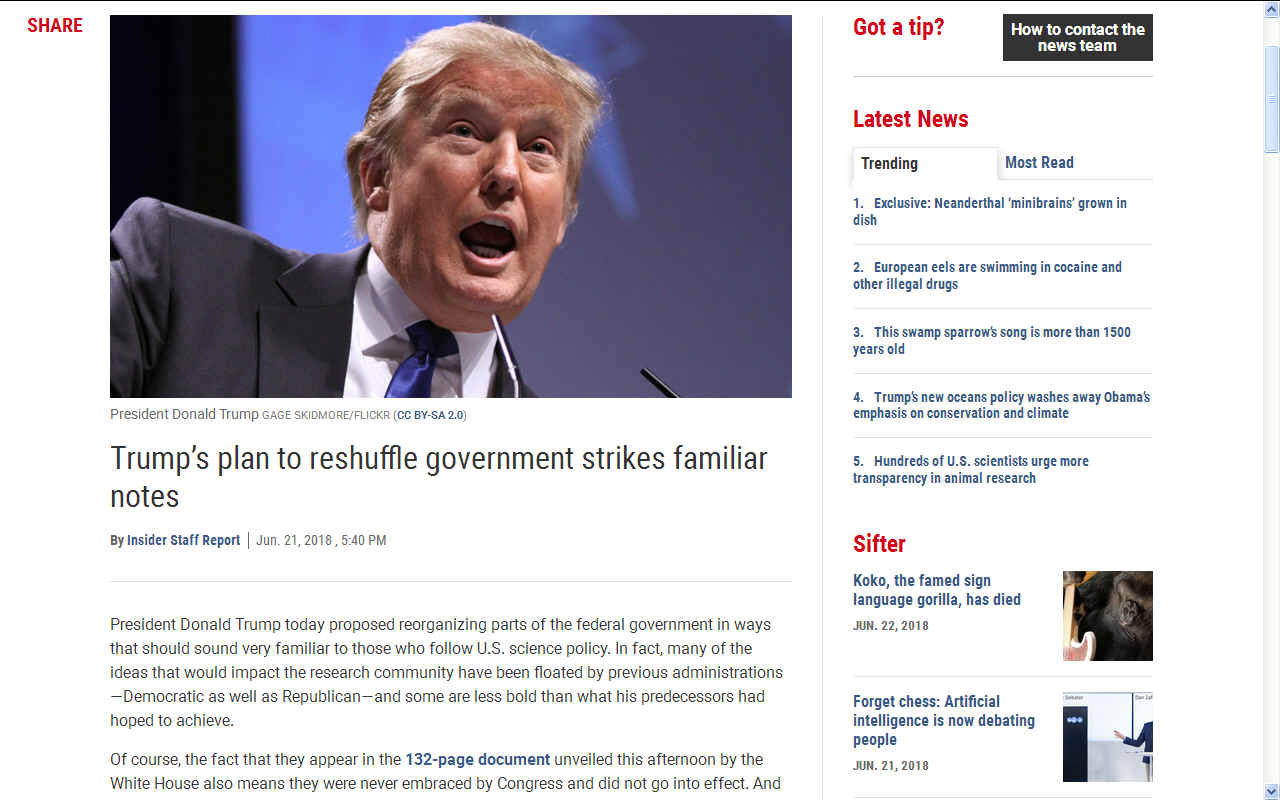 THE WHITE HOUSE - "Outdated technology, organizational constructs, and antiquated processes keep citizens and small businesses tied up in bureaucracy, leaving the American people and Federal workforce frustrated." These are the words of a reshuffle ordered by President Trump. We could not agree more. There must be a way to cut the red tape to get to the blue tape.
TRUMP'S NEW OCEANS POLICY WASHES AWAY OBAMA'S EMPHASIS ON CONSERVATION & CLIMATE
Marine conservation and addressing climate change are out. Jobs and national security are in.

That's just one message sent by a new executive order detailing a revised U.S. oceans policy released today by President Donald Trump. The order formally revokes the 2010 oceans policy issued by then-President Barack Obama, and replaces it with a markedly different template for what the government should focus on in managing the nation's oceans, coastal waters, and Great Lakes.

Some changes in emphasis are sweeping. The Trump order deletes a preamble to the Obama policy that emphasized "how vulnerable our marine environments are," called for improving the nation's "capacity to respond to climate change and ocean acidification," and stressed the need for "a national policy to ensure the protection, maintenance, and restoration of the health of ocean, coastal, and Great Lakes ecosystems." It also drops the Obama order's references to "social justice," "biological diversity," and "conservation."

Instead, the Trump order stresses economic and security concerns. U.S. waters "are foundational to the economy, security, global competitiveness, and well-being of the United States," the order begins. "Ocean industries employ millions of Americans and support a strong national economy. Domestic energy production from Federal waters strengthens the Nation's security and reduces reliance on imported energy."

Specific priorities are also very different. In the Obama order, top items on a list of 10 policies included the need to "protect, maintain, and restore the health and biological diversity" and boost "conservation and sustainable uses" of resources, and using "the best available science and knowledge to inform" management decisions and "understand, respond, and adapt to a changing global environment."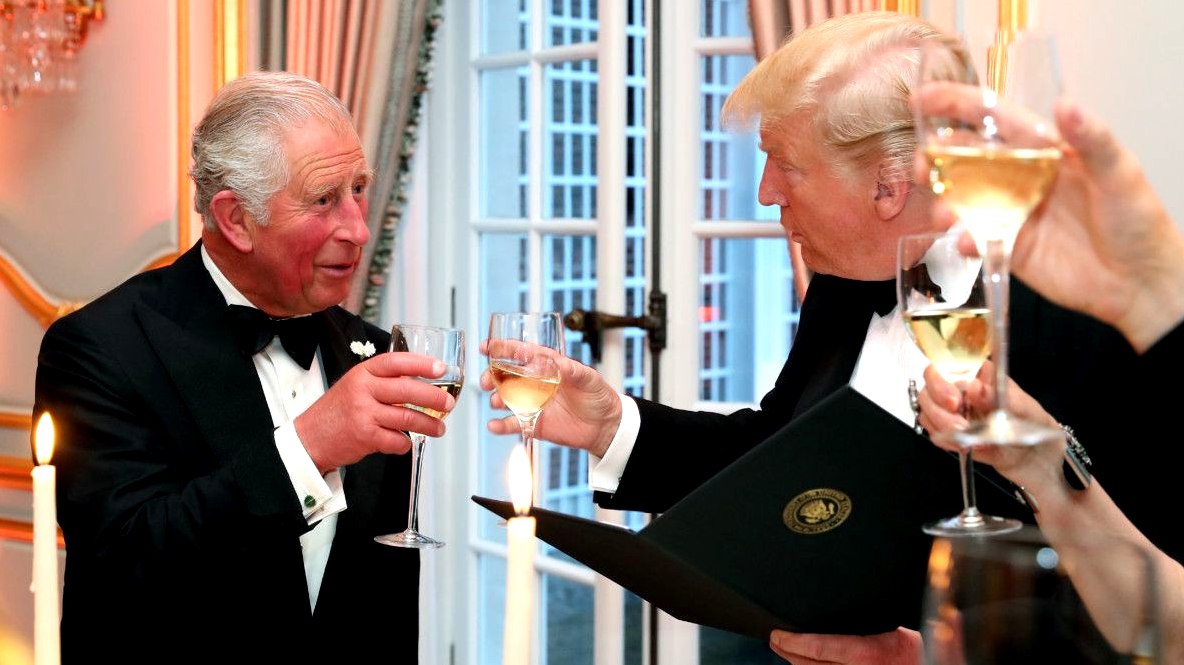 Those ideas are essentially absent from Trump's list of seven ocean policy priorities. It first calls for federal agencies to coordinate on providing "economic, security, and environmental benefits for present and future generations of Americans," and then highlights the need to "promote the lawful use of the ocean by agencies, including [the] United States Armed Forces." It also says the government should work to "facilitate the economic growth of coastal communities and promote ocean industries," "advance ocean science and technology," "enhance America's energy security," and ensure that "Federal regulations and management decisions do not prevent productive and sustainable use of ocean, coastal, and Great Lakes waters."

The new order also largely downplays an Obama administration emphasis on creating robust data collections that could help managers make decisions, and on encouraging state and federal agencies to collaborate on plans that would guide marine development, conservation, and other activities. Under Obama, such planning efforts drew fierce opposition from some federal lawmakers and state officials. But two regions - northeastern and mid-Atlantic states - have adopted plans. And the new order should allow those efforts to continue if the partners agree, says Whit Saumweber, an independent consultant in Washington, D.C., who helped shape ocean policy in the Obama White House. But he worries that without robust support from the Trump administration, new marine planning collaborations won't occur and existing plans could falter. "I expect agencies will be reticent to put a priority on those things" under this order, he says.

In a statement, the White House said: "President Trump is rolling back excessive bureaucracy created by the previous Administration." The new order reorganizes the National Ocean Council, eliminates some regional planning bodies, and creates a new "streamlined Ocean Policy Committee [that] will have a Subcommittee for Science and Technology and a Subcommittee for Resource Management."

Representative Rob Bishop (R–UT), chairman of the House of Representatives Natural Resources Committee, welcomed the shift. The order "repealing and replacing the bureaucratic, overreaching policy created under the previous administration puts our country's ocean policy back on the right track," he said in a statement. The policy "will help the health of our oceans and ensure local communities impacted by ocean policy have a seat at the table."

Overall, the new executive order comes as only a mild surprise to ocean policy watchers. "Trump has made dismantling anything Obama did a priority, and this order is consistent with that and his 'America first' rhetoric," says a congressional aide who is not authorized to speak on the record. It is not clear how much immediate impact the policy change will have, he says, but he believes that in the long term it will influence how agencies approach decisions.

One author of the Obama oceans policy is disappointed. The Trump policy "represents a significant step backward, a throwback to the 1960s when the primary focus was on aggressively expanding the use of the ocean with the assumption that it is so immense, so bountiful that it must be inexhaustible," marine ecologist Jane Lubchenco, who led the National Oceanic and Atmospheric Administration under Obama, tells ScienceInsider. "We learned through painful experience that the ocean is indeed exhaustible, but we also learned that if we are smart about how we use the ocean, it can provide a wealth of benefits for decades and decades."

Obama's policy had emphasized "stewardship," she notes—a word not used in the new order. Trump "blatantly rejects this all-important focus on stewardship," Lubchenco says. "Put another way, the policy reflects a shift from 'use it without using it up' to a very short-sighted and cavalier 'use it aggressively and irresponsibly.'"

*Update, 20 June, 10:50 a.m.: This story has been updated with statements from the White House and others.

By David MalakoffJun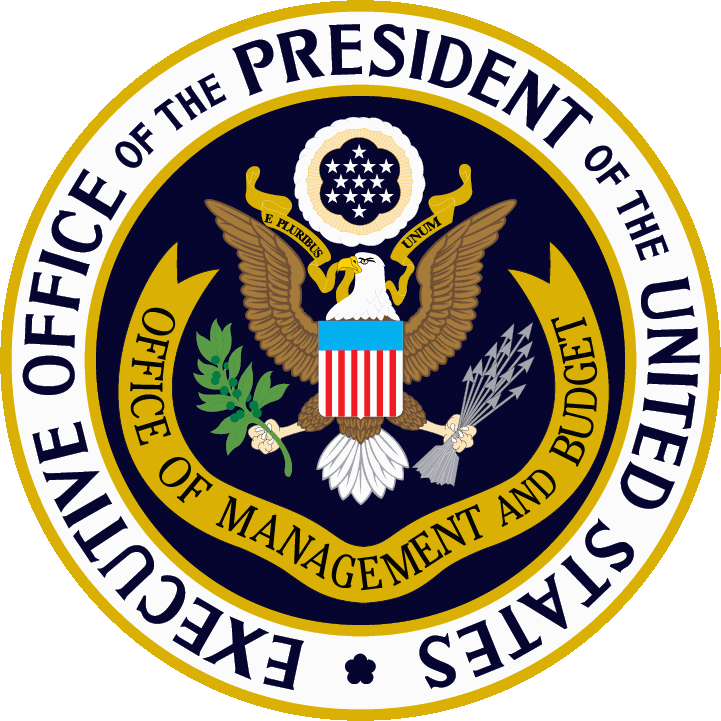 TRUMP'S US GOVERNMENT REFORMS 21 JUNE 2018

These changes appear in a 132-page document unveiled by the White House on 21-06-18. These proposals have not been embraced by Congress and many observers doubt Trump will fare much better in realizing his proposed changes than his predecessors.

The plan, labeled "Delivering Government Solutions in the 21st Century," would affect federal research agencies in ways great and small. Here are highlights from that document, along with some background and preliminary reactions from the communities most affected.

Move the Department of Commerce's National Marine Fisheries Service (NMFS) to the Department of the Interior (DOI), and merge it with DOI's Fish and Wildlife Service (FWS). This idea, which has been proposed in various forms over the past few decades, is aimed at streamlining the administration of two major environmental laws - the Endangered Species Act and the Marine Mammal Protection Act. The White House notes that the "jurisdictions under these two laws is generally split based on habitat type, with FWS covering species that spend time on land or in inland fisheries, while NMFS covers mostly marine species. This split jurisdiction … creates a confusing permitting landscape for project proponents." Dam operators, for example, often have to seek permits from both agencies to operate their facilities.

In 2012 President Barack Obama proposed a more sweeping version of this merger, which would have involved moving NMFS as well as its entire parent agency, the National Oceanic and Atmospheric Administration, from the Commerce Department to DOI. But the effort never gained headway.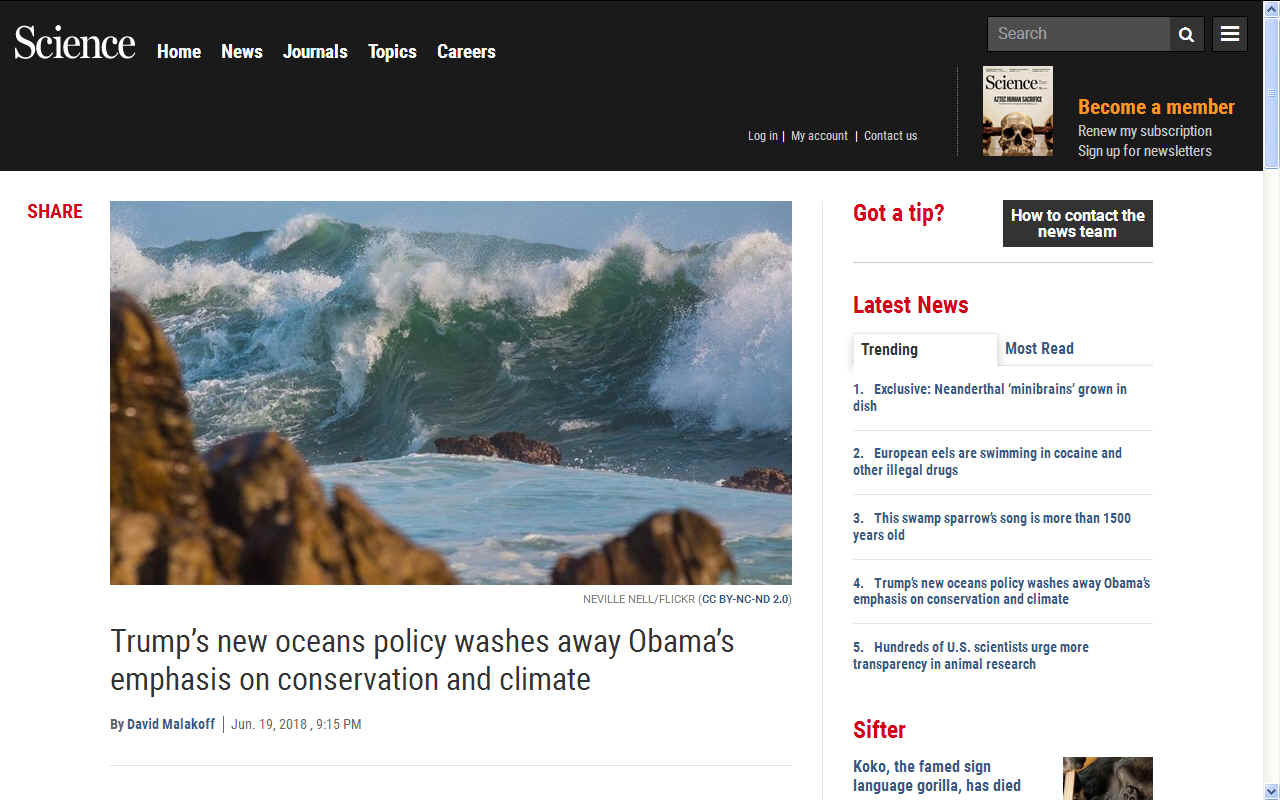 DIRTY BIRDS - US RIVERS AS AN INDICATOR OF COUNTRY AS POLLUTER
Rank

River/Harbour

States, toxic discharges = water pollution

Lbs toxic discharges

-

-

-

-

1

Mississippi River

TN, AR, LA, MO, IL, MN, WI, IA, KY, MS

702,496,748

2

Pacific Ocean

OR, HI, CA

35,195,908

3

Ohio River

IL, IN, OH, KY, WV, PA

22,072,491

4

Tennessee River

KY, TN, AL

22,031,743

5

Houston Ship Channel

TX

18,235,338

6

Ward Cove

AK

14,261,169

7

Savannah River

GA, SC

13,968,965

8

Delaware River

DE, PA, NJ

13,329,248

9

Thames River

CT

13,312,639

10

Grays Harbor

WA

10,840,795

11

Rock River

IL, WI

8,165,469

12

Straits Of Juan De Fuca

WA

7,899,229

13

Amelia River

FL

7,461,070

14

Gravelly Run

VA

6,330,209

15

Calcasieu River

LA

5,427,508

16

Ouachita River

AR, LA

4,925,933

17

Mobile River

AL

4,572,055

18

Columbia River

WA, OR

4,368,387

19

Holston River

TN

4,098,240

20

Genesee River

NY

3,672,733

21

Kansas River

KS

3,420,965

22

Martins Creek

MS

3,339,065

23

Indiana Harbor Ship Canal

IN

2,578,038

24

Brazos River

TX

2,442,430

25

Cuyahoga River

OH

2,427,663

26

Patapsco River

MD

2,329,123

27

Kanawha River

WV

2,320,910

28

Susquehanna River

PA, NY

2,144,339

29

Quinnipiac River

CT

2,105,384

30

Fenholloway River

FL

1,896,369

31

Cedar River

IA

1,881,803

32

Everett Harbor

WA

1,749,650

33

Hudson River

NJ, NY

1,729,084

34

Missouri River

NE, KS, MO, ND, IA

1,727,759

35

Neches River

TX

1,645,307

36

Alabama River

AL

1,613,809

37

Escambia Bay

FL

1,568,522

38

Wisconsin River

WI

1,553,152

39

Wabash River

IL, IN, OH

1,532,308

40

Blackwater River

VA

1,488,346

41

Detroit River

MI

1,449,750

42

Little Attapulgus Creek

GA

1,431,183

43

Androscoggin River

ME, NH

1,388,133

44

Escatawpa River

MS

1,358,148

45

Pigeon River

NC

1,325,423

46

Cook Inlet

AK

1,322,140

47

Cape Fear River

NC

1,319,953

48

Des Moines River

IA

1,270,304

49

Tombigbee River

MS, AL

1,210,471

50

Willamette River

OR

1,202,737

-

-

-

-

Source: Environmental Working Group. from U.S. Environmental Protection Agency, Toxics Release Inventory 1990-1994
DIRTY DOZEN - WORLD OCEAN DISCHARGE FORTY OF THE MOST POLLUTED
RIVER

COUNTRY

RANKING

-

-

-

Brazil/Peru/ Ecuador

-

Russia/China

8th placed polluted river

-

Bangladesh

-

1st and worst

West Central Africa

-

Nigeria/Cameroon

-

-

India/Bangladesh

6th place dirty river

-

-

Hai He (Sea)

4th place plastic river

-

-

Myanmar

-

Nigeria

-

Pakistan/Himalayan

3rd place dirty river

Russia/China/Kazakhstan

-

Israel

-

Nigeria

-

Siberia

-

Columbia

-

-

Philippines

-

12th place most polluted river

Thailand/Laos/Vietnam

10th out of ten

Guinea/Nigeria

9th place polluted river

-

S America/Brazil

-

Philippines

-

Java/Indonesia

-

-

-

Java/Indonesia

-

Taiwan

-

-

11th dirtiest riverin the world

2nd most polluted river in the world

Yellow/Huang He

5th dirtiest river

Zhujiang/Pearl

7th fluid plastic delivery system

-

-

Note: ranking is subjective and liable to change with each sampling and regime
We share one ocean and one planet. We may care to think otherwise, but in the greatest technical challenge we have yet faced as brothers and sisters of planet earth there are no borders. What neighbor countries trash today is your pollution problem tomorrow, and what we fail to clean up today as responsible parents is our children's legacy for generations to come.
With plastic being a toxin carrier and bioamplifier in the food chain, we can expect that people ingesting fish exposed to marine plastic will be that much more likely to suffer cancer related problems in life, with follow on costs to the health services of contributor nations.
The unique quality of humans is our ability to reason and be reasonable. Provided that the main industrial players in the world accept that plastic production and usage is linked to Gross Domestic Product in proportion to wealth creation, it is reasonable to expect that those with most to gain from ocean research and regeneration might want to contribute what they can afford to removing what is possible to remove to compensate for their part in creating the problem, unwittingly though that may have been in the past.
What we are suggesting is an alliance between the top performing nations dedicated to cleaning the seas up. We invite those nations (and any others that want to fight) to join in the Big Clean by contributing to the cause.
We know that world leaders will consider it unfair if they are asked to contribute more than other nations, but would also expect that each nations should match fund any coordinated efforts of this nature. Funding need only continue until SeaVax reaches break even point, at which stage members might expect to benefit from ongoing operations without any cost of membership attaching.
World Oceans Anti-Plastic Alliance (WOAA)
Cleaner Ocean Foundation Ltd
Solar Studios (Solar House)
BN271RF
United Kingdom.
Tel/Fax: 0044 1323 831727
Email: growth @ blue-growth . org
| Rank | Country | GDP (billions of US$) | % of World GDP | $M contribution |
| --- | --- | --- | --- | --- |
| . | . | . | . | . |
| 1 | European Union | $18,399 | 23.7% | 1.840 |
| 2 | United States | $17,416 | 22.4% | 1.742 |
| 3 | China | $10,355 | 13.3% | 1.036 |
| 4 | Japan | $4,770 | 6.1% | 0.477 |
| 5 | Germany | $3,820 | 4.9% | - |
| 6 | France | $2,902 | 3.7% | - |
| 7 | United Kingdom | $2,848 | 3.7% | 0.285 |
| 8 | Brazil | $2,244 | 2.9% | 0.224 |
| 9 | Italy | $2,129 | 2.7% | 0.212 |
| 10 | Russia | $2,057 | 2.7% | 0.206 |
| 11 | India | $2,048 | 2.6% | 0.205 |
| 12 | Canada | $1,839 | 2.33% | 0.184 |
| 13 | Australia | $1,531 | 1.94% | 0.153 |
| 14 | Saudi Arabia | $1,358 | 1.72% | 0.136 |
| 15 | South Korea | $1,305 | 1.66% | 0.130 |
| 16 | Mexico | $1,259 | 1.60% | 0.126 |
| 17 | Indonesia | $868 | 1.10% | 0.087 |
| 18 | Netherlands | $853 | 1.08% | - |
| 19 | Argentina | $637 | 0.80% | 0.063 |
| 20 | South Africa | $349 | 0.40% | 0.035 |
| . | . | . | . | . |
| | | | 76.59% | $7,181,000 |
The World needs an Ocean Action Plan to coordinate the efforts of member nations that in turn will benefit each other as the oceans move from one shoreline to the shores of a neighbor country. To help us develop an international strategy we need to generate sufficient funds effectively make headway, estimated to be in the region of $10 million dollars to develop a SeaVax prototype. Follow on expenses, or pledges of ongoing support should be included to cover the cost of helping contributing nations to set up fleets of ocean cleaning boats - and running them in a network or pattern that stands the best chance of regenerating our oceans.
THE ACTION PLAN IN BRIEF
An Action Plan will involve coordinated research, communications and operations designed to tackle marine plastic, working with other organizations and academics to make people aware of the dangers of plastic pollution and the need to review packaging policies.
An Action Plan will involve developing ocean cleaning vessels and a central hub to coordinate plastic recovery missions and recycling.
Collecting grants, accounting for and end of year reporting on progress to Ocean Alliance members.
THE G20 HEADS OF STATE A - Z
| | | | | |
| --- | --- | --- | --- | --- |
| ARGENTINA | AUSTRALIA | BRAZIL | CANADA | CHINA |
| EUROPEAN UNION | FRANCE | GERMANY | INDIA | INDONESIA |
| ITALY | JAPAN | MEXICO | RUSSIA | SAUDI ARABIA |
| SOUTH AFRICA | SOUTH KOREA | TURKEY | UNITED KINGDOM | UNITED STATES |
The G20 (or G-20 or Group of Twenty) is an international forum for governments and central bank governors from:
Argentina
Australia
Brazil
Canada
China
European Union
France
Germany
India
Indonesia
Italy
Japan
Mexico
Russia
Saudi Arabia
South Africa
South Korea
Turkey
United Kingdom
United States 
Founded in 1999, the G20 aims to discuss policy pertaining to the promotion of international financial stability. It seeks to address issues that go beyond the responsibilities of any one organization.
The G20's membership does not reflect exactly the 19 largest national economies of the world in any given year. The organization states:

"In a forum such as the G20, it is particularly important for the number of countries involved to be restricted and fixed to ensure the effectiveness and continuity of its activity. There are no formal criteria for G20 membership and the composition of the group has remained unchanged since it was established. In view of the objectives of the G20, it was considered important that countries and regions of systemic significance for the international financial system be included. Aspects such as geographical balance and population representation also played a major part."
ABOUT GROSS DOMESTIC PRODUCT
Gross domestic product (GDP) is the market value of all final goods and services from a nation in a given year. Countries are sorted by nominal GDP estimates from financial and statistical institutions, which are calculated at market or government official exchange rates. Nominal GDP does not take into account differences in the cost of living in different countries, and the results can vary greatly from one year to another based on fluctuations in the exchange rates of the country's currency. Such fluctuations may change a country's ranking from one year to the next, even though they often make little or no difference in the standard of living of its population. The figures quoted here are only a guide.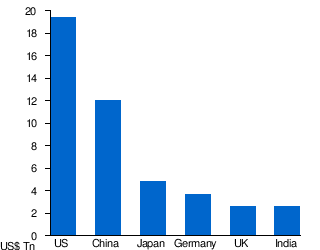 STATE LEADERS
Mauricio Macri
Malcolm Turnbull
Michel Temer
Justin Trudeau
Xi Jinping
Emmanuel Macron
Angela Merkel
Narendra Modi
Joko Widodo
Giuseppe Conte
Shinzō Abe
Enrique Peńa Nieto
Vladimir Putin
Salman, King
Cyril Ramaphosa
Moon Jae-in
Recep Tayyip Erdoğan
Theresa May
Donald Trump
Donald Tusk
http://www.sciencemag.org/news/2018/06/trump-s-plan-reshuffle-government-strikes-familiar-notes