POPs - PERSISTENT ORGANIC POLLUTANTS
ABOUT - CLIMATE CHANGE - CROWDFUNDING - CONTACTS - DONATE - FOUNDATION - OCEAN CLEANUP - HOME - A-Z INDEX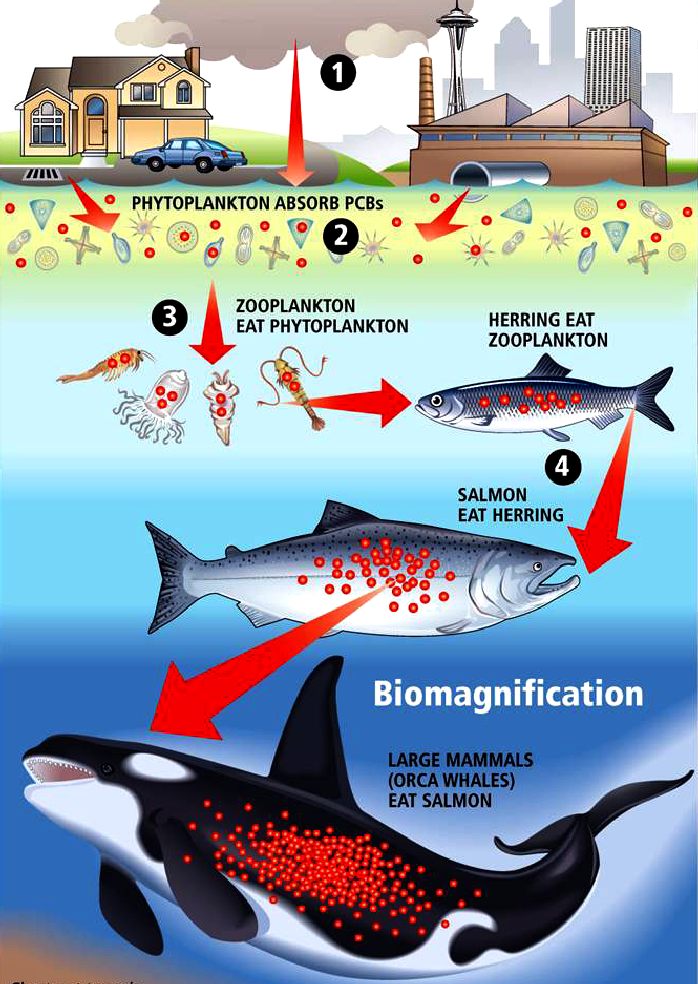 FOOD CHAIN - Scientists estimate that about 8 million tons of plastic debris such as food packaging and plastic bottles are being washed into the oceans each year – and the cumulative quantity of waste will result in a tenfold increase in the total amount of plastic in the sea by 2020. These plastics when broken down will be eaten by fish and find their way up the food chain onto your plate where they could put you at risk as to cancer. The next time you sit down to a meal of Salmon, think about helping us to tackle the problem.
Persistent organic pollutants (POPs) are organic compounds that are resistant to environmental degradation through chemical, biological, and photolytic processes. Because of their persistence, POPs bioaccumulate with potential adverse impacts on human health and the environment. The effect of POPs on human and environmental health was discussed, with intention to eliminate or severely restrict their production, by the international community at the Stockholm Convention on Persistent Organic Pollutants in 2001.

Many POPs are currently or were in the past used as pesticides, solvents, pharmaceuticals, and industrial chemicals. Although some POPs arise naturally, for example volcanoes and various biosynthetic pathways, most are man-made via total synthesis.
BIO ACCUMULATION
Bioaccumulation of POPs is typically associated with the compounds high lipid solubility and ability to accumulate in the fatty tissues of living organisms for long periods of time. Persistent chemicals tend to have higher concentrations and are eliminated more slowly. Dietary accumulation or bioaccumulation is another hallmark characteristic of POPs, as POPs move up the food chain, they increase in concentration as they are processed and metabolized in certain tissues of organisms. The natural capacity for animals gastrointestinal tract concentrate ingested chemicals, along with poorly metabolized and hydrophobic nature of POPs makes such compounds highly susceptible to bioaccumulation. Thus POPs not only persist in the environment, but also as they are taken in by animals they bioaccumulate, increasing their concentration and toxicity in the environment. DDT is a well known POP.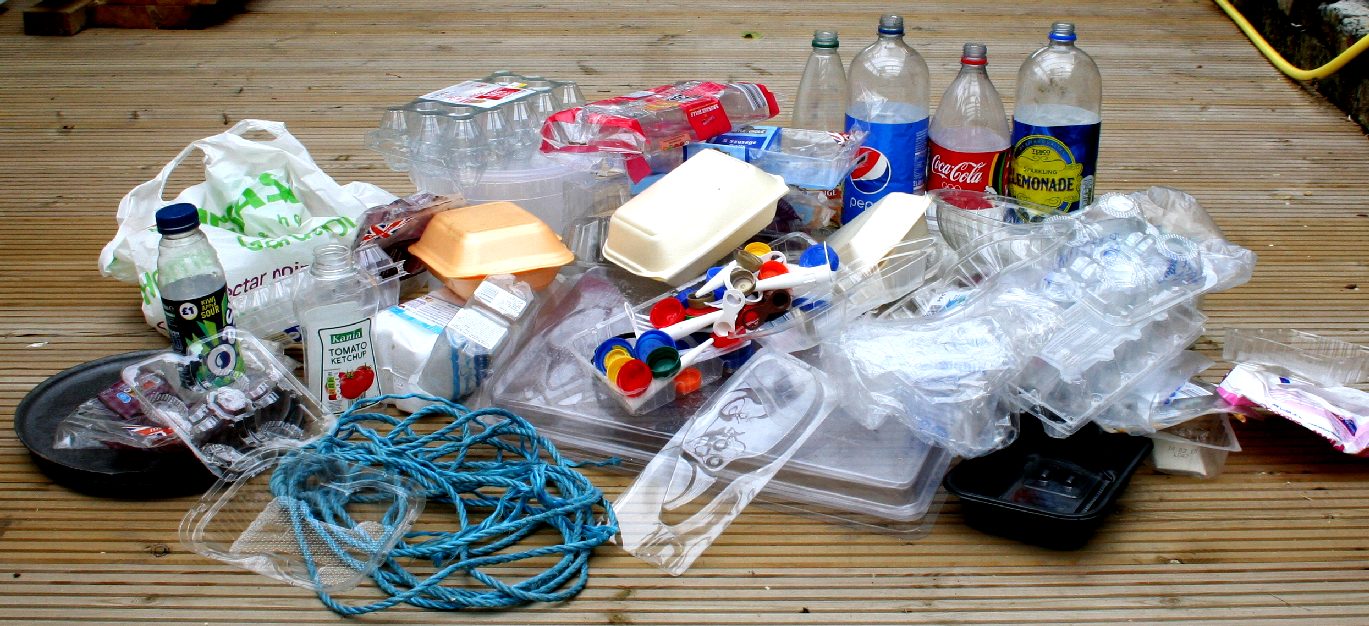 SINGLE USE PLASTICS - This is just a small sample of the plastic packaging that you will find in retails stores all over the world. A good proportion of this packaging - around 8 millions tons a year, will end up in our oceans, in the gut of the fish we eat, in the stomachs of seabirds and in the intestines of whales and other marine mammals, taking with it POPs that will end up in the food you eat. Copyright photograph © 22-7-17 Cleaner Ocean Foundation Ltd, all rights reserved.
THE STOCKHOLM CONVENTION
The Stockholm Convention was adopted and put into practice by the United Nations Environment Programme (UNEP) on May 22, 2001. The UNEP decided that POP regulation needed to be addressed globally for the future. The purpose statement of the agreement is "to protect human health and the environment from persistent organic pollutants." As of 2014, there are 179 countries in compliance with the Stockholm convention. The convention and its participants have recognized the potential human and environmental toxicity of POPs. They recognize that POPs have the potential for long range transport and bioaccumulation and biomagnification. The convention seeks to study and then judge whether or not a number of chemicals that have been developed with advances in technology and science can be categorized as POPs or not. The initial meeting in 2001 made a preliminary list, termed the "dirty dozen," of chemicals that are classified as POPs. As of 2014, the United States of America has signed the Stockholm Convention but has not ratified it. There are a handful of other countries that have not ratified the convention but most countries in the world have ratified the convention.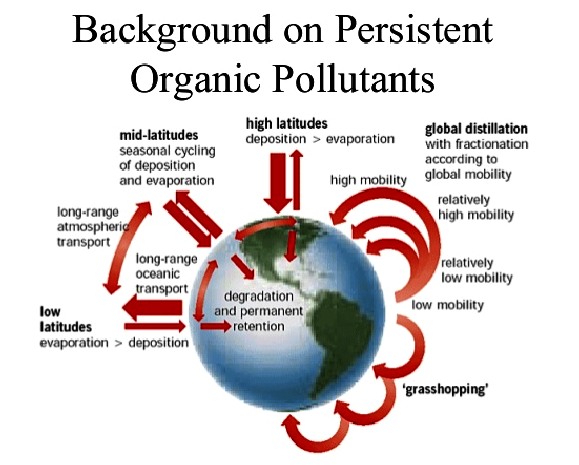 HEALTH EFFECTS
POP exposure may cause developmental defects, chronic illnesses, and death. Some are carcinogens per IARC, possibly including breast cancer. Many POPs are capable of endocrine disruption within the reproductive system, the central nervous system, or the immune system. People and animals are exposed to POPs mostly through their diet, occupationally, or while growing in the womb. For humans not exposed to POPs through accidental or occupational means, over 90% of exposure comes from animal product foods due to bioaccumulation in fat tissues and bioaccumulate through the food chain. In general, POP serum levels increase with age and tend to be higher in females than males.
Studies have investigated the correlation between low level exposure of POPs and various diseases. In order to assess disease risk due to POPs in a particular location, government agencies may produce a human health risk assessment which takes into account the pollutants' bioavailability and their dose-response relationships.

GLOBAL WASTE PROBLEM - The above views of planet earth as global views show us the Atlantic, Indian and Pacific ocean gyres and estimates of plastic waste in (thousands) numbers of pieces of plastic waste per square kilometer of sea. The Pacific Ocean gyres are held to be the worst at the moment.
LINKS & REFERENCE
http://news.nationalgeographic.com/news/2015/01/150109-oceans-plastic-sea-trash-science-marine-debris/
http://www.independent.co.uk/environment/plastic-waste-in-ocean-to-increase-tenfold-by-2020-10042613.html
https://en.wikipedia.org/wiki/Marine_debris
http://britishseafishing.co.uk/microplastics-and-ocean-pollution/
http://wef.ch/plasticseconomy
ABS - BIOMAGNIFICATION - BP DEEPWATER - CANCER - CARRIER BAGS - CLOTHING - COTTON BUDS - DDT - FISHING NETS
FUKUSHIMA - HEAVY METALS - MARINE LITTER - MICROBEADS - MICRO PLASTICS - NYLON - OCEAN GYRES - OCEAN WASTE
PACKAGING - PCBS - PET - PETROLEUM - PLASTIC - PLASTICS - POLYCARBONATE - POLYSTYRENE - POLYPROPYLENE - POLYTHENE - POPS - PVC - SHOES - SINGLE USE - SOUP - STRAWS - WATER
This website is provided on a free basis as a public information service. copyright © Cleaner Oceans Foundation Ltd (COFL) (Company No: 4674774) 2018. Solar Studios, BN271RF, United Kingdom. COFL is a charity without share capital.