POLYCARBONATE
ABOUT - CLIMATE CHANGE - CROWDFUNDING - CONTACTS - DONATE - FOUNDATION - OCEAN CLEANUP - HOME - A-Z INDEX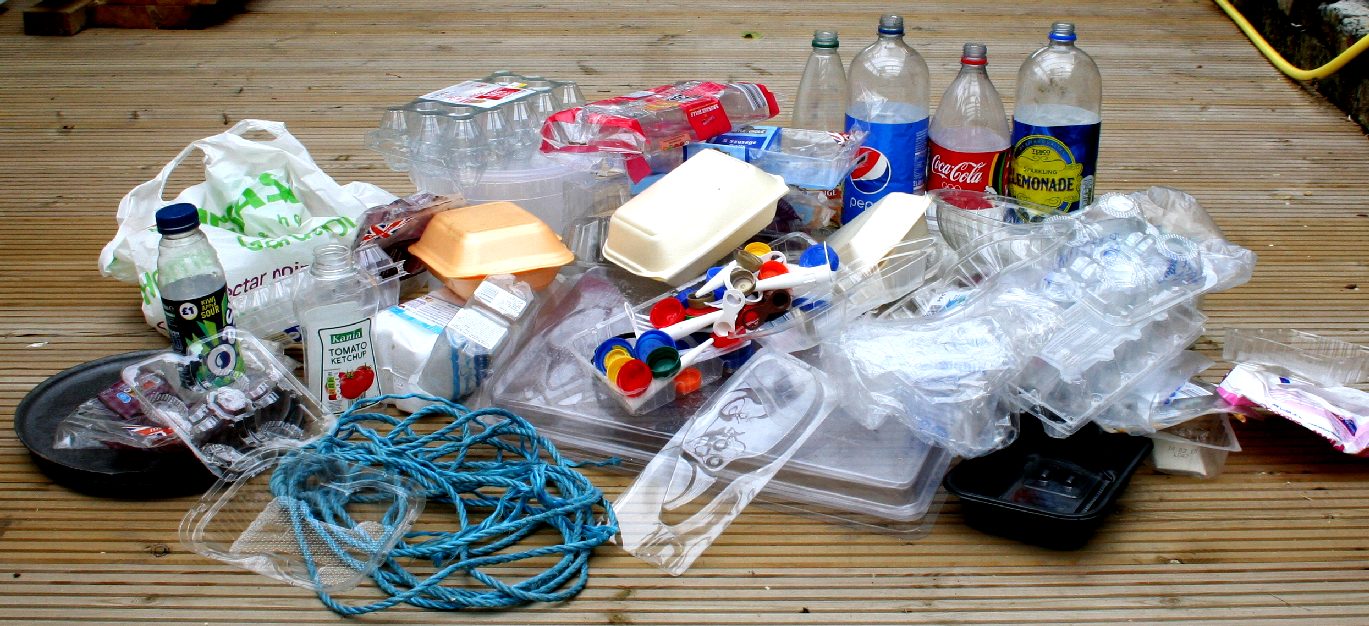 SINGLE USE PLASTICS - This is just a small sample of the plastic packaging that you will find in retails stores all over the world. A good proportion of this packaging - around 8 millions tons a year, will end up in our oceans, in the gut of the fish we eat, in the stomachs of seabirds and in the intestines of whales and other marine mammals. Copyright photograph © 22-7-17 Cleaner Ocean Foundation Ltd, all rights reserved.
Polycarbonate is a durable material. Although it has high impact-resistance, it has low scratch-resistance. Therefore, a hard coating is applied to polycarbonate eyewear lenses and polycarbonate exterior automotive components. The characteristics of polycarbonate compare to those of polymethyl methacrylate (PMMA, acrylic), but polycarbonate is stronger and will hold up longer to extreme temperature. Polycarbonate is highly transparent to visible light, with better light transmission than many kinds of glass.

In the automotive industry, injection-molded polycarbonate can produce very smooth surfaces that make it well-suited for sputter deposition or evaporation deposition of aluminium without the need for a base-coat. Decorative bezels and optical reflectors are commonly made of polycarbonate. Due to its low weight and high impact resistance, polycarbonate is the dominant material for making automotive headlamp lenses. However, automotive headlamps require outer surface coatings because of its low scratch resistance and susceptibility to ultraviolet degradation (yellowing). The use of polycarbonate in automotive applications is limited to low stress applications. Stress from fasteners, plastic welding and molding render polycarbonate susceptible to stress corrosion cracking when it comes in contact with certain accelerants such as salt water and plastisol. It can be laminated to make bullet-proof "glass", although "bullet-resistant" is more accurate for the thinner windows, such as are used in bullet-resistant windows in automobiles. The thicker barriers of transparent plastic used in teller's windows and barriers in banks are also polycarbonate.

So-called "theft-proof" large plastic packaging for smaller items, which cannot be opened by hand, is uniformly made from polycarbonate.

Lockheed Martin F-22 cockpit canopy

The cockpit canopy of the Lockheed Martin F-22 Raptor jet fighter is made from a piece of high optical quality polycarbonate, and is the largest piece of its type formed in the world.

Kereta Api Indonesia, the major railway operator in Indonesia, uses polycarbonate solid sheet for their engine and passenger cars fleet since 2016 due to high train stone throwing frequency.

Some major smartphone manufacturers use polycarbonate. Nokia has used polycarbonate in their phones starting with the N9's unibody case in 2011. This practice continues with various phones in the Lumia series. Samsung has started using polycarbonate with Galaxy S III's battery cover in 2012. This practice continues with various phones in the Galaxy series. Apple started using polycarbonate with the iPhone 5C's unibody case in 2013.


ENGINEERING PLASTICS

Polycarbonate is an engineering plastic due to its optical properties.

LINKS & REFERENCE
https://
FOAM & BOTTLES - Expanded polystyrene is used to package household electrical goods, while soft drinks and water is sold in PET plastic bottles by the billions every year. The numbers are staggering. It's no wonder then that some of this plastic will end up on our plate in one form or another, potentially as a toxin carrier. Copyright photograph © 22-7-17 Cleaner Ocean Foundation Ltd, all rights reserved.
ABS - BIOMAGNIFICATION - BP - CANCER - CARRIER BAGS - CLOTHING - COTTON BUDS - DDT - FISHING NETS
FUKUSHIMA - HEAVY METALS - MARINE LITTER - MICROBEADS - MICRO PLASTICS - NYLON - OCEAN GYRES - OCEAN WASTE
PACKAGING - PCBS - PET - PETROLEUM - PLASTIC - PLASTICS - POLYCARBONATE - POLYSTYRENE - POLYPROPYLENE - POLYTHENE - POPS - PVC - SHOES - SINGLE USE - SOUP - STRAWS - WATER
This website is provided on a free basis as a public information service. copyright © Cleaner Oceans Foundation Ltd (COFL) (Company No: 4674774) 2018. Solar Studios, BN271RF, United Kingdom. COFL is a charity without share capital.