HADDOCK
ABOUT - WHALING - HOME - A-Z INDEX
Anchovies | Bass | Bream | Catfish | Clams | Cod Coley | Crabs | Crayfish | Eels | Grouper | Haddock | Hake | Halibut | Herring | Jellyfish
Krill | Lobster | Mackerel | Marlin | Monkfish | Mullet | Mussels | Oysters | Perch | Plaice | Pollock | Prawns | Rays | Sablefish | Salmon
Sardines | Scallops | Sharks | Shrimp | Skate | Sole | Sprat | Squid | Sturgeon | Swordfish | Trout | Tuna | Turbot | Whiting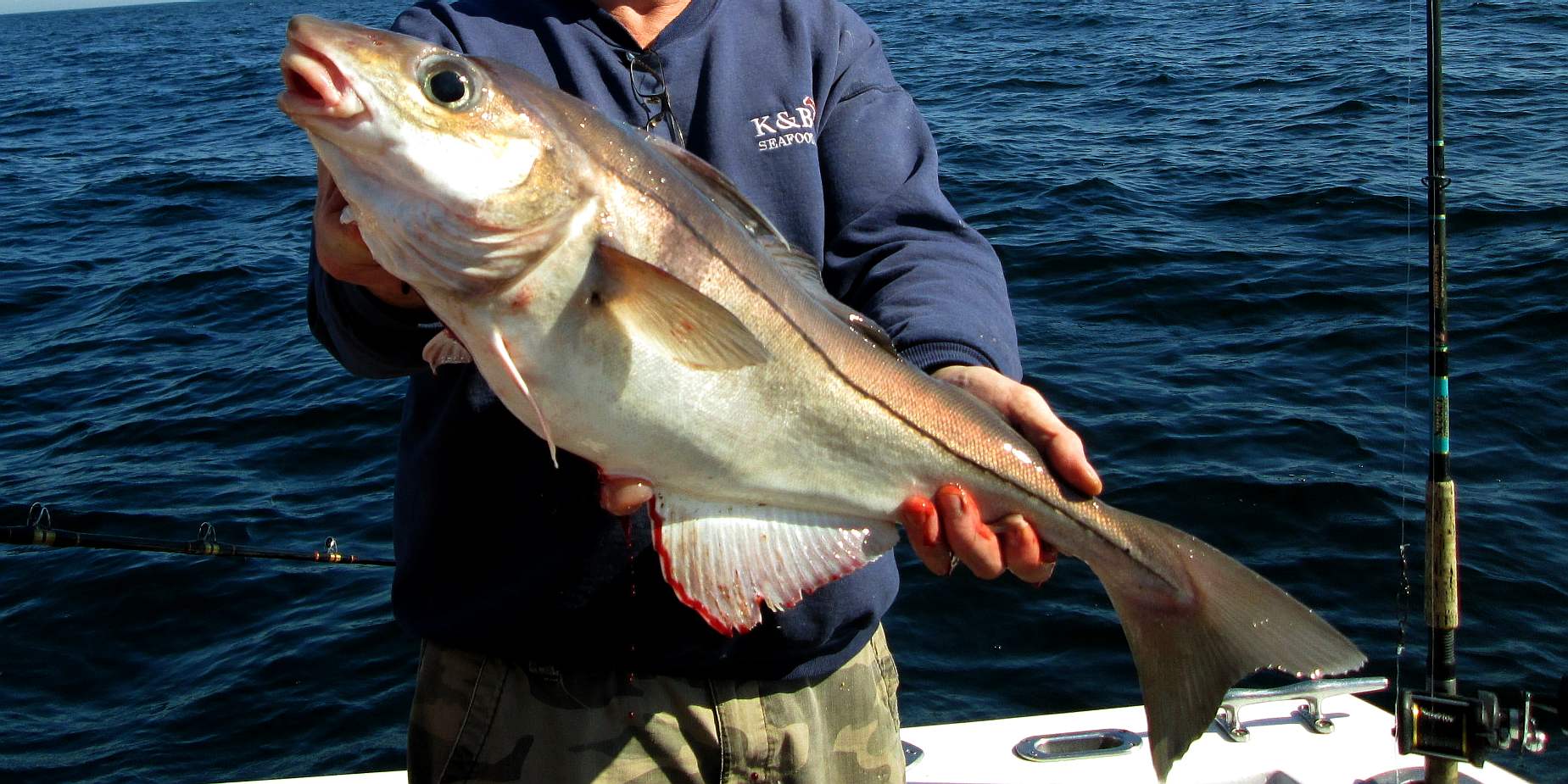 HADDOCK - Is a favourite food in Scotland and Norway. This beauty was caught on a rod by an experienced angler.
In an effort to feed a growing population we should look at alternatives lower down the food chain to increase the ratio at which protein is harvested from the ocean, so bypassing the conventional food chain where at each stage of consumption there are significant losses in the conversion process. Jellyfish, squid, krill and filter feeders such a mussels could play a part in filling the widening gap between falling fish stocks and higher demand to feed humans - so relieving the pressure on tuna, salmon and other popular white fish.
ABOUT HADDOCK
The haddock (Melanogrammus aeglefinus) is a saltwater fish from the family Gadidae, the true cods, it is the only species in the monotypic genus Melanogrammus. It is found in the North Atlantic Ocean and associated seas where it is an important species for fisheries, especially in northern Europe. It is also an important food fish and it is marketed fresh, frozen or smoked.
Haddock has an elongated, tapering body shape typical of members of the cod family. It has a relatively small mouth which does not extend to below the eye; with the lower profile of the face being straight and the upper profile slightly rounded, this gives its snout a characteristic wedge-shaped profile. The upper jaw projects beyond the lower more so than in the Atlantic cod. There is a rather small barbel on the chin. There are three dorsal fins, the first being triangular in shape and these dorsal fins have 14 to 17 fin rays in the first, 20 to 24 in the second, and 19 to 22 in the third. There are also two anal fins and in these there are 21 to 25 fin rays in the first and 20 to 24 fin rays in the second. The anal and dorsal fins are all separated from each other. The pelvic fins are small with an elongated first fin ray.
The upper side of the haddock's body varies in colour from dark grey brown to nearly black while the lower part of the body is dull silvery white. It has a distinctive black lateral line contrasting with the whitish background colour and which curves slightly over the pectoral fins. It also has a distinctive oval black blotch or 'thumbprint', sometimes called the "Devil's thumbprint", which sits between the lateral line and the pectoral fin, a feature which leads to the name of the genus Melanogrammus which derives from Greek "melanos" meaning "black" and "gramma" meaning letter or signal. The dorsal, pectoral, and caudal fins are dark grey in colour while the anal fins are pale matching the colour of the silvery sides, with black speckles at their bases. The pelvic fins are white with a variable amount of black spots. Occasionally there are differently coloured variants recorded which may be barred, golden on the back or lack the dark shoulder blotch.
The longest haddock recorded was 94 centimetres (37 in) in length and weighed 11 kilograms (24 lb), however, haddock are rarely over 80 centimetres (31 in) in length and the vast majority of haddocks caught in the United Kingdom measure between 30 centimetres (12 in) and 70 centimetres (28 in). In eastern Canadian waters haddock range in size from 38 centimetres (15 in) to 69 centimetres (27 in) in length and 0.9 kilograms (2.0 lb) and 1.8 kilograms (4.0 lb) in weight.

AS FOOD

Haddock is very popular as a food fish. It is sold fresh or preserved by smoking, freezing, drying, or to a small extent canned. Haddock, along with Atlantic cod and plaice, is one of the most popular fish used in British fish and chips.

When fresh, the flesh of haddock is clean and white and its cooking is often similar to that of cod. A fresh haddock fillet will be firm and transluscent and hold together well but less fresh fillets will become nearly opaque. Young, fresh haddock and cod fillets are often sold as scrod in Boston, Massachusetts; this refers to the size of the fish which have a variety of sizes, i.e., scrod, markets, and cows. Haddock is the predominant fish of choice in Scotland in a fish supper. It is also the main ingredient of Norwegian fishballs (fiskeboller).

Unlike cod, haddock is not an appropriate fish for salting and preservation is more commonly effected by drying and smoking.

The smoking of haddock was highly refined in Grimsby. Traditional Grimsby smoked fish (mainly haddock, but sometimes cod) is produced in the traditional smokehouses in Grimsby, which are mostly family-run businesses that have developed their skills over many generations. Grimsby fish market sources its haddock from the North East Atlantic, principally Iceland, Norway and the Faroe Islands. These fishing grounds are sustainably managed and have not seen the large scale depreciation in fish stocks seen in EU waters.

One popular form of haddock is Finnan haddie which is named after the fishing village of Finnan or Findon in Scotland, where the fish was originally cold-smoked over smouldering peat. Finnan haddie is often poached in milk and served for breakfast.

The town of Arbroath on the east coast of Scotland produces the Arbroath smokie. This is a hot-smoked haddock which requires no further cooking before eating.

Smoked haddock is naturally an off-white colour and it is frequently dyed yellow, as are other smoked fish. Smoked haddock is the essential ingredient in the Anglo-Indian dish kedgeree, and also in the Scottish dish "Cullen Skink" (a 'chowder' like soup).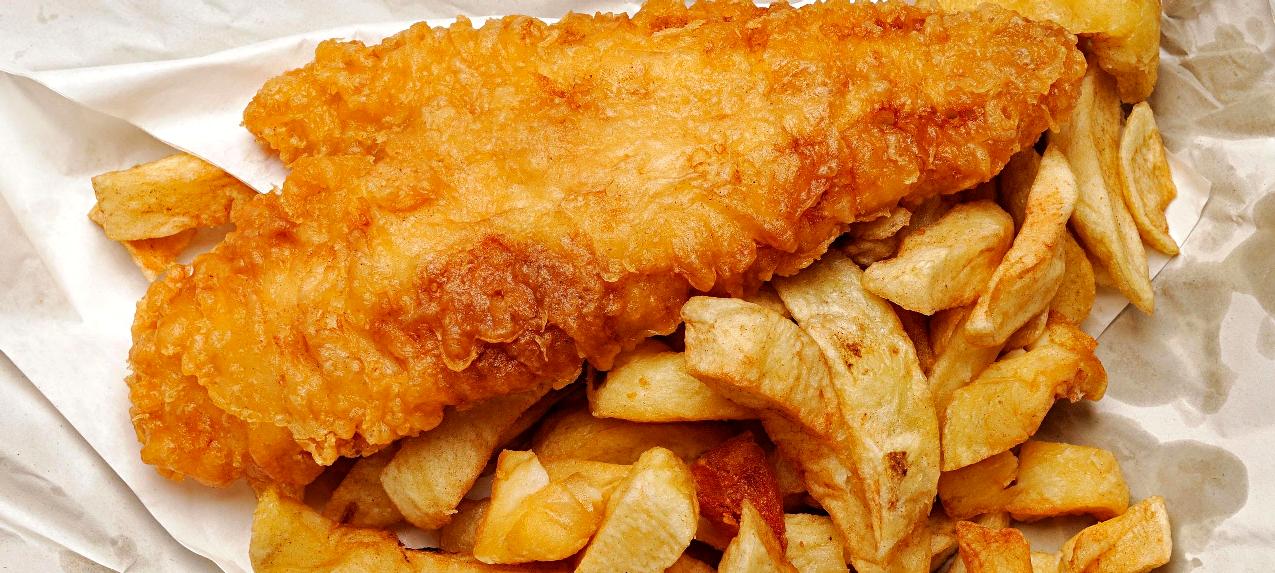 MANAGEMENT
...

LINKS & REFERENCE
https://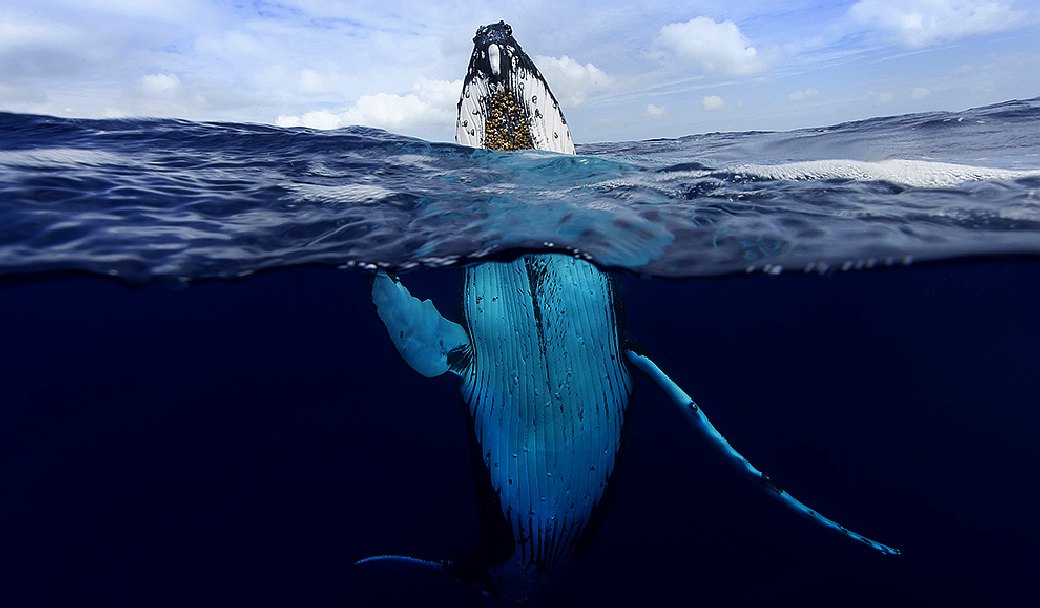 MARINE LIFE - This humpback whale is one example of a magnificent animal that is at the mercy of human activity. Humans are for the most part unaware of the harm their fast-lane lifestyles are causing. We aim to change that by doing all we can to promote ocean literacy.
Anchovies | Bass | Bream | Catfish | Clams | Cod Coley | Crabs | Crayfish | Eels | Grouper | Haddock | Hake | Halibut | Herring | Jellyfish
Krill | Lobster | Mackerel | Marlin | Monkfish | Mullet | Mussels | Oysters | Perch | Piranha | Plaice | Pollock | Prawns | Rays | Sablefish | Salmon
Sardines | Scallops | Sharks | Shrimp | Skate | Sole | Sprat | Squid | Sturgeon | Swordfish | Trout | Tuna | Turbot | Whiting
This website is provided on a free basis as a public information service. Copyright © Cleaner Oceans Foundation Ltd (COFL) (Company No: 4674774) 2022. Solar Studios, BN271RF, United Kingdom. COFL is a charity without share capital.