SYAT - SHIP & YACHT ADVANCED TECHNOLOGY
ABOUT - CLIMATE CHANGE - CONTACTS - CROWDFUNDING - DONATE - FOUNDATION - HOME - OCEAN PLASTIC
PLEASE USE OUR A-Z INDEX TO NAVIGATE THIS SITE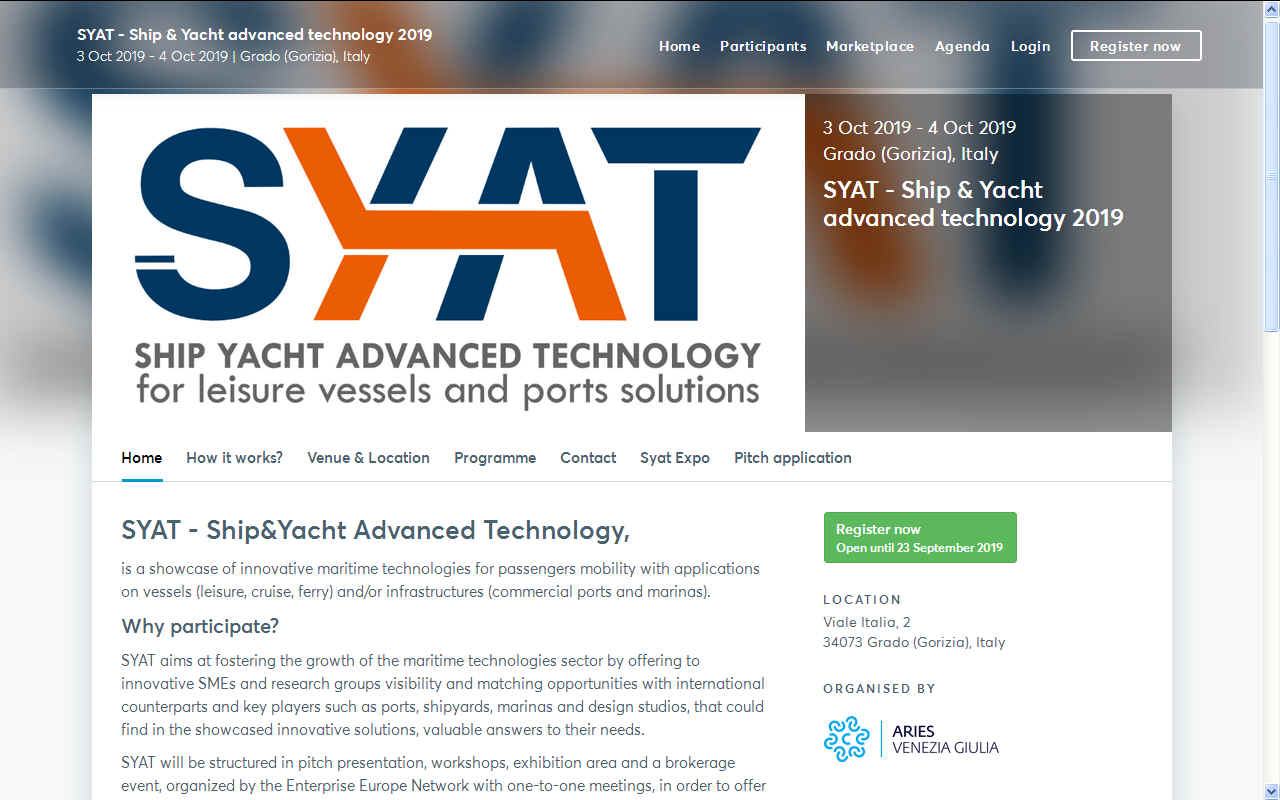 SYAT is open to visitors. Participation to workshops and one-to-one events is free of charge upon on-line registration at www.syat.it

To participate at the PITCH session, applicants can present a maximum of 3 innovative solutions, of which only 1 can be selected by the organizers. In case of selection, it will be required the payment of a registration fee of €300 euro for SMEs and €100 euros for research groups.
SYAT - Ship & Yacht Advanced Technology is a showcase of innovative maritime technologies for passengers mobility with applications on vessels (leisure, cruise, ferry) and/or infrastructures (commercial ports and marinas).
WHY PARTICIPATE?

SYAT aims at fostering the growth of the maritime technologies sector by offering to innovative SMEs and research groups visibility and matching opportunities with international counterparts and key players such as ports, shipyards, marinas and design studios, that could find in the showcased innovative solutions, valuable answers to their needs.

SYAT will be structured in pitch presentation, workshops, exhibition area and a brokerage event, organized by the Enterprise Europe Network with one-to-one meetings, in order to offer visibility and networking opportunities for innovation-related SMEs, start ups and research groups.

TOP 5 OBJECTIVES TO MAKE THE EVENT A SUCCESS:

- Meet Partners and Customers
- Discover New Products & Services
- Prepare Purchases or Projects
- Meet New Suppliers
- Get Information about latest trends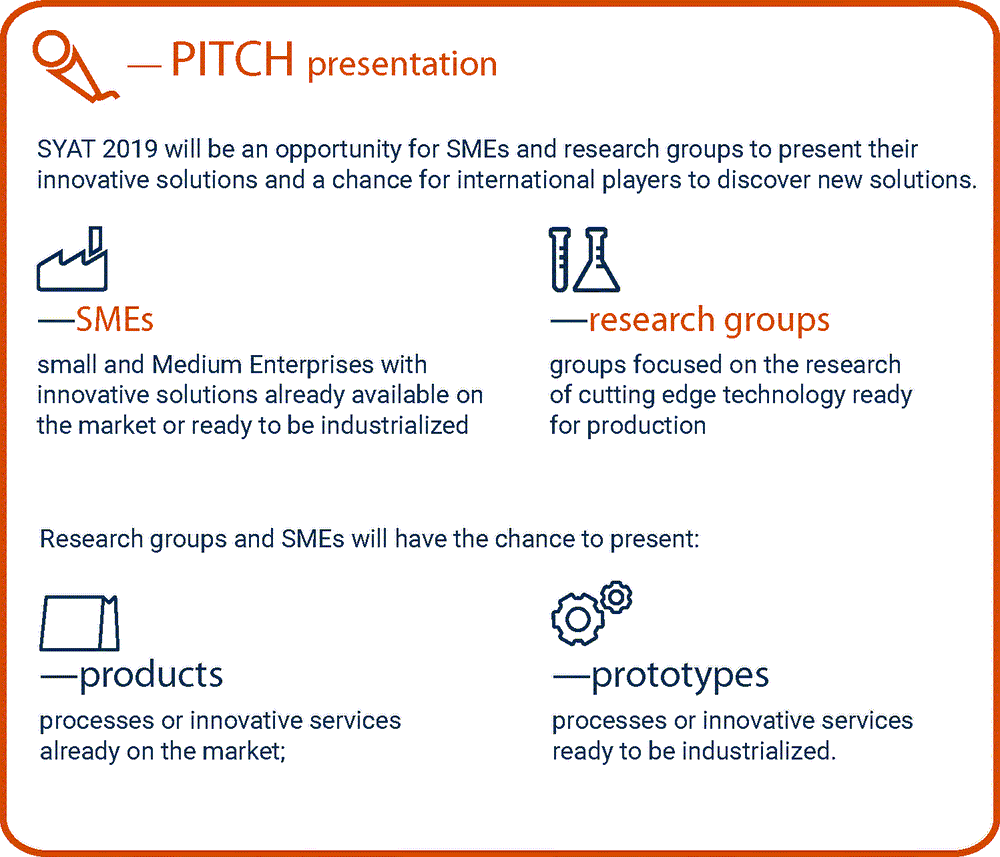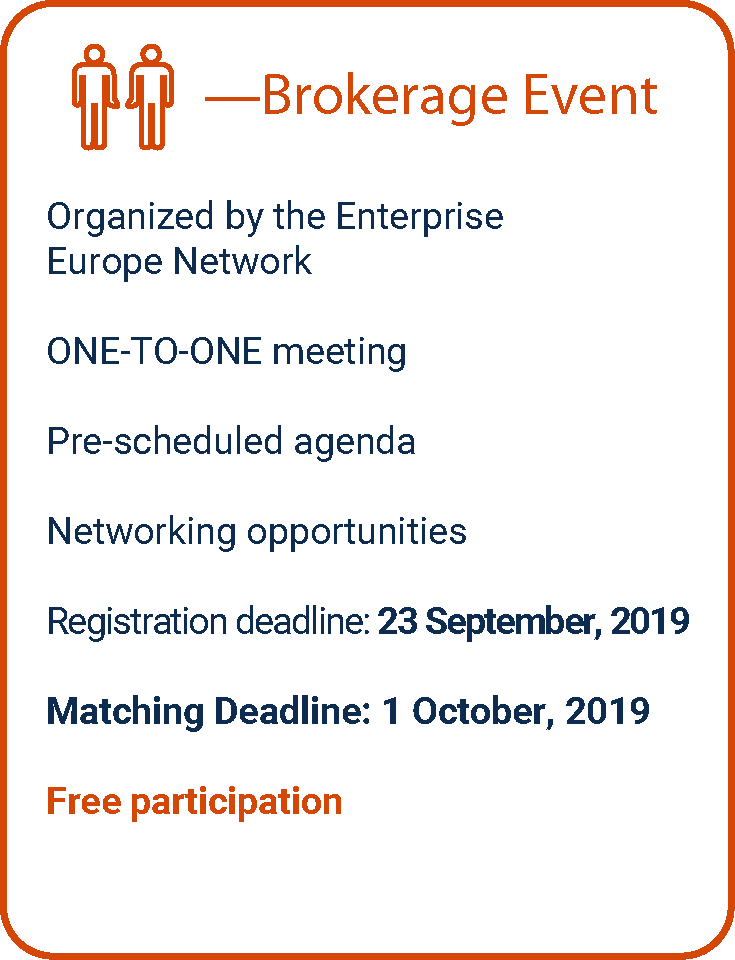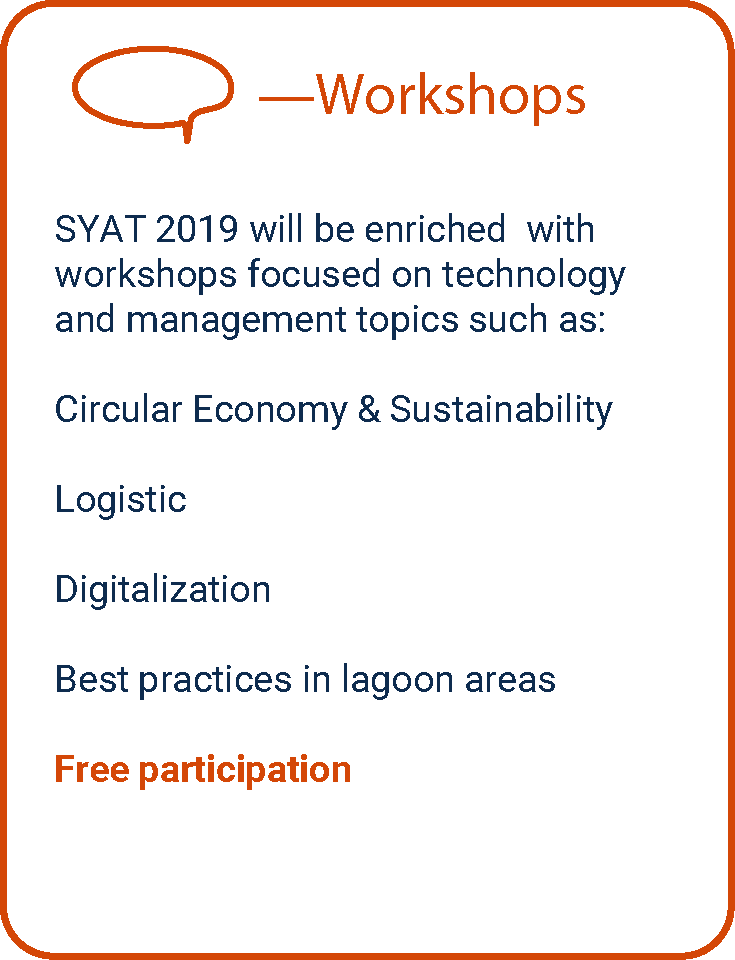 AGENDA
Thursday 3 Oct 2019

11:15 – 12:30 - Pitch session #1: Innovative solutions for ships and yachts
12:30 – 13:15 - Workshop #1
14:45 – 16:00 - Pitch session #2: Innovative products for ship and yachts
16:00 – 18:30 - one-to-one meetings - Matchmaking

16:00 – 16:45 - Workshop #2
16:45 – 17:30 - Workshop #3
17:30 – 18:15 - Workshop #4

Friday 4 Oct 2019

10:00 – 12:00 - Pitch session #3: Innovative solutions & products for ports and marinas
12:00 – 16:30 - one-to-one meetings: non stop session - Matchmaking
14:30 – 15:30 - Workshop #5
15:30 – 16:00 = Workshop #6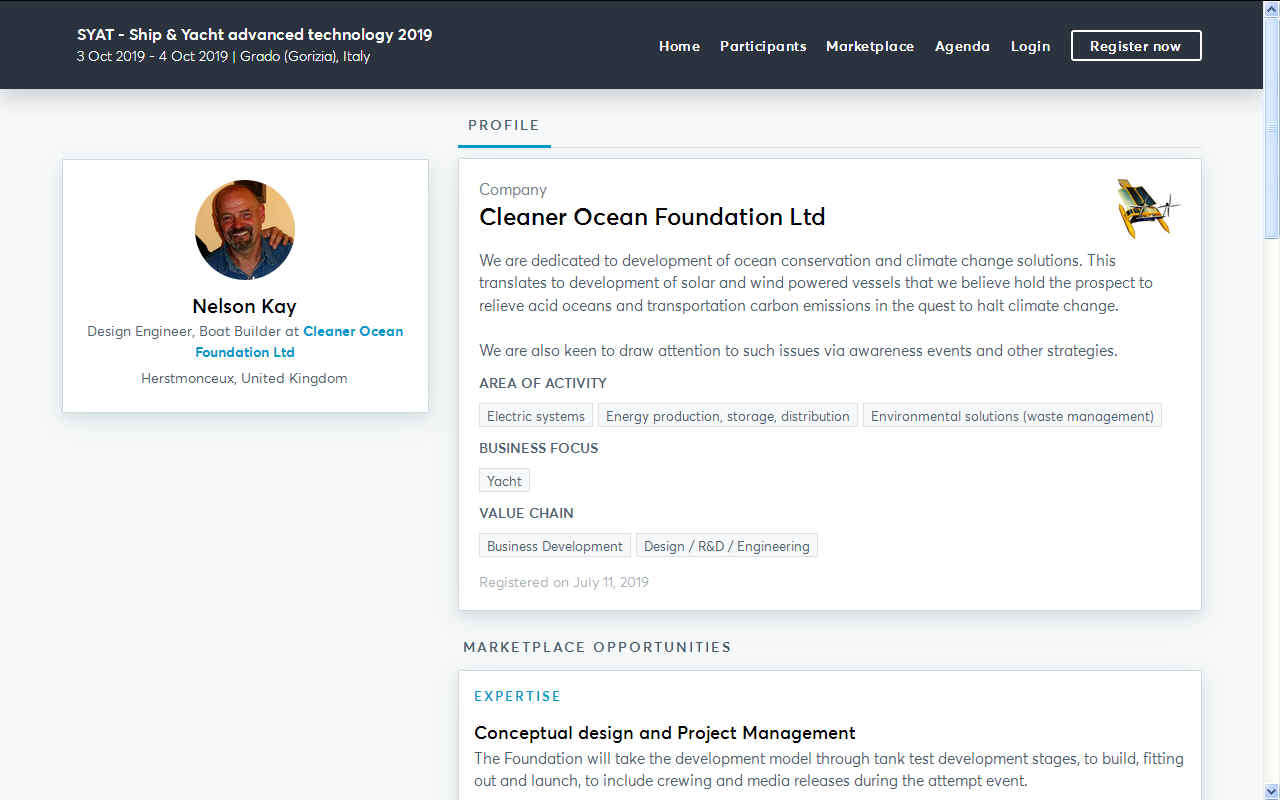 SOLAR & WIND POWER - Green yachting is something to consider for the future of planet earth, as global warming threatens the seas with acid oceans and melting ice caps, you can help lead a change from diesel power or bunker fuels (heavy oil) to clean electric propulsion. Meet Nelson Kay, at this event a volunteer for the Cleaner Ocean Foundation. He will be sharing our information and looking for development partners for the Elizabeth Swan. The Swan is an advanced trimaran that can cruise continuously at speeds of up to 10 knots with a top speed of up to 20 knots.
| | | | | |
| --- | --- | --- | --- | --- |
| LEG | NAUTICAL MILES | TIME IN PORT | WAYPOINT | SUNSHINE DAYS |
| - | - | - | - | - |
| | - | - | | 0.00 |
| 1 | 784 | 2 | | 4.67 |
| 2 | 729 | 2 | | 4.34 |
| 3 | 3,154 | 2 | | 18.77 |
| 4 | 1,182 | 2 | | 7.04 |
| 5 | 970 | 2 | | 5.77 |
| 6 | 3,640 | 2 | | 21.67 |
| 7 | 1,423 | 2 | | 8.47 |
| 8 | 410 | 2 | | 2.44 |
| 9 | 1,886 | 2 | | 11.23 |
| 10 | 340 | 2 | | 2.02 |
| 11 | 724 | 2 | | 4.31 |
| 12 | 1,572 | 2 | | 9.36 |
| 13 | 1,881 | 2 | | 11.20 |
| 14 | 2,109 | 2 | | 12.55 |
| 15 | 698 | 2 | | 4.15 |
| 16 | 670 | 2 | | 3.99 |
| 17 | 1,111 | 2 | | 6.61 |
| 18 | 170 | 2 | | 1.01 |
| 19 | 393 | | | 2.34 |
| - | - | - | - | - |
| - | 23,846 | 36 | RUNTIME DAYS @ 7kts | 141.94 |
| - | - | - | - | - |
| + 10% service | = 156.13 Days | - | 7 KNOTS AVE INC PORT & % | 192.13 |
| -& maintenance | - | - | AT 6 KNOTS AVE | 224.16 |
| - | - | - | AT 5 KNOTS AVE | 268.99 |
CLIMATE CHANGER - The above table illustrates one of the most likely ocean awareness expedition routes, known as the 'Sunshine Route,' showing the time elapsed in days for 7 knots average cruising speed, including times for 5 and 6 knot averages - allowing for 10% downtime and 36 days in ports. Hence, although the objective is to reduce the current solar circumnavigation record from 584 days, the event in not an outright non-stop yacht competition in the offshore racing sense. It remains to be seen how accurate such a prediction might be. In this table we only allowed 36 days for provisioning and PR but added a 10% contingency for servicing, that could be used for additional time in ports. As a Climate Changing event, performance is one of the main criteria, especially concerning the possibilities for a transition to low carbon shipping and the contribution this might make in combating global warming.
MARITIME TECHNOLOGY CLUSTER FVG s.c.a.r.l.
The ability to pool expertise and experience from different areas and gain competitive advantage from this is the challenge a territory must know how to seize in order to secure future well-being, prosperity and development. "Networking" – the grouping of institutions, industry, business and science – is thus an essential factor for growth. Dedicated resources, both public and private, able to ensure continuity and sustainability, the basis for its development; a mapping of needs and shared strategies, are the cornerstones of action to be taken.

In this context, the District has undertaken a series of activities aimed at promoting the creation of thematic clusters around the business of the sea in general and shipbuilding in particular, at the same time earning the allocation of operational roles in the existing clusters.

At the national level, on April 10th, 2014 mareTC FVG signed the articles of incorporation of "Cluster Trasporti Italia 2020" ("Cluster Transport Italy 2020″), made possible by the support given by the Region of Friuli Venezia Giulia to the establishment of the National Technological Clusters promoted by the Ministry of Education.

Having supported the participation of enterprises and regional universities in the National Technological Cluster for Transportation, the Region is now supporting the proposal made by mareTC FVG with the CNR (National Research Council) to establish a Shipbuilding and Boatbuilding Technology Platform for the Adriatic-Ionian macro-region, in an initiative that can strengthen the geopolitical potential and the ambition of Friuli Venezia Giulia at the service of the country and its industrial system.

In line with the region's indications, mareTC FVG has initiated a process of cooperation with the Croatian "Cluster of Competitiveness of Maritime Industry" in the research and development sectors, through the establishment of a supranational working group.
PARTNERS - The Members of the Cluster are:

- BUSINESSES: Fincantieri S.p.A., Monte Carlo Yachts S.p.A., RINA Sp.A., CETENA S.p.A., Sultan Srl, Nanto Protective Coatings S.r.l., Consortium of PMI - IM.PRO.NA2 - operating in the sector of ship and boatbuilding;

- PUBLIC OR PRIVATE RESEARCH CENTRES, UNIVERSITIES, RESEARCH BODIES: University of Trieste, University of Udine, SISSA (International School for Advanced Studies), Area Science Park, OGS (National Institute of Oceanography and Experimental Geophysics).

- MANAGEMENT BODIES OF SCIENTIFIC AND TECHNOLOGY PARKS: Friuli Innovazione

- EDUCATION AND TRAINING BODIES: Conform FVG (Consortium of regional traning centers)

- OTHER PRIVATE/PUBLIC BODIES: Monfalcone Port; BIC Incubatori FVG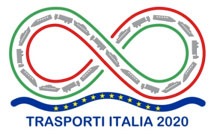 CLUSTER TRANSPORTI ITALIA 2020

The "Cluster Trasporti Italia 2020" ("Transport Italy Cluster 2020″) association was incorporated on April 10th, 2014 in Rome, at the headquarters of ANFIA, with a mission to promote the recovery of the competitiveness of Italian manufacturing in the areas of mobility by road, rail, water and "intelligent transport".

The members, representing all the major Italian industrial and scientific players, including, among others, Fiat, Ansaldo Breda and Ansaldo STS, the Italian Railway Network (Rete Ferroviaria Italiana), Fincantieri, National Research Council (CNR), the Universities of Milan and Turin, were approximately sixty at the time of the constitution with the possibility of further accessions for all national stakeholders active in the research and development sector.

On top of Fincantieri, Friuli Venezia Giulia was initially represented in the Cluster by four other major institutions: the University of Trieste, Area Science Park, Conform and mareTC FVG, and University of Udine joined at a subsequent date.

With the "Tender for national technology clusters", the Ministry of Education, University and Research aimed, for the first time on a national scale and in strategic areas for the country, to support the creation and development of public-private clusters "identified as drivers of sustainable economic growth for regions and the entire national economy", with particular reference to development triggered by research and innovation activities.

The synergies between industry, research institutions and the public administration, as also the transfer of best practices and technologies, and specialised training in all fields, are the cornerstones on which the newly created association will build to achieve higher levels of competitiveness in a sector that is so strategic to the country as is transport.

Within the framework of the Europe 2020 strategy with regard to climate change and energy, Cluster Trasporti Italy 2020 was founded in the name of sustainability to be achieved simultaneously in three areas: environmental, economic and social. With this in mind, it implements a series of priority issues within its innovation goals that will have a significant impact on the competitiveness of the country. These issues include decarbonisation, the use of new materials, connectivity aimed at improving safety, the development of intermodality, the intelligent management of the life cycle of products through intelligent and advanced maintenance strategies for the reduction of the "life cycle cost" of public transport systems.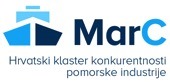 Croatian Maritime Industry Competitiveness Cluster - MarC

The Croatian Maritime Industry Competitiveness Cluster is a non-profit public-private organization operating in a strategic sector of the national economy. MarC was founded under the auspice of the Croatian Government in 2013 with the mission of develop a long-term sustainable model for strengthening the competitiveness of the maritime industry.

The cooperation between mareTC FVG and MarC mainly includes the following contents:

the joint development of methodologies to increase mutual knowledge;

the establishment of joint projects between actors from the two countries that are focused on research and innovation or characterized by broad objectives of transnational cooperation;

the creation of training and internationalization initiatives;

INNOVATION CHALLENGE ITALY-CROATIA

The innovation challenge is the first initiative arising from the collaboration between the Maritime Technology Cluster of Friuli Venezia Giulia and the Croatian Maritime Competitiveness Cluster.

Herewith you can find a document including details about the initiative and the challenges expressed by the big companies involved. The latter will be the ground for submitting innovation solutions by SMEs and researchers, which could have a further joint development in the future.

Please note that the deadline for the submission of the innovation solutions is the 31st May 2016.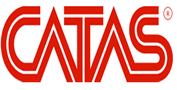 CATAS is the Italian institute for certification, research and testing in the field of wooden furniture, excellence pole for the research and the analysis in the agri-food, industrial and environmental sector. The institute was established in 1969 by the Chamber of Commerce of Udine to support local companies to grow on new foreign markets, conform on foreign regulations and permit them to get all the information related to the utilization of new materials.

In April 2016, mareTC FVG and CATAS, has signed a collaboration agreement, finalized to develop research activities, experimentation, certification and formation for maritime technology cluster associates.

In particular, the mareTC FVG associates could take advantage, at favorable conditions, of the following services of CATAS:

• Technical assistance and support to experimentation in the field of

- Security, resistance and stamina of the furniture (interior siding and furniture)

- Physic-mechanic and chemical characterization of the materials (wood and derivatives, adhesives, painting products, plastic materials)

- Fire reaction

• Access the services of the Material ConneXion point FVG, a consultation point of the Material ConneXion Italia library, activated in San Giovanni al Natisone in the CATAS premises and provided with exposition of physical samples and facilities for accessing an international database that actually can rely on more than 7.000 materials and processes.
MARE CONTACTS

Cluster Management

Massimo Capoleva – Chairman & Lucio Sabbadini – CEO - info@marefvg.it

General Affairs and Administration

Jenny Fattorusso - jenny.fattorusso@marefvg.it
Giulia Bresssan - giulia.bressan@marefvg.it

Cluster Manager

Martina Rossi - martina.rossi@marefvg.it

International networks and services

Simonetta Greco - simonetta.greco@marefvg.it
Raphaela Gutty - raphaela.gutty@marefvg.it
Carlo Kraskovic - carlo.kraskovic@marefvg.it
Elizabeth Gergolet - elizabeth.gergolet@marefvg.it
Debora Saviana - debora.saviana@marefvg.it

Communication and Public Relations
Clio Kraskovic - clio.kraskovic@marefvg.it

MARITIME TECHNOLOGY CLUSTER FVG s.c.a.r.l.
Via Callisto Cosulich, 20 34074 Monfalcone (Italy) - tel. +39 0481 723440 - fax. +39 0481 721137 - Codice Fiscale e Partita Iva: 01138620313 - PEC: marefvg@legalmail.it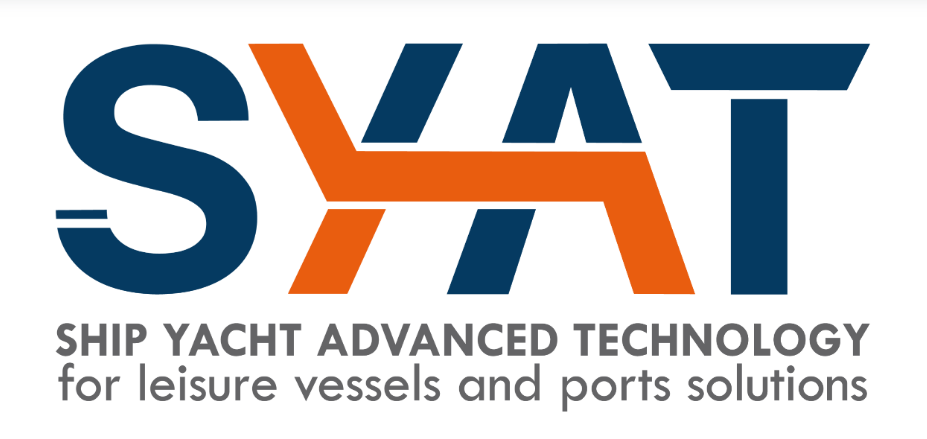 LINKS & REFERENCE
https://een.ec.europa.eu/events/horizon-2020-transport-info-day-and-brokerage-event-brussels
https://www.booking.com/city/it/grado.en.html
https://syat2019.b2match.io/marketplace
https://syat2019.b2match.io/participants/1
https://een.ec.europa.eu/
https://grado.it/it/
https://www.marefvg.it/it/home.htm
https://syat2019.b2match.io/
Grado is a tourist town of the North Adriatic Sea, located between Trieste and Venice. It is the favorite destination for many Italian and foreign tourists who are looking for a holiday dedicated to the sun and the sea, family-friendly, faraway from everyday stress.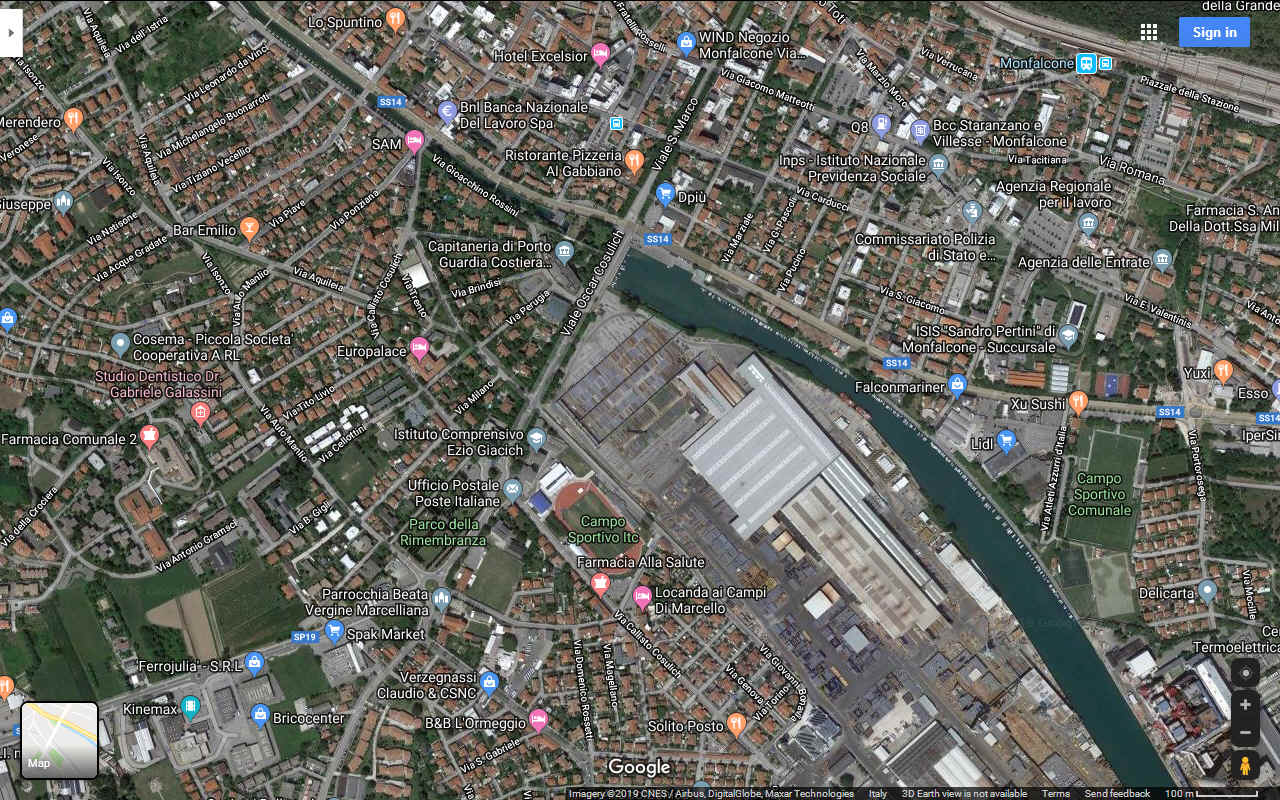 GRADO - Grado is a town and comune in the north-eastern Italian region of Friuli-Venezia Giulia, located on an island and adjacent peninsula of the Adriatic Sea between Venice and Trieste.

Once mainly a fishing center, today it is a popular tourist destination, known commonly as L'Isola del Sole ("The Sunny Island"), also famous because it is also a spa town; together with Marano Lagunare, it is the center of the Marano-Grado Lagoon, which is famous for its uncontaminated nature. Grado is the birthplace of Biagio Marin, a poet who sang about the island in the local Venetian dialect.

Today, Grado attracts scores of tourists each year to its hotels and campgrounds. A large water park run by a municipal corporation is the main attraction, complete with indoor and outdoor swimming pools, and a health center offering spa treatments.

The town also boasts a well-preserved pedestrian-only center, in which many shops, bars, and restaurants are located.

Grado also offers facilities for many sporting activities, including tennis, wind-surfing, and golf.


CORIZIA - Gorizia has a humid subtropical climate (Köppen climate classification Cfa). The town is located at the confluence of the Isonzo and Vipava Valleys. It lies on a plain overlooked by the Gorizia Hills. Sheltered from the north and from the east by a mountain ridge, Gorizia is completely protected from the cold bora wind, which affects the rest of the neighboring areas. The town thus enjoys exceptionally a mild Mediterranean climate throughout the year, making it a popular resort.

orizia hosts several important scientific and educational institutions. The University of Trieste, the University of Udine and the University of Nova Gorica all have part of their campuses and faculties located in Gorizia.

orizia hosts several important scientific and educational institutions. The University of Trieste, the University of Udine and the University of Nova Gorica all have part of their campuses and faculties located in Gorizia.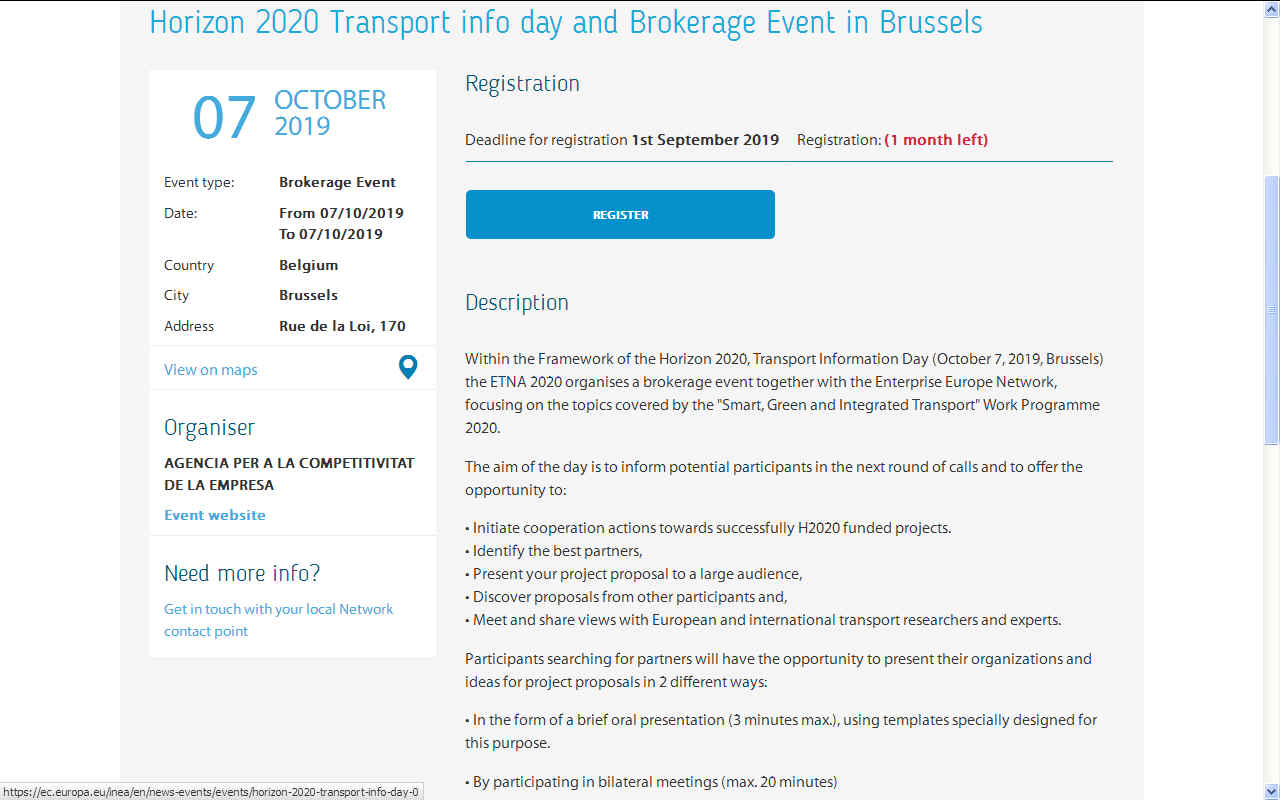 This website is provided on a free basis as a public information service. copyright © Cleaner Oceans Foundation Ltd (COFL) (Company No: 4674774) 2019. Solar Studios, BN271RF, United Kingdom. COFL is a charity without share capital. The names AmphiMax™, RiverVax™ and SeaVax™ are trade names used under license by COF in connection with their 'Feed The World' ocean cleaning sustainability campaign.