CANADIAN WILDLIFE FEDERATION
& PLASTIC OCEANS
ABOUT - CONTACTS - FOUNDATION - HOME - A-Z INDEX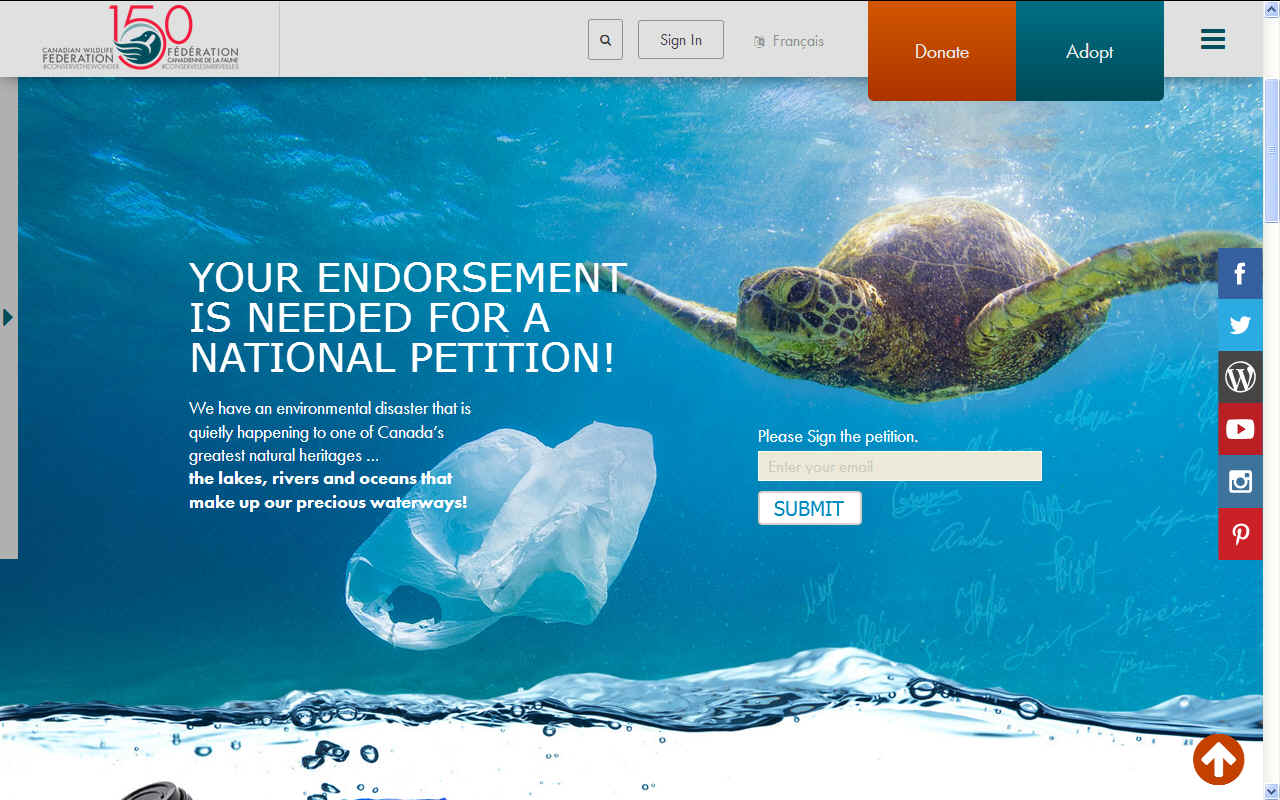 APATHY KILLS - Roughly 8 million tons of plastic is dumped into the world's oceans every year. If you do nothing about it, nothing will change. Please help Ocean Plastic and the CWF by signing their petition today.
Over 260 species of wildlife have ingested or become entangled in plastic, resulting in impaired movement and feeding, reduced productive output, lacerations, ulcers and death. Please help them by showing that you care.
CAMPAIGN

Plastic is everywhere. It makes up the bags at our grocery stores and the lids of our coffee cups. But most of us don't think about where these plastic items go when we're through with them. Unfortunately, these plastics are making their way into our waterways, lakes, rivers and eventually into our oceans. It is now common for us to find species that have been negatively affected by plastic pollution, some become entangled and others ingest plastic (mistaking it for a food source).
LETTER TO THE MINISTERS
Dear Ministers LeBlanc and McKenna,

Thank you for taking major steps to protect marine wildlife in Canadian waters through the Oceans Protection Plan. We appreciate your commitment to achieving Canada's national and international marine conservation targets. These actions will go a long way to protecting our whales, sea turtles, and sea lions, some of which are already endangered.

However, in our work as one of Canada's leading conservation organizations, a major issue we frequently see is the impact of plastic pollution on our oceans and freshwaters. Plastic pollution in Canadian waters harms and sometimes kills aquatic wildlife when they consume it or get entangled in it. We need the federal government to continue to show leadership on reducing Canada's plastic footprint by drastically reducing our reliance on single-use packaging.

We urge the federal government to make Canada an international leader yet again in reducing plastic waste in our rivers, lakes, and oceans by recommitting to and advancing the national Sustainable Packaging initiative set out in 2012 to further move Canada away from single-use plastics.


ABOUT PLASTIC OCEANS CANADA

Plastic Oceans Canada, a Federally Incorporated NFP, is a Plastic Awareness Coalition, utilizing the power of film and other media to educate Canadians to "rethink plastic" and inspire behavioural change. Working in collaboration with like-minded organisations across Canada we are combining efforts to solve a global problem through local action. We aim to solve the problem within a generation.
Their mission aligns with the Cleaner Ocean Foundation's mission in the UK, except that they want to educate Canadians to become plastic literate, so they can make informed decisions about how and when the accept plastic and challenge society's perception that this indestructible substance can be treated as 'disposable'.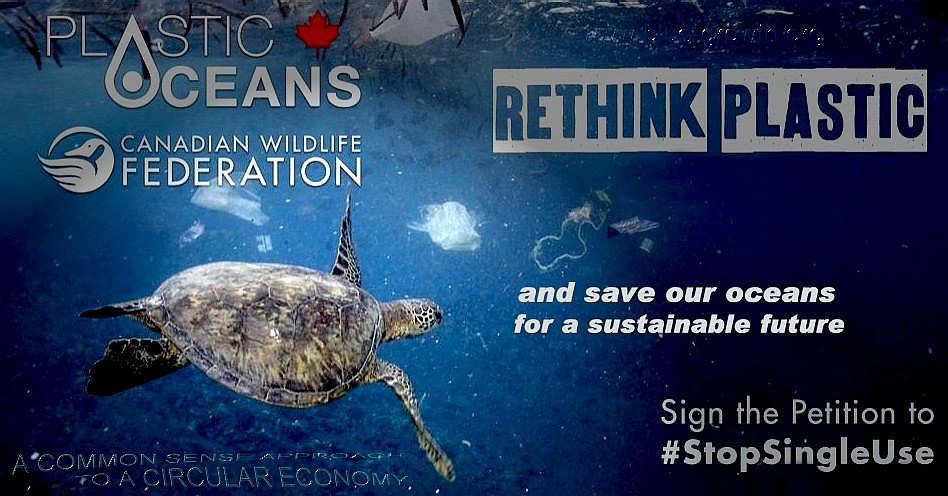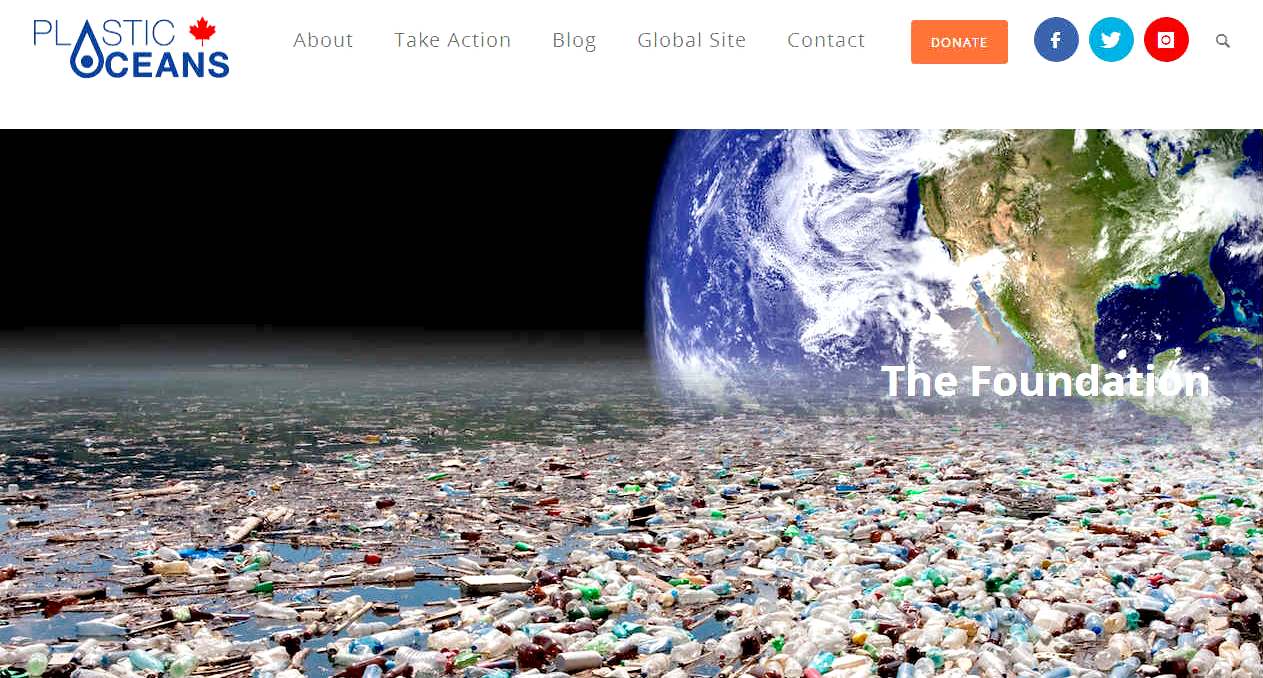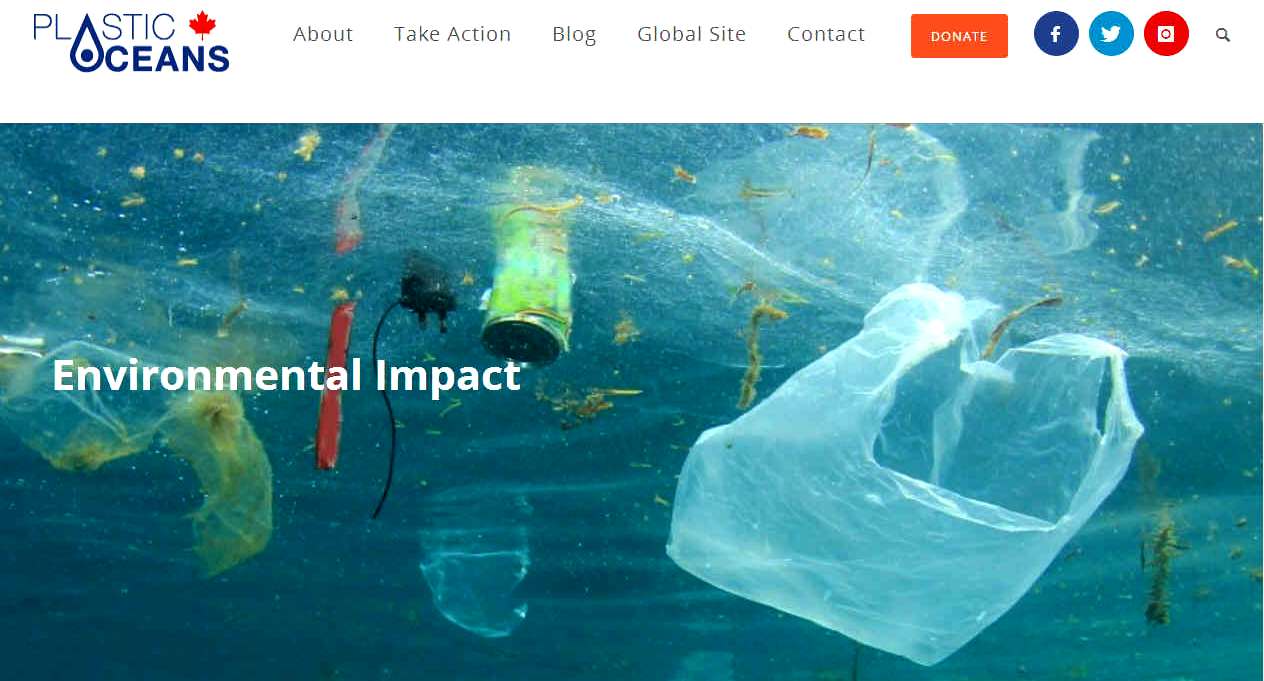 WASTE MANAGEMENT WORLD, SEPTEMBER 1 2017 - PLASTIC OCEANS & CWF TACKLE SINGLE USE PLASTICS
The Canadian arm of Plastic Oceans, a global network of independent not-for-profits and charitable organisations, has teamed up with conservation charity, the Canadian Wildlife Federation.
Between them, the organisations are aiming to raise awareness and activate Canadians to "Rethink Plastic" with their petition to stop single use plastics.
Plastic Oceans explained that single use plastics have an average life use of only 12 minutes, yet they are made from a non-degradable product which takes 250ml of petroleum oil and 3 Litres of water to make a 1 litre plastic water bottle - 4000 of which are used every second!
It is estimated that over 2.86-billion bags are used annually in Canada. The organisation said that the "to-go" lifestyle has led to people becoming blind to its total over use.
In a blog post, Plastic Oceans' executive director, Emma Langson, said:
"We need to consider whether the plastic we accept daily is destined for "single use" and most importantly, is it "essential" that we accept it?"
"It is the mission of Plastic Oceans Canada to help end our acceptance of plastic as a risk-free, 'disposable' material of convenience and increase demand for alternatives to single-use plastics.
"Working together with the Canadian Wildlife Federation for this single use plastic petition, we will trigger real social change toward how we think about plastic and the steps we can all take to safeguard the world's oceans, animal life, and our own. Our goal is to help shape future demand for environmentally sensitive products and solutions.
It is only through awareness of the issue that people will begin to care. I believe we must be part of the solution, not just part of the problem."
According to Langson, the CWF #StopSingleUse petition has potential to make great contributions to the way Canadians begin to engage in behavioral change in their own lives and families.
"Plastic Oceans Foundation Canada - through the power of film and in partnership with local community organizations - is helping Canadian consumers to become plastic literate, so they can make informed decisions about how and when they accept and manage plastic," she said.
"We need to value this important material more and create a circular economy for plastics. We must all rethink plastic so that the risk to health and the environment is eliminated and the true cost and value of this amazing material is realised," concluded Langson. By Ben Messenger
The petition can be signed HERE.
Read More

US Plastic Waste Expert Address South African Meeting on Marine Debris
Dr. Jenna Jambeck, a plastic waste expert from the University of Georgia, has taken part in a visit as part of the U.S. Embassy's support of South Africa as a regional leader in addressing marine debris.