FOR OUR CHILDREN - This was the conclusion of European Maritime Day in Burgas: The children of Burgas present Alberto Laplaine Guimarães with a gift from the Bulgarian City. Sustainable growth and aims for a circular economy are for our children and their children, and their children, and their children - lest we forget why we are working to clean our act up. As trustees of our blue planet we should hand the world to our successors in better shape than we found it. Copyright © photograph June 1 2018 Cleaner Ocean Foundation.
The International Maritime Organization (IMO), known as the Inter-Governmental Maritime Consultative Organization (IMCO) until 1982, is a specialised agency of the United Nations responsible for regulating shipping. The IMO was established following agreement at a UN conference held in Geneva in 1948 and the IMO came into existence ten years later, meeting for the first time in 1959. Headquartered in London, United Kingdom, the IMO currently has 174 Member States and three Associate Members.

The IMO's primary purpose is to develop and maintain a comprehensive regulatory framework for shipping and its remit today includes safety, environmental concerns, legal matters, technical co-operation, maritime security and the efficiency of shipping. IMO is governed by an assembly of members and is financially administered by a council of members elected from the assembly. The work of IMO is conducted through five committees and these are supported by technical subcommittees. Other UN organisations may observe the proceedings of the IMO. Observer status is granted to qualified non-governmental organisations.

IMO is supported by a permanent secretariat of employees who are representative of the organisation's members. The secretariat is composed of a Secretary-General who is periodically elected by the assembly, and various divisions such as those for marine safety, environmental protection and a conference section.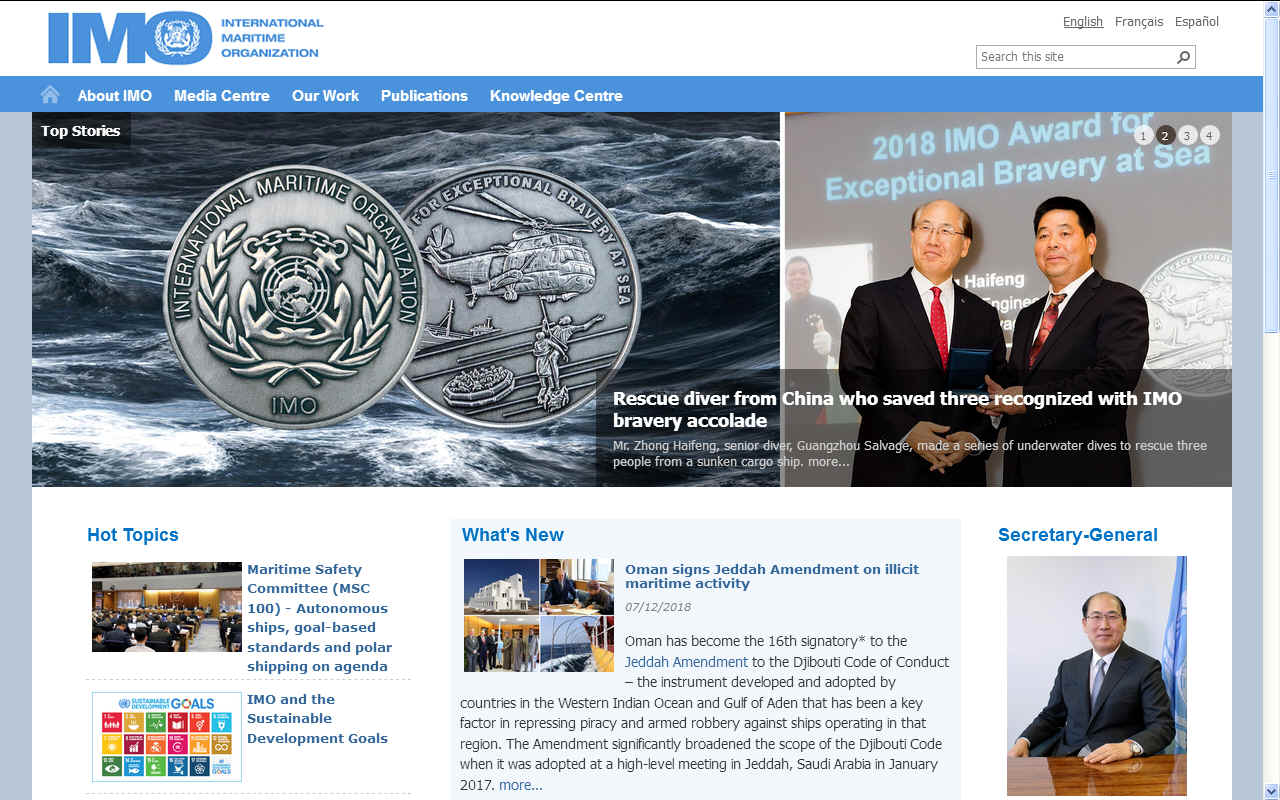 SIX STEPS TOWARD A COOLER PLANET
1. TRANSPORT: Phase out polluting vehicles. Governments aim to end the sale of new petrol, and diesel vehicles by 2040 but have no infrastructure plan to support such ambition. Marine transport can be carbon neutral.
2. RENEWABLES: Renewable energy should replace carbon-based fuels (coal, oil and gas) in our electricity, heating and transport.
3. HOUSING: On site micro or macro generation is the best option, starting with affordable new build homes.
4. AGRICULTURE: We need trees to absorb carbon emissions from a growing population, air transport, and to build new homes. Reducing food waste and promoting less energy intensive eating habits such as no meat Mondays.
5. INDUSTRY: Factories should be aiming for solar heating and onsite renewable energy generation.
6. POLITICS: - National governing bodies need to adopt rules to eliminate administrative wastages, to include scaling down spending on war machines, more public education and support for sustainable social policies that mesh with other cultures.

CONTACTS
International Maritime Organization
4, Albert Embankment
London
SE1 7SR
United Kingdom

Tel +44 (0)20 7735 7611
Fax +44 (0)20 7587 3210
Email: info@imo.org
INTERNATIONAL ORGANIZATIONS 2018
| | | |
| --- | --- | --- |
| WORLD BANK | FINANCIAL STABILITY BOARD | INT MONETARY FUND |
| UNITED NATIONS | FOOD & AGRICULTURE ORG | INT LABOUR ORG |
| WORLD TRADE ORG | ORG ECONOMIC COOPERATION & DEV | WORLD HEALTH ORG |
| WORLD FOOD PROGRAMME | INT RENEWABLE ENERGY AGENCY | INT MARITIME ORGANIZATION |
| WORLD ECONOMIC FORUM | UNESCO | UN HUMAN RIGHT COUNCIL |