MANTA SEA CLEANERS
ABOUT - CONTACTS - FOUNDATION - HOME - A-Z INDEX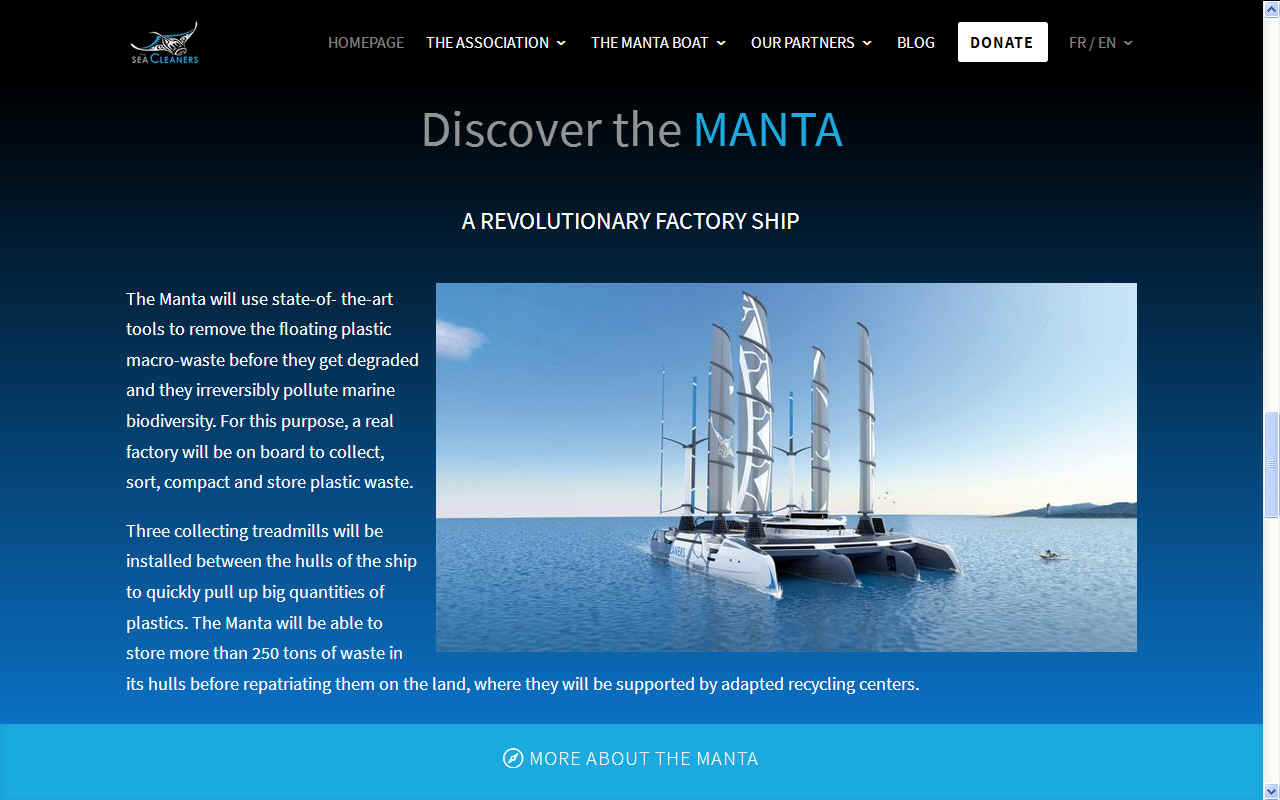 MANTA: Is a multihull designed to carry three conveyor belts to lift macro plastic into an onboard processing facility. Power comes from four wing sails, two darrieus wind turbines and two thousand square meters of solar panels.
The Manta concept is a quad-maran, a four hulled vessel that uses energy harvested from nature to power onboard plastic processing equipment. The concept is not that far removed from the original SeaVax proof of concept boat, except that the Sea Cleaner's Manta cannot deal with micro plastics. Manta was the name earmarked for the first full size SeaVax in 2015, but as this French team appear to have absorbed that idea, the first SeaVax will be renamed - and to prevent anyone else piggy-backing, the name will not be released until nearer the time. We are all in this together and there's plenty of room out in the oceans for more than one design of plastic feeder and a little imitation, where the objectives rise above competitive squabbles. In the fight against ocean plastic we are all brothers.
The Manta concept will use state-of-the-art methods to remove the floating plastic macro-waste before it gets degraded and they irreversibly pollute marine biodiversity. The idea is to install a factory on the decks to collect, sort, compact and store up to 250 tons of plastic waste in 1m3 bales.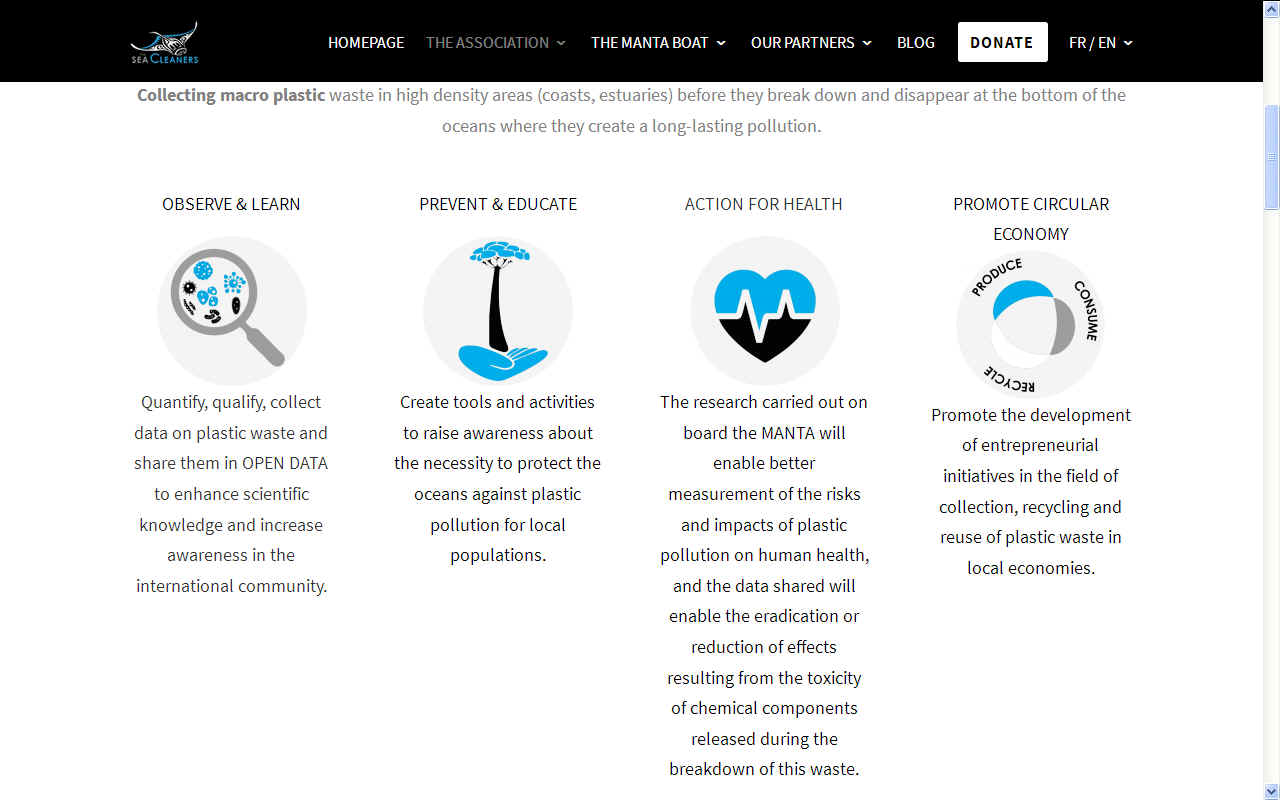 If sufficient numbers are produced, these ships would complement SeaVax water filters and Boyan Slat's boom method of collecting macro plastic. The Manta is not the first ship capable of dealing with large quantities of ocean waste, but it is a contender. For example, SeaVax can compact 50 tons of plastic for offloading at sea onto a converted Panamax factory ship. Where SeaVax is designed to operate in fleets, 5 units provides a significantly larger mouth area. The Manta is 49 meters wide. Five SeaVax to give the same load carrying capacity span 75 meters, at - we estimate - less cost. No figures are provided on the Sea Cleaners website, something they may want to attend to, to qualify the economics of operations.

Three collecting treadmills are to be installed between the hulls of the Manta ship to pull up big swathes of floating plastics. The idea is to deploy Manta ships in the most polluted areas; in deep water, along coasts or in the estuaries of the ten great rivers from which 90% of all plastic waste reaches our oceans.
There appears to be no way of furling the darrieus rotors, leaving the vessel potentially vulnerable to capsize, though the design looks solid enough and the sails may be lowered, so the ship may well cope is tropical storms.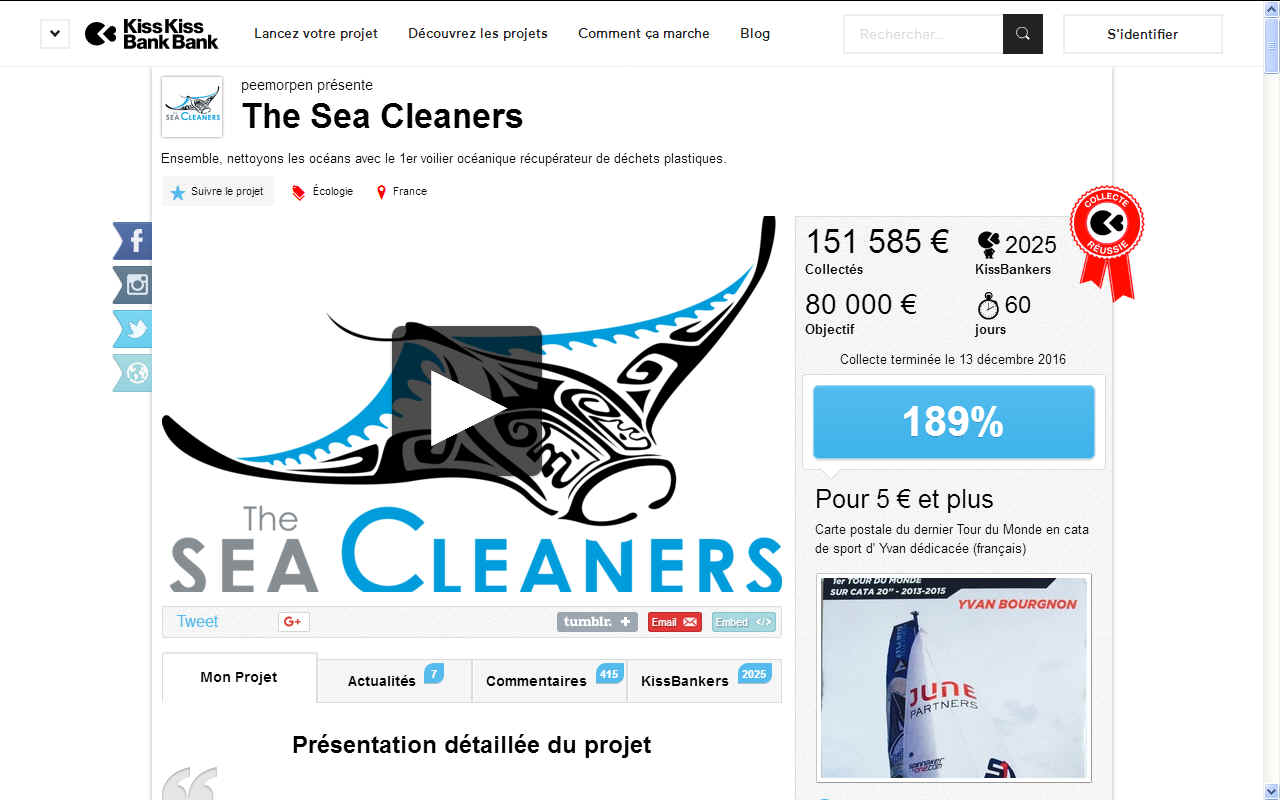 CROWDFUNDING

Since the success of the December 2016 crowdfunding campaign, the SeaCleaners are doing their best to fulfill their promises. Their crowdfunding efforts allowed the association to raise €150 000, almost twice the amount that was initially planned. Since then, more than 3000 hours of study were spent by 6 consulting firms, whose specialists have evolved the concept to give it a real grounding. Today, the results of this first working phase revealed a final version of the ship by way of a 1/80 scale model of the first Quad-maran marine waste collector.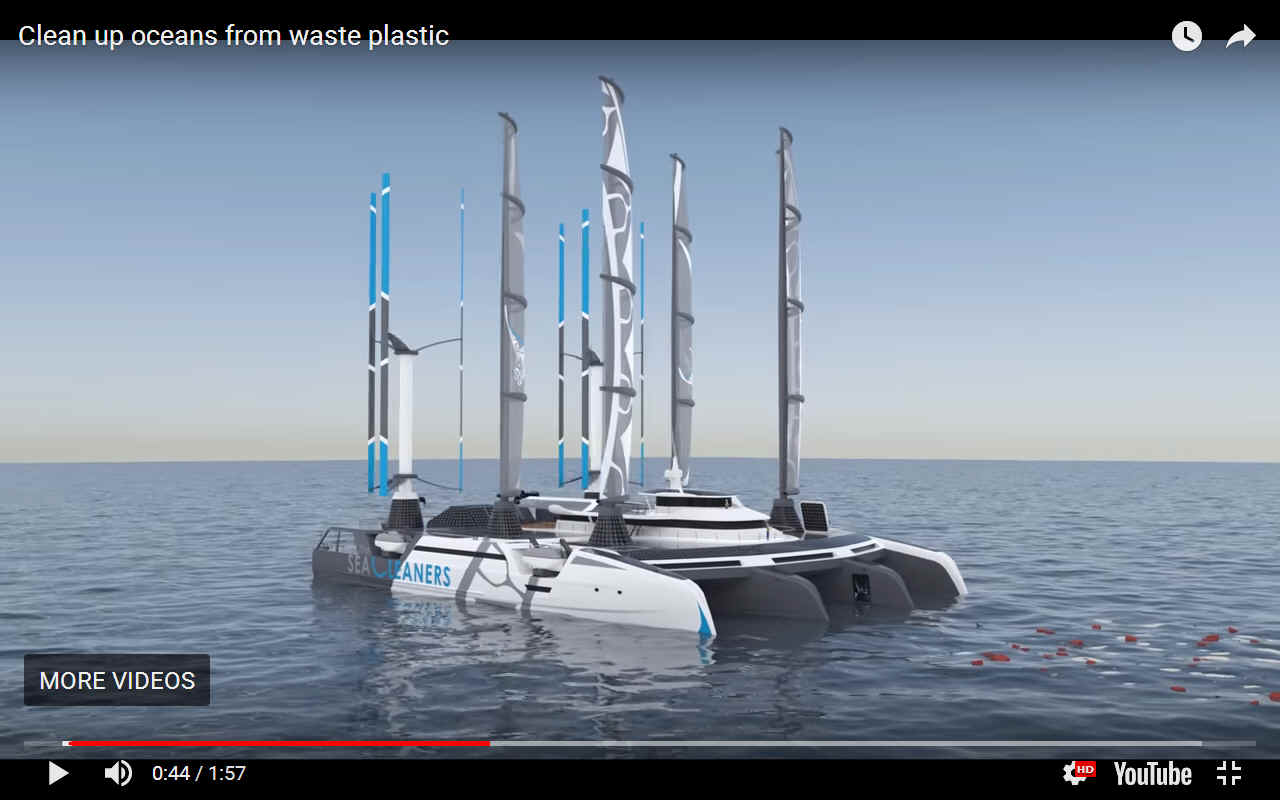 TECHNICAL SPECIFICATIONS
- 70 m long
- 49 m wide
- 61 m high
- 2 Darrieus wind-turbines – producing 500 Kw/h
- 2000 m² of solar panels – 200 Kw/h
- 4 automated DynaRigs
- 100 tonnes of batteries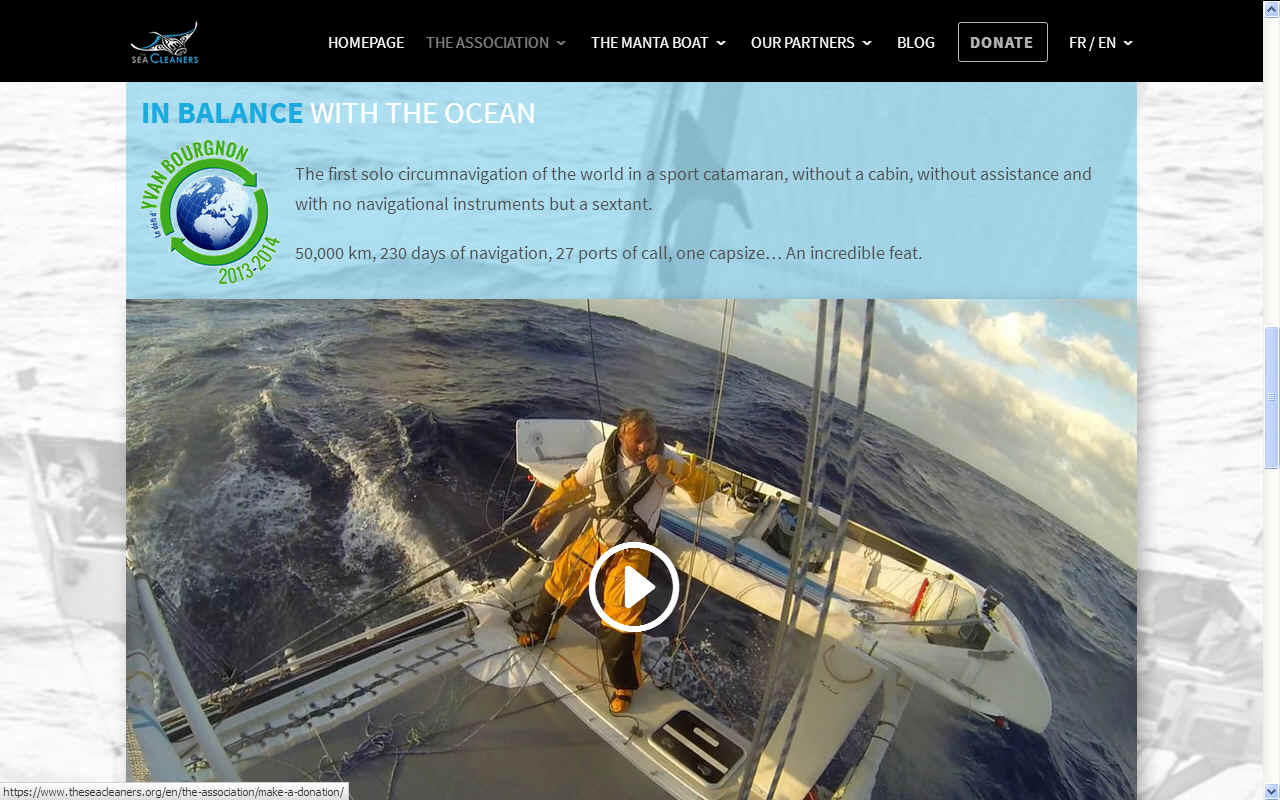 THE TEAM

Yvan Bourgnon

President - Fonder


STAFF

Jean-François MIELCAREK
General manager

Marc LEBRUN
Naval project manager

Nicolas SAINTE-LUCE
Communication

Séverine COTTIN
Communication

David TAIEB
Marketing & development

Caroline RESMOND
Partnership manager

Nolwenn BROHAN
Partnership & networks

Mireille FIXON
Secretary accountant


SEA CLEANERS SWITZERLAND

Laurent DESHUSSES
President

Geneviève CADEI-MILLOT
Treasurer


COLLABORATORS

Patrick FABRE
Partnership Expert pollution

Jacques ROUDAUT
Project owner

Romain SORLIN
Regional delegate south region

Gabriel LIBERT
Journalist – editor
SUPPORTERS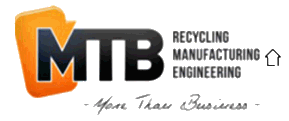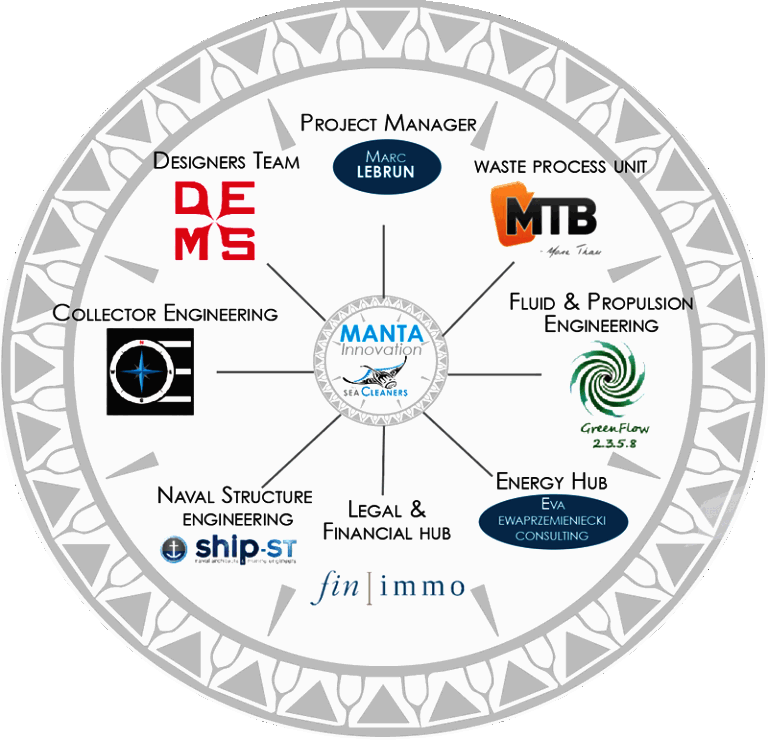 HOW MANY SHIPS?
The Sea Cleaners have not yet said how many of their vessels should be deployed.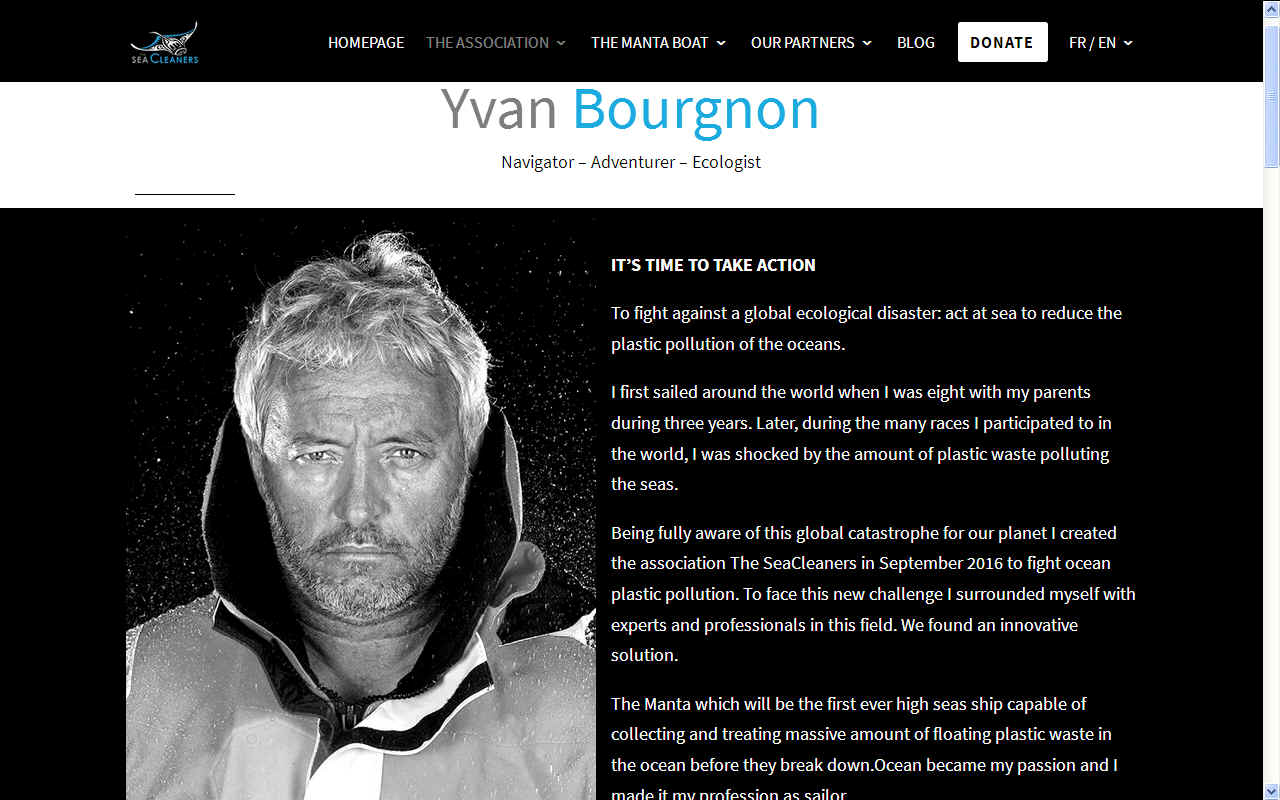 YVAN BOURGNON: "I first sailed around the world when I was eight with my parents during three years. Later, during the many races I participated to in the world, I was shocked by the amount of plastic waste polluting the seas.

Being fully aware of this global catastrophe for our planet I created the association The SeaCleaners in September 2016 to fight ocean plastic pollution. To face this new challenge I surrounded myself with experts and professionals in this field. We found an innovative solution.

Ocean became my passion and I made it my profession as sailor. All world seas are now in danger. We have to face this new challenge of fighting ocean pollution"
SEA CLEANERS CONTACTS
The SEA CLEANERS
10 rue de la Drisse
56470 La Trinité-sur-Mer
France

Email: contact@theseacleaners.org

LINKS & REFERENCE
http://www.dems.fr/
https://www.mtb-recycling.fr/fr/accueil.html
https://thecamp.fr/
http://www.fpa2.org/
http://www.institut-ocean.org/
https://www.theseacleaners.org/en/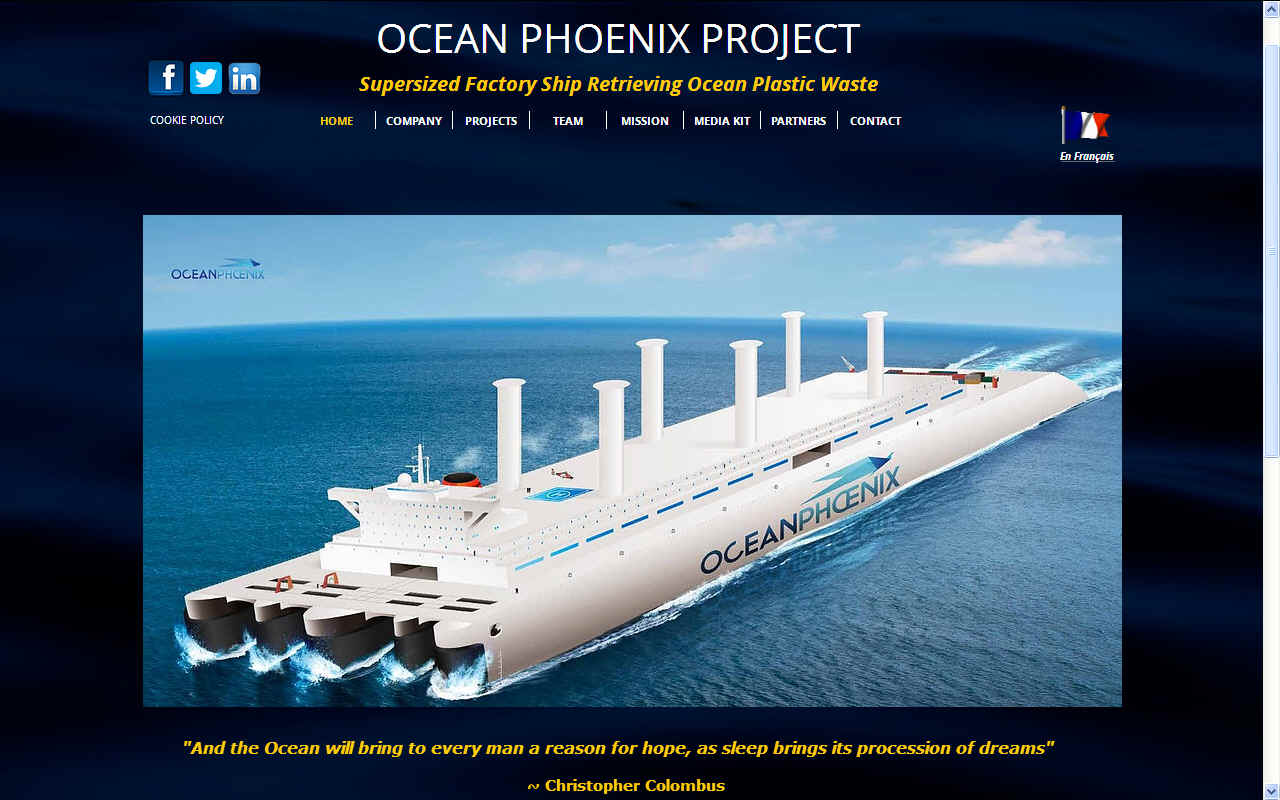 OCEAN PHOENIX 360: Is a trimaran or triple hulled leviathan that eats diesel or LNG to seek and suck up plastic waste from our oceans. Serge Menard suggests that 40 of these giant tankers might clean up the oceans. This is a larger version of Yvan Bourgon's Manta sea cleaners, save that the smaller ship is solar, sail and wind turbine powered.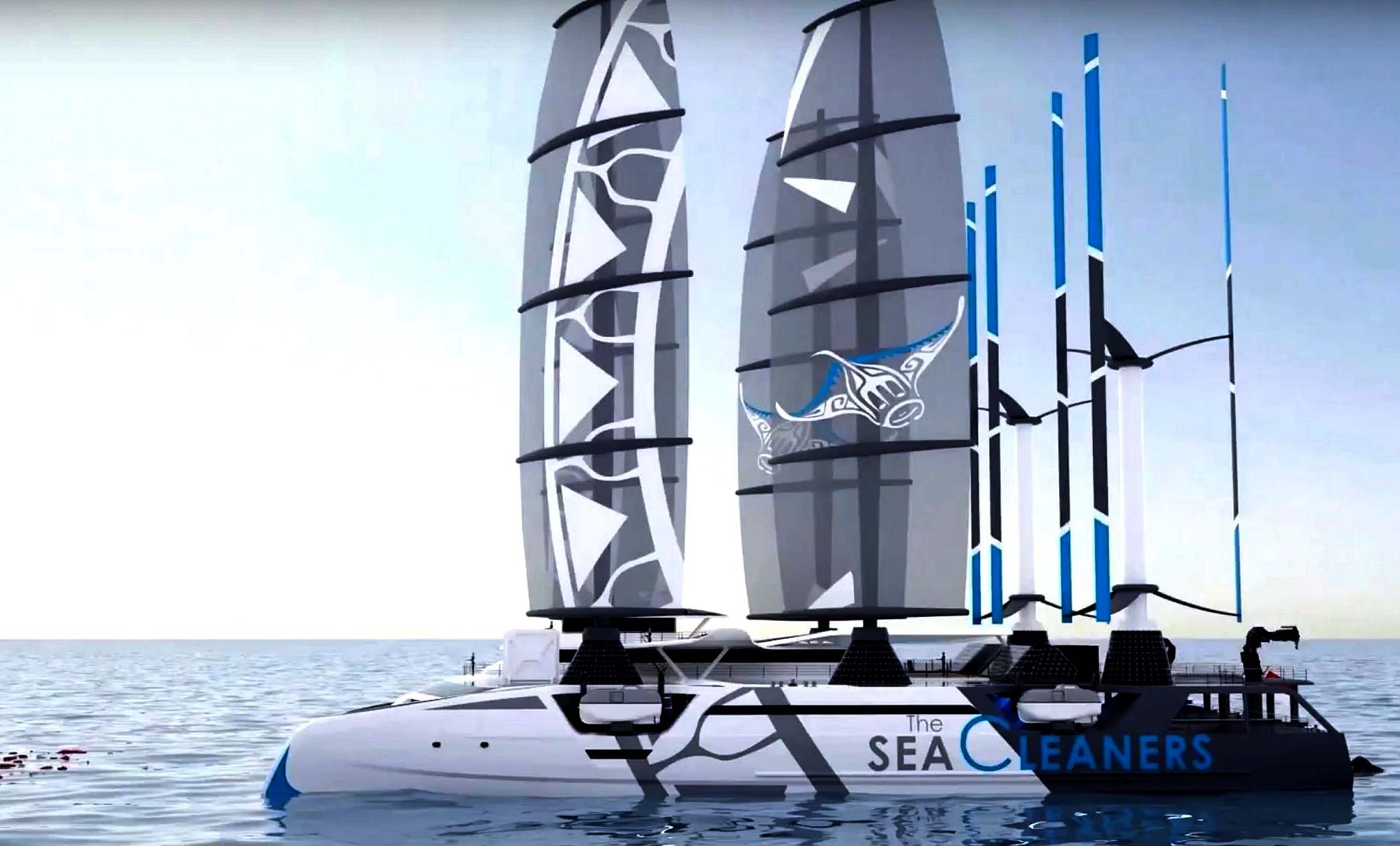 This website is provided on a free basis as a public information service. copyright © Cleaner Oceans Foundation Ltd (COFL) (Company No: 4674774) 2018. Solar Studios, BN271RF, United Kingdom. COFL is a charity without share capital. The names AmphiMax™, RiverVax™ and SeaVax™ are trade names used under license by COF in connection with their 'Feed The World' ocean cleaning sustainability campaign.