SWIVEL CATERPILLAR BOGIES
ABOUT - CONTACTS - FOUNDATION - HOME - A-Z INDEX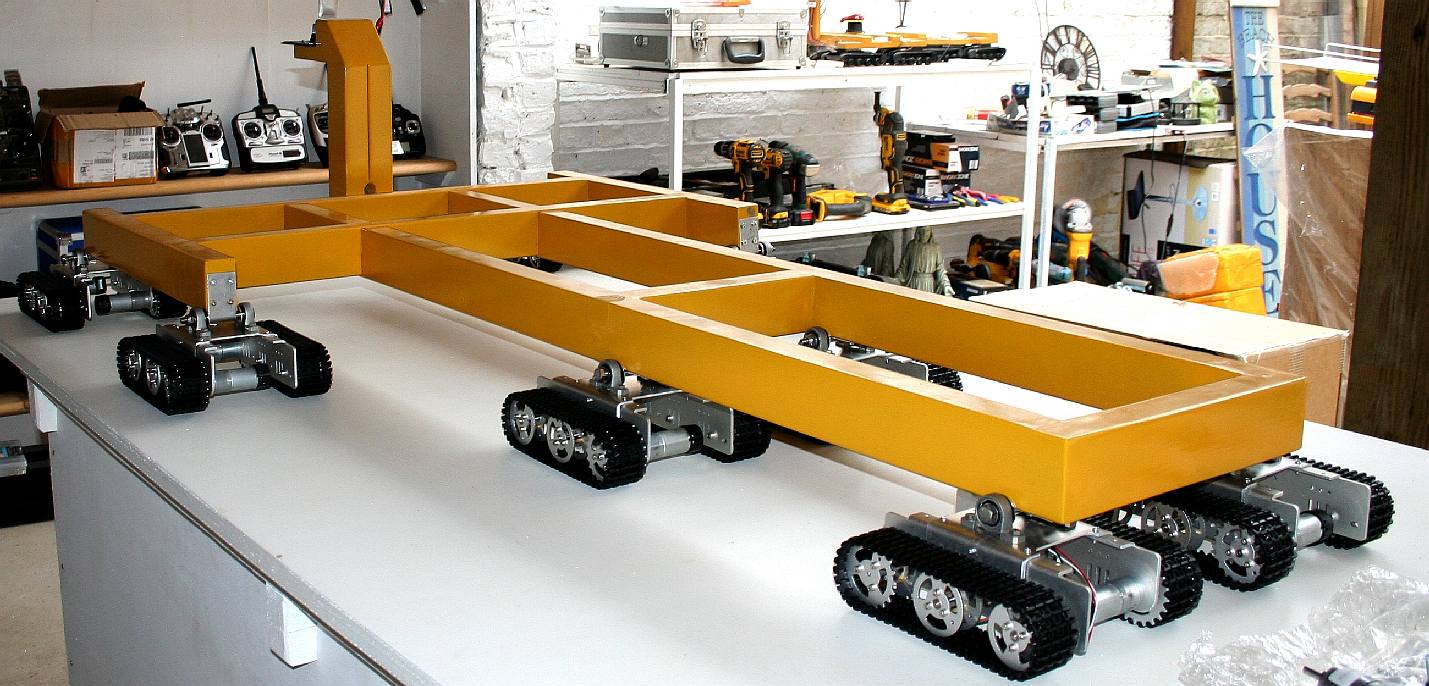 ROBOT LAB - Straight back to work from a terrific maritime event in Bulgaria, our volunteers assembled these rugged swivel axles for water tank and other vehicle trials later this year. This unique shore based vehicle is designed to launch and recover SeaVax with an all up weight of around 100 tons. The Foundation hope to test a half size version of the real thing in 2019-2020, or as soon as funds allow. Copyright © photograph 23 June 2018 Cleaner Ocean Foundation. All rights reserved.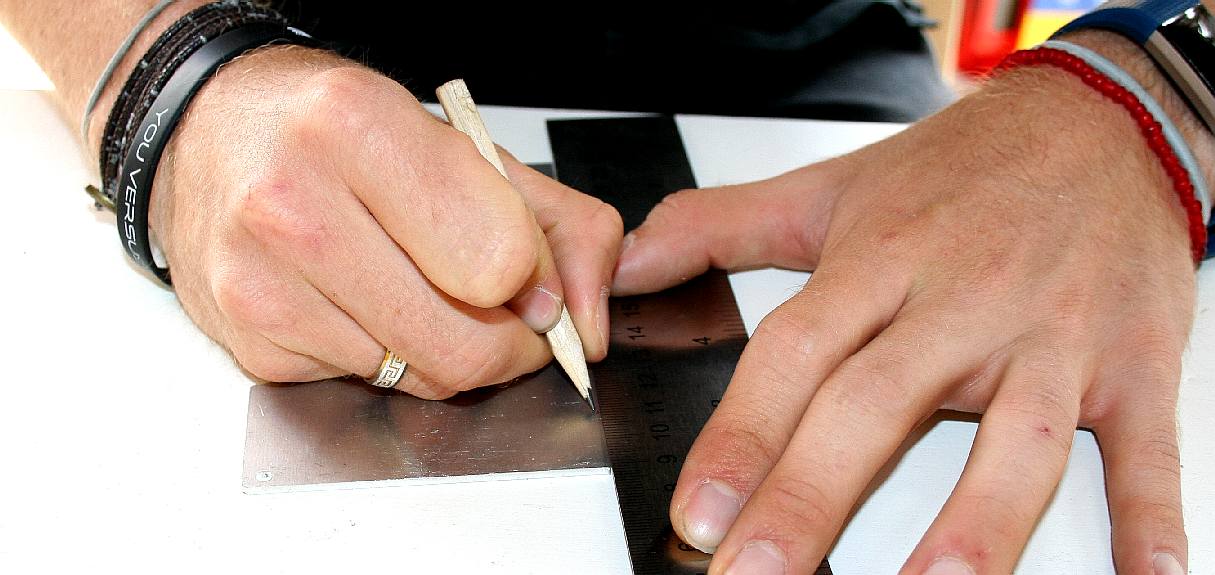 THE MOST IMPORTANT TOOLS IN THE WORKSHOP - A sharp pencil or fine-line marker are two of the most important tools in our workshops, followed by a clean ruler and a good eye. When making parts by hand we measure and then get a fellow worker to check the accuracy. The old skills are very important for speedy prototyping - almost a lost art. We teach our students the basic skills as an aid to thinking things through and as a booster to being creative in engineering. Copyright photographs © Cleaner Ocean Foundation Ltd 18 June 2018.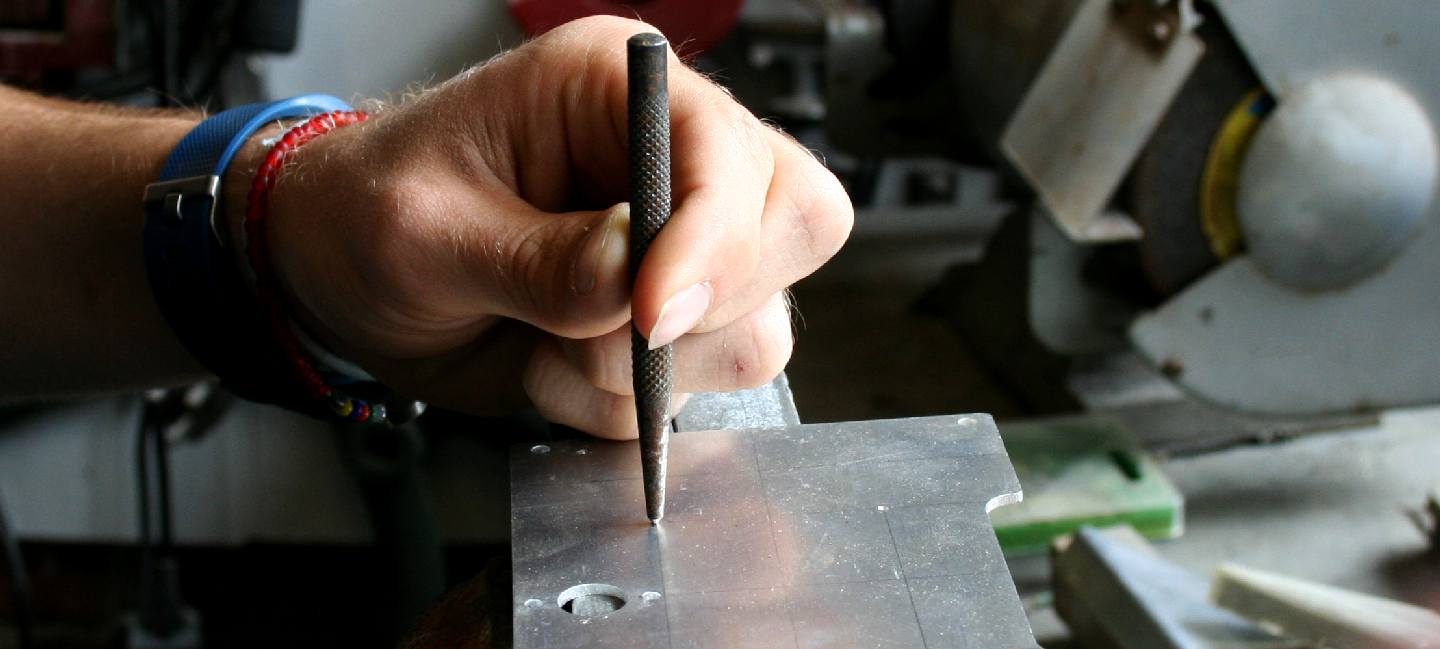 PUNCH - We sharpen our punches to match the jobs we are working on. Here we are punching the centers of a series of holes to be drilled to mount the swivel bearings that will allow our caterpillar tracked axles to follow the contour of an undulating beach. This is not suspension, it is a half way solution the spreads stresses more evenly. Copyright photographs © Cleaner Ocean Foundation Ltd 18 June 2018.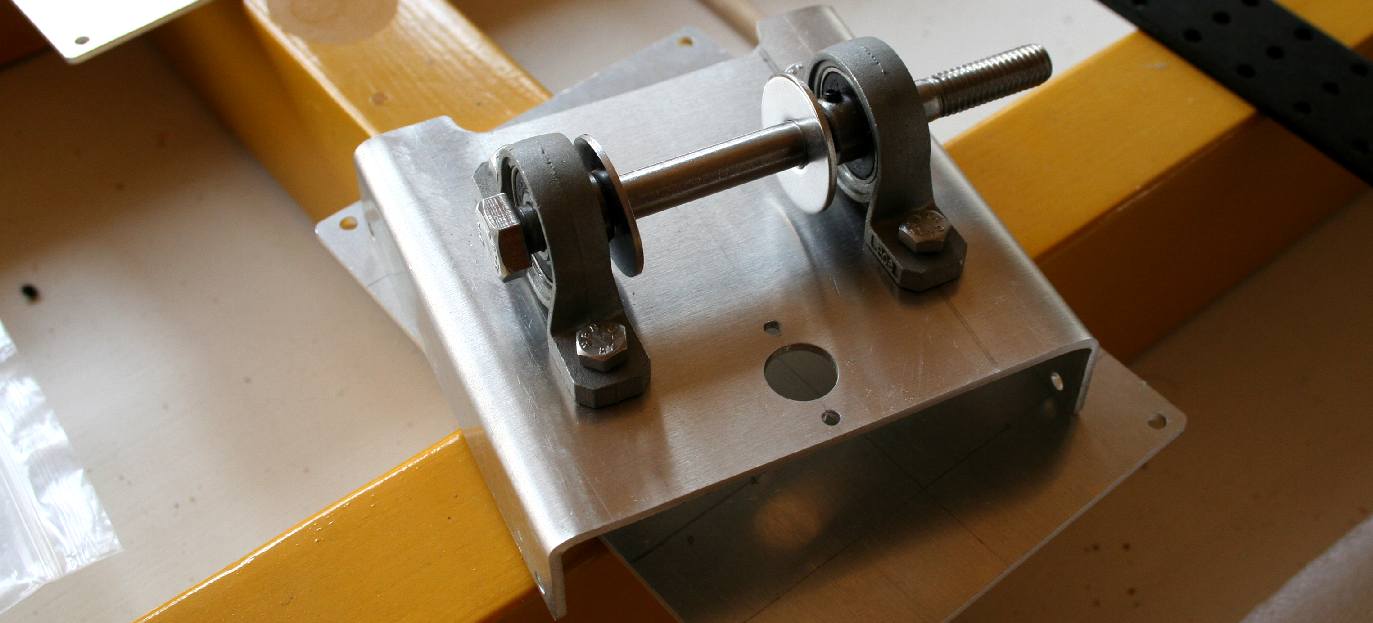 FOLDS - The sides of our aluminium chassis plate are folded @ 90 degrees. The wheel carrier plate is bolted to the side folds while the ball bearing carriers are bolted to the top, being aligned with each other before being bolted in place. Copyright photographs © Cleaner Ocean Foundation Ltd 18 June 2018.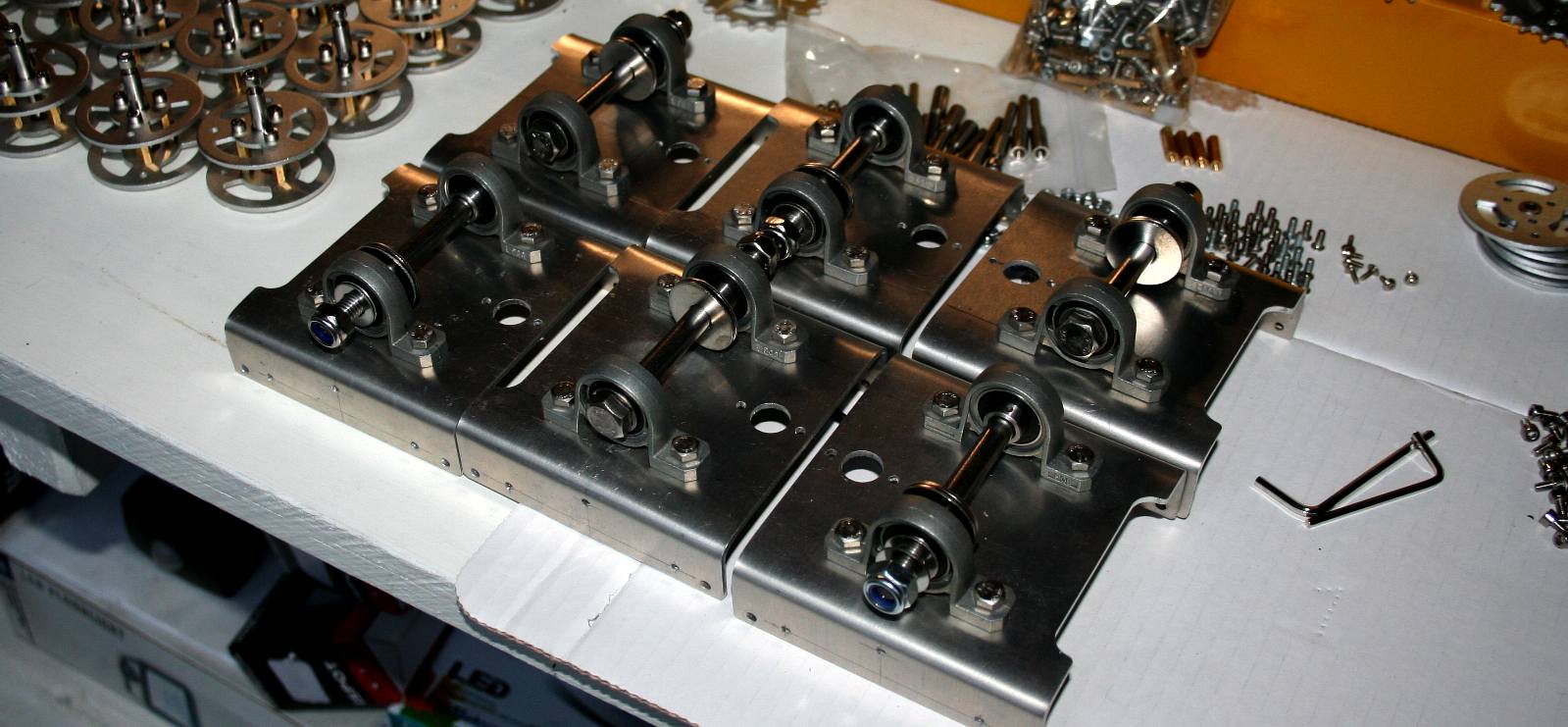 MASS PRODUCTION - We made eight of these plates. The stainless steel pins had to be threaded and cut to size from standard bolts. then went on to assemble some of the laser cut wheels and sprockets. These units represent a big step forward in terms of load carrying capacity and we hope, traction. Copyright photographs © Cleaner Ocean Foundation Ltd 18 June 2018.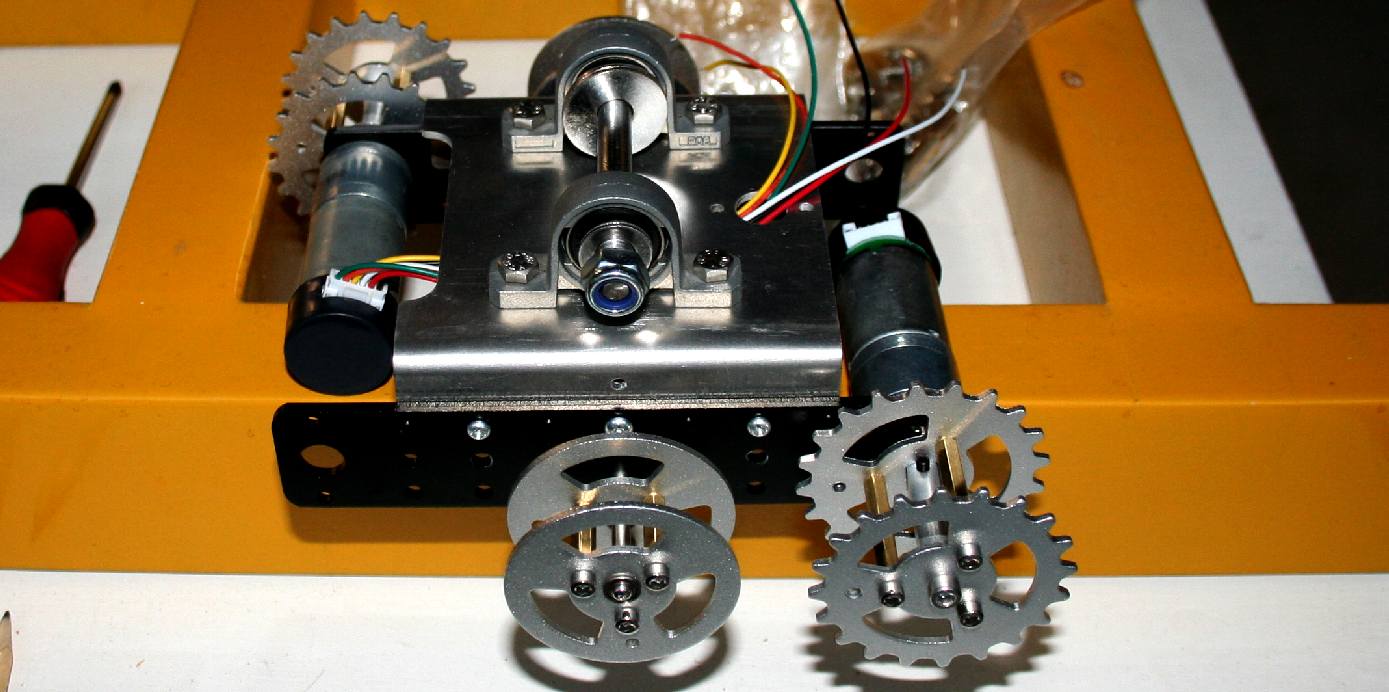 WHEEL CARRIERS - Two motors are bolted to the wheel carriers along with a pair of idlers, also using ball bearing races. These are the mid-range torque motor units that well be experimenting with to see what angle slope the AmphiMax can handle if the hill is made of different materials. We'll be trying to simulate shingle and sandy beaches at angles up to 30 degrees where 15 degrees would be considered steep for most beaches in the UK. For the really serious work carrying SeaVax in and out of the water, we'll most likely switch to the large 540 motors and the extreme gearboxes with 6mm output shafts. Copyright photographs © Cleaner Ocean Foundation Ltd 18 June 2018.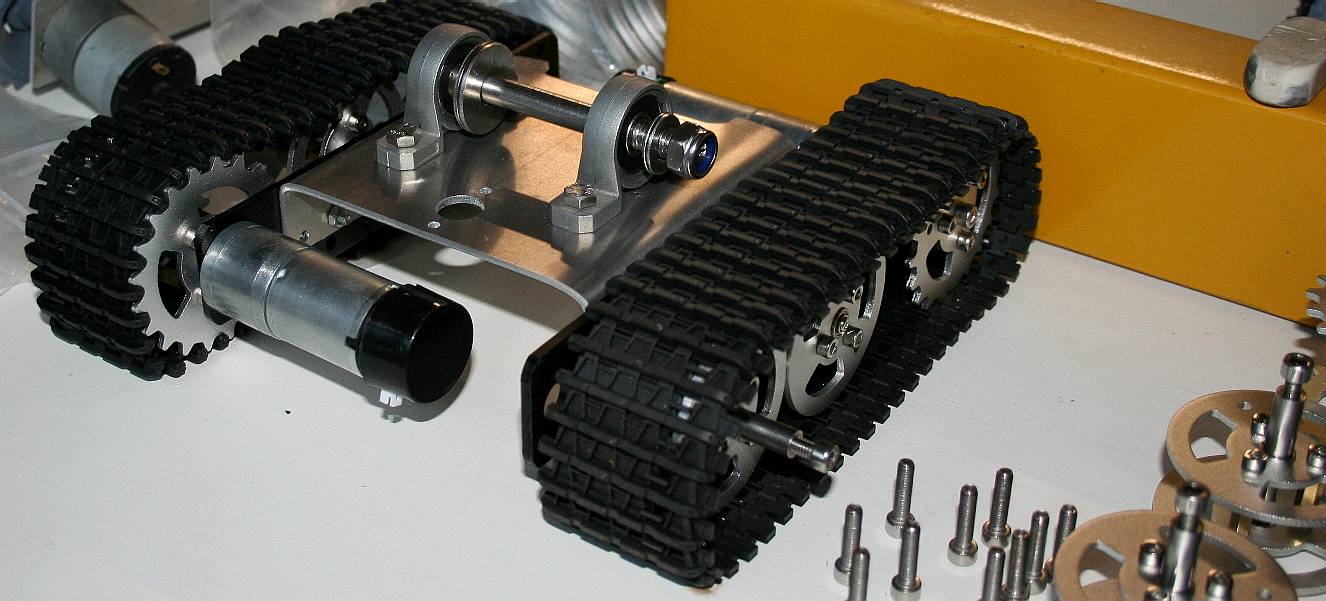 CATERPILLAR TRACKS - The tracks are tried for size using the originals but they were too small for the amount of re-working it would entail to retain them. These tracks can be made to any length using and a pin extractor to break and then join links. Copyright photographs © Cleaner Ocean Foundation Ltd 18 June 2018.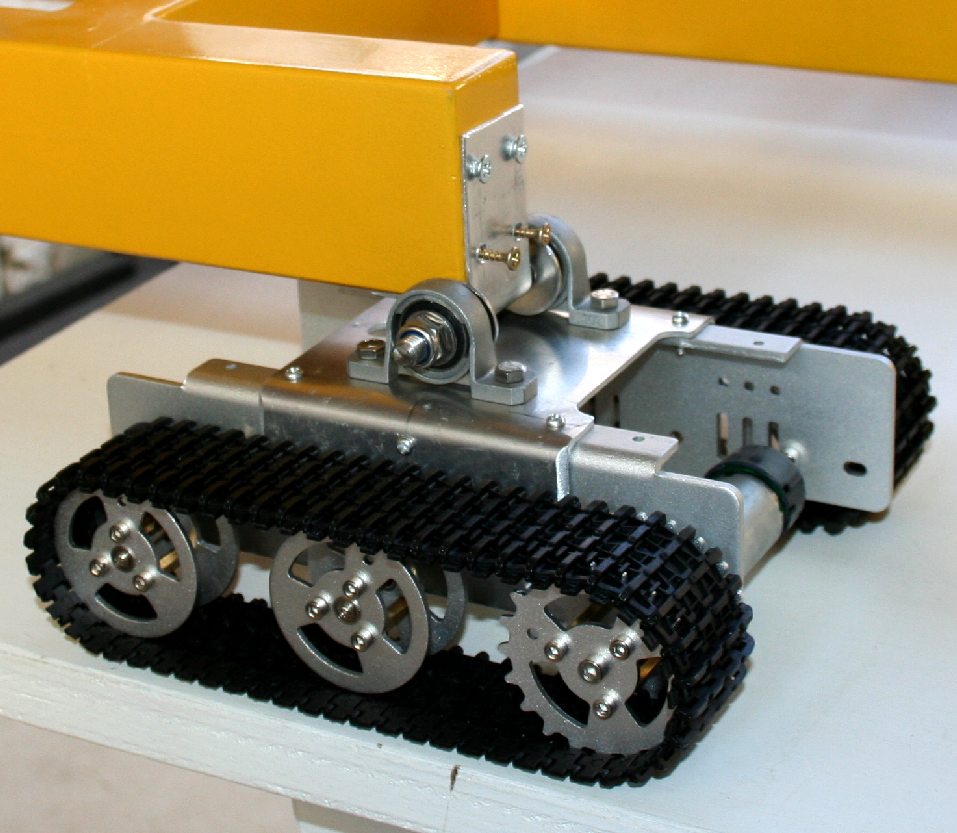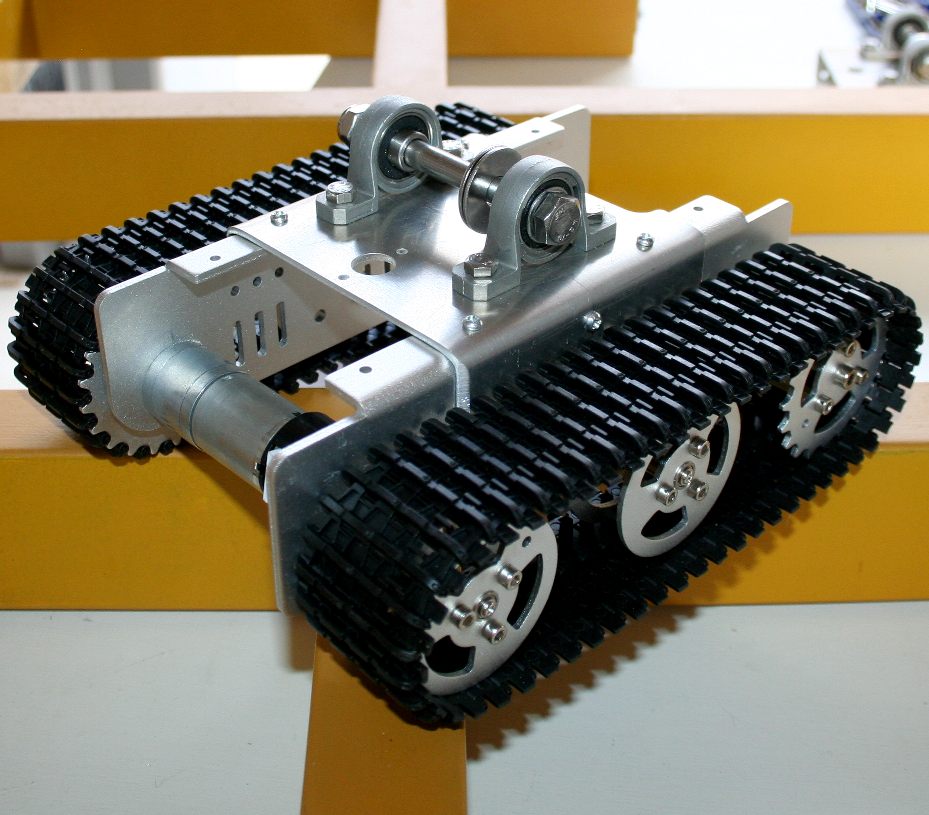 BEEFIER TRACKS - To take advantage of the new swing axles we needed more height to allow angular change as the caterpillar tracks ride over (simulated) rough shingle as coarse sand. Each bogey can carry 6+ kilograms to cope with the all up weight of 50kg or 110 pounds - with a little to spare. The axles are shown here with the 270 test motors and gearboxes, while the sprocket yokes for the 540 motors and gearboxes are being machined to accept a 6mm output shaft. Copyright photographs © Cleaner Ocean Foundation Ltd 22 June 2018.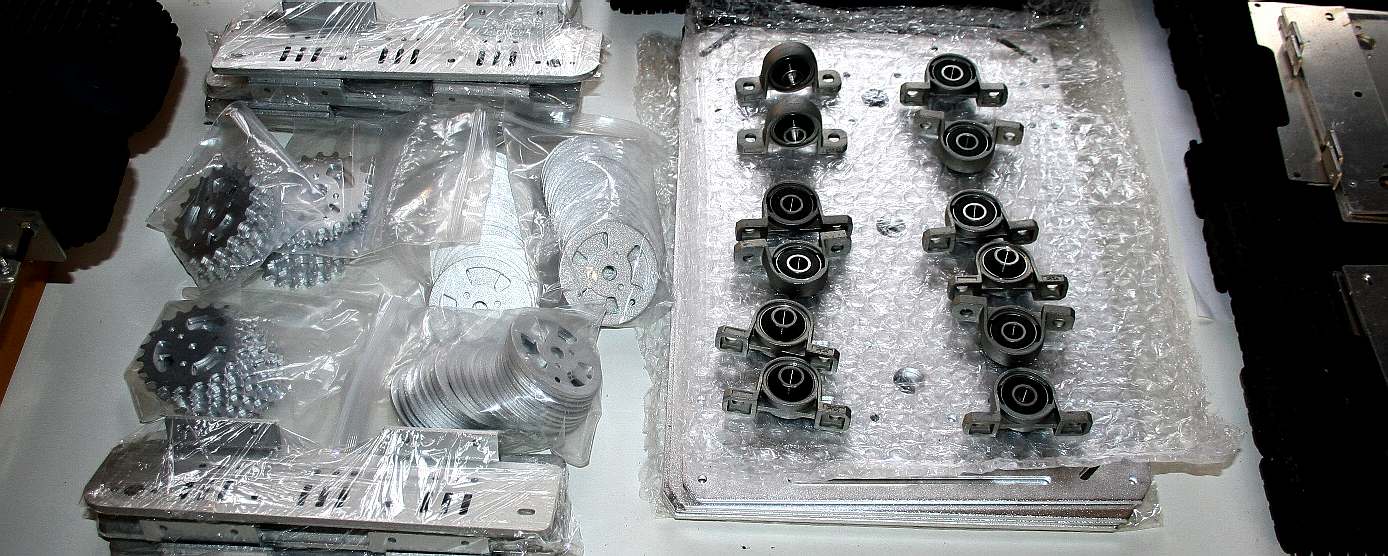 PARTS - We are using a number of off the shelf robot parts that need to be re-engineered to our purpose. For example there is no tracked drive system that is suitable size wise for the Amphimax, meaning that we have to custom build the chassis units and fit the drives in a different way. The good news is that we don't have to machine the gearboxes ourselves, or the aluminium sprockets and ball-bearing idler wheels. These are laser cut from aluminium plate for a number of robot kits that you can buy online and have been sourced because they are very close to the specification of the full-size 12 ton tracked bogies that we will be using in 2019 if funding is secured to kick this project into touch.
We wanted to improve the traction over uneven beaches where there will be hillocks and hollows that would not normally matter with any regular tracked vehicle because the tracks are virtually the same length as the vehicle being propelled.
In our case we have a very long chassis with multiple caterpillar bogies to spread the load as simply and cost effectively as possible. With rigidly mounted bogies, when the Amphimax encounters a hillock or hollow (large bumps) at a different angle to the beach, a rigidly mounted track will have significant rotation forces trying to lever the chassis up creating high point loads that may prove detrimental to the concept.
For this reason we have decided to mount the bogies on swivel axles, to allow the caterpillar bogies to meet a changing angle of beach and go with that angle - where the other bogies will be parallel to the beach or shore or going with their own angle changes independently..
WHY IS AMPHIMAX SO IMPORTANT TO THE SEAVAX CONCEPT ?
The AmphiMax is not just a launch and recovery machine, it is an essential development tool for Seavax. We can think of no quicker way to take a boat out of the ocean into a dry dock situation anywhere in the world to allow engineers to fit alternative heads for experimenting full size.
The Amphimax has all the equipment built in to allow a team of engineers to fabricate parts, change machinery and even repair a damaged hull using welding equipment, compressors and generators that are part of the portable dockyard.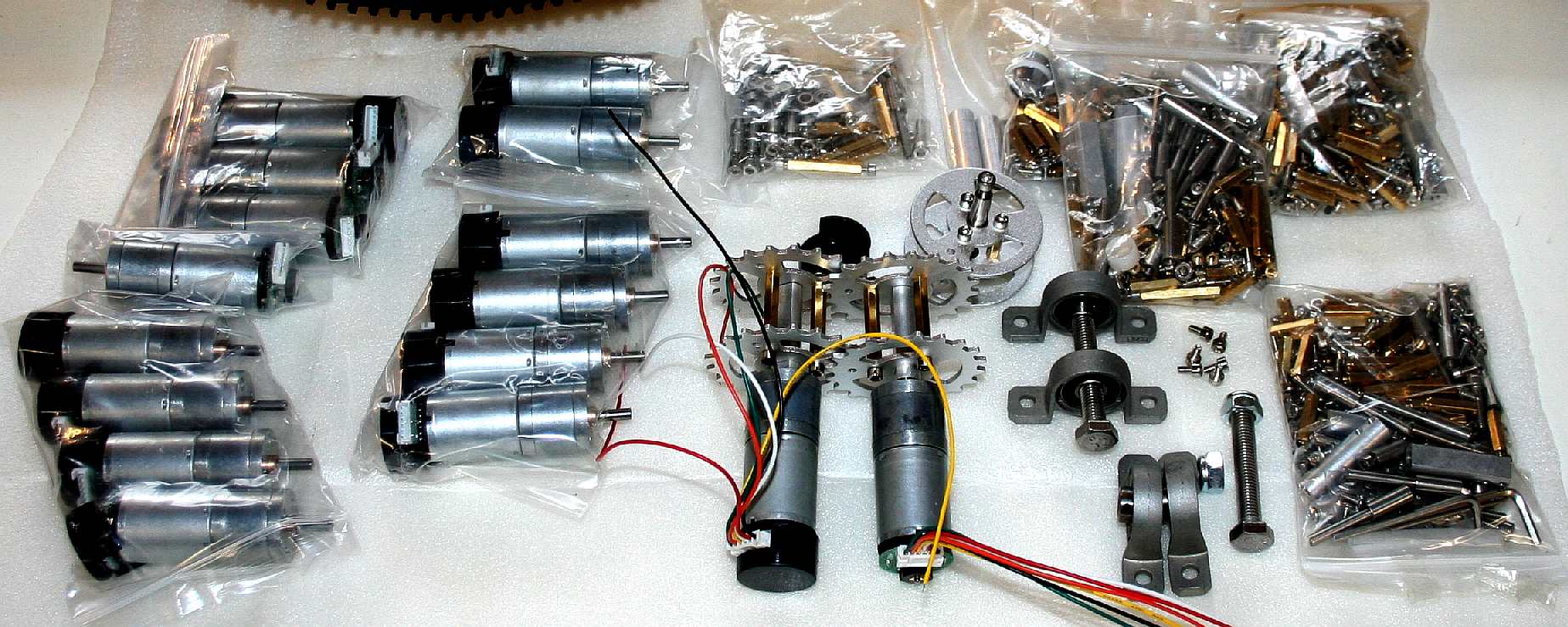 PARTS - It takes a staggering number of individual component parts to make a robot of this size and complexity. In this picture you can see the sixteen motors and gearboxes that are needed to carry the 1/20th scale model of the Seavax into our test tank over a simulated beach.
Until such time as fresh funding allows for the acceleration of the SeaVax project, the Cleaner Ocean Foundation (via its volunteers and associates) will continue to work on the project as far as is possible by carrying out AmphiMax launch simulations and other robotic development.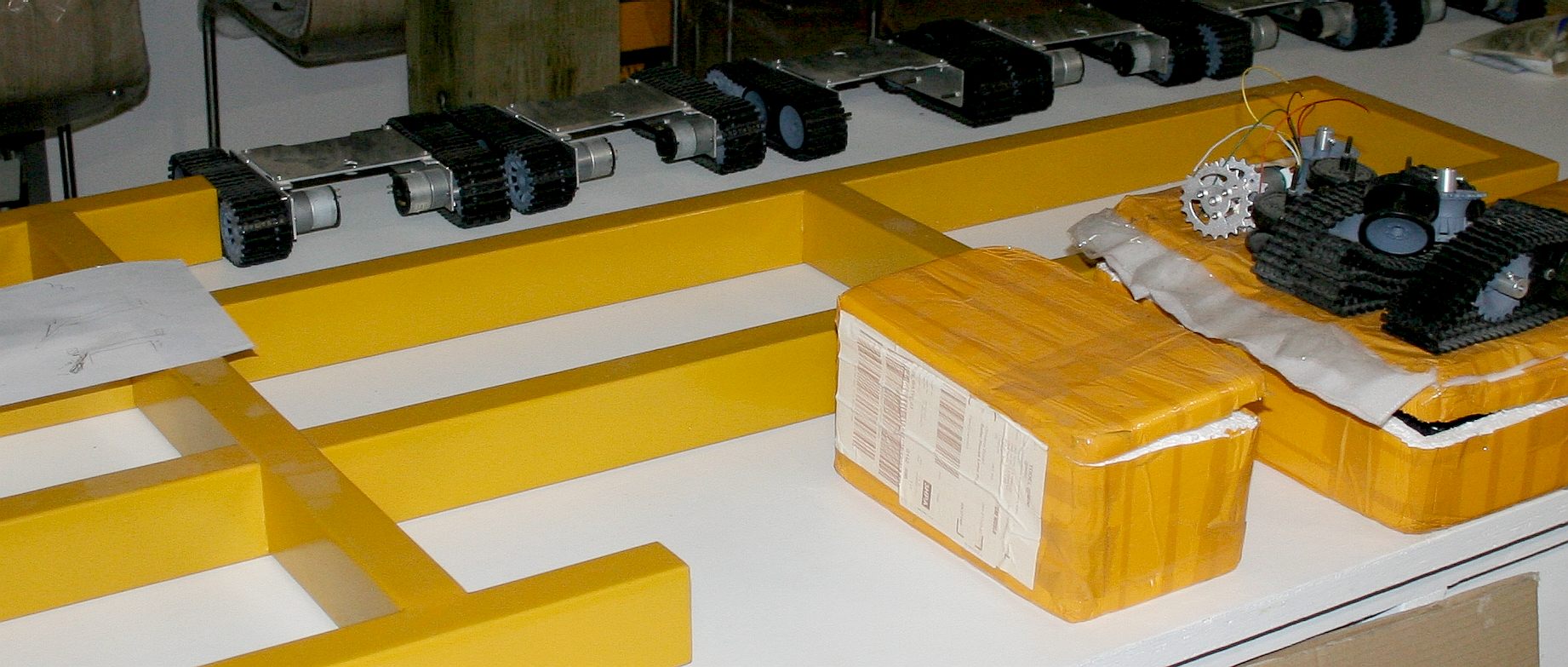 PARTS - A whole lot of robot parts arrived in January 2018. After the gimbal and lowering mechanism is made for the test tank (that's next), we'll have a sort out and see if it is practical to upgrade the AmphiMax with swivel tracks, where at the moment they are rigid like any other tracked vehicle. A tilt mechanism - if it is not too complicated for the full size portable dockyard - will give better traction when the amphibious vehicle comes in for a landing.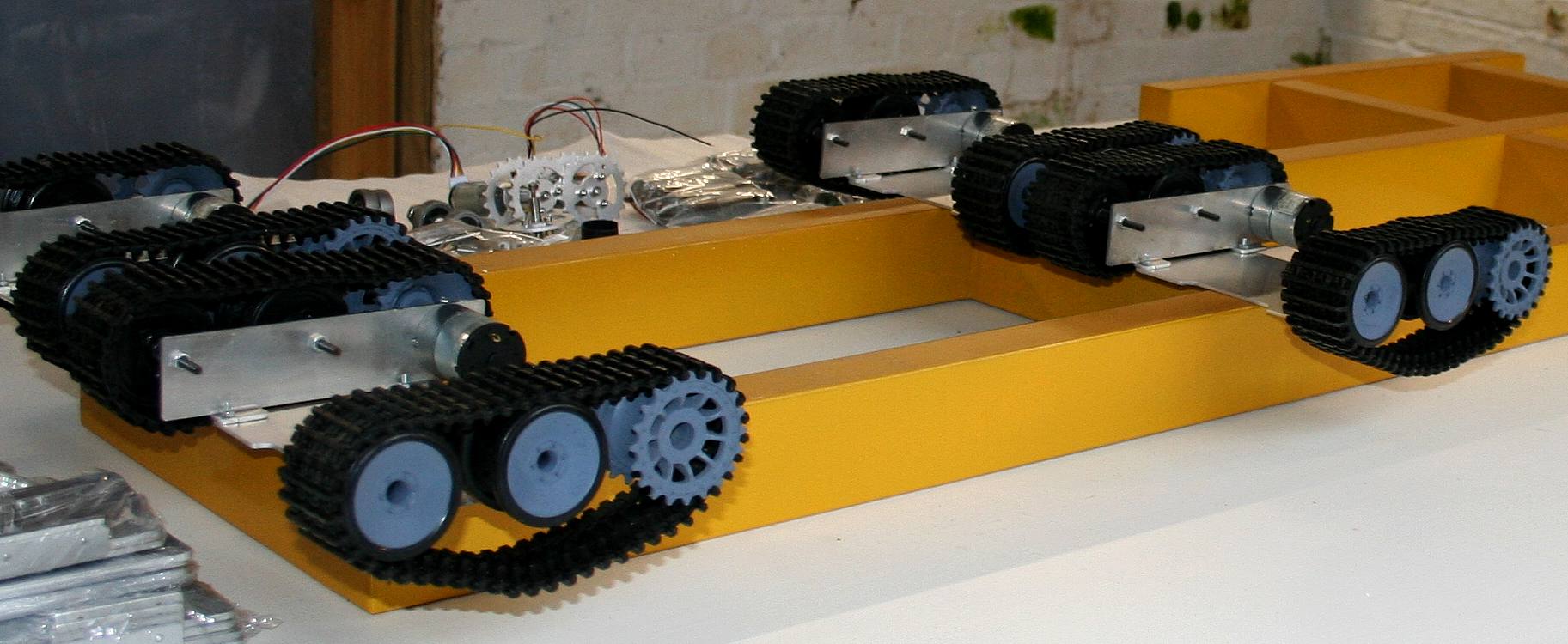 INVERTED - We will not be able to do this with the full size Amphimax. The real thing is just too large to flip. But in the lab the 1/20th scale model can be turned upside down to make fitting the new bogies a whole lot easier. These are the old axles drive sprockets that were made of ABS, an engineering plastic used for high quality models where strength is needed.
LINKS & REFERENCE
https://

VERSATILE BOAT SERVICING - Amphimax is most probably the most versatile portable boat and small shipbuilding solution ever conceived on a small budget.
AMPHIBIOUS LAUNCH - AMPHIMAX - CAB - CHASSIS - COSTINGS - CRANE - DIESELS - DRIVE - FLOATATION - GENERATORS - HILL CLIMBING
HYDRAULICS - LAUNCH SITE SX - MODEL 1/20 - MOTORS - SUSPENSION - TIMETABLE - TRACKS - TRAILER - THRUSTERS - VIBRATOR - WHEELS
This website is provided on a free basis as a public information service. Copyright © Cleaner Oceans Foundation Ltd (COFL) (Company No: 4674774) 2018. Solar Studios, BN271RF, United Kingdom. COFL is a charity without share capital. The names Amphimax™, RiverVax™ and SeaVax™ are trademarks.