HORIZON EUROPE
ABOUT - CONTACTS - CLIMATE - CROWDFUNDING - DONATE - FUEL CELLS - HOME - HYDROGEN
Please use our A-Z INDEX to navigate this site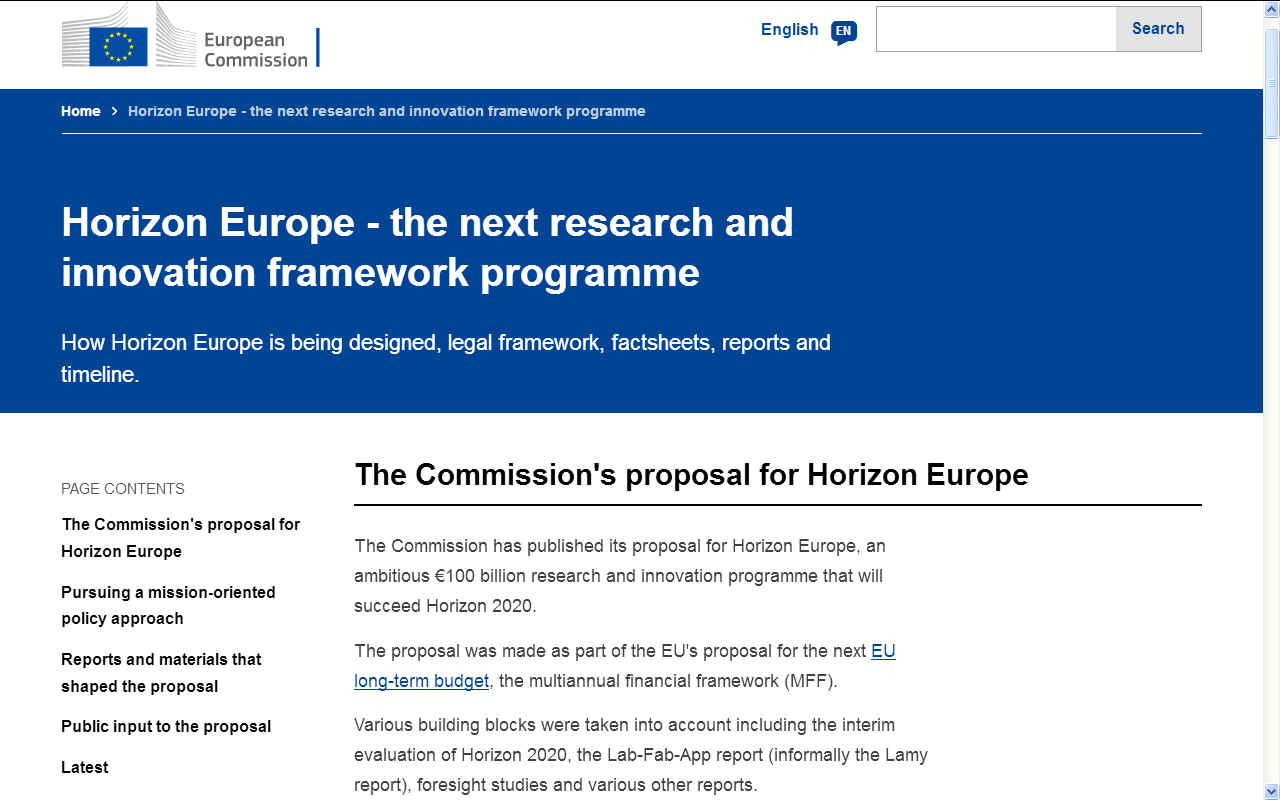 The European Commission are throwing €100 billion euros into the hat, 35% of which is aimed at tackling climate change. This is for the period 2021 to 2027, in other words the next seven years.
Horizon 2020 was the flagship research and innovation engine for the European Commission. From 2021, Horizon Europe replaces the old system, with shiny new policies, boasting rules that are designed to garner innovation that would not have been contemplated under H2020. We will review progress, that might be measured by a reversal in climate warming, since 35% of the €100,000,000,000 billion budget is geared to projects aimed at tackling the melting of the ice caps, extinction of species - and all that goes with it. Meaning that €35,000,000,000 billion euros is to be spent in a last ditch attempt to do the right thing.
Well done EC, for at least trying to adapt to get things done faster. This should include reducing form filling and one-click addition of partners to applications.
The EC also need a much easier method of indexing calls, so potential applicants can find them. For the sake of transparency, grants should be listed in a manner that is simple to access, showing who received funds, and the result of such expenditure in driving society forward. We need to see what is not working, as well as what is working!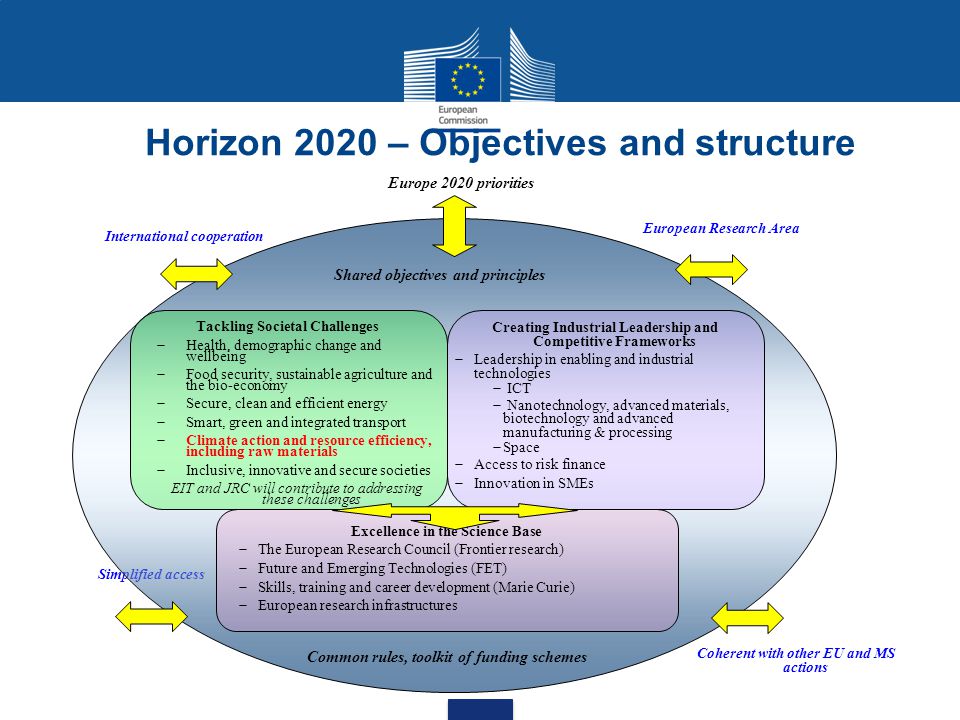 The diagram above tells you what H2020 was about and what they hoped to achieve. Even then they were throwing a lot of money at it. The proof is in the pudding. There are so many ways of tackling climate change. We have suggested a few:
SIX STEPS TOWARD A COOLER PLANET
1. TRANSPORT: Phase out polluting vehicles. Governments aim to end the sale of new petrol, and diesel vehicles by 2040 but have no infrastructure plan to support such ambition, such as recharging stations for hydrogen trucks.
Marine transport can be carbon neutral, with incentives to ship owners to part exchange belching smoke tubs for shiny new solar and wind powered electric boats and yachts, or hybrid cargo ships using (green) hydrogen fuel cells, with solar/wind assistance.
Aircraft can be electric with hydrogen as the fuel, necessary where lithium batteries have only half the range on a weight for weight basis. Standardization between aviation, automotive and marine hydrogen systems should be implemented as far as practical.
2. RENEWABLES: Renewable energy should replace carbon-based fuels (coal, oil and gas) in our electricity, heating and transport. Stat! A move to green hydrogen based load-levelling for national grids, would truly prepare the ground for sustainable communities. The cost of producing green hydrogen must be tackled, to make it more competitive.
3. HOUSING: On site micro or macro generation and heating, is the best option, starting with new build homes that use significantly more timber in the construction as a carbon lock. Brick and block construction should be outlawed in all planning systems, until climate reversal is clearly indicated..
4. AGRICULTURE: We need forests of trees to absorb carbon emissions from a growing population, conventional (kerosene) flying, and to build affordable new homes. Reducing food waste and promoting less energy intensive eating habits such as no-meat Mondays. Designing plant based foods that taste like meat with equivalent protein content.
5. INDUSTRY: Factories should be aiming for solar heating and onsite renewable energy generation.
6. POLITICS: - National governing bodies need to adopt rules to eliminate administrative wastages, to include scaling down spending on war machines, increasing spend on educating the public and supporting sustainable social policies that mesh with other cultures. One way of pushing this agenda is total transparency in Governments and Courts as per United Nations SDG 16. This would tend to prevent corrupt politicians and civil servants from pursuing unlawful agendas. This would also tend to reduce procurement fraud. To make this happen, every country must provide a (free to all) effective remedy. Most do not. We need a way to challenge perceived wrong doing at every level.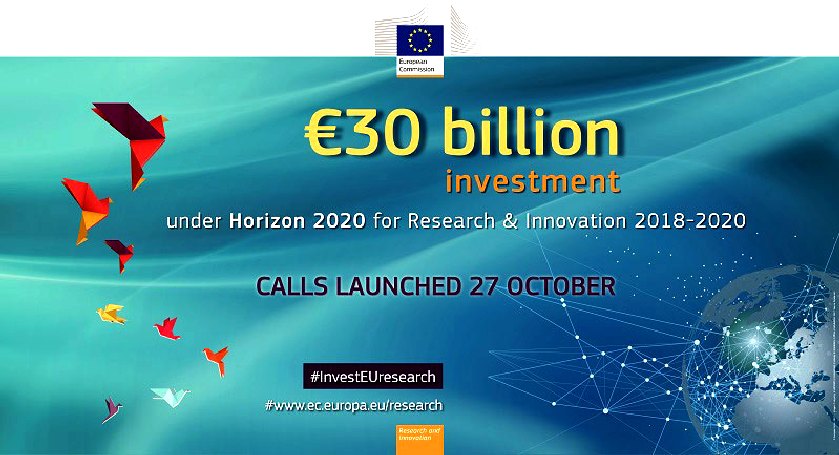 WARNING: APPLYING FOR EU GRANTS IS AN EXTREMELY COMPLEX AND TIME CONSUMING, HENCE EXPENSIVE, EXERCISE THAT IS NOT SUITABLE FOR START-UPS, OR SME'S - WHERE THE COMMISSION SIMPLY WANT VOLUME APPLICATIONS THAT GIVE THEM A WIDER CHOICE, SOMETIMES PASSING THOSE IDEAS ONTO OTHER ORGANIZATIONS, SO THAT THE ORIGINATORS DON'T BENEFIT FROM THEIR PATERNAL RIGHTS.
THERE IS NO MECHANISM FOR TESTING A POTENTIAL IDEA FOR ACCEPTANCE, OTHER THAN APPLYING UNDER ONE OF THEIR GENERAL HEADINGS. UNLESS A CALL IS 100% ON POINT AND YOU HAVE THE FUNDS TO PUT TOGETHER WHAT AMOUNTS TO AN INTRICATE BUSINESS PROPOSAL - WHY RISK WHAT RESOURCES YOU HAVE - CONSIDER INSTEAD, COMMERCIAL SPONSORSHIP, OR APPLY FOR A PATENT - AND IF THAT IS NOT PRACTICAL, THEN CONSIDER THAT INNOVATION IS HARD WORK COMPARED TO WRITING AND FILM MAKING WHERE INTELLECTUAL PROPERTY (COPYRIGHT) PROTECTION IS AUTOMATIC AND FREE - YOU STAND LESS CHANCE OF BEING RIPPED OFF. SOCIAL R&D IS NOT A COMMERCIAL INVESTMENT, MEANING THAT MONIES RAISED FROM BANKS OR VENTURE CAPITALISTS CANNOT DO ANYTHING ELSE BUT LEAD TO INSOLVENCY AND TAKEOVER. THINK OF YOUR MORTGAGES, BEFORE EMBARKING ON WHAT AMOUNTS TO A GIVEAWAY OF ALL YOUR HARD WORK.
ALTERNATIVELY, JOIN A BIG COMPANY AND LET THEM PAY YOU WHILE THEY APPLY FOR FUNDING. THEY MAY NOT HAVE THE IDEAS, BUT THEY CAN AFFORD TO EMPLOY GIFTED WORDSMITHS TO GET THE FUNDING, THAT THEY DO NOT NEED, BUT MIGHT AS WELL APPLY FOR.
IF THAT DOES NOT PUT YOU OFF, THEN WHY NOT GIVE IT A GO. BUT, AT LEAST WE TOOK THE TROUBLE TO POINT OUT WHAT YOU ARE UP AGAINST.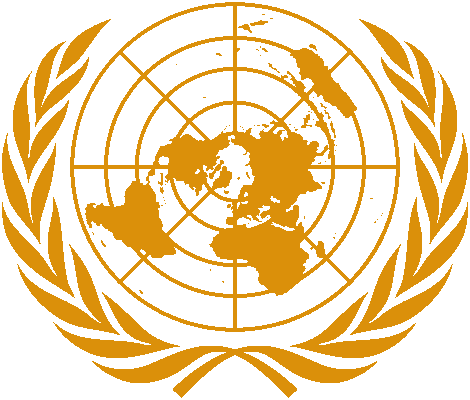 LINKS & REFERENCE
https://ec.europa.eu/
This website is provided on a free basis as a public information service. copyright © Cleaner Oceans Foundation Ltd (COFL) (Company No: 4674774) 2020. Solar Studios, BN271RF, United Kingdom.