CONTACTS - Rt Hon Chris Grayling MP, Department for Transport, Great Minster House, 33 Horseferry Road London SW1P 4DR
Telephone 0300 330 3000 Website www.gov.uk/dft General: https://forms.dft.gov.uk
Global economic power is shifting eastwards and the balance of power may alter. The UK is heavily reliant on imports of food, fuel and other goods which is anticipated to continue to 2050. Preserving freedom of navigation, in particular strategic choke points, will remain a priority. The UK will proactively work to strengthen existing alliances, work collaboratively to monitor contraventions of international agreements like the United Nations (UN) Convention on the Law of the Sea (UNCLOS),
TERRORISM
The global terrorist threat is highly likely to persist to 2050 and beyond. Conflict zones, failed states and the internet will provide a platform for terrorist activity. This may involve attacks on shipping where areas and groups are in close proximity to shipping lanes. Attack methodologies may change through exploitation of new or emerging technologies e.g. drones, and the UK must be alive to evolving threats in its maritime domain, both here and in Overseas Territories.
MARITIME 2050 STRATEGIC AMBITIONS

Lead the way in taking action on clean maritime growth enjoying economic benefits from being an early adopter or fast mover. Strengthen our reputation for maritime innovation, maximising benefits to the UK from new maritime technology through our world leading universities, maritime SMEs and global companies.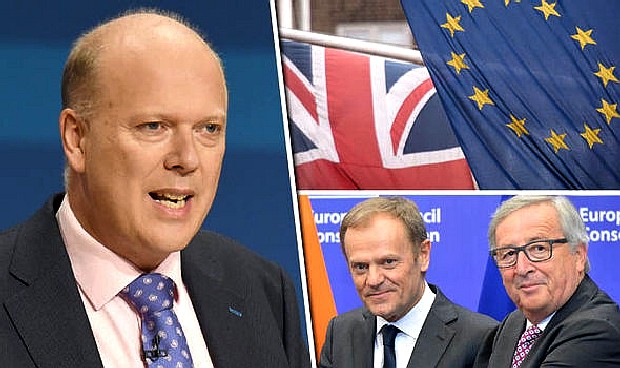 GLOBAL MARITIME - CONTAINERIZATION

The worldwide trade of goods at the scale, cost, and ease seen today is only made possible by the maritime industry. The sector is the lifeblood of global trade; it is estimated that over 80% of all trade in goods are transported by seaborne means. In the past ten years global containerised trade has more than tripled to 148 million twenty-foot equivalent units (TEUs). This is a consequence of increasing demand, with several of the largest ships now

capable of transporting over 21,000 containers at full capacity. At the turn of the millennium, the equivalent figure for the largest ships stood at just 9,000.

https://unctad.org/en/pages/PublicationWebflyer.aspx?publicationid=2245

These increased trade volumes are also indicative of the eastward shift of manufacturing supply chains, as Asia has continued to grow its manufacturing output. For example, liner trade – the transportation of goods by oceangoing cargo ships following regular routes – is dominated by the export of Chinese goods. The appetite for Chinese exports informs why the volume of liner cargo from China is more than three times that of its nearest rival, the US.

worldwide interest rates and shipping speeds are interlinked and cargo bought on credit must be shipped faster to minimise costs when rates are high.

Strategic chokepoints on busy shipping lanes around the Malacca Straits, the Straits of Hormuz and the Suez Canal create a vulnerability in global economic trade.

Modernisation of maritime infrastructure is driving the focus of global trade.

The widening of the Panama Canal, a project completed in 2016 following a $5.4 billion investment programme, has enabled an almost tripling in the size of ships capable of traversing the conduit. This has encouraged the design and construction of larger ships, and in turn, the expansion of port facilities capable of servicing these vessels.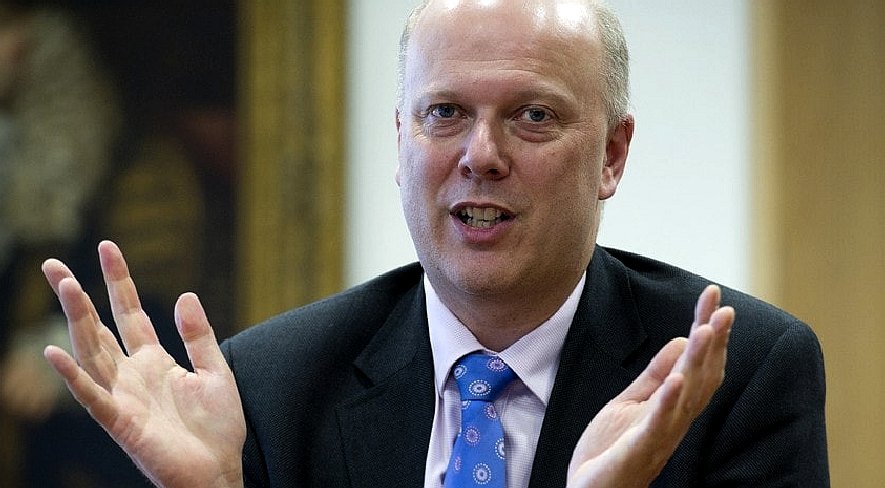 Transport Secretary Chris Grayling is quoted as saying: "The success of the UK depends on our shipping – it helps put food in our cupboards and fuel in our vehicles.

We want to maintain our position as a world leading maritime nation and working with the experts from within maritime, as well as those with broader experience, will help us ensure we take every opportunity open to this vital sector.

Maritime 2050 is a once in a generation opportunity to set an ambitious vision for the future of this key sector and I encourage all of those who depend on shipping to have their say."
GLOBAL WARMING

International shipping is responsible for 2.2% of global CO2 emissions. (Third Greenhouse Gas Study, IMO)

If the sector is to adhere to limiting global average temperature warming to below 2oC, as set out in the Paris Agreement, it has a responsibility to abide by and promote initiatives to reduce environmental impacts.

Improvements in fuel efficiency, introducing greener substitute fuels, and the adoption of exhaust gas cleaning systems, designed to capture emissions at exhaust are all important technological means by which the industry is already moving to mitigate its environmental impact. More radical initiatives underway include moves to integrate hydrogen fuel cells into ships, while companies such as the Japan-based Eco Marine Power are trialling zero emission cargo ships powered by rigid solar sails. This, along with other instances of cutting-edge R&D, are indicative of the leading role Japan and the Scandinavian countries are taking in promoting sustainable shipping.

From the global action plan to combat climate change agreed in Paris in 2015, to agreement in 2018 at the IMO to at least halve global shipping emissions by 2050.

The Intergovernmental Panel on Climate Change (IPCC) and the Met Office 141 forecasts rising sea levels and an increase in the frequency of extreme weather events as consequences of climate change.

141 https://www.metoffice.gov.uk/research/collaboration/ukcp

At present, shipping vessels' use of HFOs and black carbon are two of the most prominent environmental issues pertaining to shipping in the Arctic. An HFO spill would severely harm the fragile marine and coastal Arctic environment, with serious long term detrimental effects. Black carbon increases the amount of light absorbed into the ice surface and can cause localised melting, which in turn contributes to the destabilisation of the ice sheet as a whole and an increased loss of ice mass.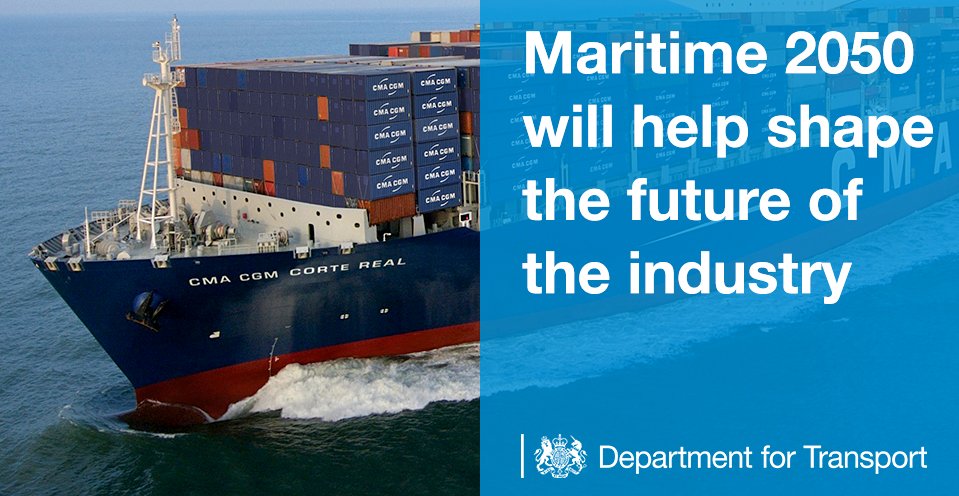 AUTONOMY

Autonomous technologies are the second area in which disruption is occurring. A prototype of an autonomous ship has been launched by the US Navy, while there are several types of unmanned service vessels already available on the market. This technology is still in its infancy, however, and the current impact of autonomous vessels has been modest to date. This is, in part, explained by the relatively slow uptake of new technology in the sector. The life-cycle of ships is typically 25-30 years, and given these slow fleet turnover rates, ships with the latest designs often take some time to diffuse through the industry. Hence, much of the cutting-edge AI driven technology that captures the headlines remains in the beta-phase, albeit with undoubted potential.

There are currently over 1.6 million seafarers worldwide predominantly originating from China, the Philippines, Indonesia, Russia, and the Ukraine (BIMCO Manpower Report, 2015). Their work is often dangerous and high levels of worker welfare are typically lacking, with long periods spent at sea for modest remuneration.

The cost of training seafarers is high, with human performance and limitation considerations being the cause of most marine accidents.

HiLo Project Founded in 2016 by Shell Shipping and Maritime, Maersk Tankers A/S and Lloyd's Register Consulting and formally launched in 2018, HiLo63 is a predictive model that uses ship data to highlight a pattern of events that could lead to a major incident. The information is used to identify low level accident pre-cursors and flag these in order to prevent high impact incidents before they happen.

There is increasing pressure upon the maritime sector to reduce its carbon and pollutant emissions. In 2020 a sulphur cap will come into force. The IMO has recently agreed ambitious global targets for at least 50% carbon reduction by shipping by 2050. The need to meet new environmental targets will require the use of new, innovative technologies.

A major technological trend currently taking place in the sector is the development of Maritime Autonomous Surface Ships (MASS). These vessels are ones which, to a varying degree, can operate independently of human interaction. Consequently, the technology on board these ships can be used to support how human crews interact with increasingly complicated machinery. It can increase vessel and seafarer efficiency, optimising performance using advanced data analytics and improving safety by reducing human error, which account for the vast majority of marine accidents73.

72 https://www.lr.org/en/insights/global-marine-trends-2030/global-marine-technology-trends-2030/
73 https://www.maritimejournal.com/news101/insurance,-legal-and-finance/human-error-accounts-for-75-of-marine-liability-losses

Autonomous Vessels – Autonomous shipping offers the opportunity to reduce crewing costs, which can be up to 50% of total costs.
SATELLITES

The government is committed to grow the value of the UK's satellite industry to £19bn by 2020, and capture 10% of the global market by 2030. Government will support industry as they develop standards for maritime data and communications technologies that maximise available bandwidth and enable secure communication between vessels and shore.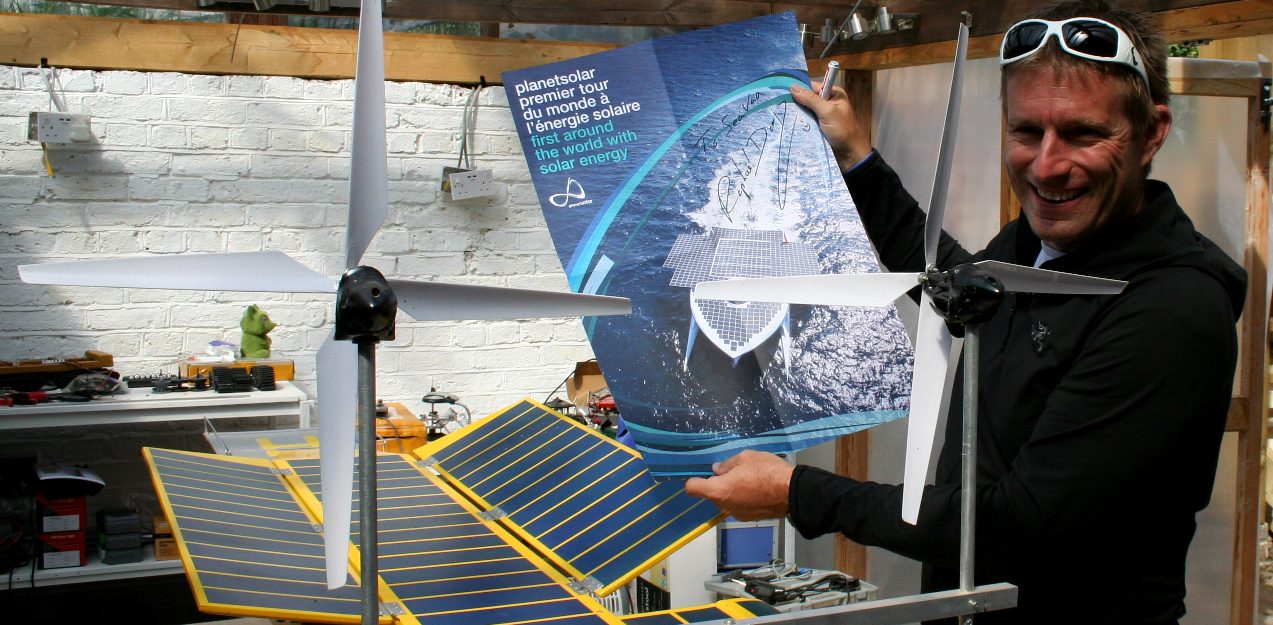 ZERO CARBON COUSINS - Raphaël Domjan has long been an advocate of renewable energy, finally realizing his dream in 2005, when he set up an association with people able to help him develop the PlanetSolar project. Five years later, a catamaran 35 metres long, 23 metres wide, with solar panels covering a surface of 537 m2 was launched.
STEM - SKILLS SHORTAGE

The maritime sector faces a skills shortage, especially in STEM subjects, and there is a major shortage of engineers across all UK industries.

PIRACY

In 2017, an estimated 19 seafarers were killed in piracy incidents, and research suggests that piracy off the coast of East Africa has had an economic cost of $29 billion over the period 2010-2017 (The State of Maritime Piracy 2017, One Earth Future).

ENERGY & FOOD SECURITY

Around 95% of British imports and exports in goods are moved by sea, including 25% of the UK's energy supply20 and almost half of the country's food supplies 21, a foundation to the UK's national security.

The industry contributes £14.5 billion to the UK economy, directly supporting an estimated 186,000 jobs - a figure which dwarfs the numbers employed in the defence, aerospace, and motor vehicles sectors 22

20 https://www.gov.uk/government/publications/maritime-successes-2017-to-2018
21 Maritime Annual Report 2017-2018, Department for Transport
22 Maritime Sector Report 2017, CEBR
23 Sea Passenger Statistics, 2018, Department for Transport
24 https://ec.europa.eu/eurostat/web/products-eurostat-news/-/DDN-20170810-1?inheritRedirect=true

CRUISES - TOURISM

Nearly 2 million cruise passengers passing through UK ports in 201623. 85% of these passengers passed through Southampton With British cruise line companies including Cunard Line, Carnival Cruise Line and Saga Cruises.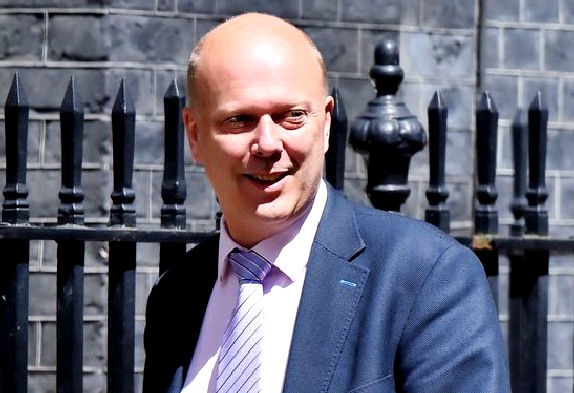 INSURANCE

The City of London is the global leader in this area; the largest share of worldwide maritime insurance premiums and shipbroking transactions occur in the UK, notably though Lloyds of London and the Baltic Exchange. Though, the Baltic Exchange, while still based in London, was acquired by the Singaporean Exchange in 2016.

PORT INVESTMENTS

The London Gateway, opened in 2013 after a £1.5 billion investment, is the UK's newest port and can now accommodate ultra-large containerships. Moreover, a suite of investment projects have been announced across UK ports: Aberdeen is constructing an additional harbour to boost marine capacity at an expected cost of £350 million; Liverpool has announced half a billion pounds worth of investment in upgrading their container terminal; and Associated British Ports (ABP), who control 21 ports across the UK, are undertaking a £1 billion five-year investment programme across their sites.

DECARBONISING

The IMO is the only UN body based in the UK, and the UK has continued to press for climate cooperation through this avenue, helping to agree the target of a 50% GHG emission reduction from the maritime sector by 2050.

Coal shipments passing through UK ports were reduced by 78% in the period 2007 to 2017, while crude oil port traffic fell by 38% over the same period (Port Freight Statistics, 2017, Department for Transport).

THOUGHT LEADERS

Solent University has established a reputation for producing impactful research on autonomous vessels46, as well as on crewing practices and safety. University College London's Energy Institute produce a body of research focusing upon low carbon shipping47

46 https://www.solent.ac.uk/research-innovation-enterprise/rie-at-solent/projects-and-awards/solace-project
47 https://www.ucl.ac.uk/bartlett/energy/research/themes/transport/shipping

The opportunities that come with this thought leadership have not always been taken advantage of. Translating pioneering research and thought leadership into tangible UK benefits has sometimes been more problematic. For example, despite a wealth of research emanating from leading UK universities and businesses regarding green technology, it has so far been Scandinavian countries that have sought to operationalise these ideas.

REGISTRATION FLAGS

International law requires that every merchant ship be registered in a country, called its flag state. A ship is subject to the law of its flag state. It is usual to say that the ship sails under the flag of the country of registration. A ship's flag state exercises regulatory control over the vessel and is required to inspect it regularly, certify the ship's equipment and crew, and issue safety and pollution prevention documents. The organisation which actually registers the ship is known as its registry. Registries may be governmental or private agencies.

The UKSR has grown 18% since 2015 reflecting the strong ambition of the government to grow the flag.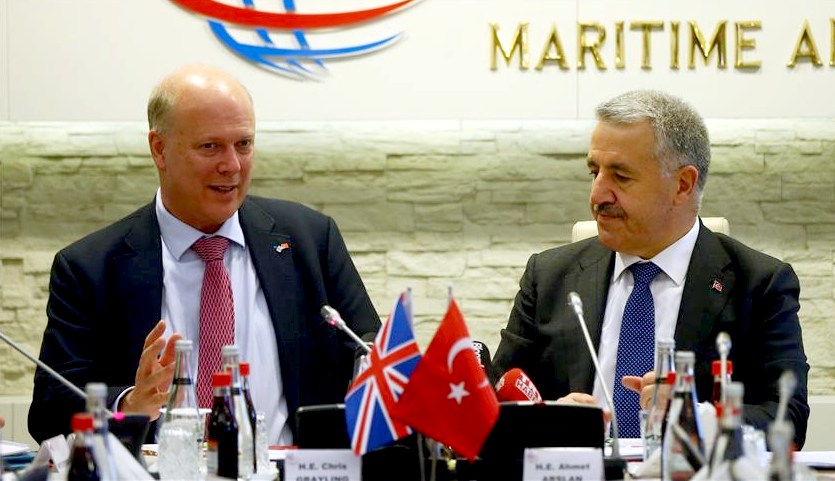 ANKARA - The United Kingdom regards Turkey as an "indispensable partner with a long historic friendship," Transport Secretary Chris Grayling said Thursday.

"We value that friendship enormously," Grayling said at a news conference with his Turkish counterpart Ahmet Arslan in Turkish capital Ankara.

The British secretary said Turkey had faced "most serious and difficult" challenges.

"We see it as our job to work with you to help you, support you to have a really strong security partnership in meeting the challenges that we both face," he added.

Grayling said a strategic security partnership was established during U.K. Prime Minister Theresa May's visit to Ankara last January.

He also praised the "tremendous resilience" shown by the Turkish people during and after the defeated coup attempt on July 15, 2016, calling the bid a "shocking threat" to democracy in Turkey.

"I just want to reiterate that the U.K. stands very firmly alongside Turkey in the face of challenges," he said.

Fetullah Terrorist Organization (FETO) and its U.S.-based leader Fetullah Gulen orchestrated the defeated coup, which left 250 people martyred and nearly 2,200 injured.

Turkish Transport Minister Arslan thanked Grayling for the U.K.'s support, saying: "We will then always stand by the U.K. in its fight against terrorism. We will continue to fight together."

Arslan said Turkey was aware of the importance of mutual cooperation for eliminating terrorism.

"We are always in cooperation with the U.K. in this regard," he added.
BLUE ECONOMY

The need for a transition to low impact maritime transport is clear and the long term transition cannot be avoided.

To reach this vision of the future, this chapter is broken down into the following four strands of action:

* Zero emission shipping.
* Minimising the wider environmental impacts of maritime.
* Adapting successfully to the impacts of climate change on the maritime sector.
* Achieving our goals through continued international leadership.

Air pollution108 is the top environmental risk to human health in the UK, and the fourth greatest threat to public health after cancer, heart disease and obesity109. This underlines the importance of the recently published UK Clean Air Strategy (CAS). Recent research commissioned by Public Health England has found that the health and social care costs of air pollution in England could reach £5.3 billion by 2035. Certain air quality pollutants such as nitrogen oxides and ammonia, are also known to affect biodiversity. The government's consultation on the Clean Air Strategy outlined how actions to reduce emissions of 5 key pollutants could cut the costs of air pollution to society by £1 billion every year by 2020, rising to £2.5 billion every year from 2030.

To date, domestic policy on transport-related air pollutant emissions has largely focused on roads (particularly in relation to nitrogen dioxide concentration)110. However, average levels of nitrogen dioxide at the roadside are at their lowest level since the government first started to collect these statistics. As emissions from road transport begin to decrease as a result of significant mitigating intervention – as set out in the government's Road to Zero Strategy - the contribution of relatively smaller sources of air pollution including the maritime sector, will increase.

Historically the fuel used for shipping has been less clean than road transport fuels, which have to meet strict quality requirements to protect human health and the environment, as stipulated by the EU111. The introduction of ECAs has helped limit the sulphur content of maritime oil but this is still typically an order of magnitude higher in these fuels than in those used for road vehicles.

Our understanding of the evidence on emissions from shipping and wider port activity is growing rapidly. The latest evidence shows that shipping generates emissions to air of several pollutants harmful to human health: nitrogen oxides (NOx), sulphur dioxide (SO2), particulate matter (PM2.5 & PM10), volatile organic compounds (VOCs) and ammonia (NH3). In 2016, domestic shipping alone (ships that start and end their journey in the UK, including overseas territories and crown dependencies) accounted for 11% of the UK's total domestic NOx emissions, 2% of primary PM2.5 and 7% of SO2112.

But the numbers above do not present the full picture, as they only focus on domestic emissions. It should be recognised that the volume of emissions from international shipping and shipping in transit through UK waters may be much higher than that from domestic shipping.
The most recent study by the IMO estimates that international shipping accounted for 2.2% of global CO2 emissions in 2012 115. This is equivalent to the total emissions of Germany, the world's 4th biggest economy 116. If no further action is taken then a prediction from the IMO suggests CO2 emissions from international shipping could grow by between 50% and 250% by 2050. Given emission reduction projections for other parts of the global economy which show progressive emissions reductions by 2050, a study for the European Parliament suggests that by 2050 international shipping could account for 17% of global CO2 emissions 117.
115 Third IMO GHG Study
116 http://appsso.eurostat.ec.europa.eu/nui/submitViewTableAction.do
117 http://www.europarl.europa.eu/RegData/etudes/STUD/2015/569964/IPOL_STU(2015)569964_EN.pdf
Globally, air pollution from shipping is regulated by the IMO through the International Convention for the Prevention of Pollution from Ships. Annex VI of MARPOL entered into force in 2005, with, among other things, the aim of minimising airborne emissions from ships. As well as overarching European Directives on ambient air quality120, the European Commission has also introduced specific regulations for progressively integrating maritime emissions into the EU's policy for reducing its domestic GHG and pollutant emissions121.
120 Directive 2008/50/EC ambient air quality and cleaner air for Europe
121 https://ec.europa.eu/clima/policies/transport/shipping_en and
https://www.eea.europa.eu/themes/air/national-emission-ceilings/national-emission-ceilings-directive

In April 2018 Member States at the IMO agreed in this strategy a commitment to phasing out GHG emissions from shipping as soon as possible in this century and reducing GHGs by at least 50% by 2050.

Domestic policy relating to emissions of GHGs from the maritime sector is based around the Climate Change Act 2008.

At present ships generally use three types of fuels: heavy fuel oil (HFO), marine diesel oil (MDO) and marine gas oil (MGO).

The UK Clean Maritime Plan, which will be published in 2019, will seek to consider the barriers to market for technological solutions to achieving zero emission shipping and the potential for the UK to capture our share of the economic benefits from this transition.

Maritime Research and Innovation UK (MarRI-UK) MarRI-UK will provide a collaborative innovation vehicle for UK industry and academia to jointly tackle challenges including autonomy and green shipping. The project is led by foundation partners comprising eight companies, four universities, and one trade association, with the aim of improving coordination and resources in maritime research and development. These partners are Babcock, BAE, BMT, Cammell Laird, Lloyd's Register, QinetiQ, Rolls Royce, Shell, Newcastle University, University of Southampton, University of Strathclyde, University College London and the Society of Maritime Industries.

The blue economy is projected to double in size to $3 trillion by 2030. In the UK alone, it is currently estimated to contribute around £47 billion GVA and employ more than 500,000 people.

https://assets.publishing.service.gov.uk/government/uploads/system/uploads/attachment_data/file/706956/foresight-future-of-the-sea-report

WIND ENERGY

Government is funding a prototype through its T-TRIG scheme which will demonstrate the commercial and functional viability of small wind powered autonomous surface vessels (WASV) for cargo transport.

The UK Energy Technologies Institute (ETI) is providing majority funding for the world's first installation of wind-powered technology on a Maersk product tanker vessel. Norsepower rotor sails will be fitted with testing at sea during 2019, with Shell acting as project coordinator.
HYDROGEN
The HyDIME (Hydrogen Diesel Injection in a Marine Environment) project in Orkney will involve the design and integration of a hydrogen diesel dual fuel injection system on board an existing commercial ferry. The ferry operates between Kirkwall and the island of Shapinsay, and will use hydrogen produced from renewable energy by the Orkney-based European Marine Energy Centre (EMEC). The project is led by Ferguson Marine Engineering Ltd and has received funding from Innovate UK131. A 14m hydrogen fuelled catamaran, 'Hydroville', was built in the UK by BWSeaCat for owners CMB Technologies of Antwerp, Belgium using a hydrogen system supplied and installed by Revolve of Essex, UK. It is the first vessel in the world to be passed by a class society (Lloyd's Register, also a UK company) to operate with passengers using hydrogen fuel in propulsion engines132. Cheetah Marine, an Isle of Wight Company, has conducted sea-trials of a hydrogen powered catamaran. Innovate UK have provided part funding for this project133. The HySeas III project is led by Ferguson Marine and project managed by the University of St Andrews, and aims to launch by 2020 the world's first zero-emission, sea-going hydrogen-fuelled car and passenger ferry. The vessel is planned to operate in and around Orkney, and use hydrogen which is currently being produced on the islands from renewable energy134. Bristol Packet operate a small hydrogen ferry, the Hydrogenesis, as a private hire vessel. This vessel was originally commissioned by Bristol City Council in 2010 and built by Bristol Hydrogen Boats, a consortium of ferry operators (including Bristol Packet) and Auriga Energy135
129 https://www.greenport.com/news101/lng/lng-terminal-set-to-reopen-at-teesport
130 https://onthewight.com/southampton-lng-cruise-ships-terminal-next-generation/
131 http://www.emec.org.uk/press-release-funding-secured-for-uks-first-hydrogen-injection-system-on-a-ferry/
132 https://www.iims.org.uk/first-hydrogen-fuelled-passenger-vessel-passd-class-socitey-launched/
133 http://www.cheetahmarine.co.uk/en/deliveries/cheetah-go-hydrogen-powered
134 https://news.st-andrews.ac.uk/archive/ferguson-marine-to-develop-renewables-powered-hydrogen-ferry-hyseas-iii/
135 https://www.bbc.co.uk/news/uk-england-bristol-19870653
ENVIRONMENTAL IMPACTS
The vision for 2050 in this area is:
In 2050, despite increasing use of the oceans and the growth of the blue economy, the impacts of the UK maritime sector on the marine environment are close to zero. Minimisation of impact is embedded into the full ship life-cycle from design and build, to operational impacts such as ballast water and plastic disposal, through to ship recycling at the end of a ship's operational life.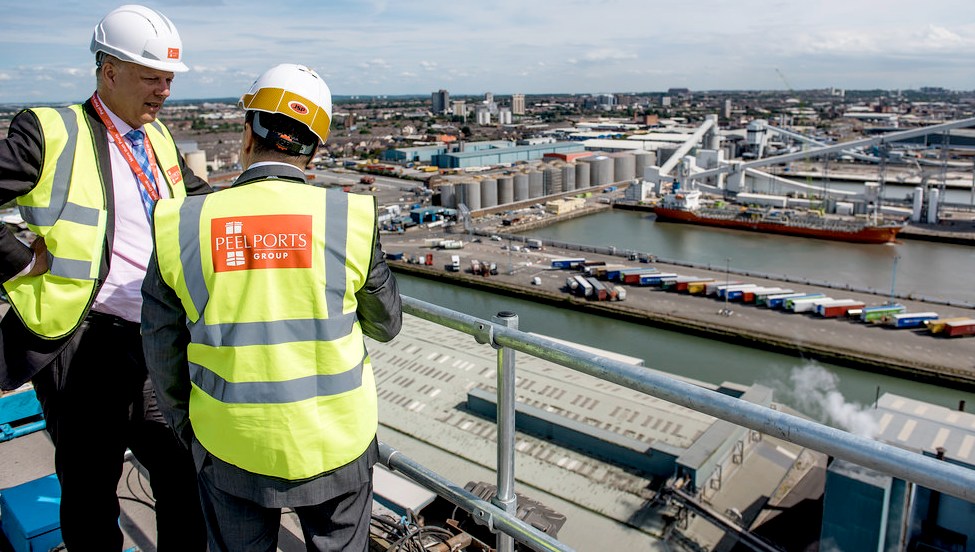 PORTS
There are over 100 active UK commercial ports that vary greatly in terms of size, capabilities, cargoes and ownership models. Those ports facilitate trade by handling around 95% of all goods imported in and exported from the UK (that equated to 384 million tonnes of international freight in 2017), provide passengers' services (22 million international passenger journeys in 2017) and infrastructure for the 1 million boat and water sport craft owners158. These facilities have rendered the UK's maritime sector one of the largest and most dynamic sectors in Europe in terms of infrastructure.
www.britishmarine.co.uk/Services/Growth/Statistics-and-Market-Research/Headline-Statistics-and-Infographics
https://www.gov.uk/government/publications/transport-connectivity-to-ports-review-of-the-current-status-and-future-infrastructure-recommendations
https://www.gov.uk/government/publications/good-governance-guidance-for-ports
FISHING

Fishing provides a vital source of food to UK markets and is supported at the quayside with the requisite infrastructure to deliver the catch of the day to the markets and retailers of the UK. The total weight of fish landed at UK ports in 2017 was 482,500 tonnes with an estimated value of £789m. Although relatively small in terms of the national economy, the fishing sector plays a significant role in local economies, particularly in terms of helping to address the socio-economic difficulties faced by a significant number of our coastal communities. The largest UK fishing port by some margin is Peterhead in Scotland, followed by Lerwick in the Shetland Islands. In England, the largest fishing ports are in the South West, at Newlyn, Brixham and Plymouth.

The Fisheries white paper178 and the subsequent bill179 set out government's plans to promote a more competitive, profitable and sustainable fishing industry across the whole of the country as we leave the EU. Fishing ports will have an important role to play in securing this ambition, including continuing to invest in the infrastructure that supports the fishing sector. In recent years the European Maritime and Fisheries Fund (EMFF) has helped fund a number of such projects and has proved popular in the sector. The current EMFF programme ends in 2020, and the government is working with the sector both on short and long term successor arrangements.

178 https://www.gov.uk/government/consultations/fisheries-white-paper-sustainable-fisheries-for-future-generations
179 https://publications.parliament.uk/pa/bills/cbill/2017-2019/0278/cbill_2017-20190278_en_1.htm
OFFSHORE ENERGY

The government's Clean Growth Strategy (2017) sets out the potential for significant growth in offshore energy capacity in the 2020s and envisages £557m of funding through 'Contracts for Difference' to support this. The first auction to allocate this funding is expected to be in 2019, with further auctions at two-year intervals. This provides a clear vision of the development of offshore wind over the next 15 or so years, with the potential for an additional 1 to 2 gigawatts (GW) of capacity per annum in the 2020s.


SHIP & BOATBUILDING

The UK shipbuilding sector will maintain its capacity and capability to meet the needs of the UK Navy. However, there will be greater focus on developing an export model and there will be continue collaboration between industry and government, more widely, in the delivery the National Shipbuilding Strategy for all future ship procurements.

The UK has a proud ship building history with yards around the isle building vessels such as the Royal Yacht Britannia, which served the Royal family, and the Cutty Sark, which is perhaps the most famous tea clipper to be built and sail from UK shores. These vessels are synonymous with our maritime shipbuilding history and while these achievements should not be forgotten, today's market place is very different.

Ship and boat building are still vital for the UK maritime industry as it has been estimated that the shipbuilding and repair sectors alone contribute around £1.6bn to the UK economy.

180 https://www.maritimeuk.org/value/marine-industry/
181 Boatbuilding is the term used for the construction of smaller vessels from materials such as wood, steel, aluminium, glass fibre or new composite materials.
182 Shipbuilding is the business of building large ocean-going vessels, usually of steel.
183 https://assets.publishing.service.gov.uk/government/uploads/system/uploads/attachment_data/file/643873/NationalShipbuildingStrategy_lowres.pdf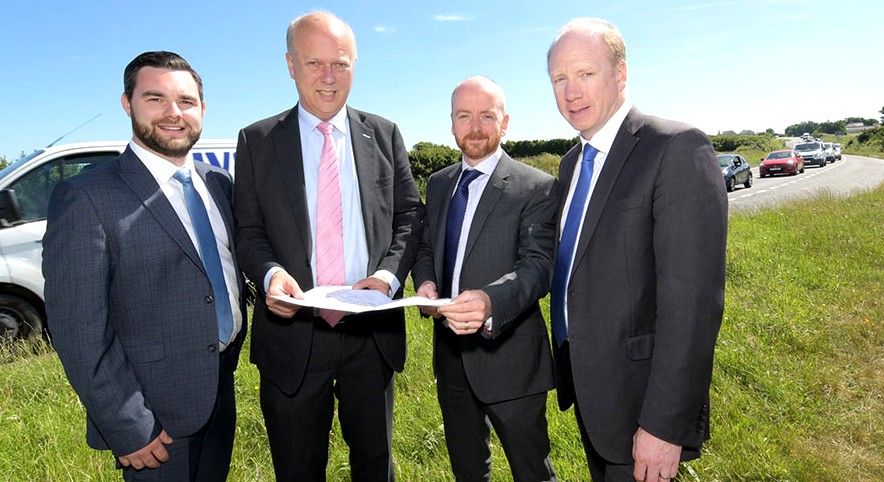 SECURITY

UK vision for maritime security in 2050 To advance and protect the UK's national interests, at home and abroad, through the active management of risks and opportunities in and from the maritime domain, in order to strengthen and extend the UK's prosperity, security, and resilience and to help shape a stable, rules-based, world -National Strategy for Maritime Security, 2014.

Maritime 2050 is fully aligned with the government's 2010 National Security Strategy (NSS)190, the 2014 National Strategy for Maritime Security and the 2015 Strategic Defence and Security Review.

The maritime domain is complex and involves multiple sectors and actors. Therefore, managing security and resilience in this environment requires a whole-of-government approach, incorporating multiple government departments and agencies, including DFT, Home Office, Foreign and Commonwealth Office (FCO), MoD, Department for Environment, Food and Rural Affairs (Defra), Royal Navy, Royal Air Force, Border Force, the Police, National Crime Agency (NCA), MMO, MCA, National Maritime Information Centre (NMIC), Joint Maritime Operations Coordination Centre (JMOCC) and the Intelligence Agencies.

189 https://www.gov.uk/government/publications/national-strategy-for-maritime-security
190 https://assets.publishing.service.gov.uk/government/uploads/system/uploads/attachment_data/file/61936/national-security-strategy.pdf .
191 http://www.ssri-j.com/MediaReport/Document/GlobalStrategicTrendsOutTo2045.pdf
192 https://www.gov.uk/government/publications/national-security-capability-review-nscr

Strategic Energy Chokepoints The Strait of Hormuz is the world's most important chokepoint, with an oil flow of 18.5 million barrels per day (bpd) in 2016. The daily flow of oil through the Strait accounted for 30% of all seaborne-traded crude oil and other liquids. More than 30% of global LNG trade also transited the Strait of Hormuz in 2016. UK imports of Qatari LNG accounted for 93% of LNG imports to the UK in 2016 – LNG made up 31% of all gas imports in 2016. There are limited options to bypass the Strait of Hormuz. Only Saudi Arabia and the United Arab Emirates have pipelines that can ship crude oil outside of the Persian Gulf and have additional pipeline capacity to circumvent the Strait of Hormuz.

At the end of 2016, the total available crude oil pipeline capacity from the two countries combined was estimated at 6.6 million bpd, while the two countries combined had roughly 3.9 million bpd of unused bypass capacity. The Bab el-Mandeb Strait is a chokepoint between the Horn of Africa and the Middle East.

Most exports from the Persian Gulf that transit the Suez Canal and the SUMED Pipeline also pass through Bab el-Mandeb. An estimated 4.8 million bpd of crude oil and refined petroleum products flowed through this waterway in 2016 toward Europe, the United States, and Asia. Closure would require sailing round the Cape of Good Hope, adding time to sailings and reducing capacity in supply.


CYBER SECURITY

In June 2017 the world's largest container shipping business A.P. Moller Maersk was the victim of a cyber-attack caused by the NotPetya ransomware. The malware affected its global network and shut down the shipping company, forcing it to halt operations at 76 port terminals around the world, costing a reported USD 200-300 million. The Maersk attack demonstrated the vulnerabilities of connected systems to cyber-attack. The UK's transport sector aims to remain safe, secure and resilient in the face of cyber threats, and able to thrive in an increasingly interconnected, digital world. This will be achieved by:
* Understanding the cyber threat and the vulnerabilities for the transport sector.
* Mitigating cyber risks and taking appropriate action to protect key assets.
* Responding to cyber incidents effectively and ensuring that lessons are learnt.
* Promoting cultural change, raising awareness and building cyber capability.
DfT has set-up a dedicated Cyber Security Team which has a remit to consider the cyber security aspects within the UK transport industry. DfT also works closely with the National Cyber Security Centre (NCSC) on cyber security for key assets within the UK. The NCSC is able to provide technical guidance and advice to ports on cyber security. While the onus is for industry to ensure their systems are suitably protected against a cyber-attack and that a robust risk assessment is undertaken, government will play a supporting role in the provision of advice and guidance.
THE CALL FOR EVIDENCE: MARITIME 2050
The call for evidence, which closes on 16 May 2018, highlights a number of themes fundamental to the growth of UK maritime:
* technology
* trade
* infrastructure
* environment
* people
* security/resilience.

As part of the strategy, a series of objectives will be set so that progress against each of these themes can be scrutinised.

The expert panel announced today will be chaired by Hugh McNeal, Chief Executive of RenewableUK, and will also made up of academic and industry leaders, including Lucy Armstrong, Chairman of the Port of Tyne, Sarah Kenny, Chief Executive of the BMT Group.

Alongside the views of the expert panel, the Department for Transport is also encouraging partners across the UK maritime sector to come forward with innovative and ambitious ideas to secure our maritime future.

Hugh McNeal, Maritime 2050 expert panel chairman, said:

I am honoured to be appointed by the Secretary of State to chair the Maritime 2050 Expert Panel, which will offer advice and look strategically at issues of critical importance to the maritime industry to 2050.

The proposed long-term Maritime 2050 strategy is a recognition of the vital importance of the industry to the UK economy. Shaping the future of the sector is not only important for the maritime industry, but also for every UK business that uses maritime services.

This is a unique opportunity to have a say in the direction of the UK maritime sector and I encourage the industry, its partners and academics with a stake in the future of UK maritime to respond to the call for evidence.

The announcement comes a week before the UK will lead the push for the International Maritime Organization to adopt an ambitious strategy to reduce greenhouse emissions from shipping. This includes calling for zero-emission shipping across the global maritime sector to be achieved as quickly as possible.

The government has also helped set up the Women in Maritime Taskforce, run by Maritime UK, which looks to increase the number of women employed in the sector. The current share of women is around 3% but more diversity in the workforce will also help the industry flourish.
THE EXPERT PANEL MEMBERS:

* Chairman - Hugh McNeal, Chief Executive of RenewableUK
* Dr Panagiotis Angeloudis, Senior Lecturer in Transport Systems and Logistics, Imperial College London
* Lucy Armstrong, Chairman, Port of Tyne
* Tom Boardley, Executive Vice President and Global Head of Corporate and External Affairs, Lloyd's Register
* David Dingle CBE, Chairman, Maritime UK
* Professor Costas Grammenos CBE, DSc, Chairman, Costas Grammenos Centre Shipping, Trade & Finance, Cass Business School, City, Uni London
* Dr Grahaeme Henderson, Vice President, Shipping & Maritime, Shell International Trading and Shipping Company Limited
* Sarah Kenny, Chief Executive, BMT Group
* Professor David Lane CBE, School of Engineering and Physical Sciences, Heriot Watt University
* Dr David Loosley, Chief Executive, IMarEST (Institute of Marine Engineering, Science and Technology)
* Michael Parker, Global Head for Shipping, Logistics and Offshore Industries, Citigroup
* Neil Roberts, Lloyds Market Association (LMA)
* Martin Stopford, President, Clarkson Research

Aviation and maritime media enquiries

Media enquiries 020 7944 3021

Out of hours media enquiries 020 7944 4292

Switchboard 0300 330 3000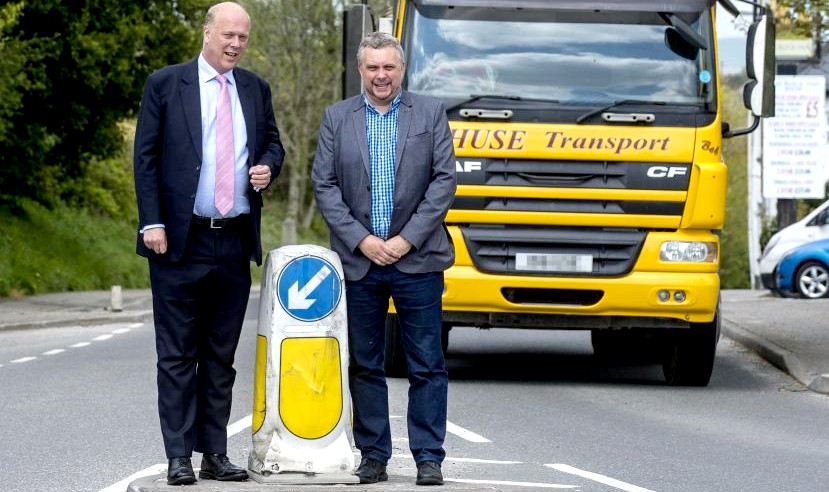 LIST OF RESPONDENTS
The following organisations responded to the Maritime 2050 call for evidence and contributed to development of the strategy.

ABB Group
Apostleship of the Sea
Arup
Associated British Ports
ASV Global
BAE Systems Maritime
BEIS
Belfast Harbour Commissioners
Belfast Shipping Agents Association
Blackpool and The Fylde College
BMT Group
British Ports Association
British Marine
British Maritime Aid Group
British Maritime Law Association
British Standards Institution
Brodies LLP
Brookfield Asset Management
Carisbrooke Shipping
Carnival UK
Chevron Shipping
Citigroup
City of Glasgow College
City of Glasgow University
Civil Contingencies Secretariat
Clarksons Research
Clean Air Southampton
CMS Cameron McKenna Nabarro
Marine Enterprise Working Group
Marine Society & Sea Cadets
Maritime and Coastguard Agency
Maritime London
Maritime Skills Alliance
Maritime UK
Maritime Volunteer Service
MDS Transmodal
Menter Mon
Merchant Navy Training Board
Mersey Maritime
Merseytravel
Midlands Connect
Milford Haven Port Authority
Ministry of Defence
Ministry of Housing, Communities and Local Government
MJM Group
MOR Group
National Infrastructure Commission
National Maritime
National Maritime Information Centre
National Police Coordination Centre
Nautilus International
Network Rail
Newlyn Pier and Harbour Commissioners
Nissan Technical Centre Europe
Office of the Secretary of State for Scotland
Coltraco Ultrasonics
Commissioners of Irish Lights
Cornwall and Isles of Scilly LEP
Cornwall Council
Coventry University
Cummins (EUROMOT)
Department for Digital, Culture, Media and Sport
Defence Academy of the United Kingdom
Department for Environment, Food and Rural Affairs
Denholm Shipping
Department for Exiting the European Union
Department for Infrastructure, Northern Ireland Executive
DFDS
Department for International Trade
Dorset Police
Dover Harbour Board
DP World
Drax
Drone Major Group
Ecospeed Marine Ltd
Environmental Defence Fund
EU NAVFOR
FCO
Fisher Associates
Freight Transport Association
Geollect
H2Oceanjet Ltd
Hadley Shipping Group Ltd
Oil Companies International Marine Forum
Optimat
P&O Ferries
Peel Ports
Port of London Authority
Port of Tyne
Port Skills and Safety
Ports of Auckland
Portsmouth City Council
Portsmouth International Port
Portsmouth University
Rail Freight Group
Ricardo Energy & Environment
RightShip
RMT
Road Haulage Association
Rolls-Royce
Royal Institute of Navigation
Royal National Lifeboat Institution
Royal Navy
Royal United Services Institute
Seafarers International Research Centre
Seafarers UK
Security in Complex Environments Group
Shell International
Shipping in Changing Climates Consortium
Society of Maritime Industries
Solent LEP
Solent University
South Coast Marine Cluster
South Shields Marine School
Spinnaker Global
Strathmay Maritime
Hapag-Lloyd
Haven Waterway Enterprise Zone
Heriot Watt University
Highways England
HM Treasury
Holman Fenwick Willan
Home Office
Honda Motor Europe
Hutchinson Ports UK
Imperial College London
Inchcape Shipping Services Ltd
Industrial Strategy Challenge Fund
Innogy Renewables UK
Institute of Chartered Shipbrokers
Institution of Mechanical Engineers
Intelligent Transport Systems ITS (UK)
International Dry Bulk Terminals Group
International Marine Contractors Association
ITM Power
Jaguar Land Rover
Law Society of Scotland
Liverpool John Moores University
Lloyd's Market Association
Lloyd's Register
London Maritime Arbitrators Association
Marine Design
Swansea University
Tata Steel
Team Humber Marine Alliance
Thames Clippers
The Bristol Port Company
The Corporation of Trinity House
The Institute of Marine Engineering, Science and Technology
The London Nautical School
The Nautical Institute
The Northern Lighthouse Board
The Schumacher Institute
Transport for the North
Transport Scotland
Transport Systems Catapult
Tymor Marine Ltd
UK Chamber of Shipping
UK Major Ports Group
University of Hull
University of Southampton
University of Strathclyde
Visit Wales
VolkerStevin
Watson, Farley and Williams
Wight Shipyard
WSP Group


GLOSSARY - ANNEX 6

A

Apprenticeship: a means by which a person can learn a trade while working alongside experienced practitioners.
Arctic trade route: in the context of this strategy this refers mainly to the Northeast Passage, a shipping route to the Pacific Ocean, along the Arctic Ocean coasts of Norway and Russia. The Northeast Passage is one of several Arctic maritime routes, the others being the Northwest Passage (going along the coasts of Canada and Alaska) and the Transpolar Route (going through the North Pole). It is seen as increasingly viable as a seasonal trade route due to the reduction in the Arctic ice shelf and includes the Northern Sea Route along the Russian coast, itself recently traversed by a specially designed container ship.

Autonomous Surface Vehicle (ASV): ASVs are robotic vehicles that sit on the sea surface recording oceanographic data across a range of variables. Different types of ASVs use various methods of propulsion, principally wave-powered or propeller driven.

B

Ballast Water Management Convention: under the convention, all ships in international traffic are required to manage their ballast water and sediments to a certain standard, according to a ship-specific ballast water management plan. All ships have to carry a ballast water record book and an international ballast water management certificate. The convention entered into force in September 2017.

Basel Convention on the Trans-boundary Movements of Hazardous Waste and their Disposal: an international treaty that was designed to reduce the movements of hazardous waste between nations, and specifically to prevent transfer of hazardous waste from developed to less developed countries. It does not, however, address the movement of radioactive waste.

Biodiversity Beyond National Jurisdictions (BBNJ): refers to a working group whose aim is to facilitate the provision of scientific and technical information to the United Nations process to develop a new international legally binding instrument for the conservation and sustainable use of marine biological diversity of areas beyond national jurisdiction.

Blockchain: a system in which a record of transactions made in bitcoin or another cryptocurrency are maintained across several computers that are linked in a peer-to-peer network.

Blue economy: according to the World Bank the blue economy is the "sustainable use of ocean resources for economic growth, improved livelihoods and jobs, while preserving the health of ocean ecosystem." This includes but is not limited to: maritime transport, tourism, renewable energy, climate change, fisheries and waste management.

Business services: a term usually used to describe those services that enable businesses to function such as finance, insurance and law. In the context of this study the term is used to describe those services as they relate to the maritime sector only.

C

Catapult programme: Catapult centres are organisations set up from 2011 onwards by Innovate UK, to promote UK research and development through business-led collaboration between scientists and engineers to exploit market opportunities. They receive public grants but are also expected to seek commercial funding. The Transport Systems Catapult is the UK's innovation centre for intelligent mobility.

Certificate of competency: a certificate issued by a flag administration confirming that the holder has attained the level of competence required by national and international legislation for service in a certificated capacity on board a merchant or fishing vessel.

Classification societies: are independent organisations staffed by marine surveyors, which develop and monitor standards for the design, construction and maintenance of ships for the assistance of ship owners and underwriters.

Clean Air Strategy (CAP): the CAP is a government initiative that aims to tackle all sources of air pollution, making our air healthier to breathe, protecting nature and boosting the economy.

Cluster: a cluster is a geographical area (usually an urban development) that has attracted a number of businesses and other organisations with related interests to locate within close proximity of one another.

Coastal shipping: a term referring to vessels operating between two or more points of the same country.

Committee on Climate Change (CCC): an independent, statutory body established under the Climate Change Act 2008. Its purpose is to advise the UK government and devolved administrations on emissions targets and report to Parliament on progress made in reducing greenhouse gas emissions and preparing for climate change.

Crown Dependencies: the Crown Dependencies are the Bailiwick of Jersey, the Bailiwick of Guernsey (which includes the jurisdictions of Guernsey, Alderney and Sark) and the Isle of Man. They are not part of the UK but are self-governing dependencies of the Crown. This means they have their own
directly elected legislative assemblies, administrative, fiscal and legal systems and courts of law. They are not represented in the UK parliament.

D

Deadweight (dwt): a measurement of the size of a ship based on the weight of cargo, stores, fuel, passengers and crew carried by the ship when loaded to her maximum summer loadline.

Deep sea shipping: a term referring to the maritime transport of goods on intercontinental routes which cross oceans.
Development consent order: the means of obtaining permission for developments categorised as Nationally Significant Infrastructure Projects. This includes energy, transport, water and waste projects.

Distributed ledger technology: an information sharing system of which 'blockchain' is an example. It allows greater access to information for those subscribing e.g. it makes tracking of consignments much easier and can be applied to any kind of asset.
Drone: in technological terms a drone is an unmanned aircraft. Drones are more formally known as unmanned aerial vehicles (UAVs). Essentially, a drone is a flying robot that can be remotely controlled or fly autonomously through software-controlled flight plans in their embedded systems, working in conjunction with on board sensors and GPS.
E

Emissions control area (ECA): Sea areas where stricter controls were established to minimize airborne emissions from ships (usually sulphur based) as defined by Annex VI of the 1997 MARPOL Protocol. They are often but not exclusively, established around coastlines.

Environmental Shipping Index (ESI): the Environmental Ship Index identifies seagoing ships that perform better in reducing air emissions than required by the current standards of the IMO. It evaluates the amount of nitrogen oxide and sulphur oxide that is emitted by a ship and includes a reporting scheme on its greenhouse gas emission.

European Maritime and Fisheries Fund (EMFF): fund designed to support maritime and fisheries activity and help deliver the objectives of the Common Fisheries Policy. Support is available for projects that deliver on sustainable economic growth in the sea fisheries and aquaculture sectors.

Exclusive economic zone (EEZ): an area of coastal water and seabed within a certain distance of a country's coastline, to which the country claims exclusive rights for fishing, drilling, and other economic activities.

Exhaust gas cleaning systems: a diverse group of air pollution control devices that can be used to remove some particulates and/or gases from industrial exhaust streams. More commonly known as 'scrubbers'.

F

Flag state: a term used to describe the country in which a particular ship is registered.

Free trade agreement (FTA): a treaty between two or more countries to establish a free trade area where commerce in goods and services can be conducted across their common borders, without tariffs or hindrances but (in contrast to a common market) capital or labour may not move freely.

G

General Lighthouse Authority (GLA): There are three General Lighthouse Authorities:

* Trinity House: England, Wales, the Channel Islands and Gibraltar;
* Northern Lighthouse Board: Scotland and the Isle of Man; and
* Commissioners of Irish Lights: the island of Ireland.

They are non-departmental public bodies of the Department for Transport with statutory responsibility for the operation and maintenance of marine aids to navigation (lighthouses and buoys) as well as responding to dangers to navigation (such as wrecks) in the waters around the United Kingdom and Ireland.

Greenhouse gas (GHG): a gas that absorbs and emits radiant energy within the thermal infrared range. In the context of this report used mostly in relation to IMO emission reduction objectives.

Gross value added (GVA): gross value added is a measure of the value of goods and services. It is the value of the goods and services produced less the value of the intermediate goods and services used as inputs to produce it. In other words, it measures the value that a sector adds to its products. It is used here to demonstrate the value that the Maritime sector brings to the UK economy.

H

Habitats Directive: a European Commission initiative, the Habitats Directive ensures the conservation of a wide range of rare, threatened or endemic animal and plant species. Some 200 rare and characteristic habitat types are also targeted for conservation in their own right.

Heavy fuel oil (HFO): describes fuels that have a particularly high viscosity and density. In the MARPOL Marine Convention of 1973, heavy fuel oil is defined either by a density of greater than 900 kg/m³ at 15°C or a kinematic viscosity of more than 180 mm²/s at 50°C. Heavy fuel oils have large percentages of heavy molecules such as long-chain hydrocarbons and aromatics with long-branched side chains. They are black in colour and mainly used as marine fuel.

Hybrid vessel: a vessel that can be propelled by diesel engine using conventional fuel but which also can use an electric motor powered by battery.

Hyperloop: a proposed mode of passenger and/or freight transportation that involves travel through tunnels at great speed powered by air cushions in a manner similar to that used on an air hockey table.

I

Innovate UK: Innovate UK is part of UK Research and Innovation, a non-departmental public body funded by a grant-in-aid from the UK government.

Inshore and Inland Rescue Boat Grant Fund: a fund administered by the Department for Transport to support the work of charities that operate lifeboats and other rescue boats in UK inshore and inland waters.

International Convention for the Prevention of Pollution from Ships (MARPOL): is the main international convention covering prevention of pollution of the marine environment by ships from operational or accidental causes. The MARPOL Convention was adopted on 2 November 1973 at IMO. The Protocol of 1978 was adopted in response to a spate of tanker accidents in 1976-1977. As the 1973 MARPOL Convention had not yet entered into force, the 1978 MARPOL Protocol absorbed the parent Convention. The combined instrument entered into force on 2 October 1983. In 1997, a Protocol was adopted to amend the Convention and a new Annex VI was added which entered into force on 19 May 2005. MARPOL has been updated by amendments through the years.
International Labour Organization (ILO): a United Nations agency that sets international labour standards and promotes social protection and work opportunities for all.

International Maritime Organization (IMO): the United Nations agency with responsibility for the safety and security of shipping and the prevention of marine and atmospheric pollution by ships.

International Ship and Port Facility Security (ISPS): a code including comprehensive set of measures to enhance the security of ships and port facilities, developed in response to the perceived threats to ships and port facilities in the wake of 9/11.
Internet of Things (IoT): the interconnection via the Internet of computing devices embedded in everyday objects, enabling them to send and receive data.

Illegal, unreported and unregulated fishing (IUU): This is an international issue around the world. Industry observers believe IUU occurs in most fisheries and accounts for up to 30% of total catches in some important fisheries.

J

Just in time manufacturing (JIT): also known as just-in-time production or the Toyota Production System, is a methodology aimed primarily at reducing flow times within production system as well as response times from suppliers and to customers.

L

Liquified natural gas (LNG): LNG is normally warmed to make natural gas to be used in heating and cooking as well as electricity generation and other industrial uses. LNG can also be kept as a liquid to be used as an alternative transportation fuel. It is a composition of methane and some mixture of ethane used to convert natural gas to liquid form for ease and safety of storage transport. In its liquid state, natural gas takes up 1/600th of the space, making it much easier to ship and store when pipeline transport is not feasible.

M

Marine Accident and Investigation Branch (MAIB): an independent unit within the Department for Transport which investigates marine accidents involving UK vessels worldwide and all vessels in UK territorial waters. Its primary aim is to determine the cause of accidents and make recommendations to prevent reoccurrence and improve safety at sea. It also increases awareness of how marine accidents happen and improves national and international co-operation in marine accident investigation.

Marine Conservation Zones (MCZs): areas that protect a range of nationally important, rare or threatened habitats and species. There are 50 MCZs in waters around England.

Marine diesel oil (MDO): generally describes marine fuels that are composed of various blends of distillates (also called marine gasoil) and heavy fuel oil. Unlike diesel fuels on land that are used for cars and trucks, marine diesel oil is not a pure distillate.
Maritime Domain Awareness (MDA): defined by the International Maritime Organization as the effective understanding of anything associated with the maritime domain that could impact the security, safety, economy, or environment.

Marine gas oil (MGO): describes marine fuels that consist exclusively of distillates, usually a blend. Marine gasoil is similar to diesel fuel, but has ahigher density. Unlike heavy fuel oil, marine gas oil does not have to be heated during storage.

Maritime London: a not for profit promotional body for UK-based companies that provide professional services to the international shipping industry.

Marine pilot: a maritime pilot, marine pilot or harbor pilot, manoeuvers ships through dangerous or congested waters, such as harbors or river mouths. They are navigational experts possessing knowledge of the particular waterway such as its depth, currents, and hazards.

Marine Protected Areas (MPAs): are protected areas of seas, oceans, estuaries or large lakes. These marine areas can come in many forms ranging from wildlife refuges to research facilities. MPAs restrict human activity for a conservation purpose, typically to protect natural or cultural resources.

Maritime Research and Innovation UK (MaRI-UK): an industry-led initiative currently involving more than eight companies, one trade association, and four universities to address the lack of coordination and resource in the maritime research and development.

Maritime UK: a representative body that brings together the UK's shipping, ports, services, engineering and leisure marine industries to drive growth by promoting the sector, influencing government and fostering collaboration.

Master: The person having command of a merchant ship.

Merchant Navy: a country's commercial shipping as opposed to that which engages in military activity.

Merchant Navy Training Board (MNTB): the MNTB is the shipping industry's central body for promoting and developing sector specific education, training and skills. It is a voluntary body and a part of the UK Chamber of Shipping, the trade association for the UK shipping industry.

Modern day slavery: refers to institutional slavery that continues to exist in present day society. Estimates of the number of slaves today range from around 21 million to 70 million, depending on method used to estimate and the definition of slavery being used.

N

National Maritime Information Centre (NMIC): coordinates information concerning UK and international waters from across government and all agencies concerned with security and crime as well as international partners.

National Maritime Single Window (NMSW): enables the mandatory pre-arrival data provided by ships (including crew, passenger and cargo manifests) to be submitted to the relevant UK authorities in order to comply with the requirements of the wider EMSA directive. The aim of the NMSW is to reduce costs and burdens on industry by simplifying and streamlining the submission of this data through a single electronic portal.
Near shoring: the process of relocating manufacturing capability closer to the domestic market.

North Atlantic Treaty Organization (NATO): NATO is an alliance of 28 countries bordering the North Atlantic Ocean. It includes Canada, the United States, Turkey, and most members of the European Union.

O

Officer: members of crew, other than the Master, holding a certificate of competency including both deck and engineering officers.

Organisation for Economic Co=operation and Development (OECD): the OECD is an intergovernmental economic organisation with 36 member countries, founded in 1961 to stimulate economic progress and world trade.

P

Paris Agreement: an agreement within the United Nations Framework Convention on Climate Change, dealing with greenhouse gas emissions mitigation, adaptation, and finance, starting in the year 2020.

Platooning: platooning involves a number of vehicles equipped with state-of-the-art driving or piloting support systems each closely following the one on front. This forms a platoon with the vehicles driven by smart technology and mutually communicating. The potential benefits include greater energy efficiency and a need for less space between vehicles.
Polar Code: the code is an international regime adopted by the IMO in 2014. It sets out regulations for shipping in the polar regions, principally relating to Ice navigation and ship design.

Port Marine Safety Code: the code sets out a national standard for every aspect of port marine safety. Its aim is to enhance safety for everyone who uses or works in the UK port marine environment.

Port State Control (PSC): the inspection of foreign ships in other national ports by PSC officers (inspectors) for the purpose of verifying that the competency of the master and officers on board and the condition of its equipment comply with the requirements of international conventions.

Protection and Indemnity Insurance (P&I): a form of mutual maritime insurance provided by a P&I Club. Whereas a marine insurance company provides "hull and machinery" cover for ship owners, and cargo cover for cargo owners, a P&I Club provides cover for open-ended risks e.g. a carrier's third-party risks for damage caused to cargo during carriage; war risks; and risks of environmental damage such as oil spills and pollution. A P&I Club is a mutual insurance association providing risk pooling, information and representation for its members. Unlike a marine insurance company, which reports to its shareholders, a P&I club reports only to its members.

R

RADAR: Radar is a detection system that uses radio waves to determine the range, angle, or velocity of objects. It can be used to detect aircraft, ships, spacecraft, guided missiles, motor vehicles, weather formations, and terrain.

Rating: non-officer crew members including deck, engineering and catering crew.

Red Ensign Group: a group comprised of the UK shipping register together with those of the UK Overseas Territories and the Crown Dependencies. As the contracting government, the UK represents these at the IMO and the UK Secretary of State for Transport has ultimate responsibility for ensuring that they comply with required international conventions.

Renewable Transport Fuel Obligation (RTFO):

Re-shoring: The process of bringing manufacturing back to a domestic market from a (usually distant) overseas location.

Royal National Lifeboat Institution (RNLI): the RNLI is the largest charity that saves lives at sea around the coasts of the United Kingdom, the Republic of Ireland, the Channel Islands and the Isle of Man, as well as on some inland waterways. Founded in 1824 as the National Institution for the Preservation of Life from Shipwreck, the RNLI was granted a Royal Charter in 1860. The RNLI is principally funded by legacies and donations, and most of the members of its lifeboat crews are unpaid volunteers.
Royal Navy: part of the armed services within the Ministry of Defence that aims to provide security at sea by being prepared to engage in military activity if required in support of UK defence objectives.

S

Sea Cadets: an organisation established in 1856 by local communities wanting to provide young people with instruction and training on a naval theme. Traditionally the instruction was provided by experienced seafarers with local businesses funding the unit building. The principle purpose of the Sea Cadets remains the same today.

Seafarer: a person who navigates waterborne vessels or assists as a crewmember in their operation and maintenance.
Shipbroking: a financial service, which forms part of the global shipping industry. Shipbrokers are specialist intermediaries/negotiators between ship owners and charterers who use ships to transport cargo, or between buyers and sellers of vessels.

Ship register: a record of all merchant ships that sail under the flag of a particular country. International law requires that every ship be registered in a recognised country. This country is then referred to as the ship's 'flag state'. A ship's flag state exercises regulatory control over the vessel. It is responsible for inspecting the ship regularly and issuing documentation and certification in respect of the ship's safety, its crew and equipment and its adherence to existing pollution prevention legislation.

Short-sea shipping: a term applied for the purpose of this strategy to vessels operating between the United Kingdom and the Continent or the Republic of Ireland.

Small and medium enterprise (SME): the usual definition of small and medium sized enterprises is any business with fewer than 250 employees. This accounts for about 99% of all businesses within the UK.

Special Protection Area (SPA): a designation under the European Union Directive on the Conservation of Wild Birds. Under the Directive, Member States of the European Union (EU) have a duty to safeguard the habitats of migratory birds and certain particularly threatened birds.

Square Mile: a colloquial term for the City of London which is a historic financial district and home to both the Stock Exchange and the Bank of England. It covers an area of 1.12 square miles.

STEM subjects: In education parlance a short form of describing Science, Technology, Engineering and Mathematics and associated subjects.

Support for Maritime Training (SMarT): the government financial support scheme for Merchant Navy training to facilitate an adequate supply of UK maritime expertise to meet the UK's economic and strategic requirements.

T

3D printing: 3D (three dimensional) printing is any of various processes in which material is joined or solidified under computer control to create a three-dimensional object, with material being added together (such as liquid molecules or powder grains being fused together). 3D printing is used in both rapid prototyping and additive manufacturing.

Tonnage tax: an alternative means of calculating corporation tax (or its local equivalent) offered by many countries as an incentive to ship owners. It is based on the size and number of ships they operate instead of on the profits and gains set out in the company's accounts. Its exact implementation is dependent upon the taxation policies of the particular country concerned.

U

UK Overseas Territories: a term referring to the territories under the jurisdiction and sovereignty of the United Kingdom. They do not however form part of it. There are 14 British overseas territories: British Indian Ocean Territory, Gibraltar, Bermuda, the Falkland Islands, South Georgia and the South Sandwich Islands, British Antarctic Territory, St Helena and its dependencies (Ascension and Tristan da Cunha), Montserrat, the British Virgin Islands, the Cayman Islands, Turks and Caicos Islands, Anguilla, the Pitcairn Group of Islands, and the Sovereign Base Areas on Cyprus.

United Kingdom Ship Register (UKSR): the ship register that holds the records of all merchant ships sailing under the UK flag. It is currently administered by the Maritime and Coastguard Agency.

W

Women in Maritime Charter: The charter creates a framework to challenge companies to make progress on diversity, and will be supported by a suite of 'toolkits' or resources to help companies realise those targets. It was launched by the Women in Maritime Taskforce in September 2018.

Women in Maritime Pledge: the forerunner to the launch of the Women in Maritime Charter. Signatories to the pledge were invited to make clear their support for creating positive change within their respective organisations, and collectively, across the UK maritime sector.

Women in Maritime Taskforce: established by Maritime UK, the taskforce brings together leaders from across the maritime sector to identify practical steps to increase the number of women in maritime, and crucially within senior roles across its shipping, ports, marine and business services industries.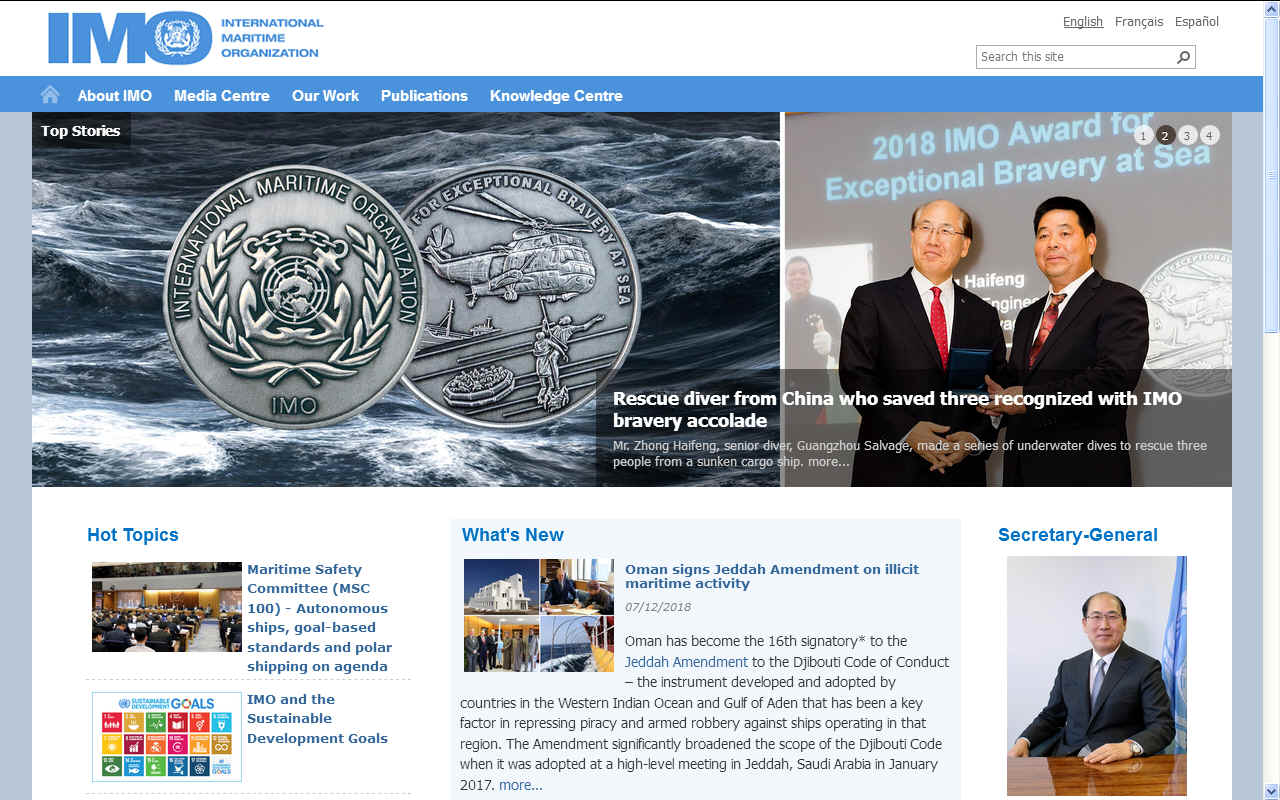 CONTACTS
International Maritime Organization
4, Albert Embankment
London
SE1 7SR
United Kingdom

Tel +44 (0)20 7735 7611
Fax +44 (0)20 7587 3210
Email: info@imo.org
INTERNATIONAL ORGANIZATIONS 2018
| | | |
| --- | --- | --- |
| WORLD BANK | FINANCIAL STABILITY BOARD | INT MONETARY FUND |
| UNITED NATIONS | FOOD & AGRICULTURE ORG | INT LABOUR ORG |
| WORLD TRADE ORG | ORG ECONOMIC COOPERATION & DEV | WORLD HEALTH ORG |
| WORLD FOOD PROGRAMME | INT RENEWABLE ENERGY AGENCY | INT MARITIME ORGANIZATION |
| WORLD ECONOMIC FORUM | UNESCO | UN HUMAN RIGHT COUNCIL |
https://www.gov.uk/government/news/government-seeks-views-to-help-maritime-flourish