ABOUT - CLIMATE - NATIONS - OCEAN PLASTIC - WHALING
PLEASE USE OUR A-Z INDEX TO NAVIGATE THIS SITE WHERE PAGE LINKS MAY LEAD TO EXTERNAL SITES, or: HOME
Anchovies | Bass | Bream | Catfish | Clams | Cod Coley | Crabs | Crayfish | Eels | Grouper | Haddock | Hake | Halibut | Herring | Jellyfish
Krill | Lobster | Mackerel | Marlin | Monkfish | Mullet | Mussels | Oysters | Perch | Piranha | Plaice | Pollock | Prawns | Rays | Sablefish | Salmon
Sardines | Scallops | Sharks | Shrimp | Skate | Sole | Sprat | Squid | Sturgeon | Swordfish | Trout | Tuna | Turbot | Whiting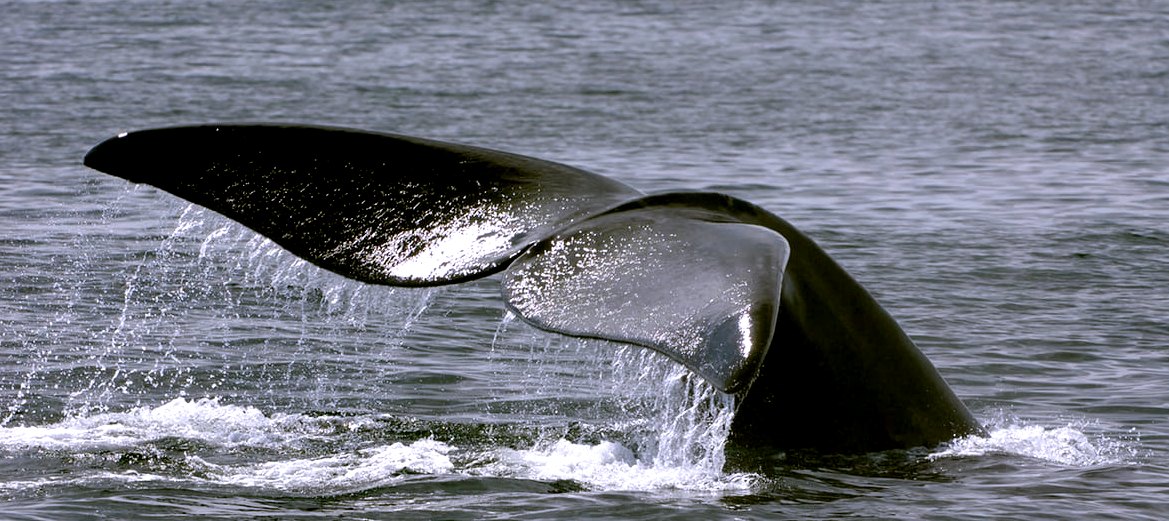 FLUKES - Grace and beauty, these giant fins propel the whale at considerable speed over thousands of miles from feeding to breeding grounds.
There is nothing quite like watching a whale's tail as it ducks down under the water, except a humpback broaching. These amazing creatures have evolved into the largest species on earth, adapting to filter feeding to take advantage of the food chain at an earlier stage, whereas sharks feed on fish several stages on, rather less efficiently. Sperm and killer whales are an exception, having teeth to hunt other animals. Whales are known to teach, learn, cooperate, scheme and grieve. It seems incredible that humans almost hunted these magnificent animals to extinction in the quest for oil and whale meat. Even today, so-called Japanese researchers hunt whales in specially adapted ships, where it is suspected that whale meat is reaching the market from this source, despite whaling being illegal.
Whales are a widely distributed and diverse group of fully aquatic placental marine mammals. They are an informal grouping within the infraorder Cetacea, usually excluding dolphins and porpoises. Whales, dolphins and porpoises belong to the order Cetartiodactyla with even-toed ungulates and their closest living relatives are the hippopotamuses, having diverged about 40 million years ago. The two parvorders of whales, baleen whales (Mysticeti) and toothed whales (Odontoceti), are thought to have split apart around 34 million years ago. The whales comprise eight extant families: Balaenopteridae (the rorquals), Balaenidae (right whales), Cetotheriidae (the pygmy right whale), Eschrichtiidae (the grey whale), Monodontidae (belugas and narwhals), Physeteridae (the sperm whale), Kogiidae (the dwarf and pygmy sperm whale), and Ziphiidae (the beaked whales).

Whales are creatures of the open ocean; they feed, mate, give birth, suckle and raise their young at sea. So extreme is their adaptation to life underwater that they are unable to survive on land. Whales range in size from the 2.6 metres (8.5 ft) and 135 kilograms (298 lb) dwarf sperm whale to the 29.9 metres (98 ft) and 190 metric tons (210 short tons) blue whale, which is the largest creature that has ever lived. The sperm whale is the largest toothed predator on earth. Several species exhibit sexual dimorphism, in that the females are larger than males. Baleen whales have no teeth; instead they have plates of baleen, a fringe-like structure used to expel water while retaining the krill and plankton which they feed on. They use their throat pleats to expand the mouth to take in huge gulps of water. Balaenids have heads that can make up 40% of their body mass to take in water. Toothed whales, on the other hand, have conical teeth adapted to catching fish or squid. Baleen whales have a well developed sense of "smell", whereas toothed whales have well-developed hearing − their hearing, that is adapted for both air and water, is so well developed that some can survive even if they are blind. Some species, such as sperm whales, are well adapted for diving to great depths to catch squid and other favoured prey.

Whales have evolved from land-living mammals. As such whales must breathe air regularly, although they can remain submerged under water for long periods of time. Some species such as the sperm whale are able to stay submerged for as much as 90 minutes. They have blowholes (modified nostrils) located on top of their heads, through which air is taken in and expelled. They are warm-blooded, and have a layer of fat, or blubber, under the skin. With streamlined fusiform bodies and two limbs that are modified into flippers, whales can travel at up to 20 knots, though they are not as flexible or agile as seals. Whales produce a great variety of vocalizations, notably the extended songs of the humpback whale. Although whales are widespread, most species prefer the colder waters of the Northern and Southern Hemispheres, and migrate to the equator to give birth. Species such as humpbacks and blue whales are capable of traveling thousands of miles without feeding. Males typically mate with multiple females every year, but females only mate every two to three years. Calves are typically born in the spring and summer months and females bear all the responsibility for raising them. Mothers of some species fast and nurse their young for one to two years.

Once relentlessly hunted, whales are now protected by international law. The North Atlantic right whales nearly became extinct in the twentieth century, with a population low of 450, and the North Pacific grey whale population is ranked Critically Endangered by the IUCN. Besides whaling, they also face threats from bycatch and marine pollution. The meat, blubber and baleen of whales have traditionally been used by indigenous peoples of the Arctic. Whales have been depicted in various cultures worldwide, notably by the Inuit and the coastal peoples of Vietnam and Ghana, who sometimes hold whale funerals. Whales occasionally feature in literature and film, as in the great white whale of Herman Melville's Moby Dick. Small whales, such as belugas, are sometimes kept in captivity and trained to perform tricks, but breeding success has been poor and the animals often die within a few months of capture. Whale watching has become a form of tourism around the world.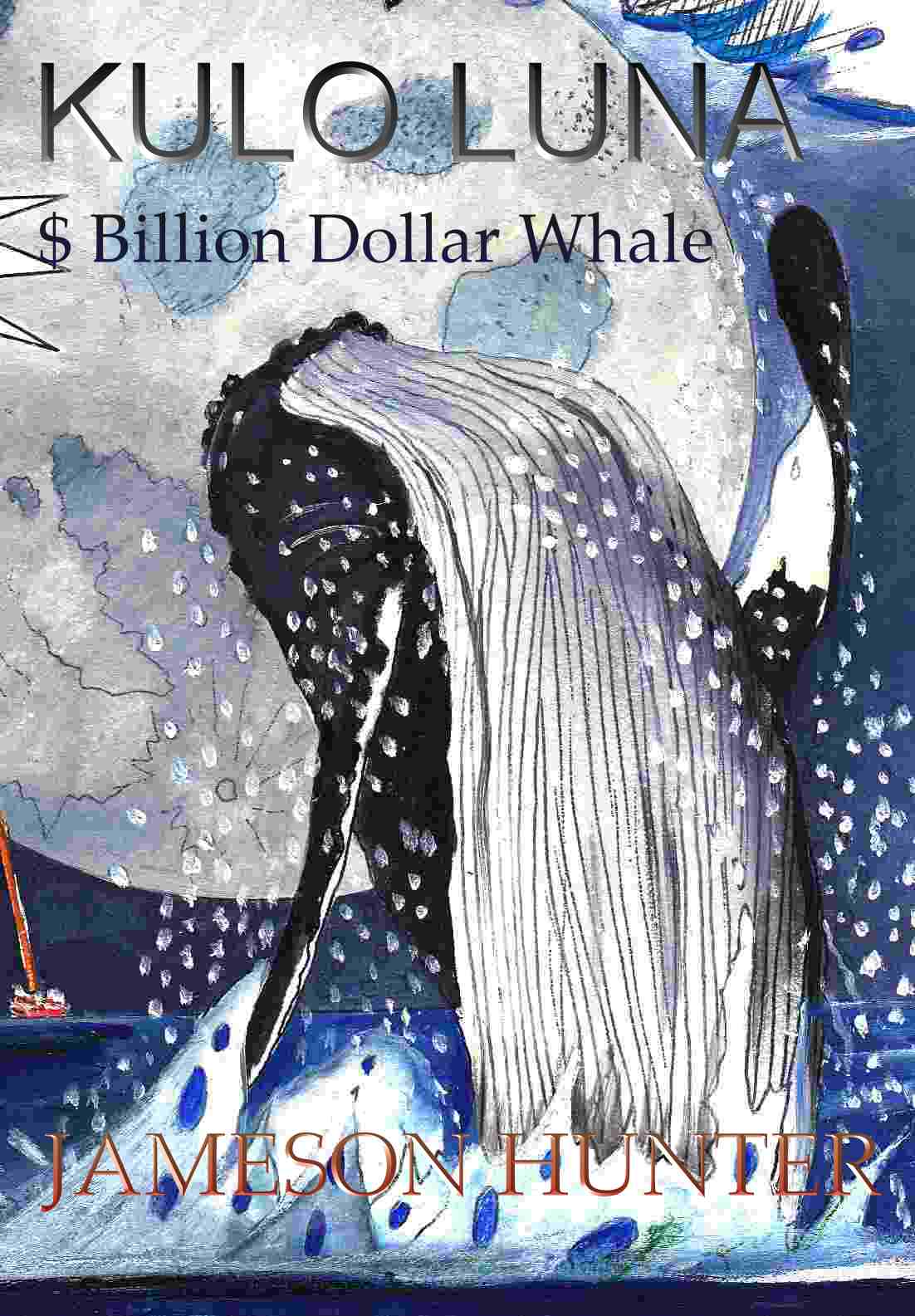 KULO LUNA - Is the story of a giant humpback whale and her friend Kana, who is killed by pirate whalers in the south pacific ocean. Enraged by the death of the young whale, Kulo attacks the pirate ship, finally sinking it, but getting herself wounded in the process.
A Japanese cartel put a $multi-million dollar bounty on her head, when another whaling ship gives chase. Before not too long the media hear of the hunt and betting begins all around the world. At this point our hero, Johnny Storm, abandons a solar boat race to try and help the whale where his boat, the Elizabeth Swan, is not far away from the last sighting.
John rescues Kulo from being eaten by sharks, but that is just the beginning of their adventure, as the pirates whalers close in for the kill ........

Copyright © Jameson Hunter 2006 and 2018. The right of Jameson Hunter to be identified as the author of this work has been asserted in accordance with section 77 and 78 of the Copyright Designs and Patents Act 1988. In this work of fiction, the characters, places and events are either the product of the authorís imagination or they are used entirely fictitiously. Blueplanet Universal Productions & Electrick Publications, London, England. ISBN: 0-953-7824-01
SCENE

DESCRIPTION

LOCATION

Chapter 1

Arctic Melt (Prologue)

580 W, 750 N

Chapter 2

510 30íN, 00

Chapter 3

420 N,

880 W

Chapter 4

330 S, 1510 E

Chapter 5

270 30íS, 1530 E

Chapter 6

330 20íS, 1520 E

Chapter 7

500 N, 1700

W

Chapter 8

200 N, 1600 W

Chapter 9

420 N, 700 W

Chapter 10

330 N, 1290 E

Chapter 11

330 N, 1290 E

Chapter 12

330 N, 1290 E

Chapter 13

200 N, 1600 W

Chapter 14

130 S, 1310 E Ė 350 S, 1380 E

Chapter 15

200 N, 1600 W

Chapter 16

240 N, 1410 E

Chapter 17

240 N, 1400 E

Chapter 18

40N0, 1550 W (Whale Trust Maui)

Chapter 19

Sky High (deal)

380 S, 1450 E

Chapter 20

200 N, 1600 E (middle of Pacific)

Chapter 21

200 N, 1300 E (off Philippines)

Chapter 22

Open Season (water)

330 N, 1290 E

Chapter 23

470 N, 70 E

Chapter 24

250 N, 1250 E

Chapter 25

200 N, 1600 W

Chapter 26

140 N, 1800 E

Chapter 27

150 N, 1550 E

Chapter 28

100 N, 1650 E

Chapter 29

100 N, 1650 E

Chapter 30

100 N, 1650

E

Chapter 31

100 N, 1650 E

Chapter 32

100 N, 1650 E

Chapter 33

150 S, 1550 E

Chapter 34

150 S, 1570 E

Chapter 35

230 S, 1550 E

Chapter 36

20 S, 1600 E

Chapter 37

20 S, 1600 E

Chapter 38

20 S, 1600 E

Chapter 39

170 S, 1780E

Chapter 40

200 S, 1520 E

Chapter 41

350 S, 1510 E

Chapter 42

Chapter 43

250 S, 1530 E

Chapter 44

Sweet Sorrow (epilogue)

250 S, 1530 E
EAT LIKE A WHALE
In an effort to feed a growing population we should look at alternatives lower down the food chain to increase the ratio at which protein is harvested from the ocean, so bypassing the conventional food chain where at each stage of consumption there are significant losses in the conversion process. Jellyfish, squid, krill and filter feeders such a mussels could play a part in filling the widening gap between falling fish stocks and higher demand to feed humans - so relieving the pressure on tuna, salmon and other popular white fish. The problem being that plastic in the ocean is poisoning all marine life, making seafood potentially toxic and a health risk in years to come .......
LINKS & REFERENCE
https://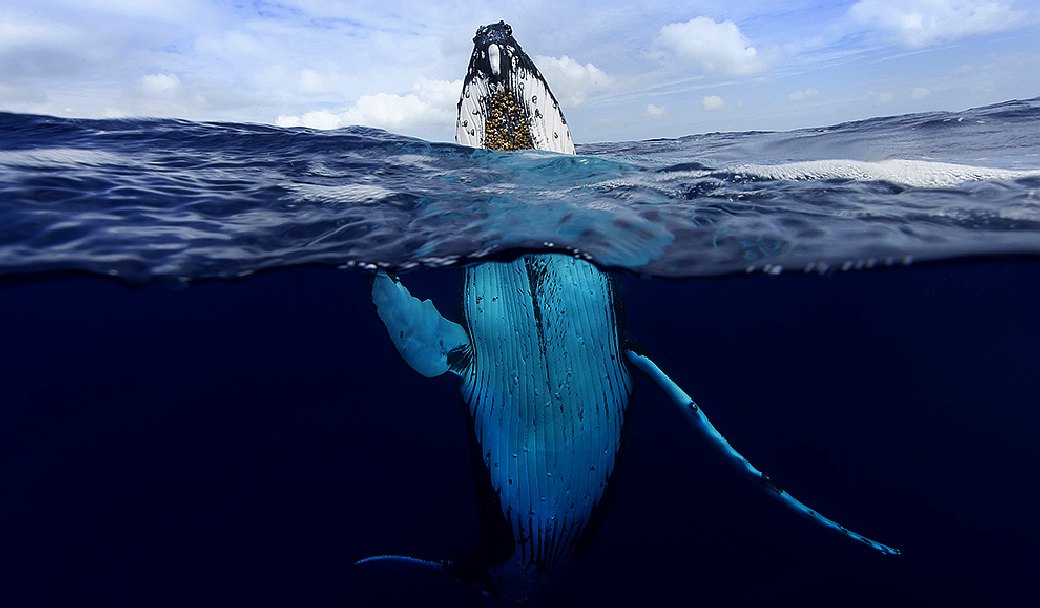 MARINE LIFE - This humpback whale is one example of a magnificent animal that is at the mercy of human activity. Humans are for the most part unaware of the harm their fast-lane lifestyles are causing. We aim to change that by doing all we can to promote ocean literacy.
Anchovies | Bass | Bream | Catfish | Clams | Cod Coley | Crabs | Crayfish | Eels | Grouper | Haddock | Hake | Halibut | Herring | Jellyfish
Krill | Lobster | Mackerel | Marlin | Monkfish | Mullet | Mussels | Oysters | Perch | Piranha | Plaice | Pollock | Prawns | Rays | Sablefish | Salmon
Sardines | Scallops | Sharks | Shrimp | Skate | Sole | Sprat | Squid | Sturgeon | Swordfish | Trout | Tuna | Turbot | Whiting
This website is provided on a free basis as a public information service. Copyright © Cleaner Oceans Foundation Ltd (COFL) (Company No: 4674774) 2022. Solar Studios, BN271RF, United Kingdom. COFL is a charity without share capital.