SIR DAVID ATTENBOROUGH
ABOUT - CONTACTS - DONATE - FOUNDATION - HOME - A-Z INDEX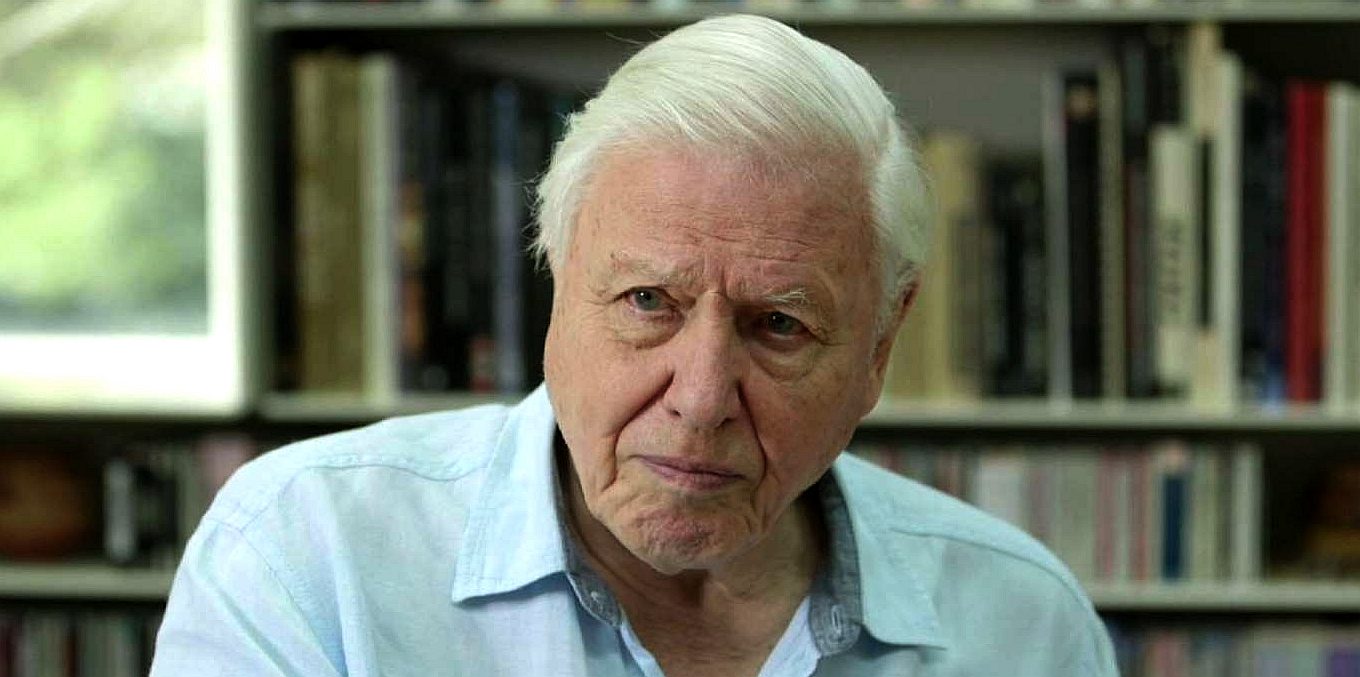 SIR DAVID: "Heartbreaking" sight of albatross mother feeding young plastic.

MSN SKY NEWS 25 SEPTEMBER 2017 - ATTENBOROUGH ON 'HEARTBREAKING' OCEAN PLASTIC

Sir David Attenborough has spoken of the "heartbreaking" experience of seeing an albatross trying to feed her chicks with plastic.

Sir David was speaking about the filming of his highly successful wildlife documentary Blue Planet.

He said: "The albatross are such marvellous birds.

"They form partnerships for 50 years, they circle the Antarctic collecting food, they come back to their mates at the same place, but they also feed their young.

"And there's a shot of the young being fed and what comes out of the mouth, of the beak of the adult"

"Not sand eels and not fish and not squid, which is what they mostly eat.

"Plastic.

"And it's heartbreaking. Heartbreaking."

The albatross is just one species caught up in the terrible effect that plastic is having on the world's oceans.

Every minute, the equivalent of a rubbish-truck load of plastic goes into the oceans but it does not decompose and will remain forever.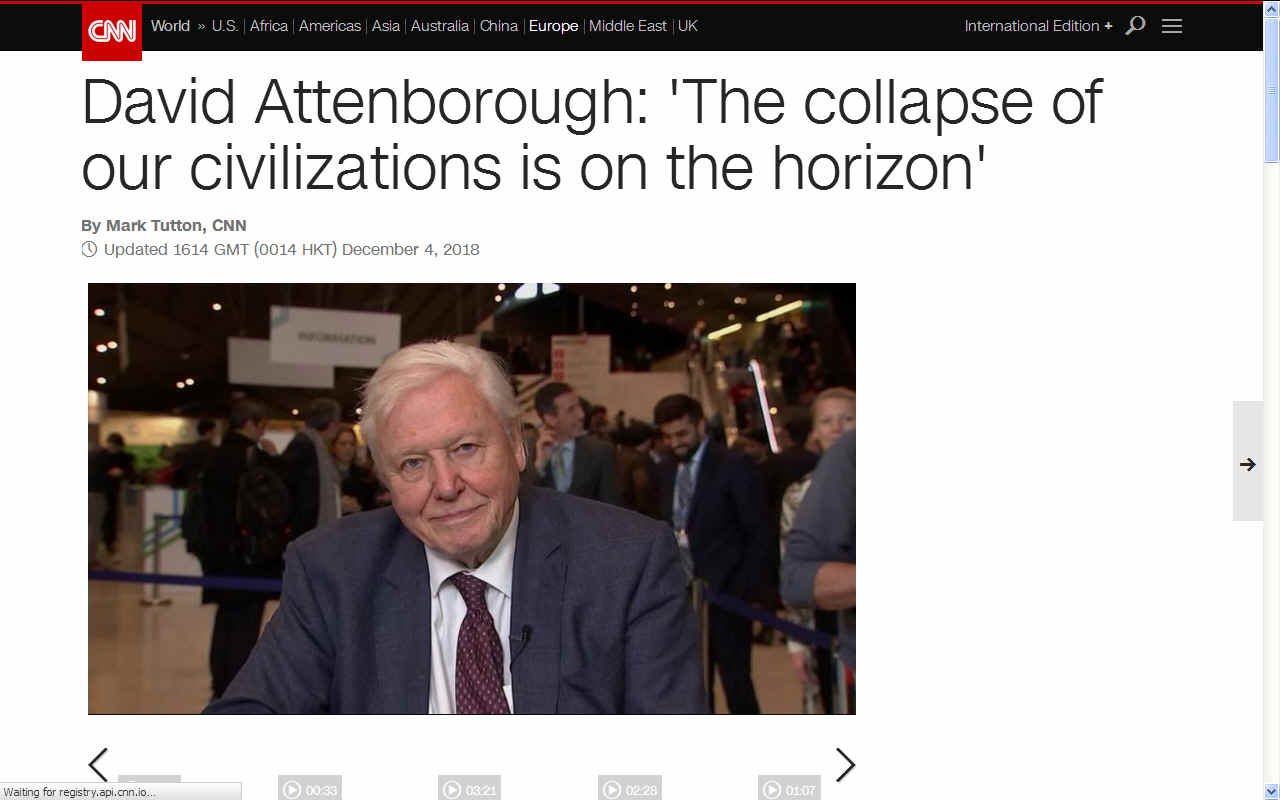 CNN DECEMBER 3 2018 - Renowned nature broadcaster David Attenborough has told world leaders that climate change could lead to collapse of civilizations, and much of the natural world.

Speaking at the opening ceremony of the COP24 UN climate conference, in Katowice, Poland, Attenborough called climate change "our greatest threat in thousands of years."
In the weeks leading up to the event, the UN asked people to send their thoughts on climate change. Attenborough was there to represent the public, by taking the "People's Seat" at the conference.

He said: "The world's people have spoken. Their message is clear. Time is running out. They want you -- the decision makers -- to act now.

"Leaders of the world you must lead," he added. "The continuation of our civilizations and the natural world on which we depend is in your hands."

Sir David Attenborough at #COP24: "If we don't take #ClimateAction, the collapse of our civilisations and the extinction of much of the natural world is on the horizon."
#TakeYourSeat pic.twitter.com/kjbUvLntBf

— UN Climate Change (@UNFCCC) December 3, 2018

In an interview from the conference with CNN's Christiane Amanpour, Attenborough spoke about the damage humans have inflicted on the planet.

"We have overrun it in a way that is unprecedented," he said. "No other creature in the world has had the effect on the planet that the human species has, and so we ought to be aware of what we've done and recognize the responsibility that we now have in our hands."

Asked about the United States, which President Trump has said will leave the Paris Agreement, Attenborough pleaded for the US to remain committed to fighting climate change.

"Please join the rest of the world," he implored. "The entire rest of the world is united in trying to take action on this. The United States is a very, very powerful voice. Please, please, join us."

Implementing the Paris Agreement

COP stands for Conference of Parties. COP21, in 2015, led to the landmark Paris Agreement, a legally binding agreement to fight climate change, where countries committed to keep global warming well below two degrees Celsius above pre-industrial levels and, if possible, below 1.5 degrees.

Read: Climate conference in the heart of Poland's coal country
At COP24, nations must finalize implementation guidelines for the Paris Agreement -- known as the Paris Agreement Work Program or Paris Rulebook.

The conference ended on December 14.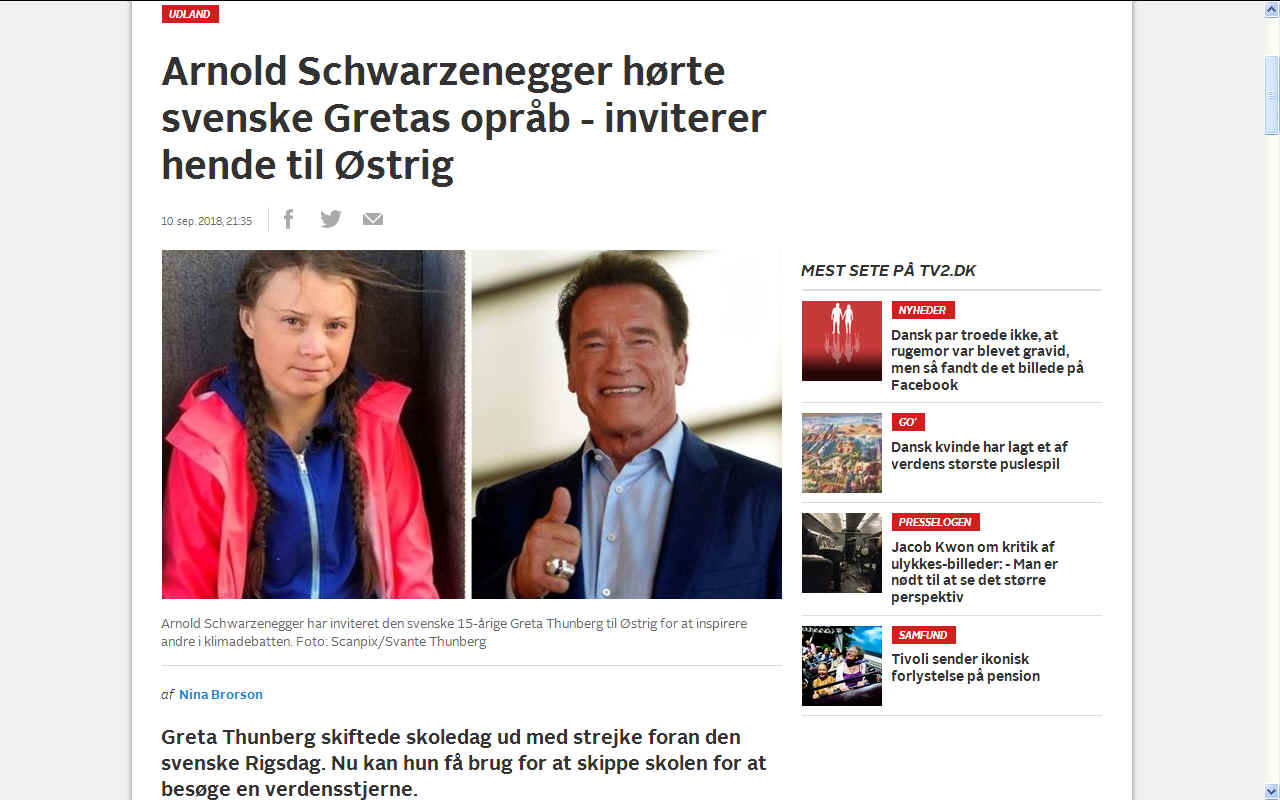 Greta Thunberg skiftede skoledag ud med strejke foran den svenske Rigsdag. Nu kan hun få brug for at skippe skolen for at besøge en verdensstjerne.

"I love seeing someone who doesn't just complain but gets out and does something about it. You inspire me. Keep up with school and I'd love to host you in Vienna at our @R20_AWS so you can inspire even more people."

— Arnold (@Schwarzenegger) September 9, 2018
Among the world leaders speaking at the opening ceremony, Arnold Schwarzenegger unexpectedly took to the podium, invited by Austrian President Alexander Van der Bellen.

The actor and former Governor of California said: "Every time you talk about America, you're right when you say that our leadership in Washington is a little bit backwards. But you're wrong when you say that America dropped out of the Paris Agreement.

"Because if you look a little bit beyond Washington you will see ... all the extraordinary work that is going on at a state and city level in America."

Earlier in the day, UN Secretary-General Antonio Guterres called the event "the most important gathering on climate change since the Paris Agreement was signed."

"We are still not doing enough, nor moving fast enough, to prevent irreversible and catastrophic climate disruption," Guterres continued, saying the majority of countries most responsible for greenhouse gas emissions were behind in their efforts to meet their Paris pledges.

"What we need is more political will and more far-sighted leadership," he added. "This is the challenge on which this generation's leaders will be judged."

Referring to ongoing discussions around the Paris Rulebook, Gutteres said: "We cannot afford to fail in Katowice."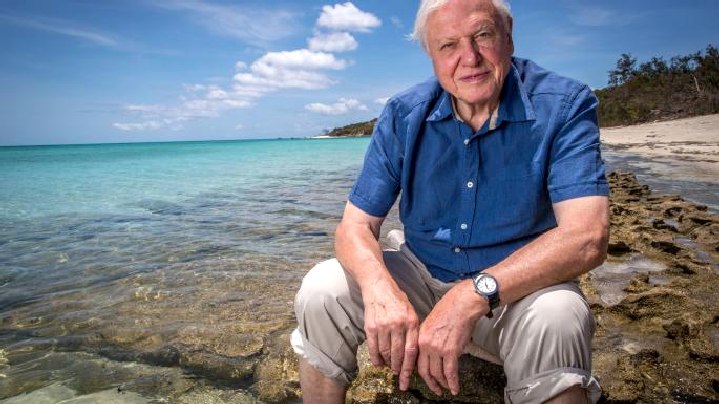 According to the US Smithsonian National Museum of Natural History, one type of albatross in particular - the Laysan - suffers especially badly.

The Laysan albatross catches fish by skimming the surface of the water with its beak, inadvertently picking up floating plastic, which they then feed to chicks.

While the adults can regurgitate their food, the chicks cannot and so it remains in their stomachs.

If people continue to dispose of plastic at the same rate as today, then by 2050 the ocean's plastic could weigh more than the fish.

The plastic can kill sea animals by strangling them or the plastic in an animal's stomach can make it feel full and stop eating, even though it is actually starving.

The plastic also impacts the wider ecosystem: marine life get caught in it, eat it and live in it. It also has a direct impact on our health, acting as a sponge for toxins which can end up in our food.

The interview with Sir David is being released by Greenpeace to mark the launch of Unearthed, the organisation's investigative and environmental news site formerly known as Energydesk.

:: Sky has been running a campaign to make people more aware of the effect plastic has on the world's oceans and to share ways of tackling the problem. To get involved in Sky Ocean Rescue, visit the campaign website here.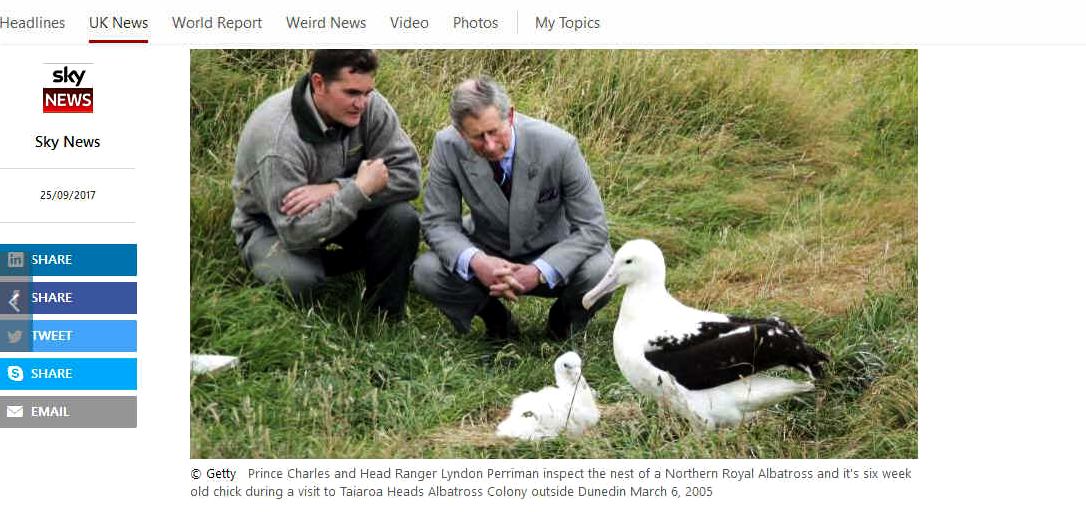 ROYAL ALBATROSS - Prince Charles and Head Ranger Lyndon Perriman inspect the nest of a Northern Royal Albatross and it's six week old chick during a visit to Taiaroa Heads Albatross Colony outside Dunedin March 6, 2005. The Prince of Wales has spoken out on marine litter many times and has teamed up with Dame Ellen MacArthur to support research and awareness that may reduce plastic packaging, to get consumers and product designers thinking about the problem.
THE TIMES FEBRUARY 4 2016 - ATTENBOROUGH WANTS ACTION ON PLASTIC IN SEA
The eight million tonnes of plastic dumped in the oceans each year are a greater problem than raw sewage, ­according to Sir David Attenborough.

Whereas sewage quickly breaks down, plastic remains in the sea for hundreds of years, splitting into tiny toxic particles eaten by birds and fish, the broadcaster said.

He is supporting the Plastic Oceans campaign, based at Brunel University London, which aims to create the first research centre dedicated to studying the problem of plastic pollution.

Oysters are the latest marine creatures shown to be threatened by plastic waste. A new study shows that their reproduction rates almost halve when they ingest plastic particles, which they mistake for phytoplankton. By Ben Webster, Oceans Correspondent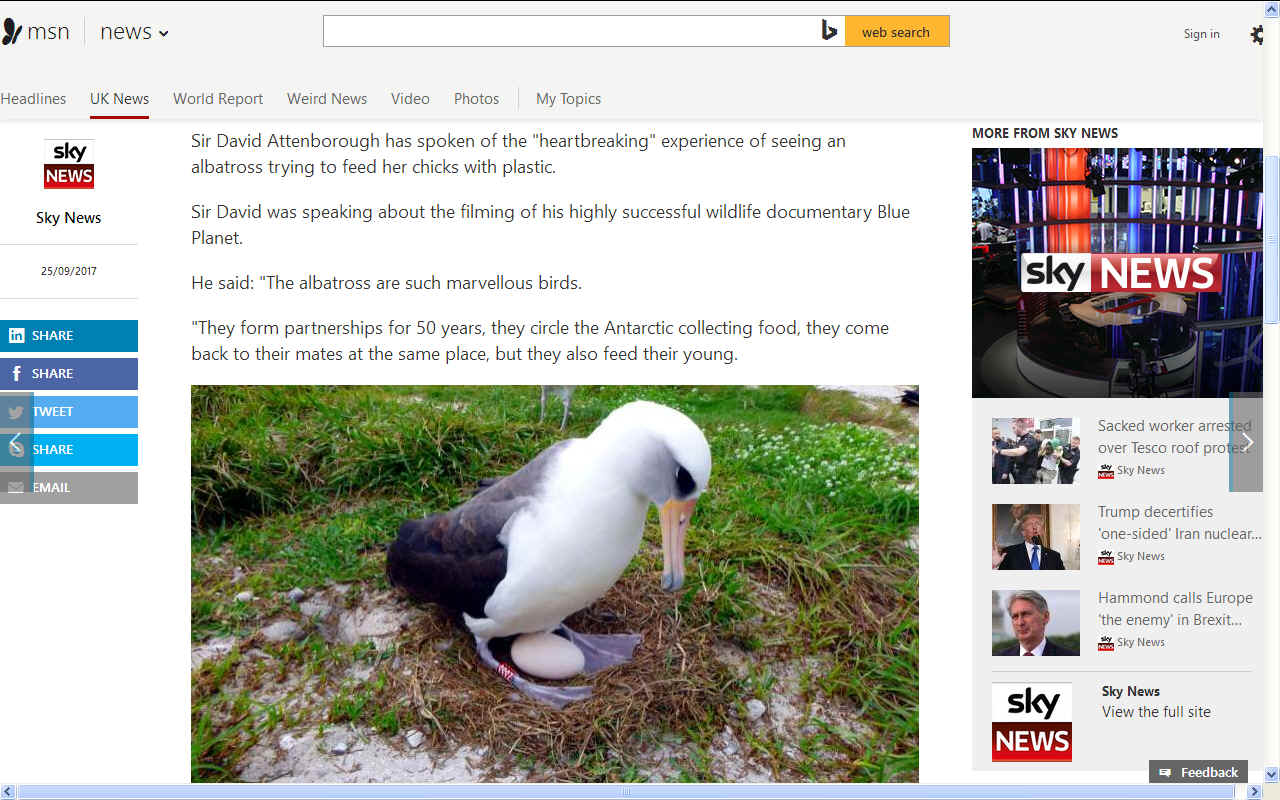 WISE BIRD - Wisdom, a Laysan albatross, at least 66 years old and the world's oldest known breeding wild bird incubates her egg in Midway Atoll National Wildlife Refuge and Battle of Midway National Memorial, Hawaii, U.S. on December 3, 2016

LINKS & REFERENCE
https://edition.cnn.com/2018/12/03/europe/attenborough-cop24-climate-conference/index.html
https://www.express.co.uk/news/nature/882481/blue-planet-2-david-attenborough-bird-albatross-ocean-plastic-pollution-south-atlantic
https://uk.news.yahoo.com/sir-david-attenborough-sea-plastics-impact-albatross-heartbreaking-060600348.html
https://www.thetimes.co.uk/article/attenborough-wants-action-on-plastic-in-sea-jwp0pfggr
https://skyoceanrescue.com/
https://www.msn.com/en-gb/news/uknews/attenborough-on-heartbreaking-ocean-plastic/ar-AAsqdz4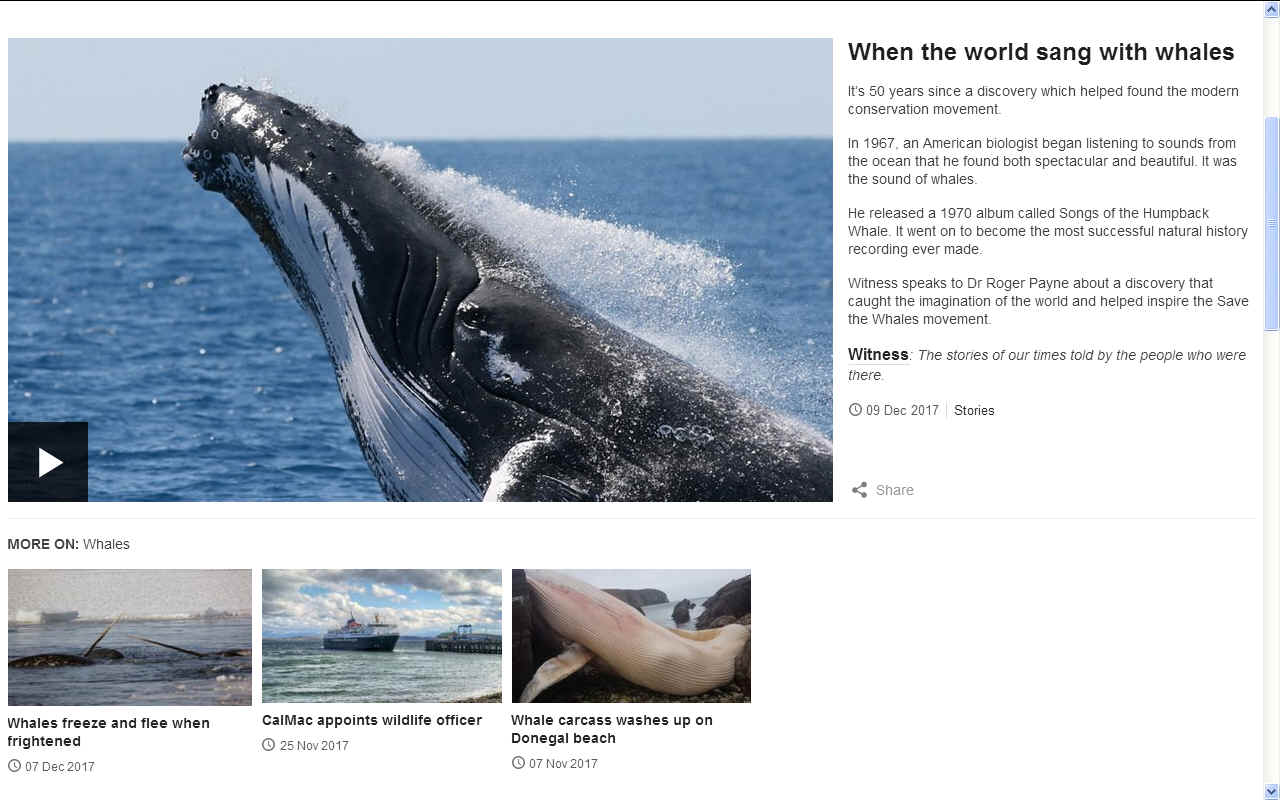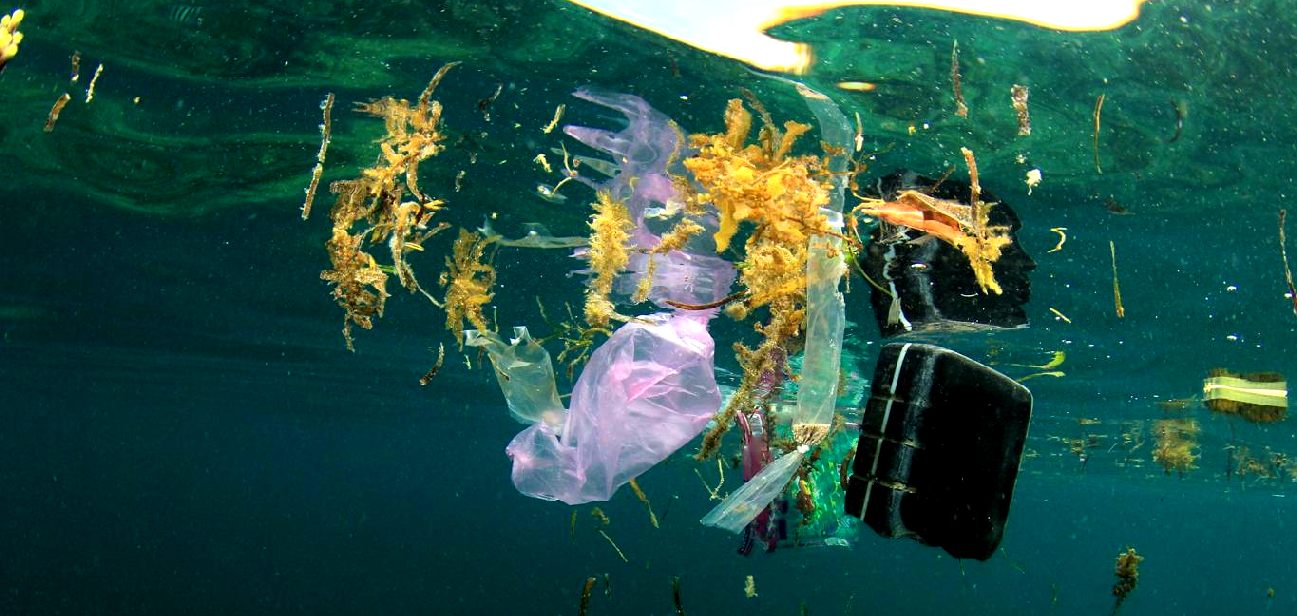 This website is provided on a free basis as a public information service. copyright © Cleaner Oceans Foundation Ltd (COFL) (Company No: 4674774) January 2019. Solar Studios, BN271RF, United Kingdom. COFL is a charity without share capital.