C. O. F. HEADQUARTERS
ABOUT - CONTACTS - DONATE - EDUCATION - FOUNDATION - POLITICS - HOME - A-Z INDEX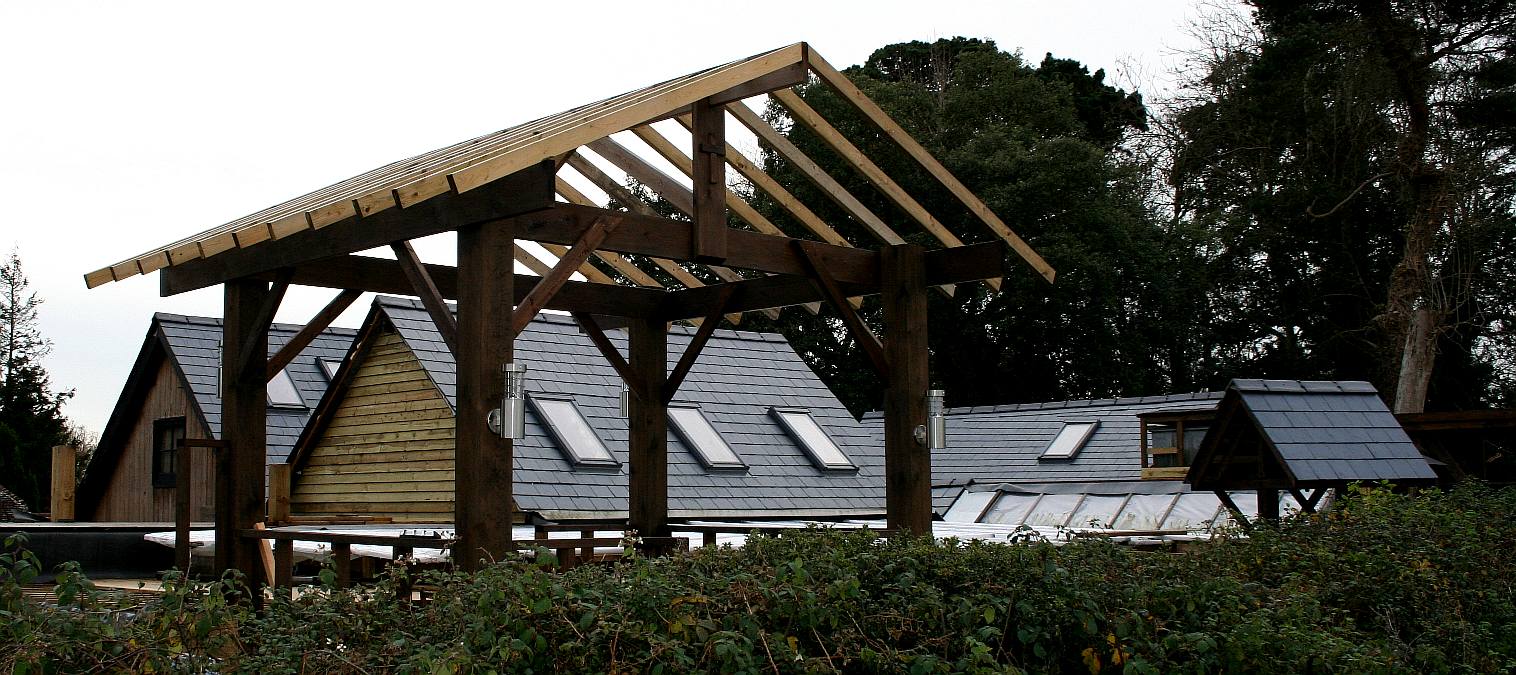 SOLAR HOUSE - This is the HQ for the Cleaner Ocean Foundation with generous assistance from the Trust that allows our charity to use most of the buildings for our experiments, storage, parking, and to plan our ocean awareness campaigns at a fraction of the cost of industrial units in Eastbourne or Hailsham. Much of the energy for our operations is to come from nature via PV panels, water heaters and even a wind turbine - for cleaner 'low-carbon' research.
The 'Cleaner Ocean Foundation' charity has its administrative headquarters (Solar Studios) at Solar House, Lime Park in Sussex, England. The Charity took over the administration and development of the SeaVax and the 'Ocean Awareness,' projects pledging to continue to work on these challenges, to include fund raising activities where significant additional monies are needed to construct a full size prototype SeaVax and AmphiMax portable shipyard and support vehicle.
The facility is compact with limited resources, but is able to move development of the SeaVax concept on, and provides an economical base of operations from where the full size construction of vehicles can be coordinated. In addition, Ocean Awareness campaigns are developed and operated from this building.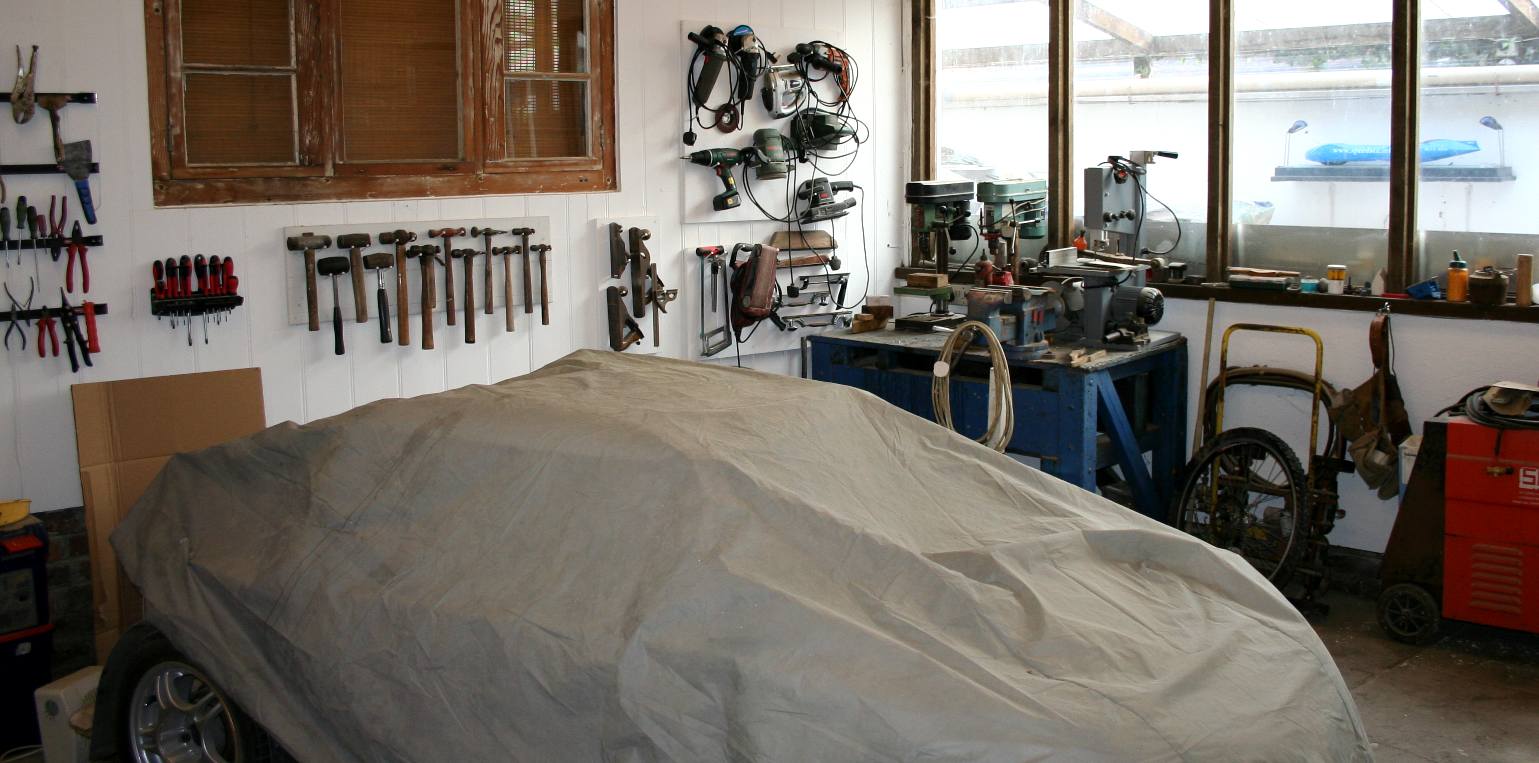 FABRICATION - This is the main workshop where steel and aluminium frames are made and machinery assembled. We have a 450 amp 3-phase production welder with water cooling and a plasma cutter. We also have smaller TIG, MIG and Stick welders and spool on gun feeds. This unit is big enough to cope with making the full size filtration plant that SeaVax will use. For larger frames we installed a concrete hard standing in our forecourt that can be covered to shield bigger jobs. See below.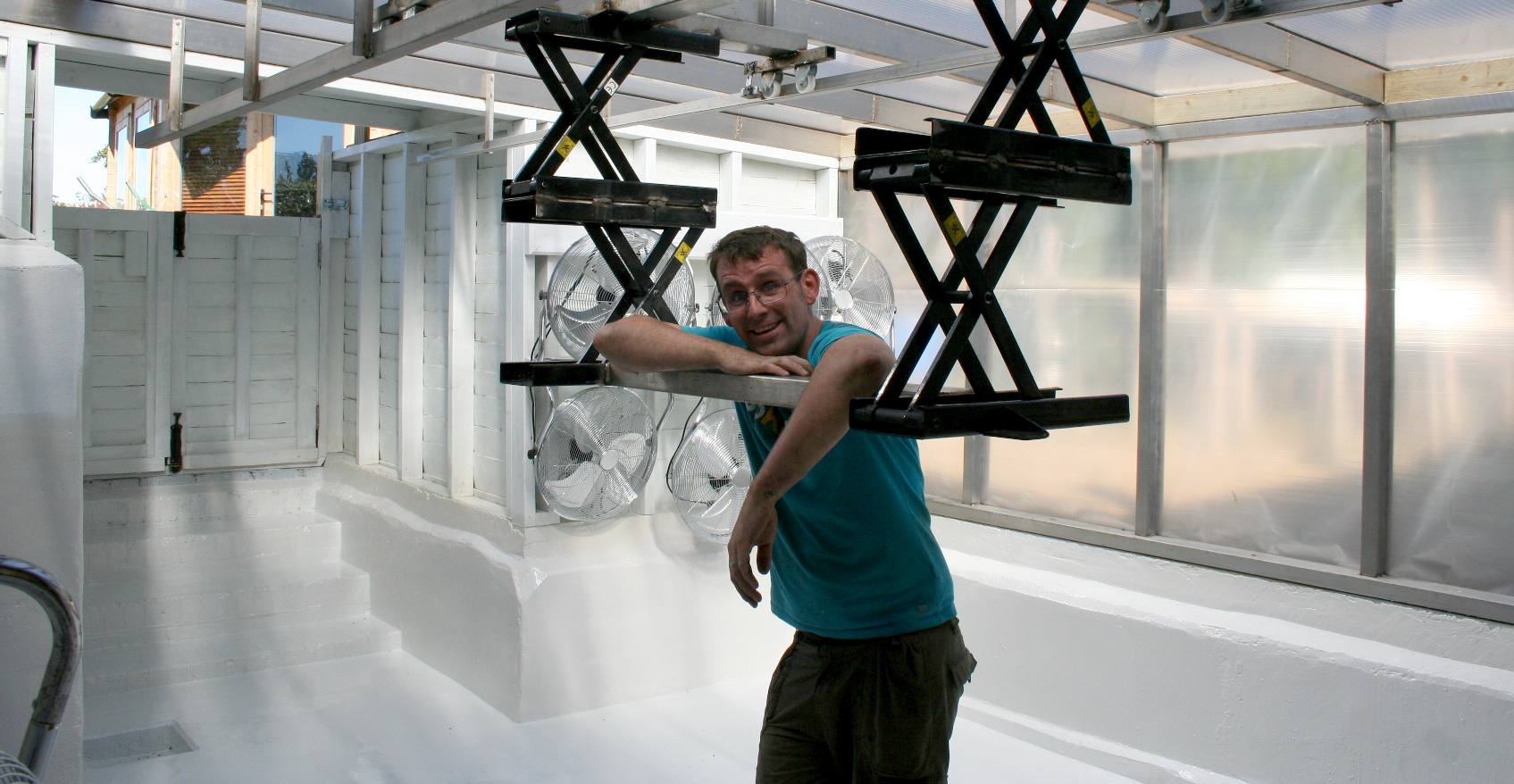 WATER BASIN - This is where we get wet. This surface tank can be filled from a second underground chamber in 20 minutes. Flushing back into the underground chamber also takes around 20 minutes for fast turnaround times when testing hulls or conducting plastic collection/filtration experiments beginning in 2019. Our initial trials were completed in 2016. We need to design and test an improved system in 1/20th scale before working up to an industrial scale and commercially available plant.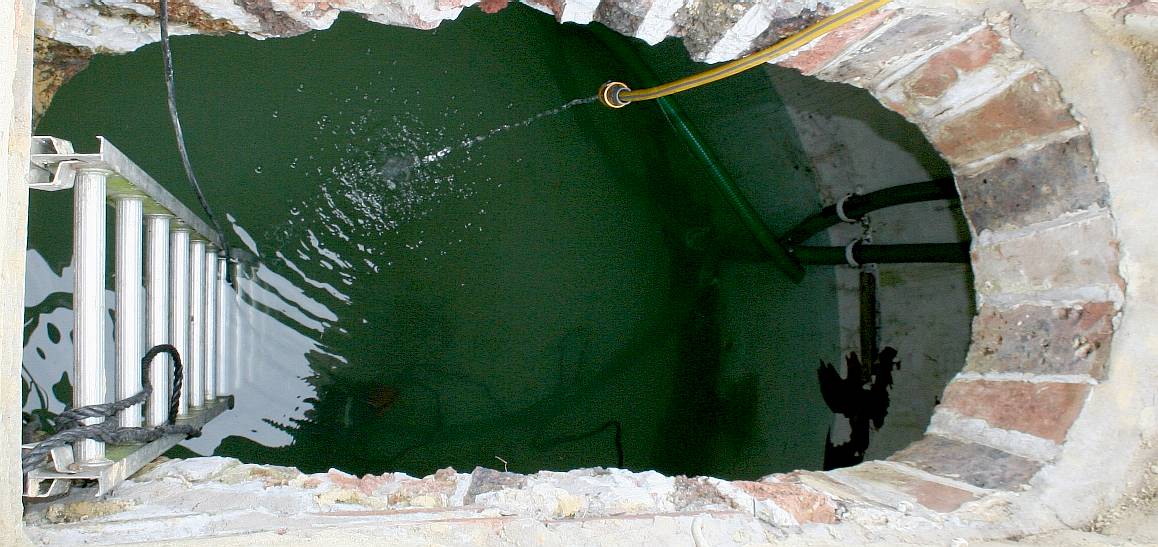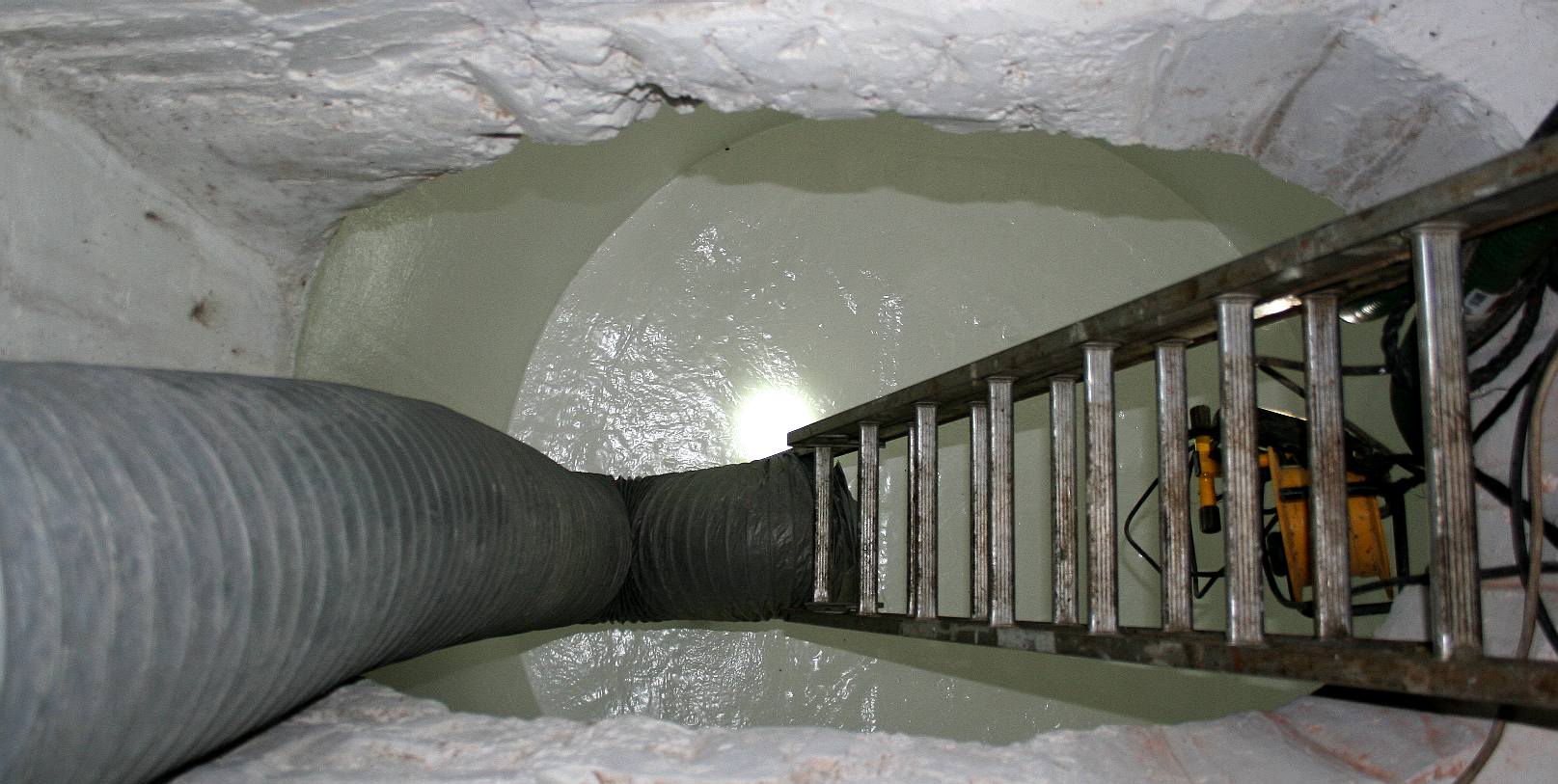 UNDERGROUND HOLDING TANK - Before and after pictures of the underground chamber that is used to store water, and to flush water from the test tank via filters, to allow for quick recharges of particle free water for SeaVax filtration experiments. The tank leaked badly when first commissioned in 2016. In 2018 the Foundation lined the tank with GRP. In early 2019 the domed roof is due to be lined, having been sealed in 2018 as part of the ongoing improvements to facilities.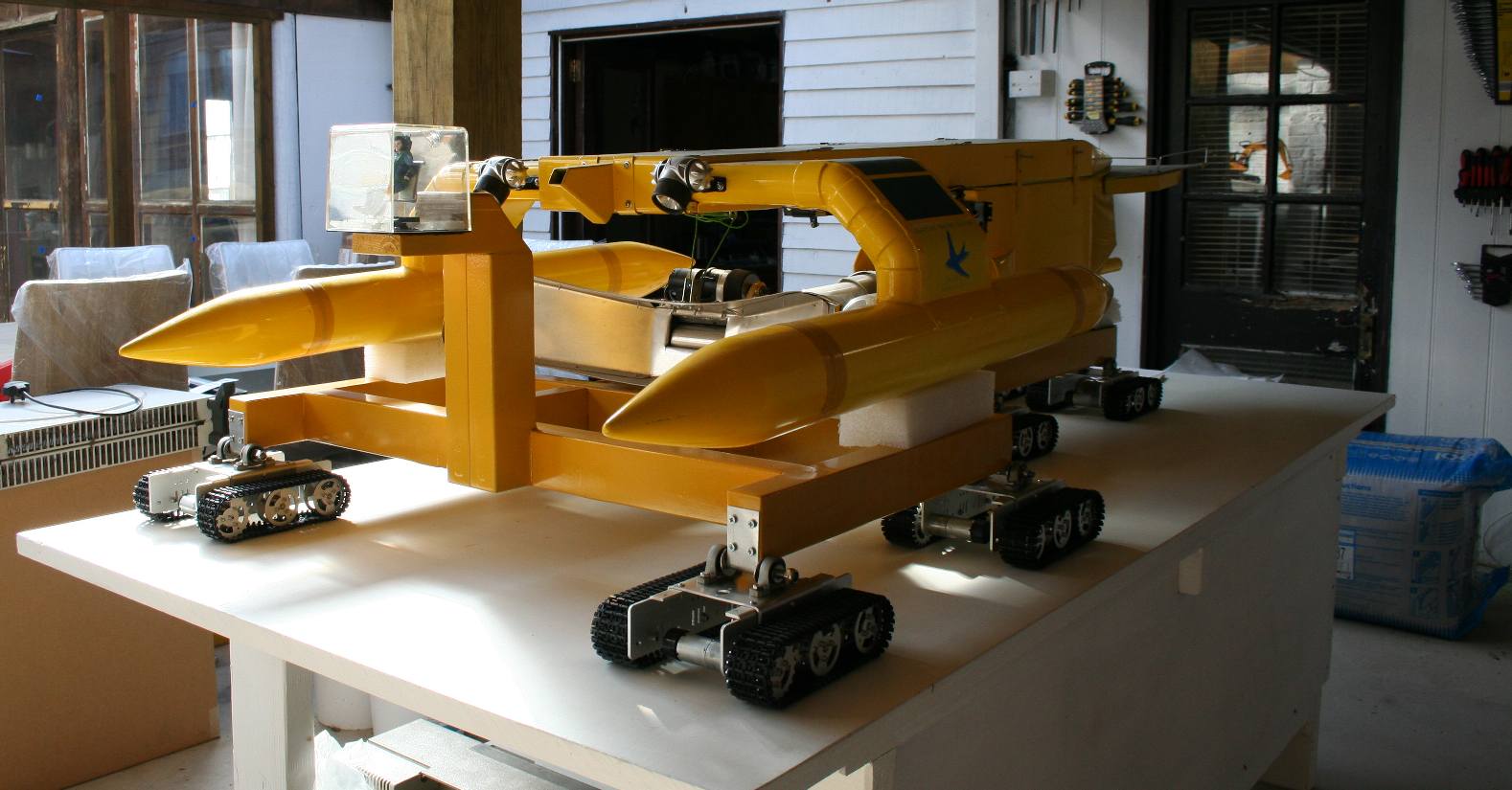 ROBOTIC MODELS - This is our robot and model ship building area. It is conveniently located close to the test tank. The AmphiMax is seen here carrying the SeaVax, is due to be tested in the water basin in 2019, or as soon as funds allow.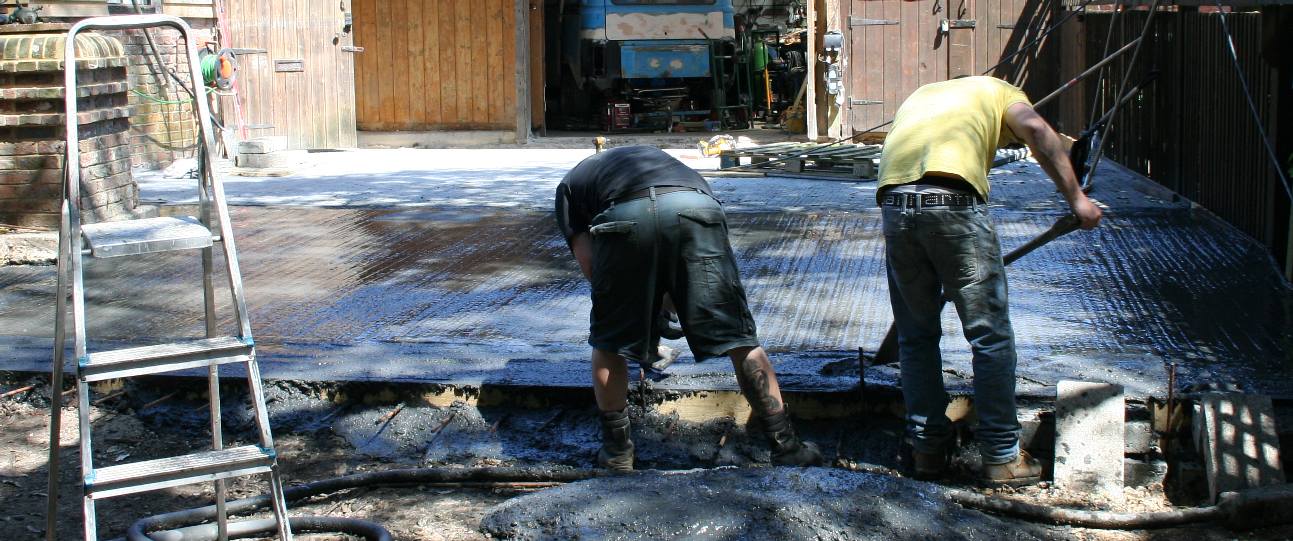 CONCRETING - The second of five reinforced concrete sections is poured to increase our production capacity to cope with the large AmphiMax chassis sections. Copyright photographs 19 May 2018 © Cleaner Ocean Foundation Ltd.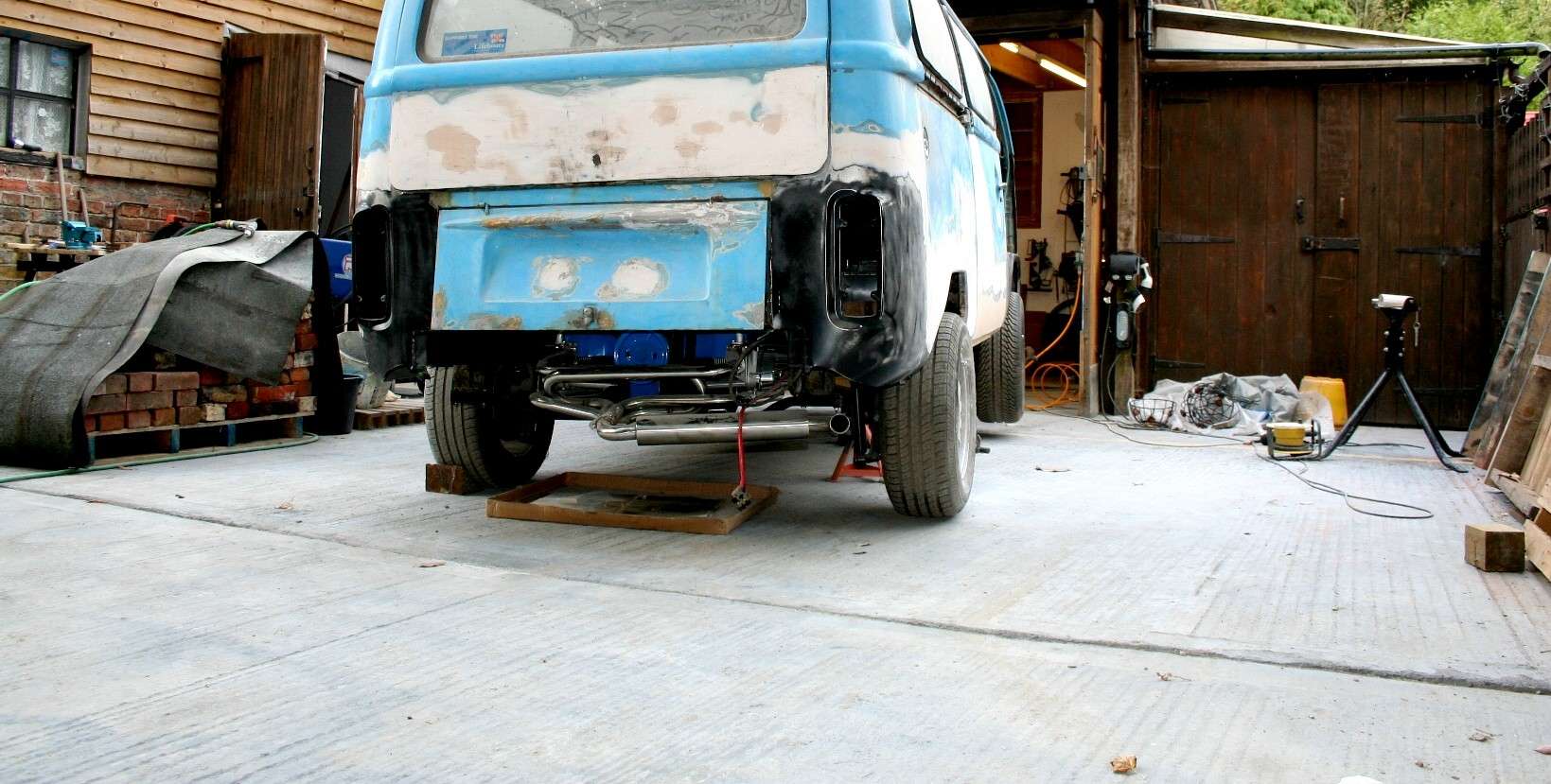 HARD STANDING - This area is useful for heavy metal fabrication in fine weather. The concrete is reinforced with steel to take extremely heavy loads. To the left is our storage unit where a 20kva 3-phase generator is stored for onsite welding of boat hulls. Typically, hull components will be supplied to us at a beach location for assembly. This means that we do not need a boatyard to construct the SeaVax or Elizabeth Swan. The SeaVax comprises 5 main hull sections that are made to our specifications by subcontractors.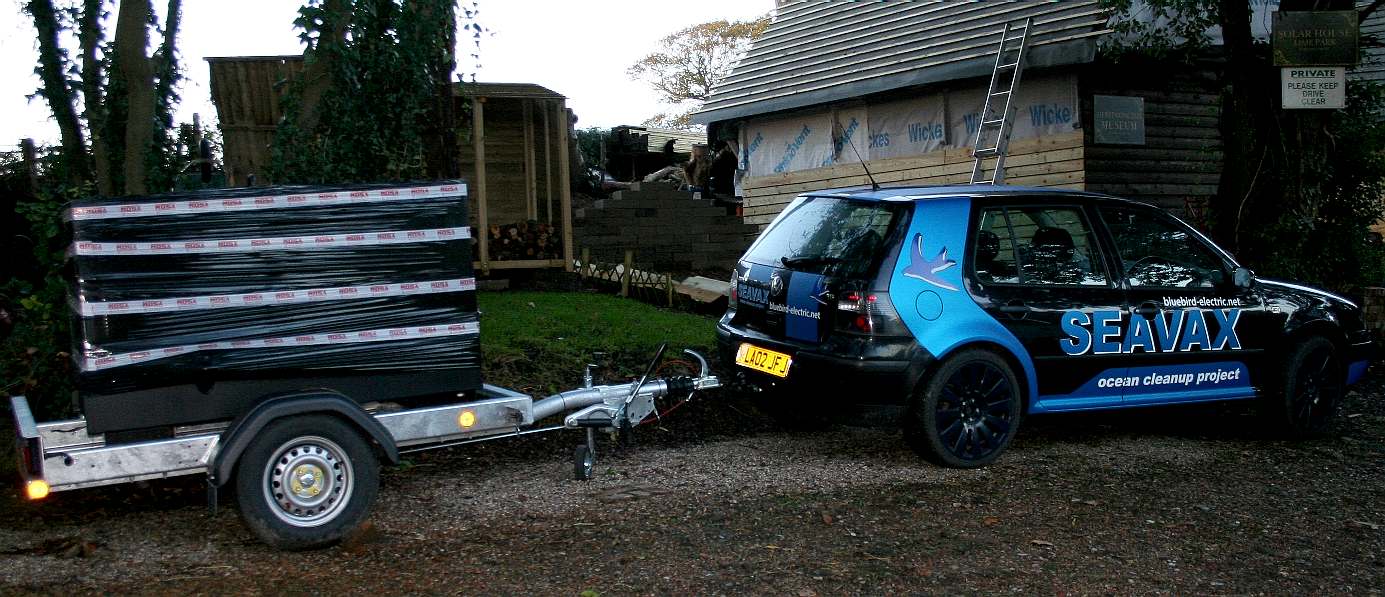 WELDING RIG - This is our welding rig. We needed a portable generator capable of powering our three and single phase welders on site during the assembly of the AmphiMax and SeaVax vehicles. The MK IV Golf seen above is suitable for transporting the diesel gen-set to any launch site by road, when a 4x4, such as our Jeep, would be needed to position it on rough terrain.
The Herstmonceux area is in the heart of rural Sussex. Herstmonceux (Hurst = clearing in the woods Monceux = the name of the tribe making camp) is famous for a brick built castle and the Royal Greenwich Observatory and a post windmill that has been recently restored some distance along the A271.
During 2015 and 2017 Bluebird Marine Systems, (BMS) pushed the SeaVax project. BMS is a limited company that was operating on a 'Not-for-profit' basis between 2015 and 2017, and partially as an academic institution where the company gave students free practical engineering tuition and the freedom to think laterally in problem solving and design. BMS has since ceased such operations and is dormant.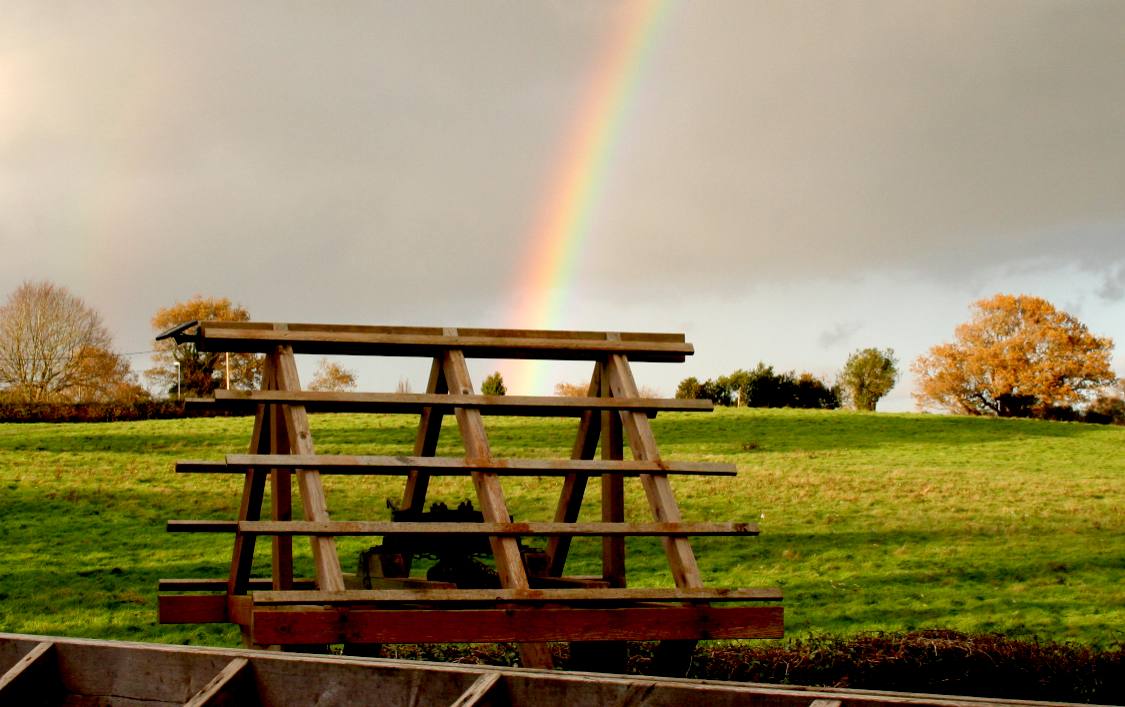 RAINBOW - A rainbow in Herstmonceux passing over the well that feeds water to the test tank and robot laboratory. This well is seen in the picture above roofed with slate, where the picture was taken some years back.
Solar House had undergone a period of rapid evolution in converting parts of the grounds to a robot laboratory and a water test tank. In addition, other projects that were not related to the SeaVax or Ocean Awareness conservation 'Objectives' were shelved, also involving considerable effort in providing archiving and storage, where those areas previously used for vehicle development and household storage were given over to the Objectives.
Solar House was built between 1900 - 1909 by the Charles de Roemer, an electrical engineer and pioneering aviator. The building is of timber framed construction, also clad in timber, formerly housing electricity generating and ice making machinery. Electricity was supplied to Herstmonceux village at 48 volts dc, being generated by a 36 horsepower single cylinder gas engine. This was far ahead of its time, making the little village more advanced than Eastbourne in terms of street lighting. Even the local bakery was powered by electricity from this building.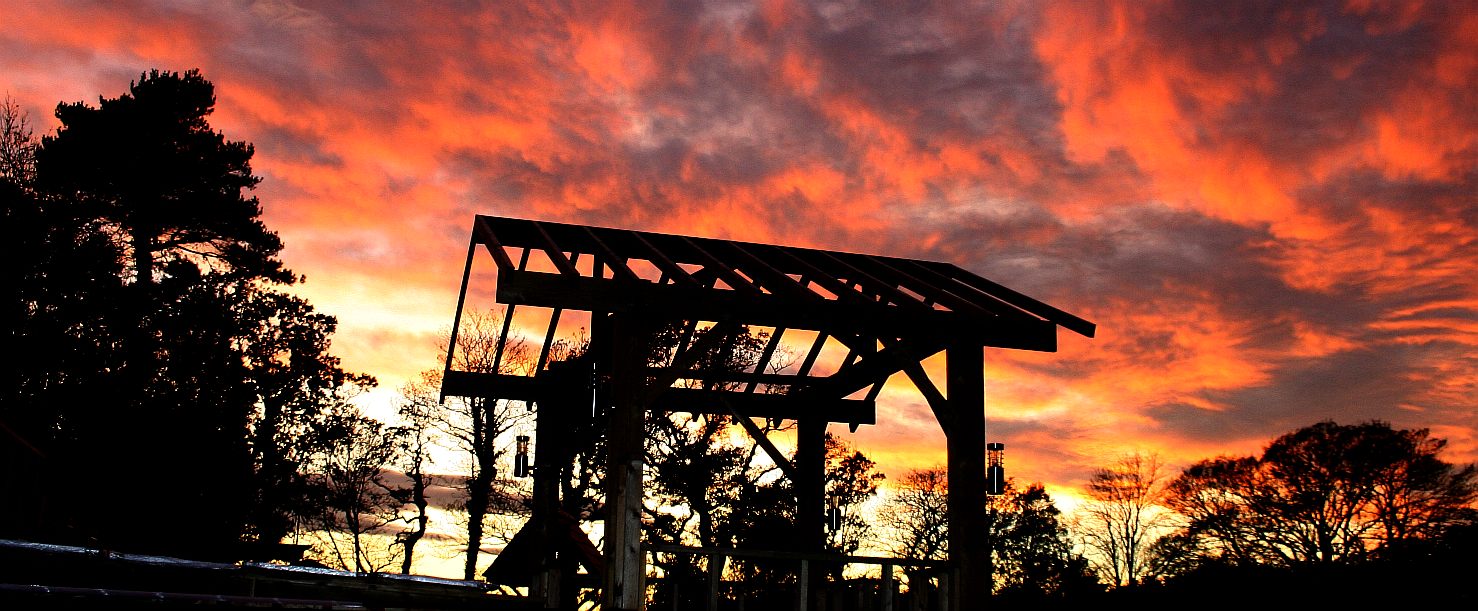 SOLAR POWER - This pergola is the mount for 12 PV panels that provide the energy for our water test tank experiments in relation to hull design and the SeaVax ocean regeneration concept. This kind of pure research has no end user or profit motivation, but is more of a societal challenge until such time as the technology has been demonstrated as being of positive benefit to mankind.
This website is provided on a free basis as a public information service. copyright © Cleaner Oceans Foundation Ltd (COFL) (Company No: 4674774) 2018. Solar Studios, BN271RF, United Kingdom. COFL is a charity without share capital.