PROCTOR & GAMBLE
ABOUT - CONTACTS - FOUNDATION - HOME - A-Z INDEX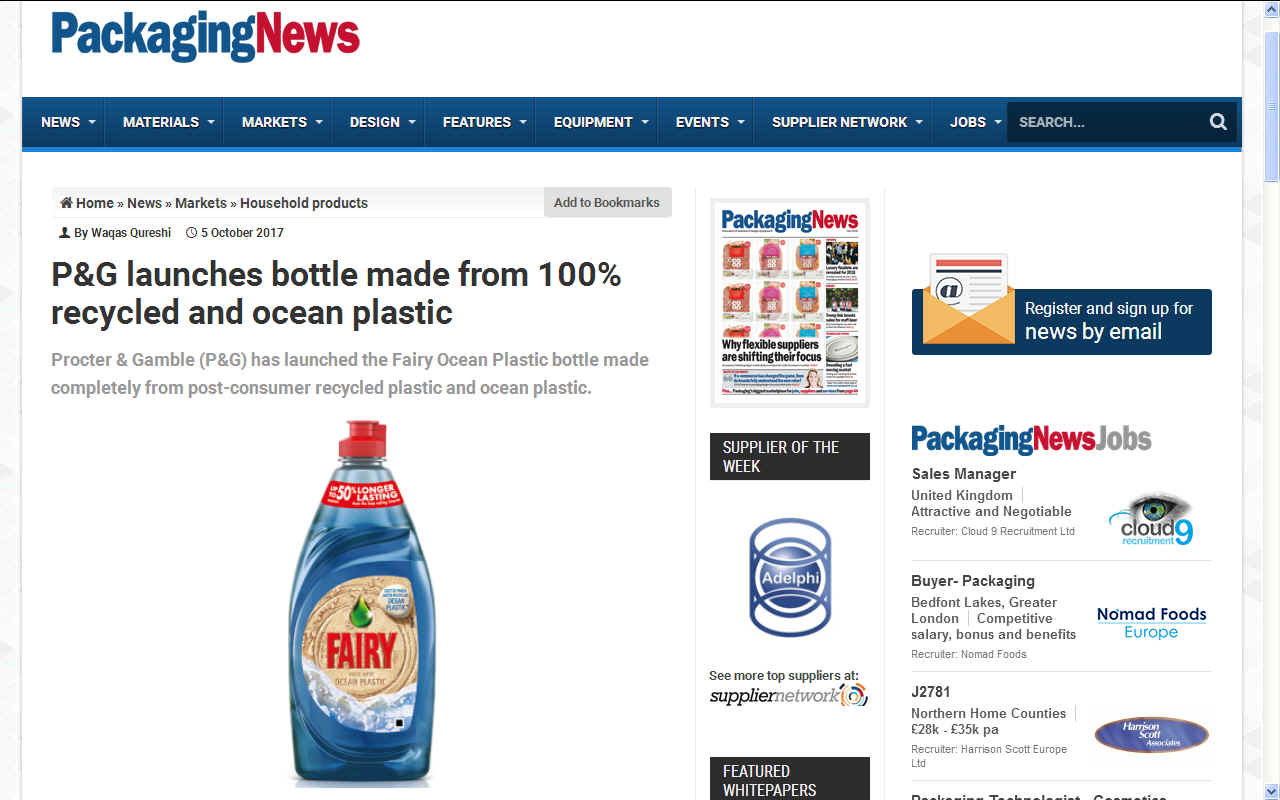 WASH: Mild and blue with a hint of green. Well done to Proctor & Gamble for joining the ranks of not only responsible, but positively proactive in the ocean cleaning department.
We take it for granted that we can pop into the supermarket or other store and pick up washing up liquid and fabric softeners in a convenient container. Can we then blame the makers of our favourite domestic products for using a convenient transport and storage medium?
Should we target just one brand when there are dozens of brands? Maybe. If, as a responsible corporation you are doing nothing to contribute to reducing your plastic footprint, then you might legitimately become a focus of the problem. Pepsi Cola produce a lot of plastic bottles as do their rivals Coca Cola, and so do our supermarkets with their own brands. They are though doing something about the problem, whether it is research or planning ahead for change, it matters not so long as the trend is to acknowledge the issue and do whatever you can.
P&G WASHING UP LIQUID AND FABRIC SOFTENERS 5 OCTOBER 2017
P&G launches bottle made from 100% recycled and ocean plastic. Procter & Gamble (P&G) has launched the Fairy Ocean Plastic bottle made completely from post-consumer recycled plastic and ocean plastic.
It will be made from 10% ocean plastic, collected from the ocean and beaches around the world, and 90% post-consumer recycled plastic.

The launch of the bottle aims to raise awareness of the issue of ocean plastic and what can be done to prevent plastic waste from reaching the ocean.

The first-ever Fairy Ocean Plastic Bottle has been created in partnership with recycling firm TerraCycle and will reach British consumers in 2018.

The UK launch will include 320,000 bottles, the largest production run of recyclable dish soap bottles in the world made using ocean plastic.

The project aims to drive awareness of the issue of ocean plastic pollution, inspire consumers to physically participate in beach clean-ups and recycle household waste.

According to the Ellen MacArthur Foundation (EMF), 95% of the value of plastic packaging material, worth $80-120 billion annually, is lost to the economy and on the current track, there could be more plastic than fish in the ocean (by weight) by 2050.

Additionally, in an effort to divert plastic waste from landfill and the ocean, P&G brands, including Fairy, Dawn, Yes, Dreft and Joy, will continue to divert 8,000 metric tonnes of plastic from landfill for use in transparent plastic bottles, using an average of 40% post-consumer recycled plastic content across 481 million of its transparent dish care bottles globally.

Virginie Helias, vice president of global sustainability at P&G, said: "As the world's no. 1 dishwashing liquid globally and a much-loved brand in the UK, we want to use Fairy to raise awareness about the plight of our ocean and raise awareness about the importance of recycling. Our consumers care deeply about this issue and by using ocean plastic we hope to show that the opportunities are endless when we rethink our approach to waste.''

Tom Szaky, chief executive of TerraCycle. Added: ''We are proud to be working with an iconic brand like Fairy to launch a fully recyclable bottle made from 100% recycled plastic and ocean plastic. The issue of ocean pollution is a pertinent one, we hope other brands will be inspired to think creatively about waste and make the circular economy a reality.''

Susan Ruffo, managing director at Ocean Conservancy: ''We are excited that in addition to its work to reach consumers directly through the Fairy bottles, they are also addressing the source of ocean plastic by supporting our initiative to raise over $150m over the next five years to improve waste collection, sorting and recycling in key ocean plastic economies. Improving waste management in these places can help cut the flow of plastic going into the ocean by half by 2025."

By Waqas Qureshi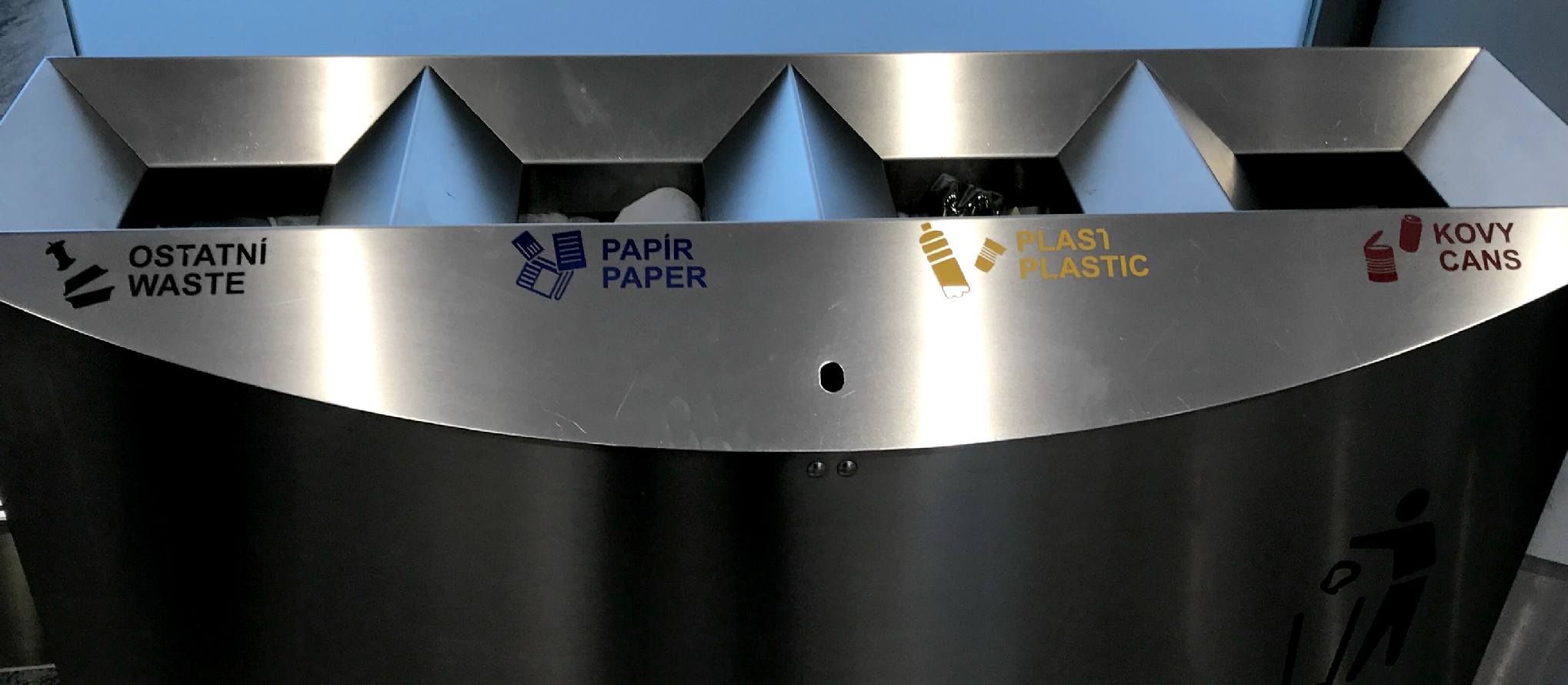 EURO RECYCLING: Our man in Brussels was pleased to note that in every airport that they were taking the separation and recycling of travelers waste seriously. Even the fast food chains abroad had adopted a similar scheme. McDonalds being one of those. Well done on this. The famous burger chain also provided our delegate with a very tasty strawberry smoothie that had a really fresh tang, pulp, pips and all. The fruit, the whole fruit and perhaps just a bit of titivating? We'll never know.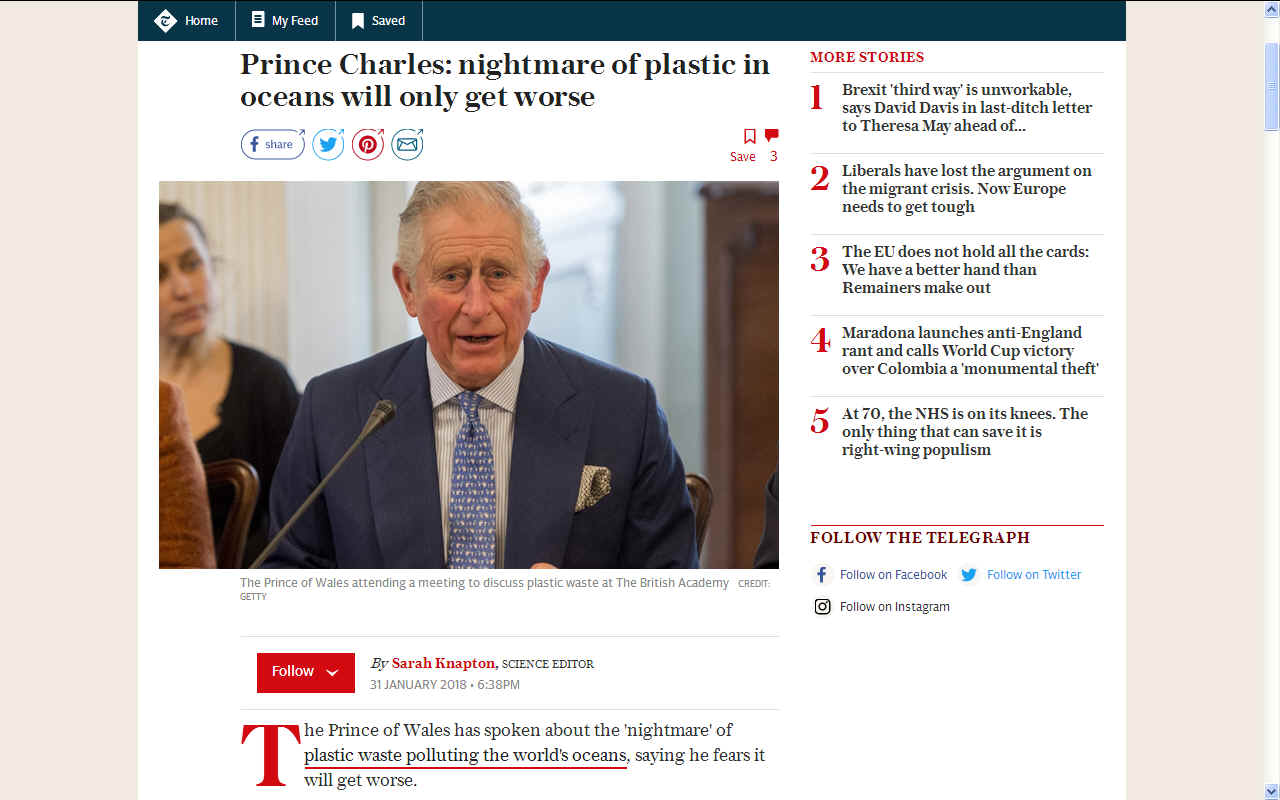 THE TELEGRAPH 31 JANUARY 2018 - Prince Charles: nightmare of plastic in oceans will only get worse.
The Prince of Wales has spoken about the 'nightmare' of plastic waste polluting the world's oceans, saying he fears it will get worse.

Prince Charles delivered a speech at a meeting of environmentalists and business leaders at The British Academy in London to discuss the issue on Wednesday.

The heir to the throne spoke of his 'deep frustration' at the world ignoring the problem and called on companies to make changes to cut their plastic waste.

"The nightmare result of eight million tonnes of plastic entering the ocean every year is set to get worse rather than better," he told delegates. "We cannot, indeed must not, allow this situation to continue... I do fervently pray that you will all do your utmost to work together in the coming year to make real, substantial progress. "It could not be more critical that you succeed."

Each year more than 300 million tons of plastic are produced globally, and at least eight million tonnes ends up in the sea. It is estimated that there is now a 1:2 ratio of plastic to plankton and, left unchecked, plastic will outweigh fish by 2050.

Not only is the floating haze of scum unsightly, it is also swallowed by marine animals that cannot digest it. Chemicals leach into the water, and it has been shown that even humans who eat seafood ingest 11,000 pieces of microplastic each year.

Prince Charles, long known for his interest in environmental causes, was attending a meeting of the International Sustainability Unit (ISU) which he established in 2010 to help tackle issues such as deforestation, climate change and marine health.

"Over the last few years, the awareness and science about the negative impacts of plastic waste in our ocean have grown significantly," he added. "Many of you, I know, shared my deep frustration that the world was seemingly just turning a blind eye to this mounting evidence.

"Thankfully, the level of concern has now changed, not least because of your efforts. "Even though the challenge at hand is extremely grave and unbelievably urgent, I for one at least find some encouragement from the fact that the legacy of plastic in the environment is now very much on the global agenda and in the public consciousness."
At the meeting, he praised collaborative and integrated efforts to solve the problem of plastic waste. He said: "In a culture where the forces of competition so often swamp the imperative of co-operation, breaking out of the silos that slow down progress is even more of an achievement."

Attendees at the "Keeping plastics and their value in the economy and out of the ocean" conference included representatives from the Ellen MacArthur Foundation, Marks & Spencer, Waitrose, PepsiCo UK, and Sky Ocean Ventures Fund.

Reacting to today's speech by The Prince of Wales on plastic pollution, Friends of the Earth chief executive Craig Bennett, who attended the meeting, said:

"The Prince of Wales has been championing the environment for decades, so we're delighted he is bringing his considerable influence to tackle the scourge of plastic pollution. "We share the Princes' frustration at the slow pace of action on this issue.

"Theresa May rightly recognises the need to act – but speedier efforts are needed to slash waste, boost recycling and stop the tsunami of plastic pouring into our oceans."
..

..
THE SUN 10 NOV 2017: Theresa May has been branded economically illiterate by Treasury insiders as relations with the Chancellor plunged to new depths. That may or may not be the case, but the lady is still in charge of Brexit negotiations and we hope that she has got one eye firmly on the ball when it comes to essential research that will give us a better chance of securing food into the 2050s.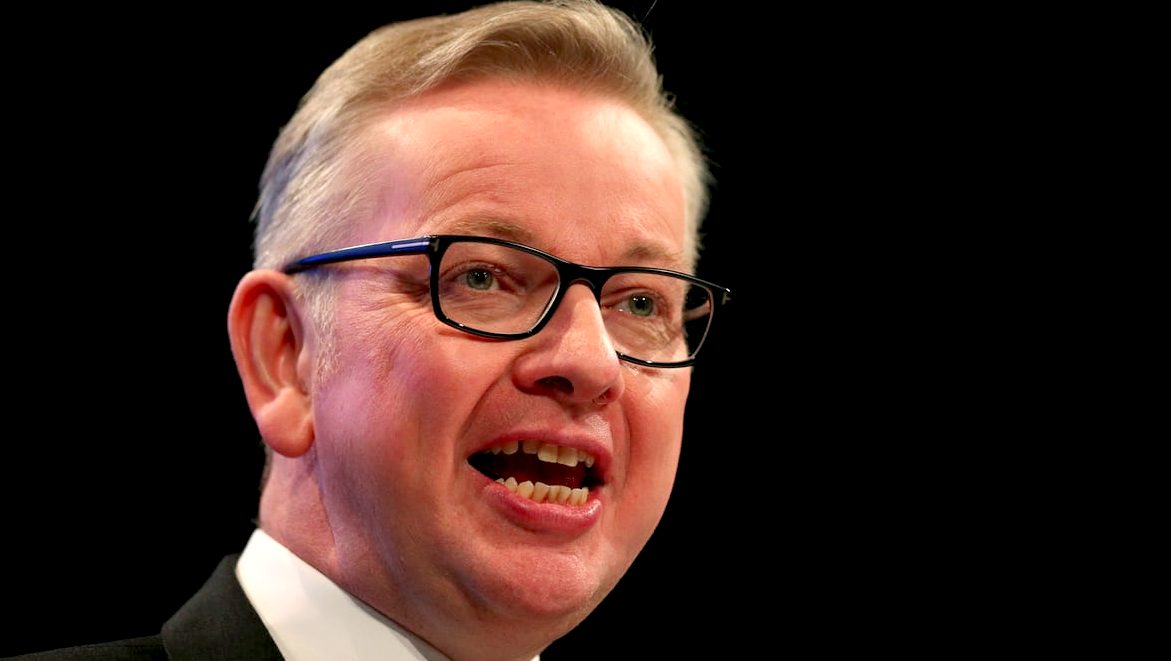 THE GUARDIAN OCT 2017 - A deposit return scheme aimed at slashing plastic pollution has moved significantly closer after environment secretary Michael Gove said he would work with the industry to see how a scheme can be implemented in England.

Gove, speaking at the Conservative party conference in Manchester, announced a four-week call for views to inform how a deposit return scheme (DRS) would be designed. The government's working group on the issue will also consider DRS for metal and glass containers.

Over eight million tonnes of plastic enter the oceans every year, with 80% coming from land. Plastic bottles are a major contributor; in June the Guardian revealed that a million are made every minute and the rate is rising quickly, with annual consumption forecast to top half a trillion by 2021.

At least a dozen nations already have DRS, in which a small deposit is paid when purchasing the bottle, which is then returned when the empty bottle is brought back.

In Germany and Denmark, which have DRS schemes, more than 90% of bottles are returned. In England, just 57% of plastic bottles are recycled, mostly through streetside collection schemes. Gove was pressured this summer by opposition parties and NGOs to introduce a DRS in England, and Nicola Sturgeon announced in September that Scotland would introduce a DRS.

"We must protect our oceans and marine life from plastic waste if we are to be the first generation to leave our environment in a better state than we found it," Gove said. "We want to hear people's ideas on how we could make [a DRS] work in England." In September, Gove said a plastic bottle DRS was a "great idea" but it was vital to devise a programme "that others can buy into".

Gove noted the huge reduction in plastic bag use resulting from the 5p charge placed on single-use bags, and that the government was drawing up "one of the world's toughest bans on plastic microbeads". The DRS working group has been asked to report early in the new year.

"The continuous stream of disposable plastic bottles running into our oceans has been growing alarmingly," said Greenpeace oceans campaigner Elena Polisano. "We urgently need solutions, and we think a DRS is probably the best way to raise the collection rate."

Coca-Cola is one of the world's biggest producers of plastic bottles and in February reversed its opposition to a DRS in Scotland. In July, the company announced it would use more recycled plastic in its bottles. However, on Monday Greenpeace revealed that Coca-Cola has increased its production of plastic bottles by a billion in the last year.

Louise Edge, oceans campaigner for Greenpeace, said: "Coca-Cola talks the talk on sustainability but the astonishing rate at which it is pumping out single-use plastic bottles is still growing."
LINKS & REFERENCE
https://www.packagingnews.co.uk/news/plastics-news/waste-free-oceans-partners-henkel-fight-marine-plastic-litter-22-03-2018
https://www.packagingnews.co.uk/news/materials/iceland-targets-plastic-free-packaging-2023-16-01-2018
https://www.packagingnews.co.uk/top-story/pg-launches-bottle-made-100-recycled-ocean-plastic-05-10-2017
https://www.telegraph.co.uk/science/2018/01/31/prince-charles-nightmare-plastic-oceans-will-get-worse/
ABS - BIOMAGNIFICATION - BP DEEPWATER - CANCER - CARRIER BAGS - CLOTHING - COTTON BUDS - DDT - FISHING NETS
FUKUSHIMA - HEAVY METALS - MARINE LITTER - MICROBEADS - MICRO PLASTICS - NYLON - OCEAN GYRES - OCEAN WASTE
PACKAGING - PCBS - PET - PLASTIC - PLASTICS - POLYCARBONATE - POLYSTYRENE - POLYPROPYLENE - POLYTHENE - POPS
PVC - SHOES - SINGLE USE - SOUP - STRAWS - WATER
This website is provided on a free basis as a public information service. copyright © Cleaner Oceans Foundation Ltd (COFL) (Company No: 4674774) 2018. Solar Studios, BN271RF, United Kingdom. COFL is a charity without share capital. The names AmphiMax™, RiverVax™ and SeaVax™ are trade names used under license by COF in connection with their 'Feed The World' ocean cleaning sustainability campaign.