CALEDONIAN MacBRAYNE - FERRIES
ABOUT - CLIMATE CHANGE - CONTACTS - FERRY OPERATORS - HOME - OCEAN PLASTIC
PLEASE USE OUR A-Z INDEX TO NAVIGATE THIS SITE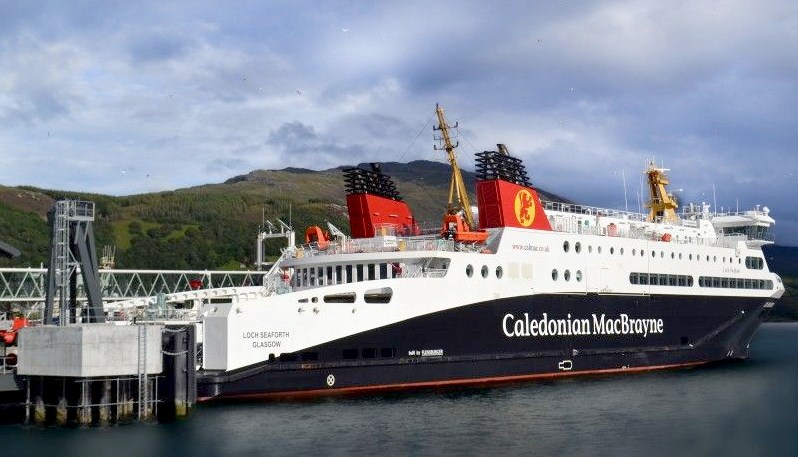 MINI SCOTLAND - Arran has a bit of everything: mountains, forests, beaches, glens. You can cycle round the island in a day, and there are beautiful golf courses if you like to take things a little more slowly. You can't miss Goat Fell as you approach on the ferry to Arran - it's the island's biggest mountain, and one of the most popular walks, with spectacular views from the top. And if you want more technical hiking and climbing, go for a scramble with one of the mountaineers from the Arran Adventure company.

The wildlife on Arran is abundant, so pack your binoculars for a chance to see seal colonies, otters, eagles, basking sharks, porpoises, and over 100 species of birds. There's plenty of history, too - head to Brodick Castle for a peak at the ancient seat of power, or Lochranza Castle, with its underground prison, 'the pit'. After all that you might need a bit of sustenance - and Arran's got that covered, too, with local cheese, beer and whisky.
Caledonian MacBrayne, or CalMac, is the major operator of passenger and vehicle ferries, and ferry services, between the mainland of Scotland and 22 of the major islands on Scotland's west coast. Since 2006 the company's official name has been CalMac Ferries Ltd although it still operates as Caledonian MacBrayne. In 2006 it also became a subsidiary of holding company David MacBrayne Ltd, which is owned by the Scottish Government.

The company enjoys a de facto monopoly on the shipment of freight and vehicles to the islands, and competes for passenger traffic with number of aircraft services of varying quality and reliability. Nonetheless, few if any of the routes currently operated by CalMac are profitable, and the company receives significant government subsidies due to its vital role in supplying the islands - these routes are classified as "lifeline" services. In 1996 CalMac opened its first route outside Scotland, winning a ten-year contract to provide a lifeline service to Rathlin Island in Northern Ireland. This service continued until 2008 when CalMac lost the tender.

Following a European Commission decision to not subsidise a passenger and vehicle service, the route was again put out to tender. In May 2011, Argyll Ferries Ltd, a newly formed subsidiary of David MacBrayne, was named as the preferred bidder for a passenger-only Dunoon-Gourock service. The timetable was extended into the early hours over weekends, with additional sailings integrated with rail services. Two passenger-only ferries, MV Ali Cat and MV Argyll Flyer (formerly MV Banrion Chonomara), were arranged for the run. When the service began on 30 June 2011, preparation of the Argyll Flyer was incomplete, and as an interim measure the cruise boat MV Clyde Clipper was leased from Clyde Cruises.

Argyll Ferries was incorporated into Caledonian MacBrayne on 21 January 2019.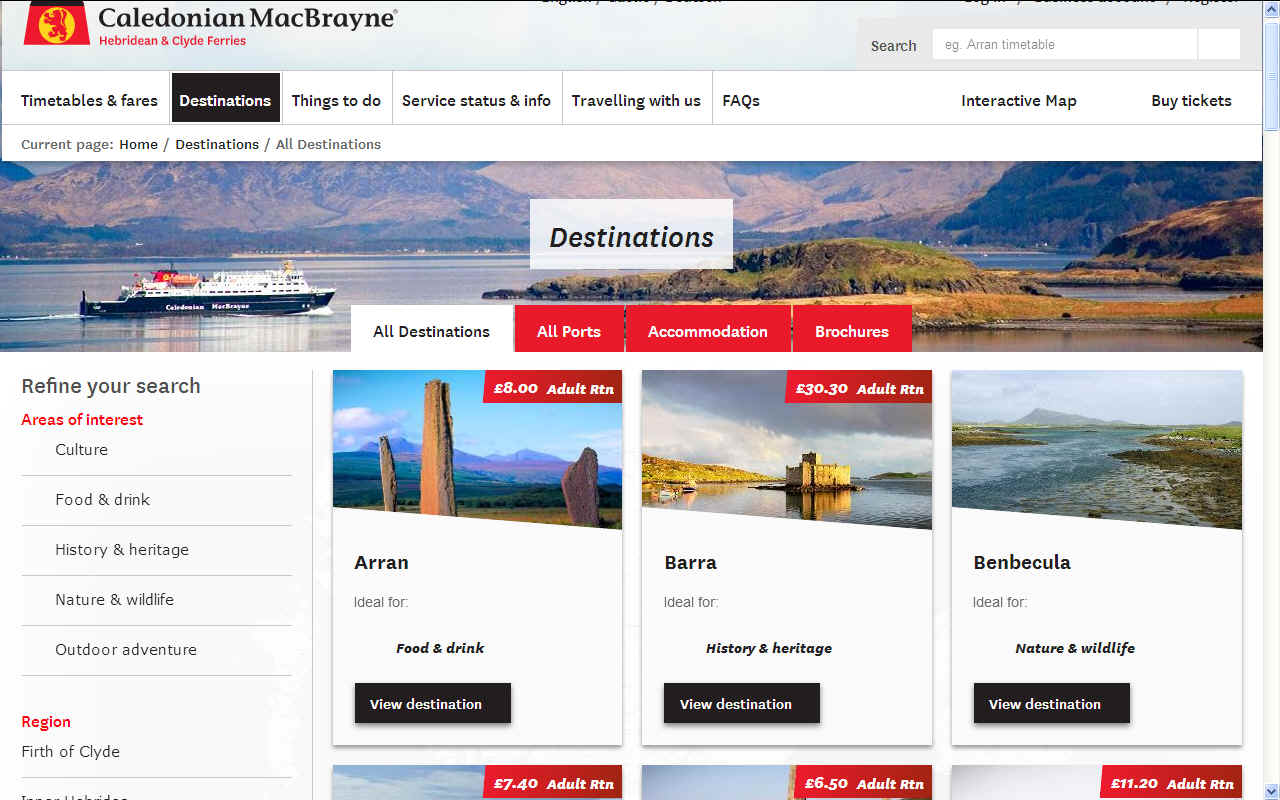 There are 33 vessels in current service, with ten 'major units' – ships of 80 m (262 ft) or more in length. The largest is MV Loch Seaforth at 116 m (381 ft) in length. MV Finlaggan (2011) is almost 90 m (295 ft) long and able to carry 550 passengers with 88 cars. She was built in Poland, at a cost of £24.5 million and operates the Islay service. The others are MV Isle of Lewis, MV Clansman, MV Hebrides, MV Caledonian Isles, MV Isle of Mull, MV Hebridean Isles, MV Isle of Arran and MV Lord of the Isles.

There are 13 "Loch Class" vessels in different shapes and sizes. These double-ended ferries are mostly symmetrical when viewed from the side, with no operational bow or stern (although in official documents the designation of such is given). MV Loch Portain is able to handle Force 7 gales and carry 36 cars and 149 passengers, with a crew of five.[citation needed] The smallest vessel in the fleet is MV Carvoria, built in Shetland for the Kerrera route.

The company is adapting to the demands of 21st century. MV Lochnevis (2000) was designed for the Small Isles service. MV Bute (2005) and MV Argyle (2007), both built in Gdansk are on the Wemyss Bay–Rothesay route. A new "super loch", MV Loch Shira entered service in 2007 on the Largs–Cumbrae route. MV Hallaig (2013; for Raasay), MV Lochinvar (2013; for Tarbert) and MV Catriona (2015; for Lochranza), built by Ferguson Marine Engineering are pioneering seagoing roll-on roll-off vehicle and passenger diesel-electric hybrid ferries. The latest vessels are two dual fuel ferries under construction by Ferguson Marine Engineering: MV Glen Sannox (2017) is due to be delivered for the Arran service in summer 2020 and Hull 802 is due to be launched in 2018 for the Uig triangle.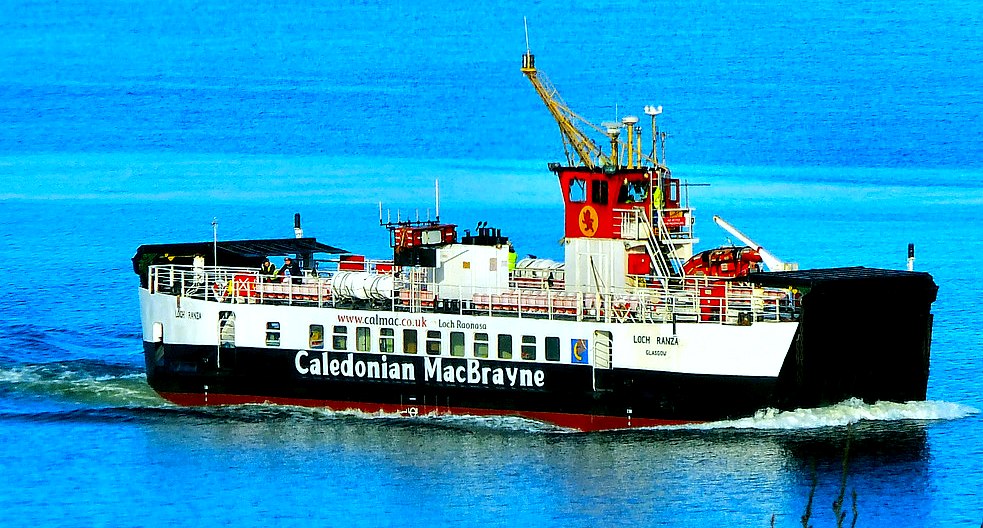 Coastal tourism depends on people being able to get to the coast from inland conveniently, and in some cases to hop across the water from one coast to another. Cross Channel ferries were born to cater for those who wanted to experience the sea and see life on the opposite side of the English Channel, or Le Manche as it is known in France. The EuroTunnel is another way of getting to the other side of the Channel, with claims to be low carbon but has limited service for passengers.
Ferry services are needed to get from Ireland to England via St George's Channel and to and from the Isle of Man across the Irish Sea, from England to the Isle of Wight and umpteen other islands, such as Skye and Mull in Scotland. Roll on roll off ferries allow drivers to tour in their own vehicles.
Ferry services operate all over the world to transport passengers to and from the myriad islands, transporting passengers and goods. Such services are essential transport for goods apart from coastal tourism, the trade for which exotic locations in on the rise calculated in the $Billions of dollars, despite a 2018 Report telling us that global tourism is responsible for 8% of carbon emissions, much of which is blamed on the burning of aviation kerosene, the equivalent of the old sulfurous bunker heavy oil fuels now outlawed by the IMO's MARPOL regulations.
Coastal tourism is also popular for sailors who want a long weekend on the water and for those who want to explore the coasts of Europe, the Adriatic, Baltic, Bay of Biscay, Black Sea, and Mediterranean Sea.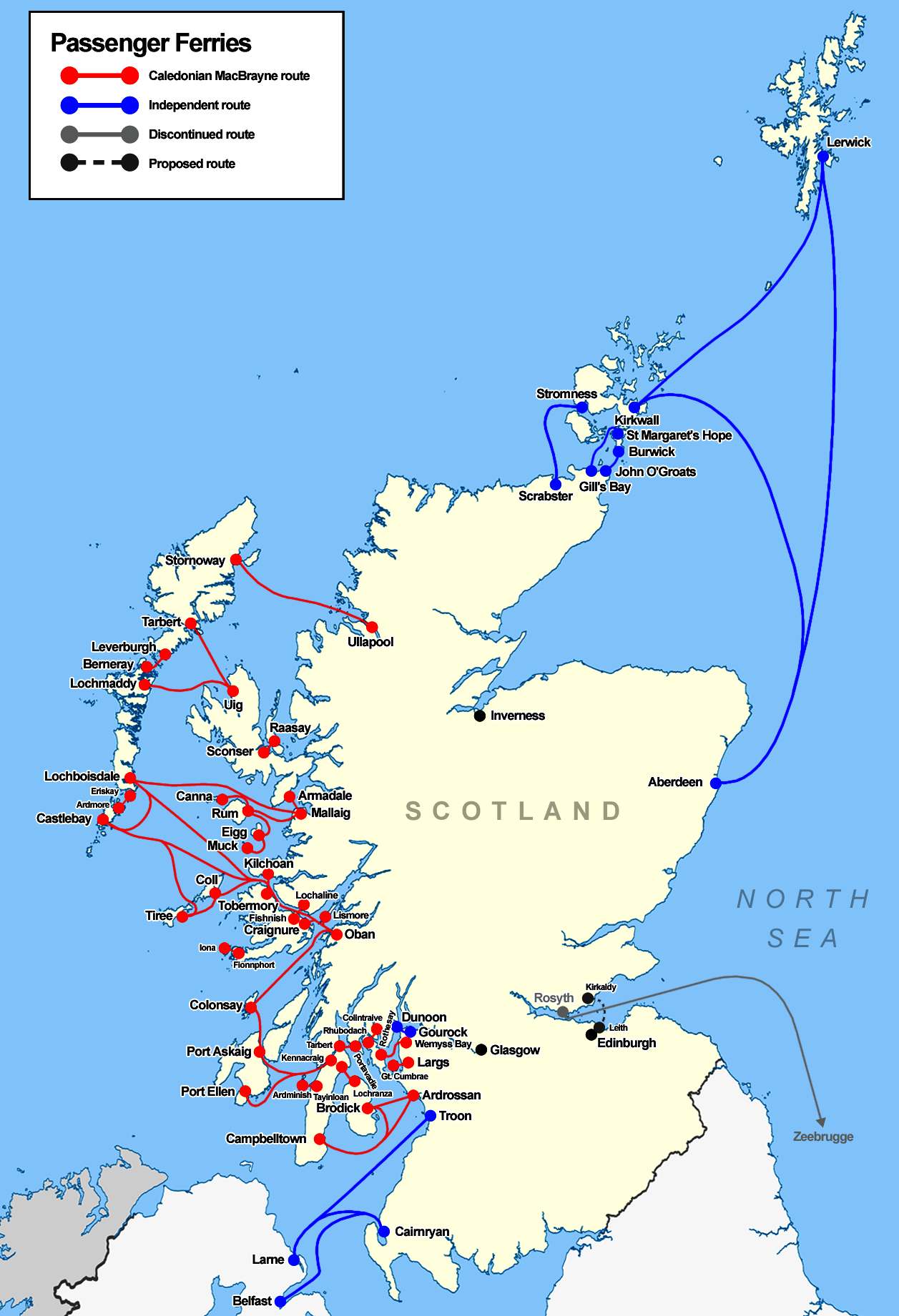 FERRY ROUTES - From Scotland to Ireland and to the Scottish Isles, there are a multitude of routes that can only survive with support, where profitability is in issue.
CROSS (ENGLISH) CHANNEL FERRY OPERATORS & ISLAND SERVICES
DFDS -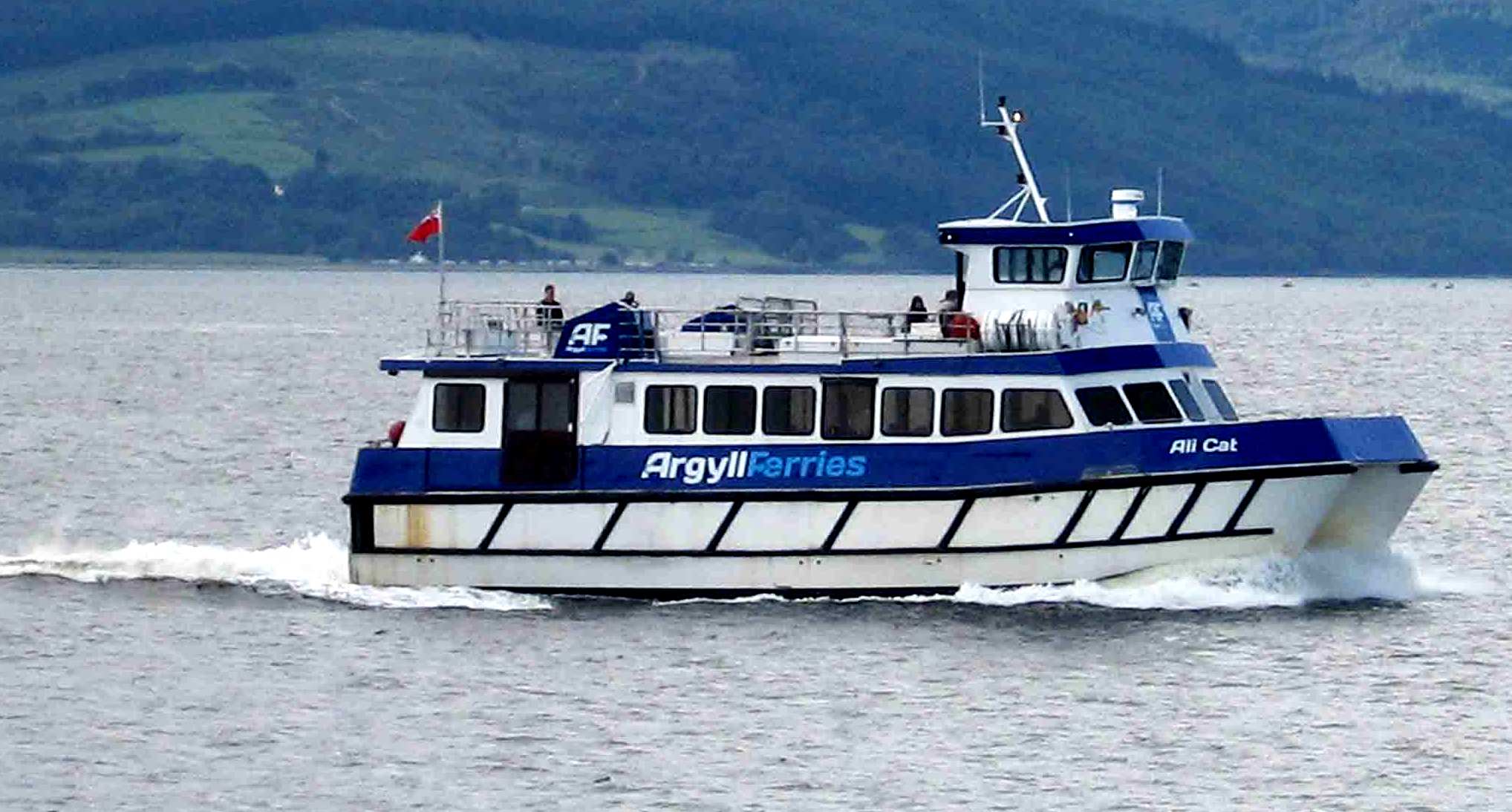 A study in July 2021 has shown that the hull design of a trimaran, could be adapted to cross the Atlantic on hydrogen power alone, with solar assistance, as a top up power source. Food for thought for Waterborne and Zero Emission Waterborne Transport (ZEWT) advocates in Europe. The aim would be to adapt the concept to practical ZESTA ferries, especially for island nations who depend on shipping for their economies. The proposed design is also safer, leak wise.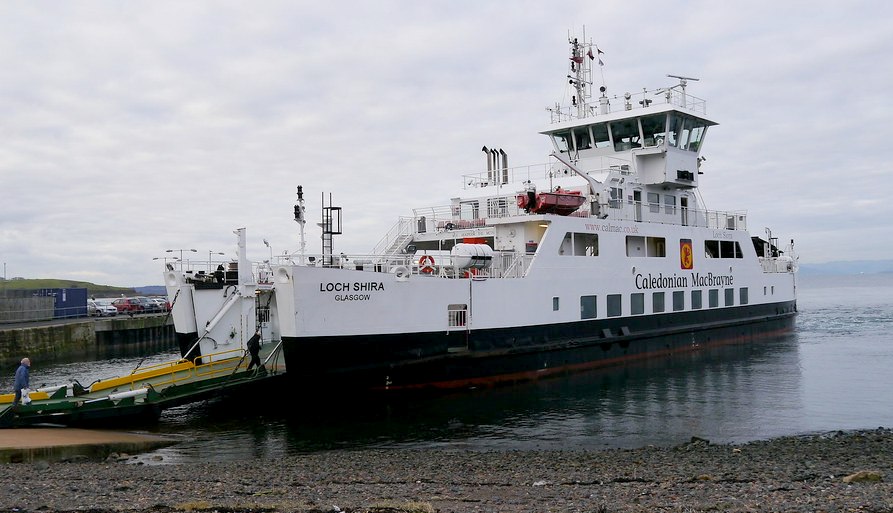 ....
FERRY OPERATORS & ROUTE OPTIONS
Sometimes the shortest route isn't the most convenient for accessing much of Scotland. What you save in cheaper ferry fares you might pay for in diesel and petrol fuels for conventional ICE cars, and tolls because of a longer land journey. The heralding in of electric vehicles with supporting infrastructure will change that, as will the 2030 targets set by the IMO for lower shipping emissions begin to take effect as they are gradually implemented.
Assuming that these targets are met, more local coastal tourism will be far more sustainable than global tourism reliant on flying to exotic destinations, no matter how alluring the thought of white sandy beaches and clear blue tropical seas.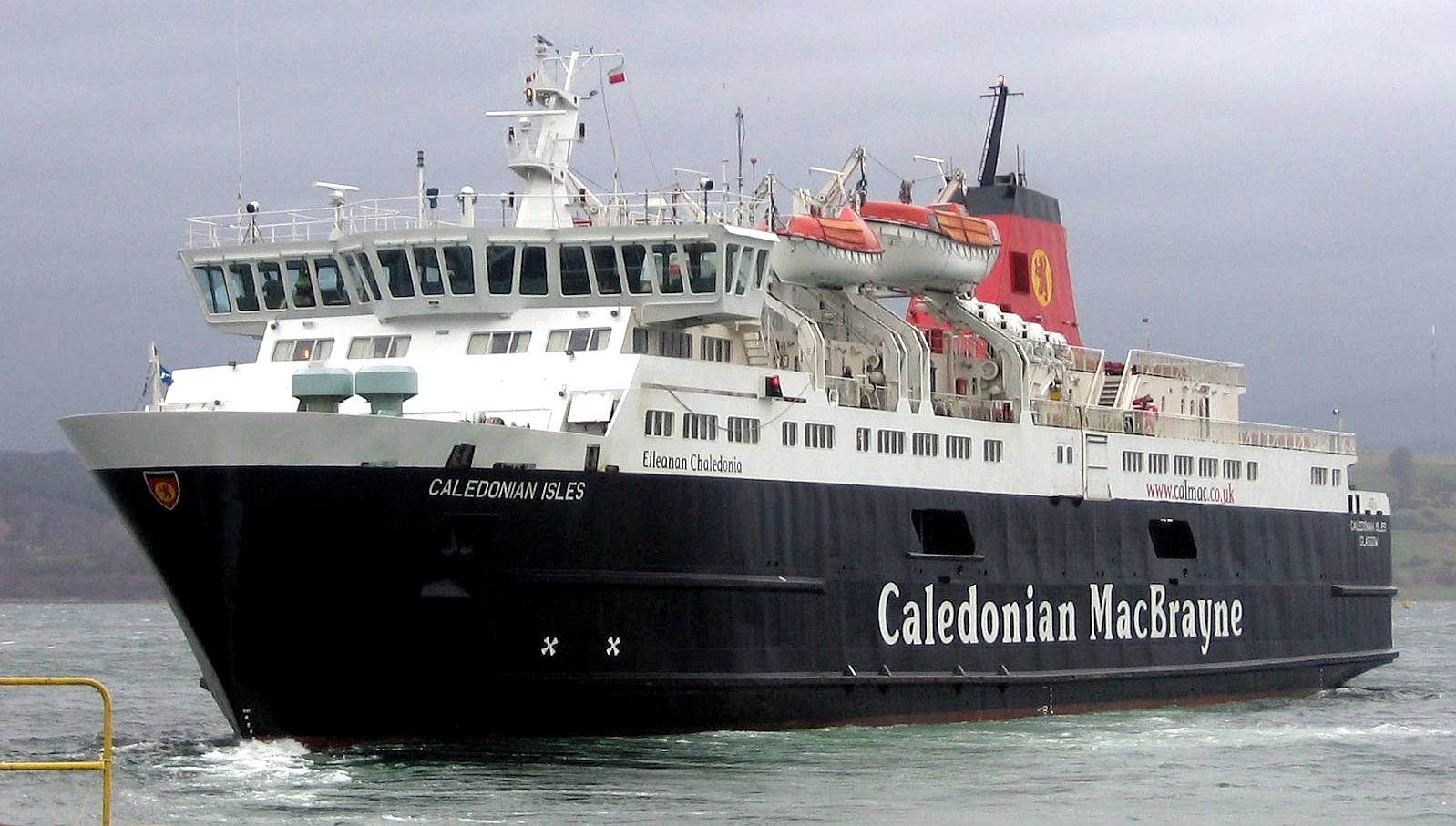 BLUE GROWTH STRATEGY
As part of EU's Blue Growth strategy, the coastal and maritime tourism sector has been identified as an area with special potential to foster a smart, sustainable and inclusive Europe. It is the biggest maritime sector in terms of gross value added and employment and, according to the Blue Growth Study is expected to increase by 2-3% by 2020. In 2012, Cruise tourism alone represents 330,000 jobs and a direct turnover of €15.5 billion and is expected to grow.
European Maritime Day (EMD) 2013 focused on coastal and maritime tourism and was the opportunity to introduce the results of a public consultation launched to prepare a communication on coastal and maritime tourism. The EU Commission adopted a Communication on "A European Strategy for more Growth and Jobs in Coastal and Maritime Tourism" on 20 February 2014, presenting a new strategy to enhance coastal and maritime tourism in Europe in order to unlock the potential of this promising sector.
This sector employs over 3.2 million people, generating a total of € 183 billion in gross value added and representing over one third of the maritime economy. As much as 51% of bed capacity in hotels across Europe is concentrated in regions with a sea border.
CONTACTS
Tel: 0800 066 5000
Email: enquiries@calmac.co.uk
Tel: +44 (0)1475 650 397
Monday to Friday: 07:00 a.m. - 09:00 p.m.
Saturday and Sunday 08:00 a.m. - 08:00 p.m.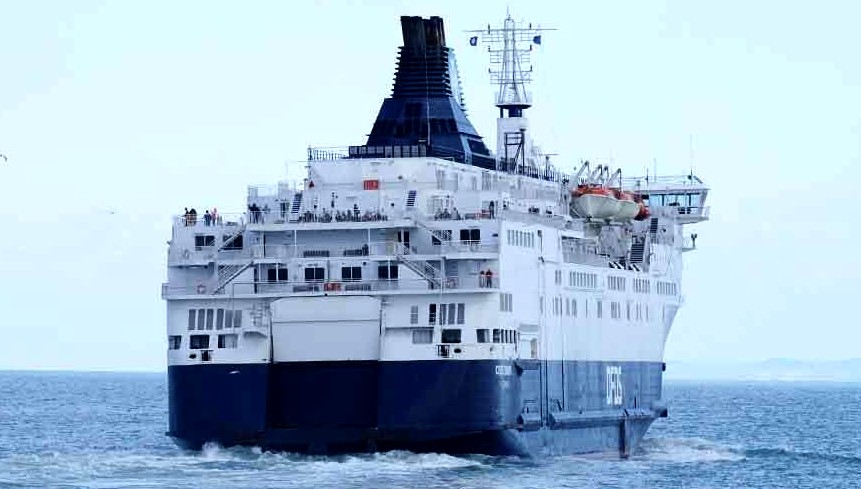 A-Z INDEX OF H2 POWERED FUEL CELL SHIPS

BARILLEC MARINE
LINKS & REFERENCE
https://www.cruiseandferry.net/articles/scotland-explores-feasibility-of-hydrogen-powered-ferries
http://www.pointandsandwick.co.uk/news/publication-of-hydrogen-ferry-report/
ADRIATIC SEA - ARCTIC OCEAN - ATLANTIC OCEAN - BALTIC SEA - BAY OF BENGAL - BERING SEA - CARIBBEAN SEA
CORAL SEA - EAST CHINA SEA - ENGLISH CHANNEL - GULF OF GUINEA - GULF OF MEXICO - INDIAN OCEAN - IRISH SEA
MEDITERRANEAN SEA - NORTH SEA - PACIFIC OCEAN - PERSIAN GULF - SEA OF JAPAN - SOUTH CHINA SEA - SOUTHERN OCEAN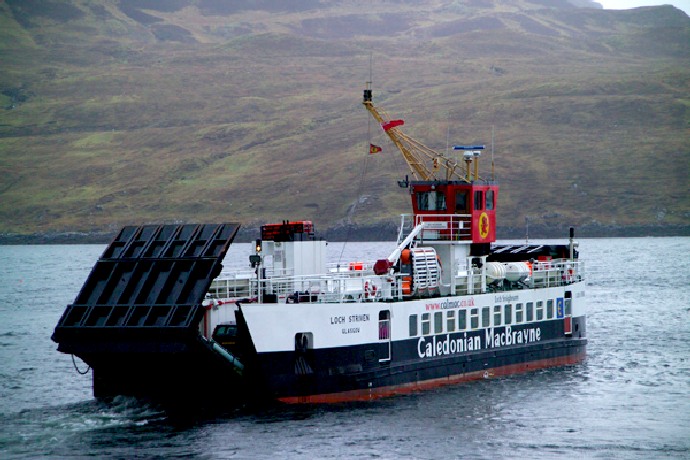 ...
This website is provided on a free basis as a public information service. Copyright © Cleaner Oceans Foundation Ltd (COFL) (Company No: 4674774) 2019. Solar Studios, BN271RF, United Kingdom. COFL is a charity without share capital.