H2 - WARTSILA & BOREAL SJO FERRY TENDER
ABOUT - CLIMATE CHANGE - CONTACTS - FERRY OPERATORS - HOME - OCEAN PLASTIC
PLEASE USE OUR A-Z INDEX TO NAVIGATE THIS SITE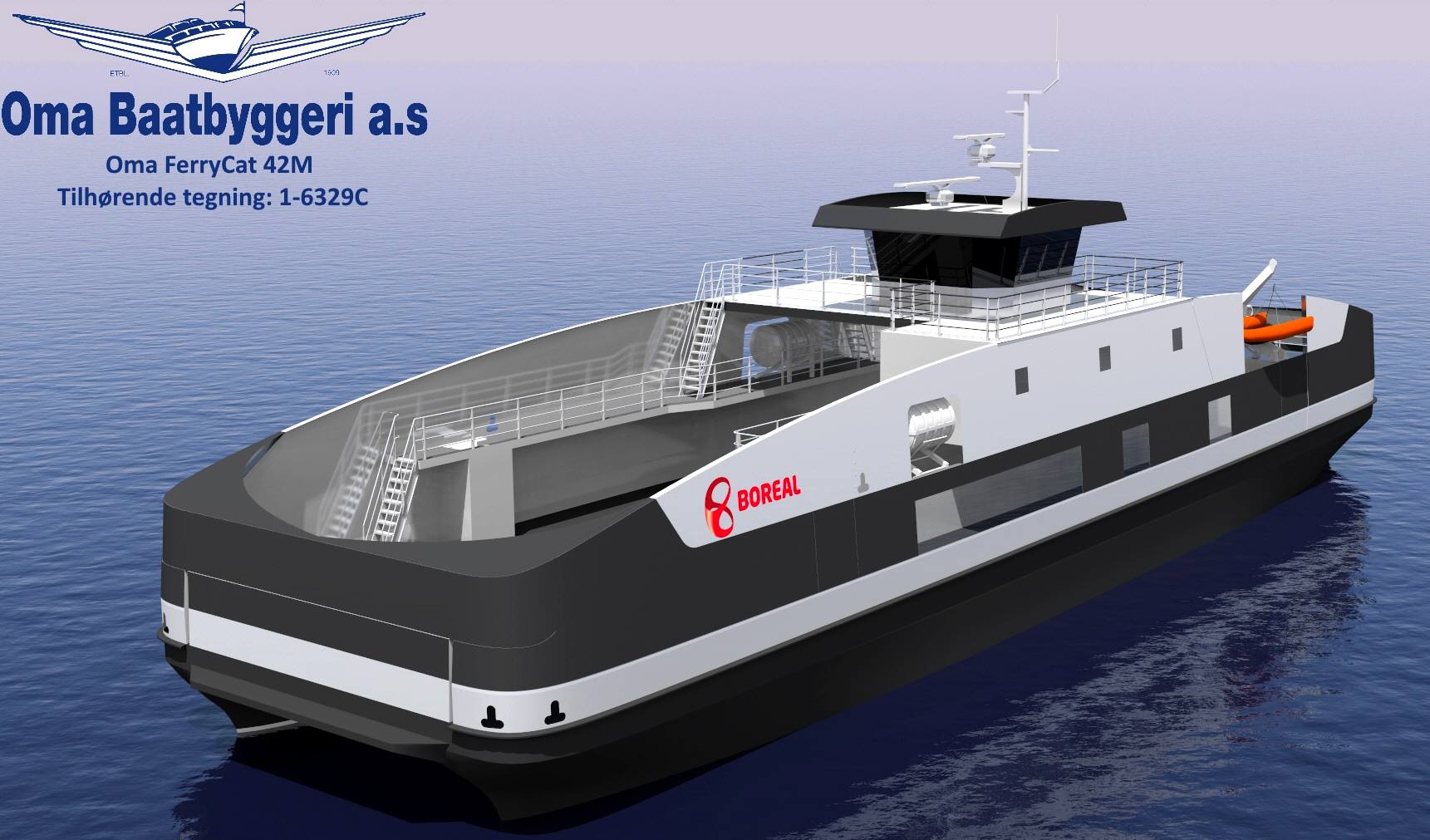 NORWAY - November 22, 2016, Godøy was handed over from Oma Baatbyggeri AS to Boreal Sjø AS. The passenger boat is the ship's building number 537.

Godøy has room for 296 people. This is the largest speedboat in the country in terms of passenger seating on one deck.

As of 1 January 2017, Boreal Sjø AS took over the operation of the four speedboat routes for which Møre and Romsdal county municipalities are responsible. All the vessels have received Fram's profile. Godøy is the first in a series of Boreals in a total of five new fast boats to be connected in Møre and Romsdal with start-up on January 1, and the first of two to be delivered from Oma Baatbyggeri.

CLOSE COOPERATION The new and large speedboat Godøy will operate the Hareid route, ie the route between Hareid, Ålesund and Valderøy. As for the name Godøy, it was chosen on the basis that this boat will pass Godøya on every trip between Ålesund and Hareid.

"The vessel is built in close collaboration with the shipyard to find the best solutions in today's technology for the best for the environment," said Kjetil Førsvoll, chairman of the board of Boreal Sjø AS, in a press release. Oma Baatbyggeri will also build a smaller boat to Boreal, which seats 120 people. This will enter the North Island route in Haram municipality.

GOOD SATISFACTION Førsvoll adds good words about the job with Oma Baatbyggeri.

- They are reliable and they keep what they promise. This means that together with our client we can create a good offer for the best for all travelers. We look forward to further cooperation with Fram and Møre and Romsdal county council, concludes Førsvoll.

Baptism Godøy was baptized on November 22, 2016 at Stord. Godmother is Aurora Dimmen Bratli from Ulstein. The 18-year-old, who was recently elected new AUF leader in Møre og Romsdal, said in his baptismal speech that the speedboat is of incredible value to all who use it.

- Maybe especially young people, and those who do not have access to a car, need the speedboat. It helps make public transport more attractive and easier to use, said Dimmen Bratli, according to the county council's websites.

CLASS Godøy has the following class notations: HSC code 2000 / NMD.

MACHINERY The main engines are two MTU type 8V 2000 M72, supplied by Bostek AS. The progress is provided by an MJP DBR 500DD water jet system from Manni Jet Power. Two 46 kW John Deere auxiliary motors and Stamford generators are supplied by Nogva Motorfabrikk AS. Thruster is supplied by Sleipner Motor AS.

DEKK Anchor winch is supplied by MB Hydraulikk AS. Oma Baatbyggeri AS has supplied and installed walkways. MOB-davit is supplied by Bergen Hydraulic AS. Viking Life-Saving Equipment AS has supplied UIAS MES and reserve fleet. Anchors and chains are supplied by Erling Haug AS, while exterior doors are supplied by Libra Plast AS

FURNITURE Furniture is provided by West Mekan AS. Oma Baatbyggeri AS has supplied ventilation systems. Fire extinguishing systems are supplied by Alf Lea & Co. Apply TB has provided fire alarm systems.

ELECTRONICS Apply TB AS has done the complete electrical installation, as well as the installation of electronic equipment. Full navigation and communication package and sonar are provided by Furuno Norge AS. The package consists of radars of type FAR-2137S BB 220VAC and FAR-2117 BB 24VDC, DGPS GP-170 / GPA021S, echo sounder of type FE-800 without MB, Doppler log, VDR of type VR-7000 without cable and microphone, VHF of type FM-8900S, navtex of type NX-700-B and U-AIS of type FA-170 / GPA017S class A.
Boreal Sjø AS (formerly Boreal Transport Nord AS and Veolia Transport Nord AS) is a subsidiary of Boreal Norge, operating road ferries and fast ferries in Finnmark, Nordland and Troms. The headquarters are located in Hammerfest, Finnmark. In July 2014, Boreal Transport Nord acquired Hurtigruten's 71.3%-share in TIRB, becoming the major owner. As BTN had all of Boreal's ferry operations, the company was renamed Boreal Sjø AS and all other business areas were moved to other Boreal companies.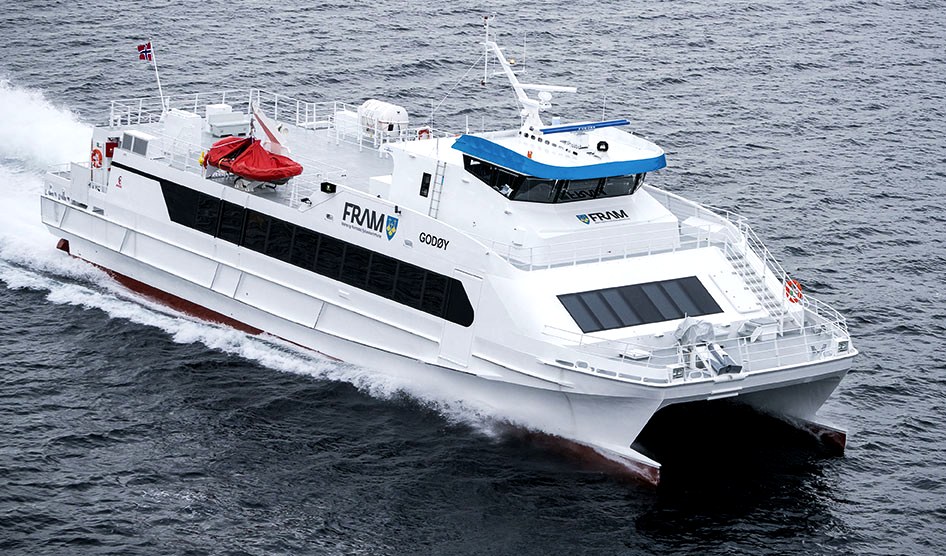 WORLD MARITIME NEWS FEBRUARY 5 2018
Ferry operator Boreal Sjø and technology group Wärtsilä have reached an agreement to jointly work on developing hydrogen-powered ferries.

Under the deal, the parties said they would develop a hybrid hydrogen-electric ferry, which would be powered by 50 percent hydrogen, and one fully electric ferry.

According to Boreal Sjø, the new ferry will be the first vessel of its size ever operated by hydrogen in commercial operation.

The units are scheduled to be completed in 2021. They are designated to operate on the Hjelmeland-Skipavik-Nesvik route in Norway.

The agreement is part of the Norwegian government's plan to be the first country to own a hydrogen-powered ferry.

Boreal Sjø and Wärtsilä are finalizing their final concept for the unit and are expected to present their offer on the completed solution to the Norwegian Public Roads Administration by August 2018.

The parties would be competing with two other companies for the Norwegian development contract.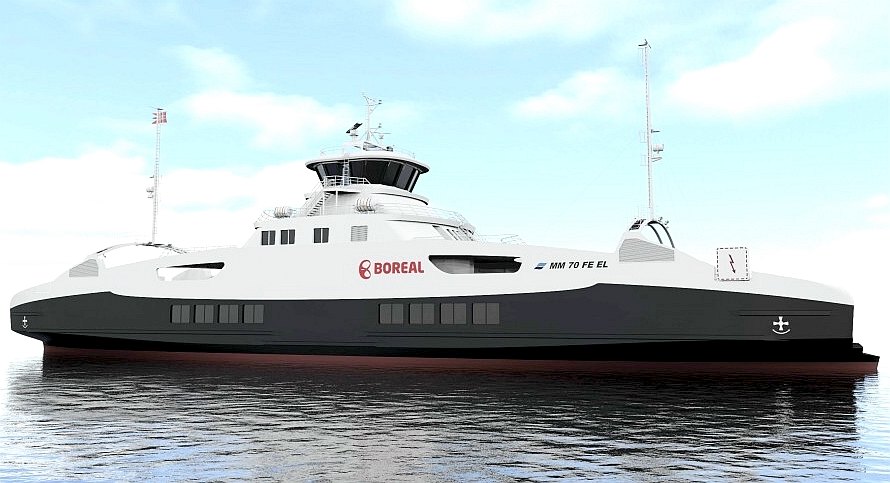 NOVEMBER 2017 - ELECTRIC HYBRID FERRY
The ferry will be built by Oma Baatbyggeri on Stord, and will be commissioned in Hordaland on 1 January 2020.

Boreal and Hordaland county council v / Skyss signed a contract on April 26 this year to operate three ferry connections in Hordaland. The new ferry, which is now contracted, will serve the Kinsarvik-Utne traffic.

- This will be a short-haul ferry, which is both being built and put into operation in Hordaland. Oma Baatbyggeri is known for high quality and good delivery ability and has previously built several fast boats for us. We are now looking forward to the cooperation on this ferry, says CEO Kjetil Førsvoll in Boreal.

Saves the environment

The electric ferry is equipped with battery packs that can be recharged from the mains, and also has a diesel engine as a backup solution (plug-in hybrid electric). The ferry must meet stringent environmental requirements, which entails extensive reductions in CO2 emissions and energy consumption.

- We are using new technology, which will both save the environment and increase quality for the travelers. The connections must be electrically operated with shore power. It provides a significant environmental improvement, a full 92 percent reduction in CO2 emissions, and a 74 percent reduction in total energy consumption, "says Førsvoll.

The new ferry is universally designed and has good sea characteristics.

New area

The operating contract with Hordaland county municipality v / Skyss includes the connections Kvanndal – Utne, Kinsarvik – Utne and Skånevik – Matre – Utåker, and has a duration of 9 years with a one-year option.

- We look forward to contributing to the renewal and modernization of ferry operations in Hordaland. Hordaland County Municipality and Skyss appear innovative with a strong environmental focus, and the contract fits very well with Boreal's goal of being a leader in environmentally friendly ferry operations, says Førsvoll.

This contract further strengthens the high environmental profile of Boreal's newbuilding program, which has built 15 environmentally friendly vessels in the last 5 years, with a total investment of NOK 1.1 billion.

Secures jobs

- For us this building is number 540, but the ferry is the first electric vessel we deliver. This is a whole new concept tailored to new environmental requirements, says general manager Gustav Oma of Oma Baatbyggeri AS.

The project is very exciting for Oma Baatbyggeri, partly because it represents innovation and a new concept.

- In terms of employment, the assignment is also important to us, as it will provide a stable work situation until the spring of 2019, says Oma.

Boreal is a leading national transport group operating buses, trams, speedboats and ferries. Boreal Norge AS is headquartered in Stavanger. The Group has 2,000 employees across the country.

Facts about the new ferry:

Length: 42 meters
Width: 11.35 meters
Building Material: Aluminum
Cargo capacity: 80 passengers. 16 passenger car units or 2 truck units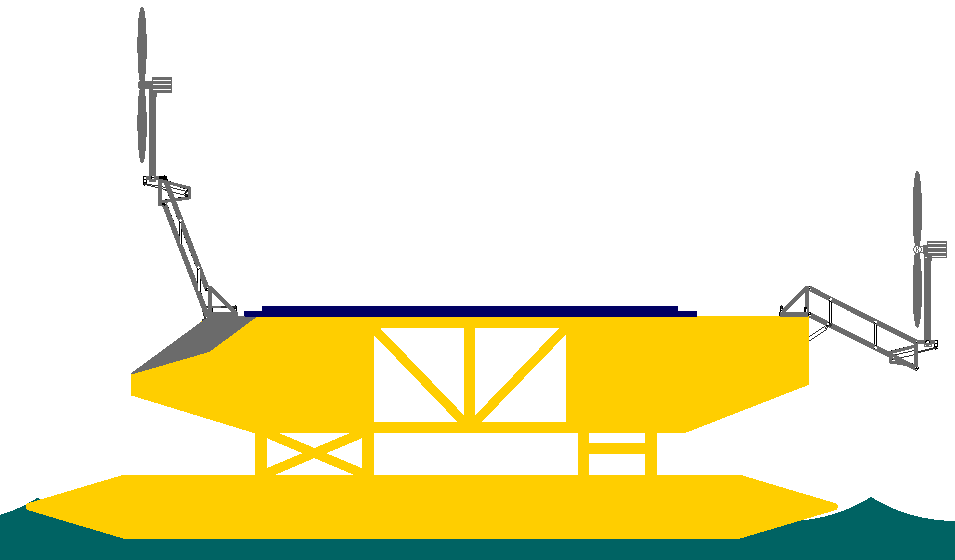 -
SOLAR & WIND POWERED FERRY - The Cross Channel Challenger (CCC) was a project on the drawing board in 2019 looking for backing to develop a coastal cruiser that is zero carbon just like the hydrogen projects, but where the vessel converts energy from nature onboard for propulsion without risk of hydrogen leaks or fires.
This is a toe-in-the-water project using budget off the shelf equipment to keep the costs down. Hence, the theoretical performance is lower than might be achieved but higher than the current benchmark. It is a useful stepping stone to medium range ferries and eventually bigger ships with longer ranges. Solar combined with wind power could be the winning combination. Comparing the two technologies will be interesting. For sure, the solar powered ferries will be safer and cheaper.
Solar and wind powered vessels do not need big hydrogen tanks next to docks for ships to fill up from. They do not need trucks to deliver the hydrogen from the conversion plants and last but not least, hydrogen is potentially dangerous, as the Zeppelin 'Hindenburg' demonstrated in 1937 when a spark ignited the fated airship, destroying it in minutes.
Since 2019, a study in July 2021 has shown that the hull design in basic, could be adapted to cross the Atlantic on hydrogen power alone, with solar assistance, as a top up power source. Food for thought for Waterborne and Zero Emission Waterborne Transport (ZEWT) advocates in Europe. The aim would be to adapt the concept to practical ZESTA ferries, especially for island nations who depend on shipping for their economies. The proposed design is also safer, leak wise.
CONVERSION, CONVERSION, CONVERSION - It is the number of additional stages of splitting water using electricity, storing as a gas and then recombining it to extract the electricity that was put in at the beginning at a huge net energy loss. Elon Musk has a point don't you think?
Hydrogen is recognised as a fuel with the potential to deliver 100% zero-carbon operation in marine transport, but the systems proposed so far are expensive and complicated, where the first rule of engineering is to Keep It Simple Stupid: KISS.
The allure of the hydrogen economy is plain, splitting ordinary water using electrolysis to obtain oxygen and hydrogen gas is like a schoolboy chemist dream come true, especially if we can generate what appears to be free electricity using solar cells and wind turbines to split the water. Then the hydrogen is free right?
No, not really.
There is a cost, including the cost of manufacturing the solar panels or wind turbines and the transmission line installation and maintenance. The inefficiencies in the conversion and handling chain make hydrogen expensive to produce and so potentially un-competitive - as compared to using the electricity needed to convert water, directly.
In addition, hydrogen is dangerous unless stored very carefully. Space rockets powered by hydrogen and oxygen sometimes explode, with the Hindenburg zeppelin explosion being signs of things to come in a world fraught with human error. We'd be courting disaster. If something can happen, it will happen. Passengers would be traveling in potential time bombs.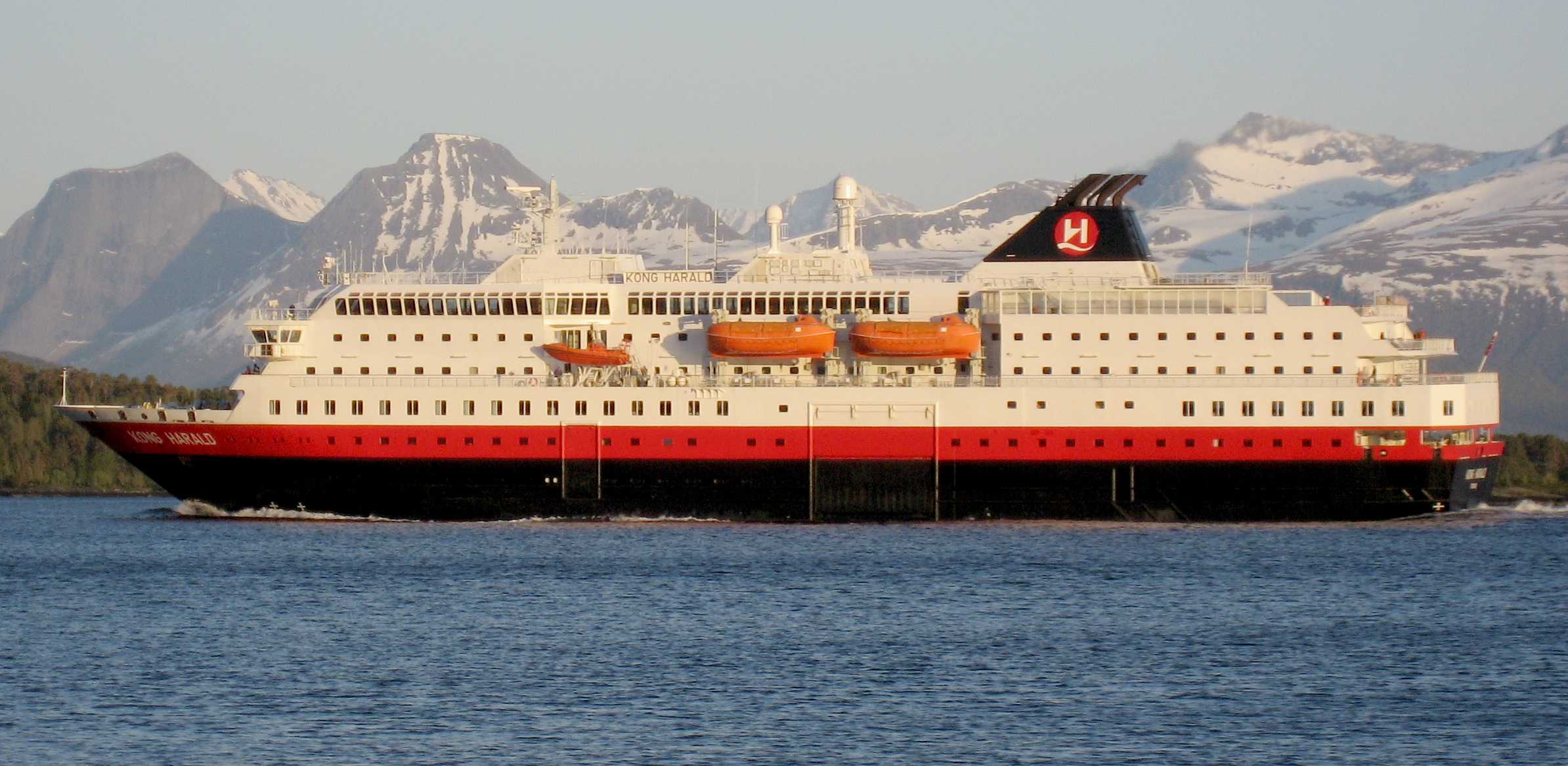 CONTACTS
Boreal Norge AS
Telefon91 555 888
E-postpost@boreal.no
BesøksadresseHaakon VIIs gate 7
4005 STAVANGER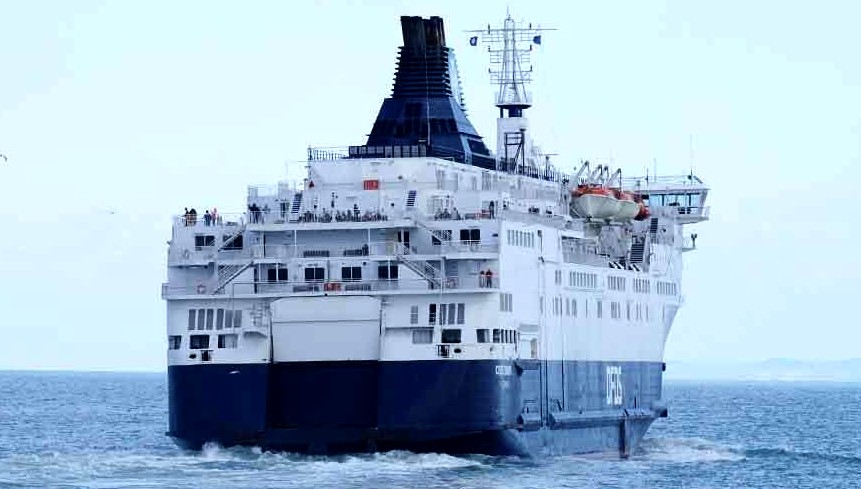 A-Z INDEX OF H2 POWERED FUEL CELL SHIPS

BOREAL SJO
FERRY OPERATORS & ISLAND SERVICES
DFDS -
LINKS & REFERENCE
https://worldmaritimenews.com/archives/243089/boreal-wartsila-join-forces-on-hydrogen-powered-ferries/
https://maritime-executive.com/article/hydrogen-fuel-cell-vessels-destined-for-france-and-norway
https://energy.sandia.gov/transportation-energy/hydrogen/market-transformation/maritime-fuel-cells/sf-breeze/
https://grist.org/article/a-ferry-that-runs-on-hydrogen-fuel-cells-is-coming-to-san-francisco/
ADRIATIC SEA - ARCTIC OCEAN - ATLANTIC OCEAN - BALTIC SEA - BAY OF BENGAL - BERING SEA - CARIBBEAN SEA
CORAL SEA - EAST CHINA SEA - ENGLISH CHANNEL - GULF OF GUINEA - GULF OF MEXICO - INDIAN OCEAN - IRISH SEA
MEDITERRANEAN SEA - NORTH SEA - PACIFIC OCEAN - PERSIAN GULF - SEA OF JAPAN - SOUTH CHINA SEA - SOUTHERN OCEAN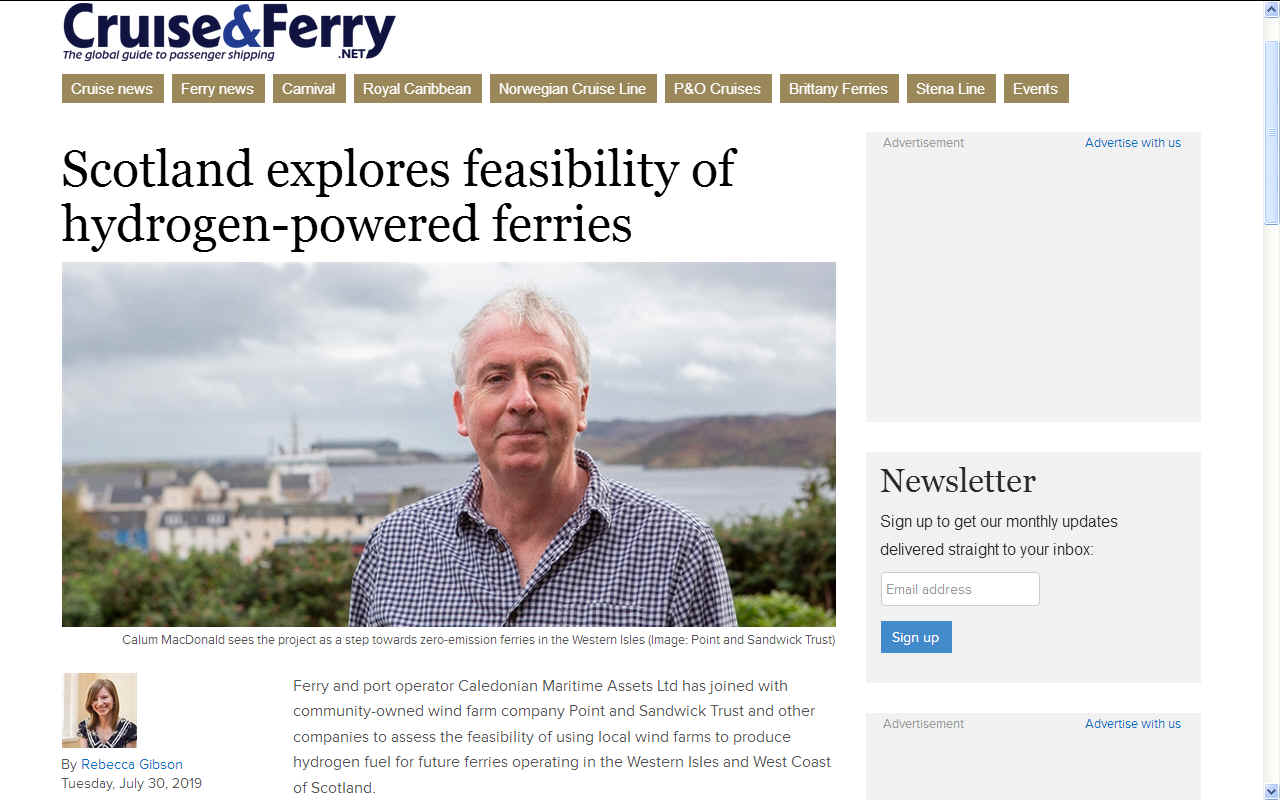 STUDY PUBLISHED - Point and Sandwick Trust, in collaboration with a number of industry partners (Wood, Siemens-Gamesa, Engie, ITM, CMAL, Johnston Carmichael and Ferguson Marine), have published a feasibility study to assess the suitability of using hydrogen produced from local wind farms to power future ferry services operating in the Western Isles and West Coast of Scotland.

The study was part-funded by the Scottish Government's Low Carbon Infrastructure Transition Programme. Read the full report here.

The project looked at the practical and economic feasibility of using new island wind farms to produce zero-carbon "green" hydrogen fuel for future types of clean emission ferries operating on the established Caledonian MacBrayne routes.
This website is provided on a free basis as a public information service. Copyright © Cleaner Oceans Foundation Ltd (COFL) (Company No: 4674774) 2019. Solar Studios, BN271RF, United Kingdom. COFL is a charity without share capital.