HYSEAS III - ORKNEY ISLANDS
ABOUT - CLIMATE CHANGE - CONTACTS - FERRY OPERATORS - HOME - OCEAN PLASTIC
PLEASE USE OUR A-Z INDEX TO NAVIGATE THIS SITE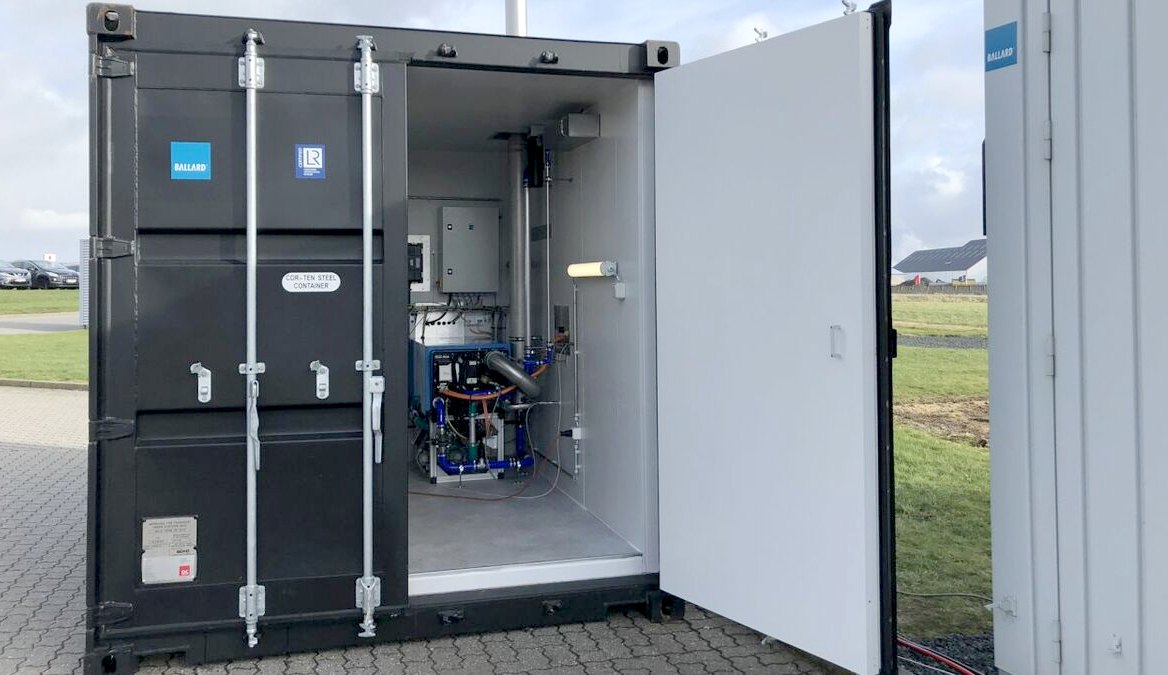 The ZERO V is a trimaran looking much like a heavyweight version of the Cable & Wireless Adventurer designed by Nigel Irens.
RIVIER AMM AUGUST 9 2019

HySeas III is a fuel-cell project with a difference – the hydrogen is produced using surplus renewable energy capacity

The culmination of a three-part research programme that began in 2013, the project seeks to demonstrate successful integration of hydrogen fuel-cell technology into a proven marine hybrid-electric drive system, along with associated storage and bunkering arrangements.

A land-based full-size drive train will be built, following which a roro passenger ferry integrating the whole hydrogen-electric drive train will be constructed, to operate on a route between Kirkwall and Shapinsay in the Orkney Islands.

Project dissemination lead Edwin Pang spoke to Marine Propulsion about the project ahead of his presentation on the subject at the Maritime Hydrogen and Fuel Cells Conference in Bergen on 3 September 2019.

While there are several hydrogen fuel cell ferry projects in the works, Mr Pang explains the ways in which HySeas III stands out. "It is unique in the sense that we are one of the first vessels to attempt to accommodate compressed hydrogen below deck."

"Quite often you see designs where you have a tank on deck, which is a lot easier to vent," he says, but notes this would not be a suitable solution for the HySeas III vessel as it would limit available deck space for passengers and cars. This would then require designing a larger, more expensive vessel to accommodate the same number of passengers and cars. On a conventional vessel, the fuel tanks would be stored in the below deck space, and HySeas III aims to follow suit.

The timescale of the project is for the land-based drivetrain to be assembled and ready for testing by the end of 2019, and if successful, for the vessel's construction to commence in 2019 with a targeted completion date of mid-2021.

The long construction period is necessary because of the added complexity carrying hydrogen as a fuel source entails, Mr Pang explains, noting "It is a whole learning process – having to arrange all the safety systems and conduct risk-based design to ensure it is safe, and working with all the stakeholders and regulatory agencies on how to proceed."

Scotland's Ferguson Marine Engineering is to build the Hyseas III ferry – which it says is the world's first seagoing car and passenger ferry fuelled by hydrogen. However, the shipyard's future appears uncertain as its directors recently served notice of an intent to go into administration. To keep the yard open and save the 350 jobs it provides, the Scottish government has proposed taking it into public ownership.

Port Glasgow-based Ferguson Marine successfully led a European consortium in a bid for EU funding support to pave the way for building and launching the ferry. The supported development is expected to cost around €12.6M (US$14.6M) of which €9.3M (US$10.4M) has been awarded by the European Union's Horizon 2020 research and innovation fund.

The consortium HySeas III also includes University of St Andrews, Orkney Islands Council, Kongsberg Maritime (Norway), Ballard Power Systems Europe (Denmark), McPhy (France) and DLR - German Aerospace Center.

A major milestone was reached in April this year when Ballard Power Systems Europe shipped a containerised fuel cell to Kongsberg Maritime's test lab in Norway.

Mr Pang highlights how Kongsberg Maritime's expertise with electric drive systems and simulation has aided the project, with simulations and scale models used to fine-tune the design ahead of construction. "In the past, without this, you would have to go straight to trial and error, building a prototype, seeing if it works and improving it."

The scale model can be connected to generators that simulate marine electric drives, to monitor changes in dynamics and how the fuel cell and associated equipment behave when different loads are added, similar to what it might experience in a maritime environment, Mr Pang explains.

"It is quite remarkable that we can do that sort of testing now and iron out a lot of issues at scale under a controlled environment," he adds.

There are two sides to the project, explains Mr Pang. Firstly, from the maritime side, Caledonian Marine Maritime Assets Ltd, a major Scottish ferry owner, is looking into hydrogen for zero-emissions operation as a natural extension of prior work with electric-hybrid vessels. And on the other side, Orkney has a surplus of renewable energy and has turned to hydrogen production as a means of utilising this.

Mr Pang explains that Orkney benefits from a large number of renewable energy sources – wind turbines, tidal and wave-based projects from the European Marine Energy Centre's test sites there – but a relatively small population, leading to energy supply exceeding demand. The limited connection to the UK's national grid means this excess renewable energy goes to waste. One attempt to address this inefficiency has been to use it to produce hydrogen, by treating water with electrolysers powered by the excess renewable energy, which can then be stored until needed as fuel for cars and vans, heat and power, and, in the case of HySeas III, ferries.

"Orkney has lots of renewable energy capacity and has decided that they are going to use hydrogen as an energy storage medium – the fuel cell is a device that turns hydrogen back into electricity," he says, adding "HySeas is just one part of a much bigger story."

While other projects tend to focus on the vessel itself, Mr Pang sees the whole chain of which HySeas III is the end point as another area that sets it apart. And a key part of this is that the hydrogen is generated from renewable energy. "That is green hydrogen – it is renewable, sustainable, zero-emissions hydrogen," he adds.

"What we hope to get at the end of the HySeas III project is a model you can replicate from start to end – not just the ferry but everything else associated with it," says Mr Pang, explaining that he will be sharing this story at the conference in September, representing all parties involved in HySeas III.

Looking to the future, the HySeas III team will assess how sustainable and renewable fuel cells are compared to other options, Mr Pang says, adding "We know batteries are not really sustainable because mining rare earth materials has an enormous environmental impact, so we are trying to work out where fuel cells stand in that regard."

"The other aspect is looking at business models and how to drive adoption of fuel cell ferries going forward," he adds.

"We have some understanding of what the market looks like, and we can then question how to further refine it, as [hydrogen fuel cells are currently] more expensive than a fossil fuel installation.

Edwin Pang is a naval architect with around 20 years' experience in consulting, specialising in general ship design, stability, fire safety and environmental issues, but also carrying out surveys on board and working in shipyards.

He has been involved with IMO since 2001 as part of the UK delegation and latterly the Danish delegation, and currently chairs the IMO Committee of the Royal Institution of Naval Architects.

Mr Pang has also been involved in EU research projects on alternative designs for fire safety and damage stability. He has worked on regulatory matters with Interferry, Intertanko and ICS covering topics such as the Energy Efficiency Design Index, minimum powering of ships and damage stability.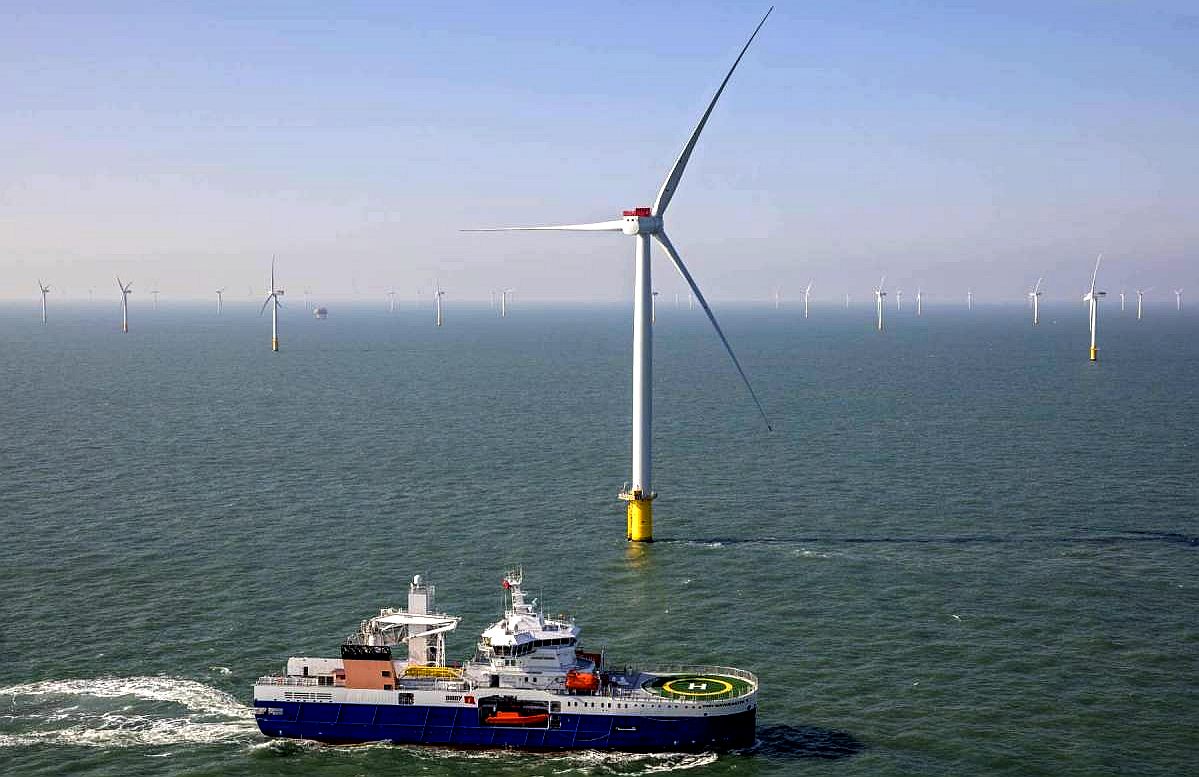 OFFSHORE - Electricity from renewables like wind turbines needs to be used sustainably if we are to create a truly circular economy.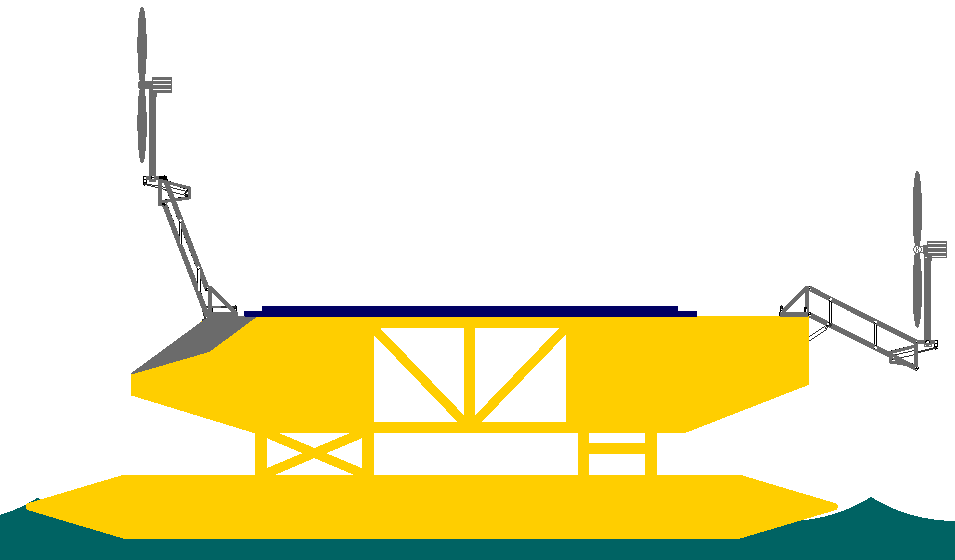 -
SOLAR & WIND POWERED FERRY - The Cross Channel Challenger (CCC) was a project on the drawing board in 2019 looking for backing to develop a coastal cruiser that is zero carbon just like the hydrogen projects, but where the vessel converts energy from nature onboard for propulsion without risk of hydrogen leaks or fires.
This is a toe-in-the-water project using budget off the shelf equipment to keep the costs down. Hence, the theoretical performance is lower than might be achieved but higher than the current benchmark. It is a useful stepping stone to medium range ferries and eventually bigger ships with longer ranges. Solar combined with wind power could be the winning combination. Comparing the two technologies will be interesting. For sure, the solar powered ferries will be safer and cheaper.
Solar and wind powered vessels do not need big hydrogen tanks next to docks for ships to fill up from. They do not need trucks to deliver the hydrogen from the conversion plants and last but not least, hydrogen is potentially dangerous, as the Zeppelin 'Hindenburg' demonstrated in 1937 when a spark ignited the fated airship, destroying it in minutes.
Since 2019, a study in July 2021 has shown that the hull design in basic, could be adapted to cross the Atlantic on hydrogen power alone, with solar assistance, as a top up power source. Food for thought for Waterborne and Zero Emission Waterborne Transport (ZEWT) advocates in Europe. The aim would be to adapt the concept to practical ZESTA ferries, especially for island nations who depend on shipping for their economies. The proposed design is also safer, leak wise.
CONVERSION, CONVERSION, CONVERSION - It is the number of additional stages of splitting water using electricity, storing as a gas and then recombining it to extract the electricity that was put in at the beginning at a huge net energy loss. Elon Musk has a point don't you think?
Hydrogen is recognised as a fuel with the potential to deliver 100% zero-carbon operation in marine transport, but the systems proposed so far are expensive and complicated, where the first rule of engineering is to Keep It Simple Stupid: KISS.
The allure of the hydrogen economy is plain, splitting ordinary water using electrolysis to obtain oxygen and hydrogen gas is like a schoolboy chemist dream come true, especially if we can generate what appears to be free electricity using solar cells and wind turbines to split the water. Then the hydrogen is free right?
No, not really.
There is a cost, including the cost of manufacturing the solar panels or wind turbines and the transmission line installation and maintenance. The inefficiencies in the conversion and handling chain make hydrogen expensive to produce and so potentially un-competitive - as compared to using the electricity needed to convert water, directly.
In addition, hydrogen is extremely flammable unless stored very carefully. Space rockets powered by hydrogen and oxygen sometimes explode, with the Hindenburg zeppelin explosion being signs of things to come in a world fraught with human error. We might be courting disaster. If something can happen, it will happen. Passengers would be traveling in potential time bombs. Great research though.
CONTACTS
....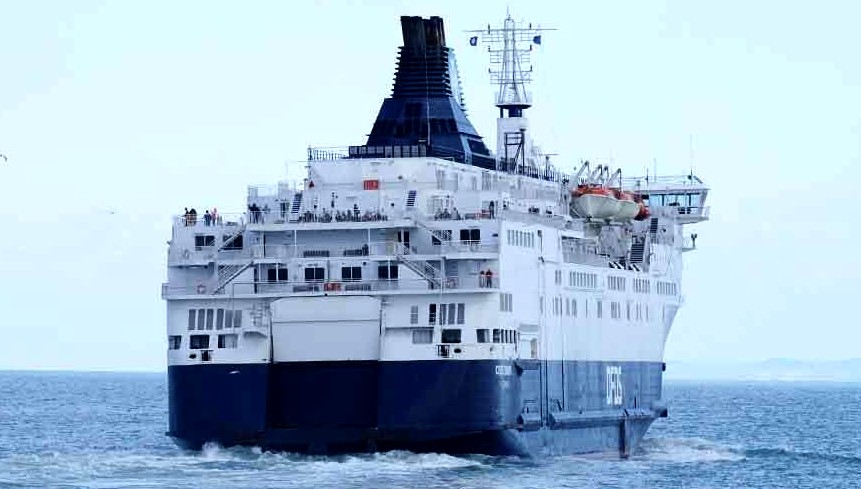 A-Z INDEX OF H2 POWERED FUEL CELL SHIPS

BOREAL SJO
FERRY OPERATORS & ISLAND SERVICES
DFDS -
LINKS & REFERENCE
https://www.rivieramm.com/news-content-hub/news-content-hub/green-hydrogen-for-orkneyrsquos-fuel-cell-ferry-55817
https://energy.sandia.gov/transportation-energy/hydrogen/market-transformation/maritime-fuel-cells/sf-breeze/
https://grist.org/article/a-ferry-that-runs-on-hydrogen-fuel-cells-is-coming-to-san-francisco/
https://www.shell.com/energy-and-innovation/natural-gas/lng-for-transport.html
http://www.cheetahmarine.co.uk/en/deliveries/worlds-first-hydrogen-powered-boat-smashes-targets
https://www.scottish-enterprise-mediacentre.com/news/ferguson-marine-to-develop-world-first-renewables-powered-hydrogen-ferry
https://www.electrive.com/2018/06/20/hyseas-iii-scotland-to-build-first-sea-going-hydrogen-ferry/
https://www.cruiseandferry.net/articles/scotland-explores-feasibility-of-hydrogen-powered-ferries
http://www.pointandsandwick.co.uk/news/publication-of-hydrogen-ferry-report/
ADRIATIC SEA - ARCTIC OCEAN - ATLANTIC OCEAN - BALTIC SEA - BAY OF BENGAL - BERING SEA - CARIBBEAN SEA
CORAL SEA - EAST CHINA SEA - ENGLISH CHANNEL - GULF OF GUINEA - GULF OF MEXICO - INDIAN OCEAN - IRISH SEA
MEDITERRANEAN SEA - NORTH SEA - PACIFIC OCEAN - PERSIAN GULF - SEA OF JAPAN - SOUTH CHINA SEA - SOUTHERN OCEAN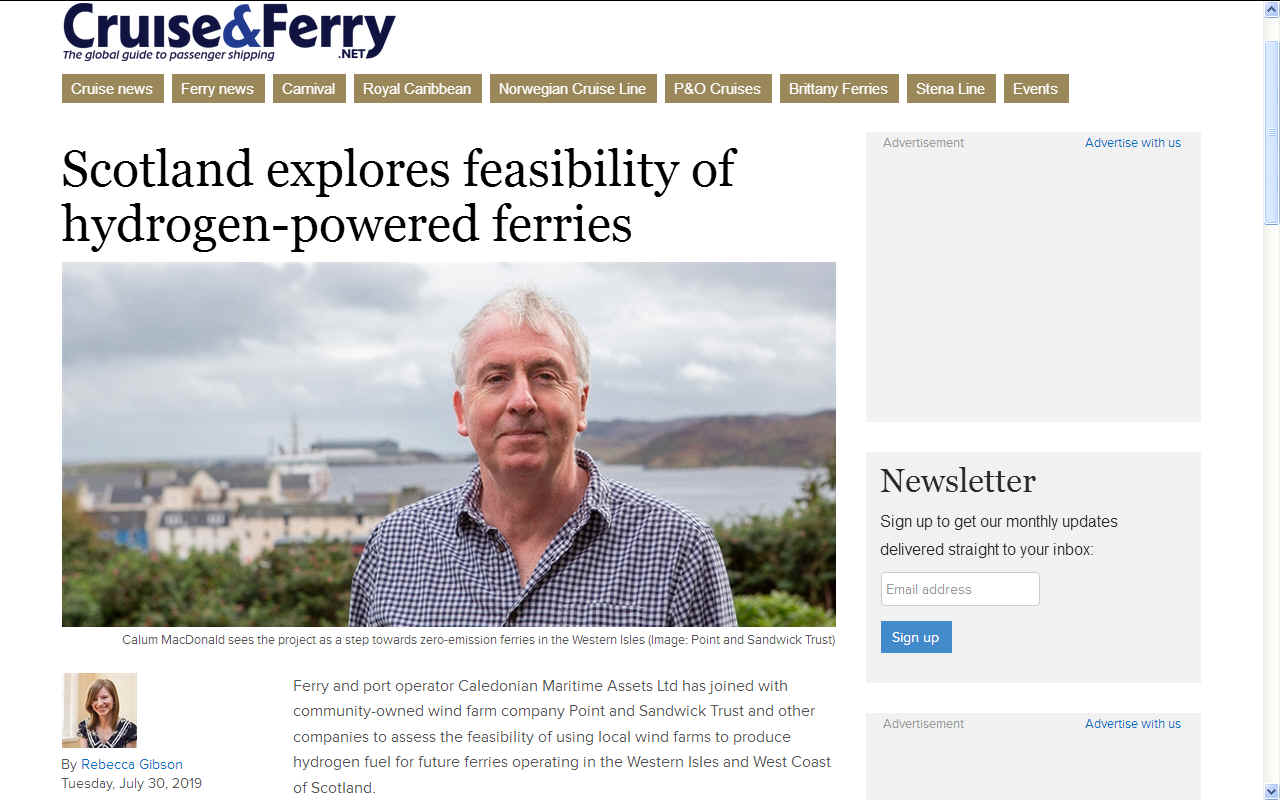 STUDY PUBLISHED - Point and Sandwick Trust, in collaboration with a number of industry partners (Wood, Siemens-Gamesa, Engie, ITM, CMAL, Johnston Carmichael and Ferguson Marine), have published a feasibility study to assess the suitability of using hydrogen produced from local wind farms to power future ferry services operating in the Western Isles and West Coast of Scotland.

The study was part-funded by the Scottish Government's Low Carbon Infrastructure Transition Programme. Read the full report here.

The project looked at the practical and economic feasibility of using new island wind farms to produce zero-carbon "green" hydrogen fuel for future types of clean emission ferries operating on the established Caledonian MacBrayne routes.
This website is provided on a free basis as a public information service. Copyright © Cleaner Oceans Foundation Ltd (COFL) (Company No: 4674774) 2019. Solar Studios, BN271RF, United Kingdom. COFL is a charity without share capital.