SANDIA - ZERO CARBON RESEARCH
ABOUT - CLIMATE CHANGE - CONTACTS - FERRY OPERATORS - HOME - OCEAN PLASTIC
PLEASE USE OUR A-Z INDEX TO NAVIGATE THIS SITE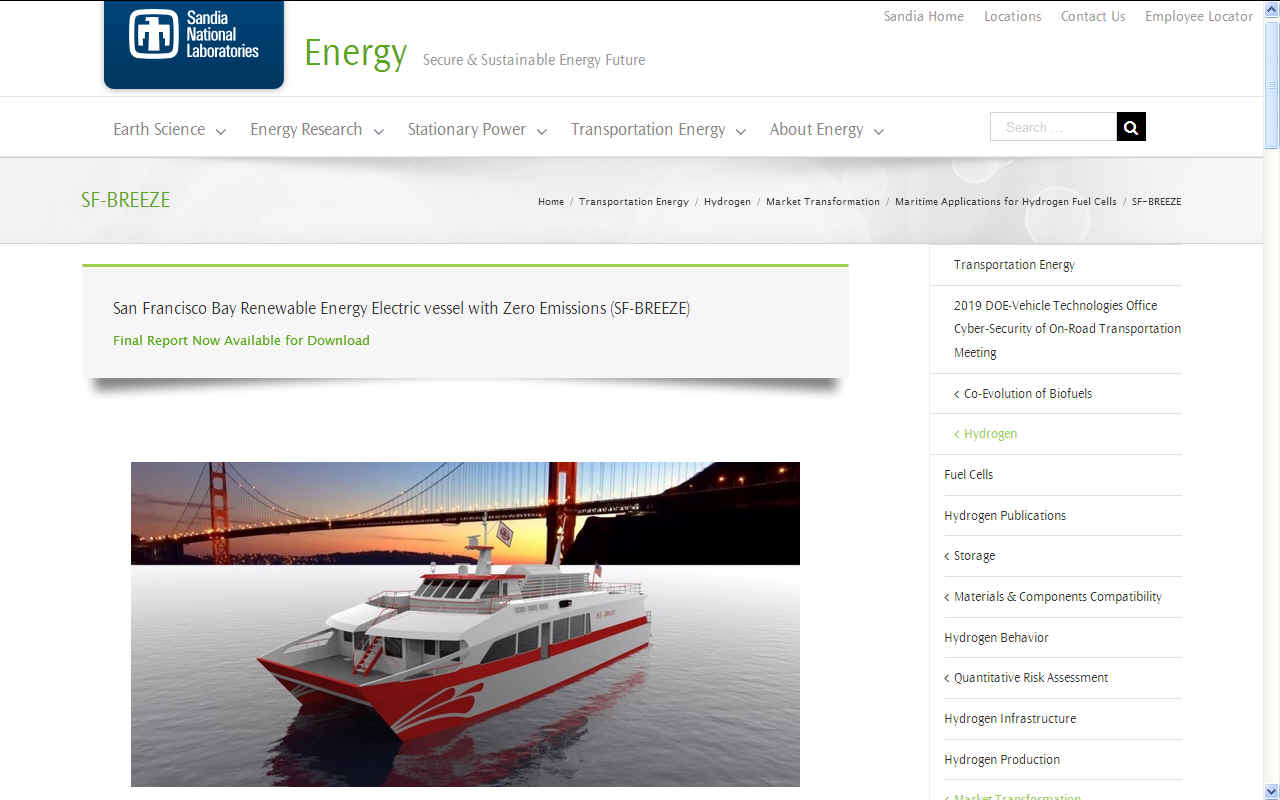 The ZERO V is a trimaran looking much like a heavyweight version of the Cable & Wireless Adventurer designed by Nigel Irens.
CLEANTECHNICA JULY 2018

The latest news from Sandia is that the lab is taking a close look at the feasibility of using hydrogen fuel cells to power research vessels.

The proposed vessel is named Zero-V, and the lab is looking at storing liquid hydrogen on board, not developing a whole new contraption to produce hydrogen on board.

But the storage angle is a mighty hill to climb when it comes to planning for voyages longer than a short ferry hop.

The nature of seagoing research also requires a lot more finesse than shuttling people around. Sandia is quoted as saying:

"Instead of going fast for short periods and carrying a lot of people, the research vessel goes slower for much longer distances, carries fewer people and must allow the operation of sensitive scientific instrumentation…"

"Mapping or installing equipment on the ocean floor requires a vessel to be stable over a single point for long periods, even if there is wind or waves."

Aside from technological issues, complying with marine and port safety regulations is a major challenge.

On the other hand, there are significant benefits about using hydrogen fuel for seagoing research, especially compared to diesel, aside from zero emissions at the tailpipe.

One of the biggest additional benefits of using hydrogen to power a boat is the absence of ecologically damaging fuel spills. It is impossible to have a polluting hydrogen spill on the water. Hydrogen is more buoyant than helium, hydrogen rises on its own and eventually escapes into outer space.

The only danger is explosions, where hydrogen is one of the most reactive gases know to man, as we know from the zeppelin Hindenburg that exploded in 1937 killing everyone in that area.

The only emission from fuel cells is water, which as Sandia points out is practically drinkable. The water could be recycled for use on board, by the crew and/or for lab work, saving the expense and energy involved in desalinating seawater for general use.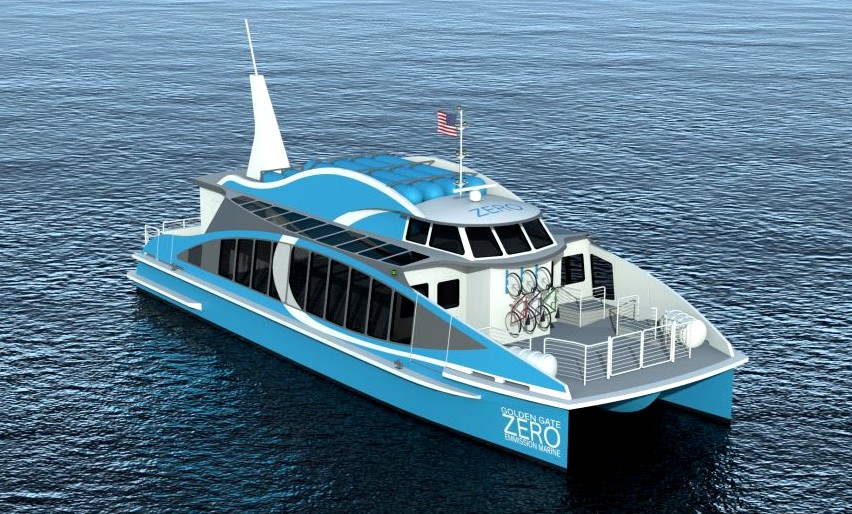 So far, the lab is looking at the application for coastal research, where regular refueling is available, and it has just released the results of its new feasibility study.

The project is a partnership with the Scripps Institution of Oceanography, the naval design specialists Glosten, and the risk management firm DNV GL. Here's a recap from Sandia:

"…Feasibility was found for a 10-knot vessel with 2400 nautical mile range, able to perform 14 Scripps science missions, and could be refueled with liquid hydrogen at 4 different ports of call along the U.S. west coast."

To make room for on board hydrogen storage as well as the crew and research equipment, Glosten came up with a triple hull design (a trimaran):

"…finding a way to store the heavy hydrogen tanks while accommodating at least 18 scientists, 11 crew members and three laboratories was a challenge…"

Part of the solution was selecting a trimaran boat design tjat offers a great deal of space above deck for the tanks, and adequate below-deck space for other science instrumentation and machinery.

As far as feasibility goes, Sandia also checked with the US Coast Guard to confirm there are no "show-stopping" issues.

Meanwhile, Sandia is already thinking that the technological underpinnings of its Zero-V vessel could be transferred to even larger boats, including cargo ships and cruise ships.

The new study was funded by the US Department of Transportation's Maritime Administration, so it's a reasonable bet they're taking a good look at broader applications.

In the big picture of US energy development, fuel cell vessels could be yet another growing market for hydrogen sourced from natural gas.

Or, maybe not. Maybe renewable hydrogen technology will go mainstream in tandem with the development of fuel cell ships.

Sandia's expertise in seagoing fuel cells is also the foundation for the company Golden Gate Zero Emission Marine, which is organizing that new ferry boat for San Francisco.

The new ferry uses renewable hydrogen sourced from water-splitting.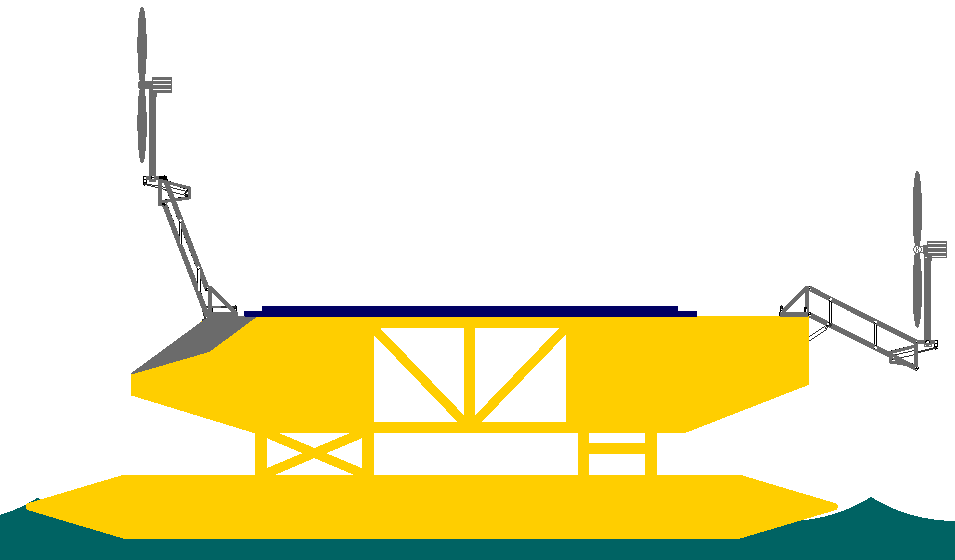 -
SOLAR & WIND POWERED FERRY - The Cross Channel Challenger (CCC) was a project on the drawing board in 2019 looking for backing to develop a coastal cruiser that is zero carbon just like the hydrogen projects, but where the vessel converts energy from nature onboard for propulsion without risk of hydrogen leaks or fires.
This is a toe-in-the-water project using budget off the shelf equipment to keep the costs down. Hence, the theoretical performance is lower than might be achieved but higher than the current benchmark. It is a useful stepping stone to medium range ferries and eventually bigger ships with longer ranges. Solar combined with wind power could be the winning combination. Comparing the two technologies will be interesting. For sure, the solar powered ferries will be safer and cheaper.
Solar and wind powered vessels do not need big hydrogen tanks next to docks for ships to fill up from. They do not need trucks to deliver the hydrogen from the conversion plants and last but not least, hydrogen is potentially dangerous, as the Zeppelin 'Hindenburg' demonstrated in 1937 when a spark ignited the fated airship, destroying it in minutes.
Since 2019, a study in July 2021 has shown that the hull design in basic, could be adapted to cross the Atlantic on hydrogen power alone, with solar assistance, as a top up power source. Food for thought for Waterborne and Zero Emission Waterborne Transport (ZEWT) advocates in Europe. The aim would be to adapt the concept to practical ZESTA ferries, especially for island nations who depend on shipping for their economies. The proposed design is also safer, leak wise.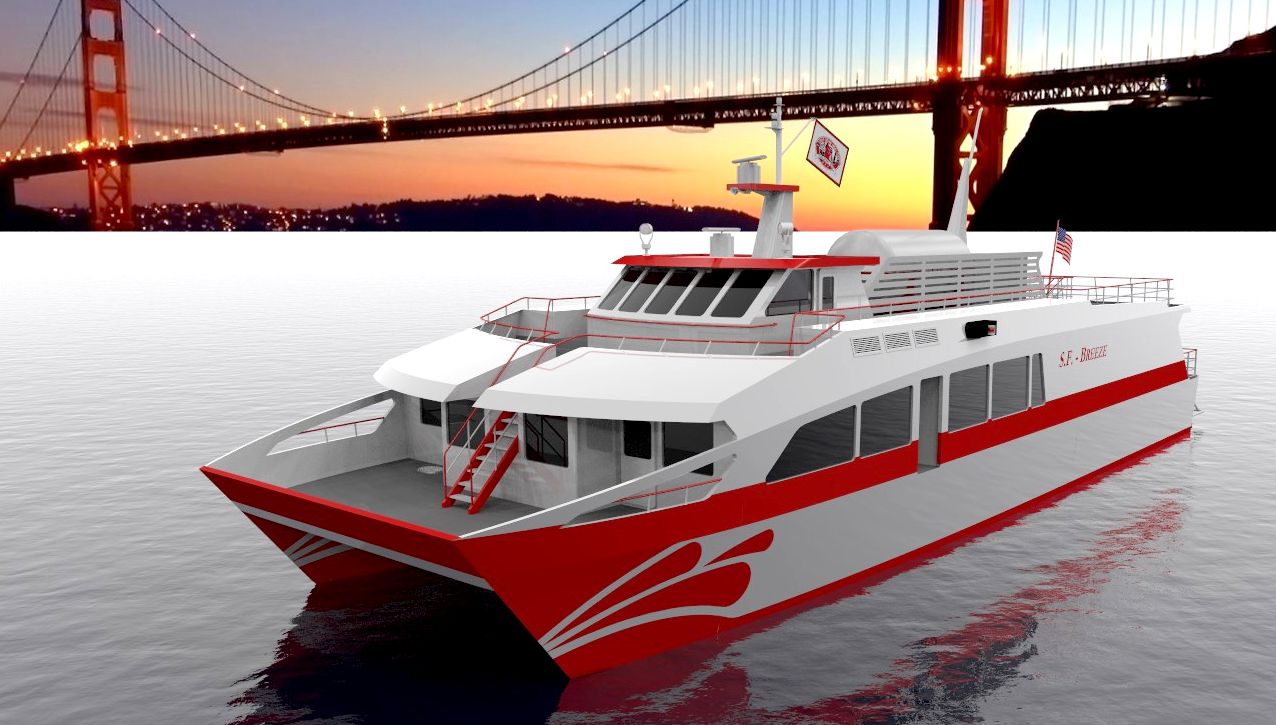 The SF BREEZE will consume an estimated 1,000 kilograms (2,204 pounds) of hydrogen per day, and will be supported by a station that can dispense 1,500 kilograms (3,306 pounds) per day. That will make this station about twice the size of the current largest hydrogen fueling station in the world, officials say. It will also be the first of its kind to support both land and marine use.

Program backers hope the economy of scale from dispensing such large amounts of hydrogen will lower overall prices on the local market, too. Once an initial feasibility study is completed, design and construction of the ferry boat and fueling station will start.
CONVERSION, CONVERSION, CONVERSION - It is the number of additional stages of splitting water using electricity, storing as a gas and then recombining it to extract the electricity that was put in at the beginning at a huge net energy loss. Elon Musk has a point don't you think?
Hydrogen is recognised as a fuel with the potential to deliver 100% zero-carbon operation in marine transport, but the systems proposed so far are expensive and complicated, where the first rule of engineering is to Keep It Simple Stupid: KISS.
The allure of the hydrogen economy is plain, splitting ordinary water using electrolysis to obtain oxygen and hydrogen gas is like a schoolboy chemist dream come true, especially if we can generate what appears to be free electricity using solar cells and wind turbines to split the water. Then the hydrogen is free right?
No, not really.
There is a cost, including the cost of manufacturing the solar panels or wind turbines and the transmission line installation and maintenance. The inefficiencies in the conversion and handling chain make hydrogen expensive to produce and so potentially un-competitive - as compared to using the electricity needed to convert water, directly.
In addition, hydrogen is extremely flammable unless stored very carefully. Space rockets powered by hydrogen and oxygen sometimes explode, with the Hindenburg zeppelin explosion being signs of things to come in a world fraught with human error. We might be courting disaster. If something can happen, it will happen. Passengers would be traveling in potential time bombs. Great research though.
CONTACTS
....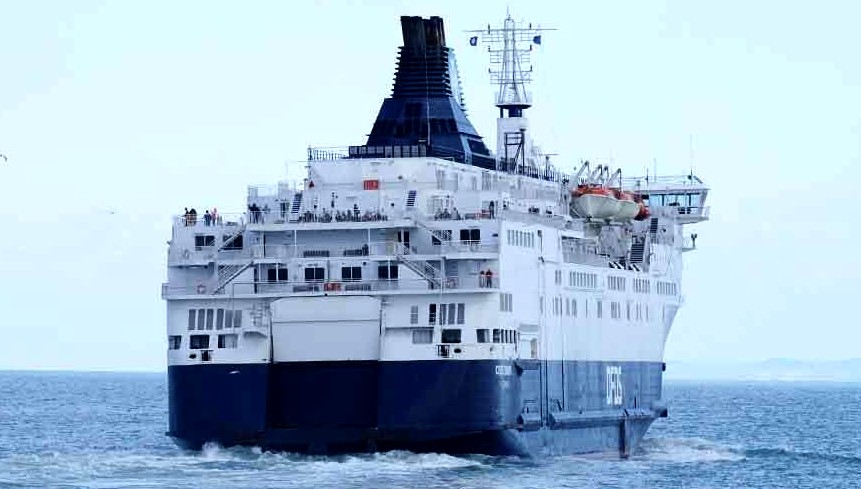 A-Z INDEX OF H2 POWERED FUEL CELL SHIPS

BOREAL SJO
FERRY OPERATORS & ISLAND SERVICES
DFDS -
LINKS & REFERENCE
https://energy.sandia.gov/transportation-energy/hydrogen/market-transformation/maritime-fuel-cells/sf-breeze/
https://grist.org/article/a-ferry-that-runs-on-hydrogen-fuel-cells-is-coming-to-san-francisco/
https://www.shell.com/energy-and-innovation/natural-gas/lng-for-transport.html
http://www.cheetahmarine.co.uk/en/deliveries/worlds-first-hydrogen-powered-boat-smashes-targets
https://www.scottish-enterprise-mediacentre.com/news/ferguson-marine-to-develop-world-first-renewables-powered-hydrogen-ferry
https://www.electrive.com/2018/06/20/hyseas-iii-scotland-to-build-first-sea-going-hydrogen-ferry/
https://www.cruiseandferry.net/articles/scotland-explores-feasibility-of-hydrogen-powered-ferries
http://www.pointandsandwick.co.uk/news/publication-of-hydrogen-ferry-report/
ADRIATIC SEA - ARCTIC OCEAN - ATLANTIC OCEAN - BALTIC SEA - BAY OF BENGAL - BERING SEA - CARIBBEAN SEA
CORAL SEA - EAST CHINA SEA - ENGLISH CHANNEL - GULF OF GUINEA - GULF OF MEXICO - INDIAN OCEAN - IRISH SEA
MEDITERRANEAN SEA - NORTH SEA - PACIFIC OCEAN - PERSIAN GULF - SEA OF JAPAN - SOUTH CHINA SEA - SOUTHERN OCEAN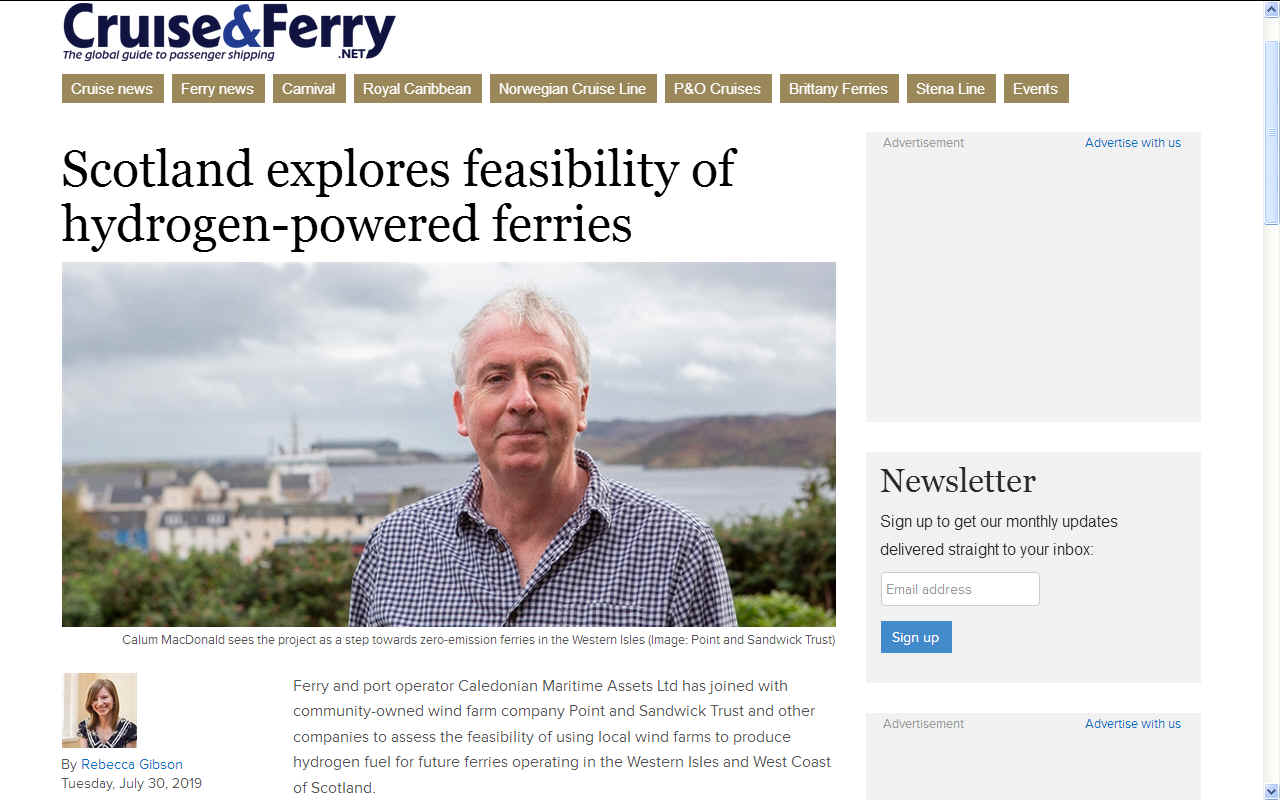 STUDY PUBLISHED - Point and Sandwick Trust, in collaboration with a number of industry partners (Wood, Siemens-Gamesa, Engie, ITM, CMAL, Johnston Carmichael and Ferguson Marine), have published a feasibility study to assess the suitability of using hydrogen produced from local wind farms to power future ferry services operating in the Western Isles and West Coast of Scotland.

The study was part-funded by the Scottish Government's Low Carbon Infrastructure Transition Programme. Read the full report here.

The project looked at the practical and economic feasibility of using new island wind farms to produce zero-carbon "green" hydrogen fuel for future types of clean emission ferries operating on the established Caledonian MacBrayne routes.
This website is provided on a free basis as a public information service. Copyright © Cleaner Oceans Foundation Ltd (COFL) (Company No: 4674774) 2019. Solar Studios, BN271RF, United Kingdom. COFL is a charity without share capital.