This website is ALL ABOUT BLUE GROWTH, and the OCEAN ECONOMY. Our not for profit is dedicated to the concept of a blue economy, aiming at a sustainable future world with food security and clean energy abundance for all regardless of geographical or political boundaries. This is the starting line for a formula for a more peaceful world, where sovereign borders are mutually respected.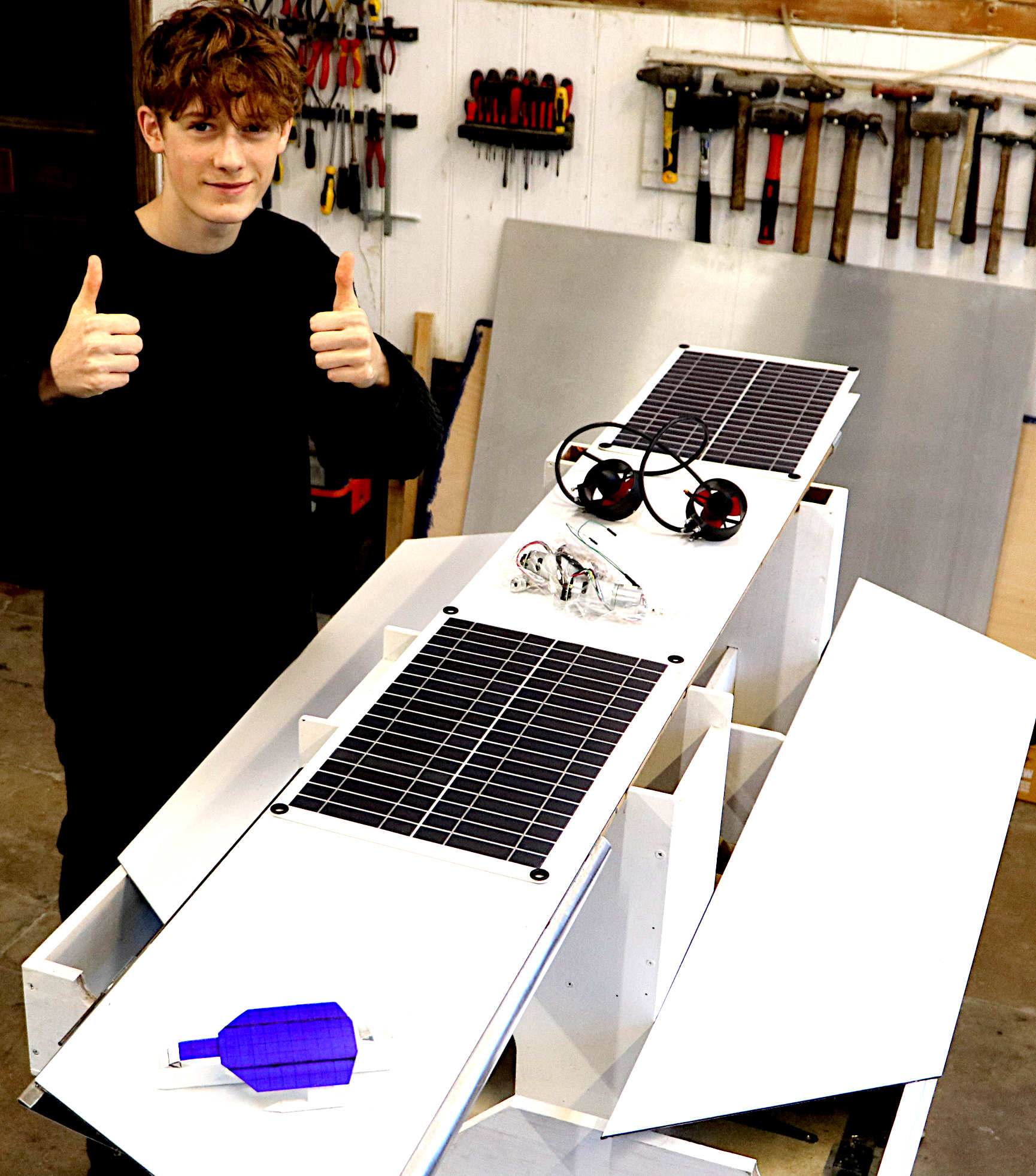 EVENT 18th NOVEMBER 2023 - The Foundation's contribution to zero emission ocean transport: the Elizabeth - a clean - hydrogen powered ship, presently in the workshop as a 2.5 meter proof of concept model. See us at the UNA-C&O Ocean Symposium at Bexhill, near Hastings in Sussex. See PowerPoint preview. This is sustainable innovation taking place right now in the UK. Without backing from any government source, the project relies on voluntary contributions.
We aim to raise awareness about ocean and climate issue with a series of fictional adventure stories, involving a hydrogen powered ship - that is real. We are also promoting the Jules Verne Hydrogen Trophy, or JVH2, as applicable.
IN PROGRESS DESIGN STUDY - November 2023, the Cleaner Ocean Foundation is looking at a number of Trophy ideas for the Jules Verne 'World' Hydrogen challenges (JVH2), with inspiration coming from the Statue of Liberty and Eiffel Tower.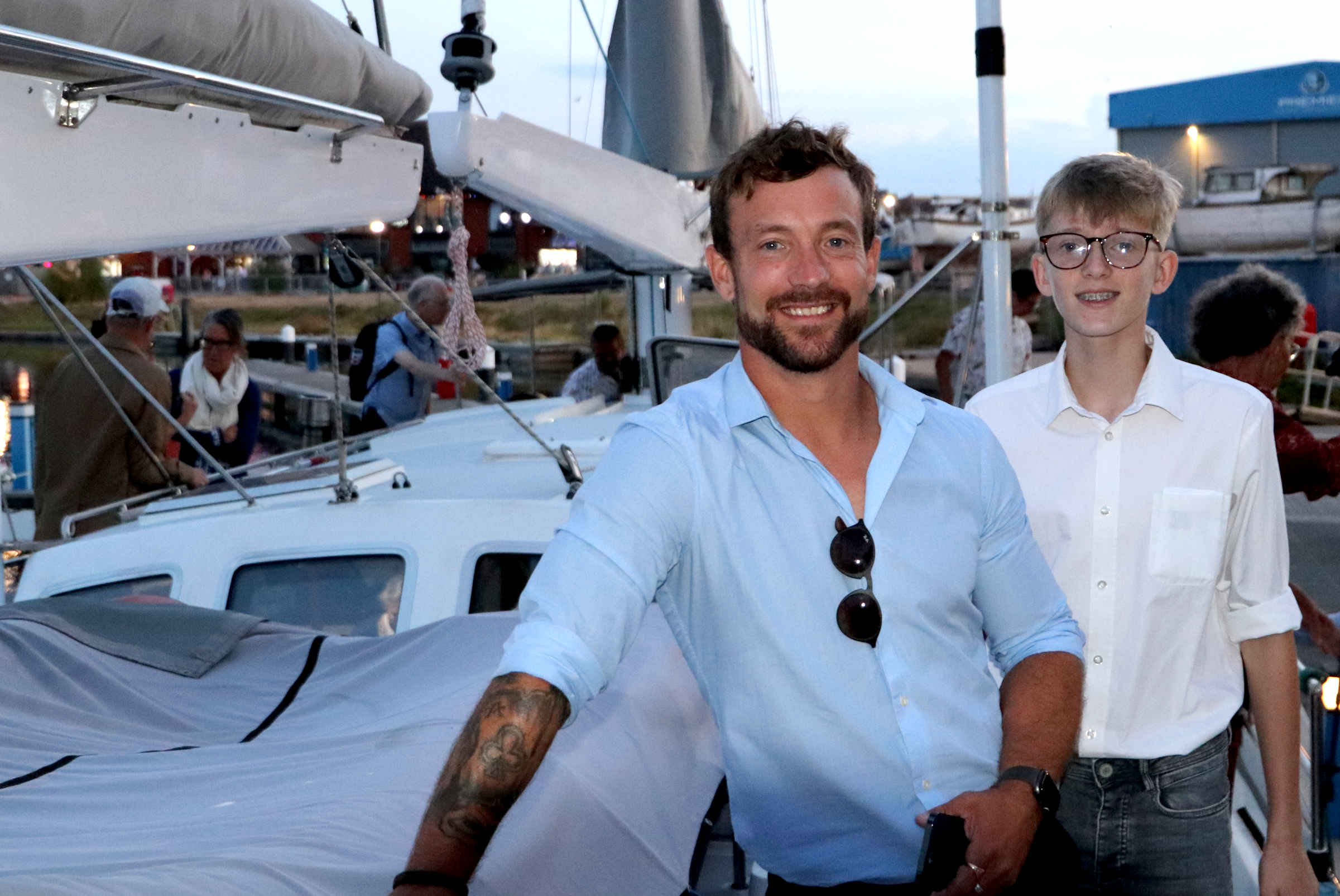 SOVEREIGN HARBOUR - Terry and Ryan onboard the Novara at the Sovereign Harbour Yacht Club in September 2022. The Elizabeth Swann crew members, enjoyed an evening with UN&CO members, learning about the climate awareness expeditions planned by Dr. Nigel Jollands and Veronica Lysaght in the research sailing vessel. Click on the picture to learn more of this exciting environmental project.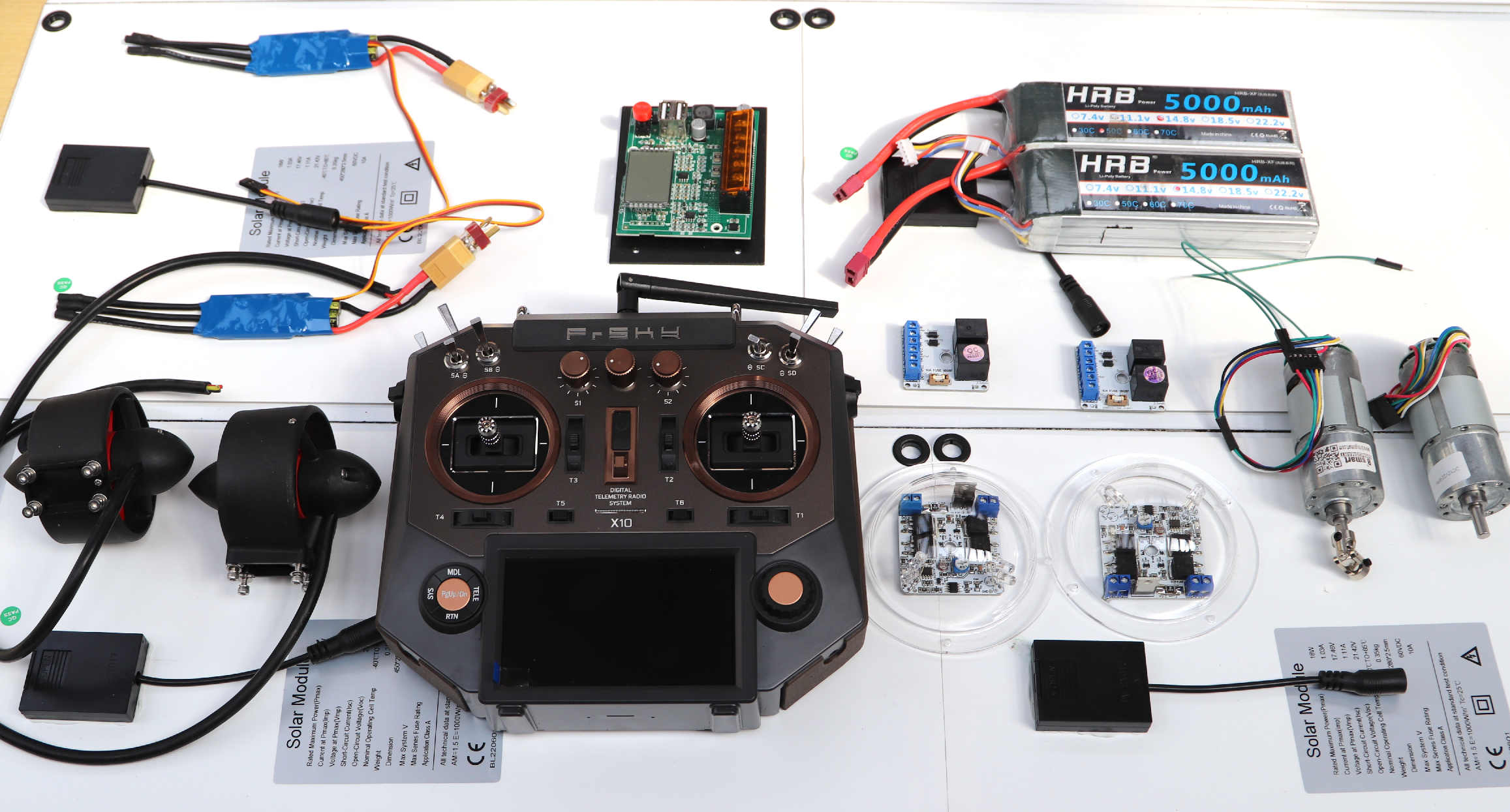 TECHNOLOGY DEMONSTRATOR APRIL 2023 - These are the components that make up the solar tracking and charge regulation of a 1:20 model of the high performance Elizabeth Swann; a hybrid trimaran yacht. This is a radio controlled technology demonstrator, roughly 2.4 meters in length (48m full size), made using off the shelf parts. Available for exhibitions from November 2023. The onboard solar panels generate 144 watts, to give autonomous continuous cruising capability 24/7, with hydrogen fuel cells providing added sparkle to performance, to this zero carbon concept. (Hydrogen components not shown)
Two major ocean issues today are sargassum proliferation, particularly in the Caribbean Sea and equatorial Atlantic, so demonstrating the ability of the potentially invasive species to migrate to other oceans - and plastics, as the combined crises affects the whole world's food supply & ocean ecology.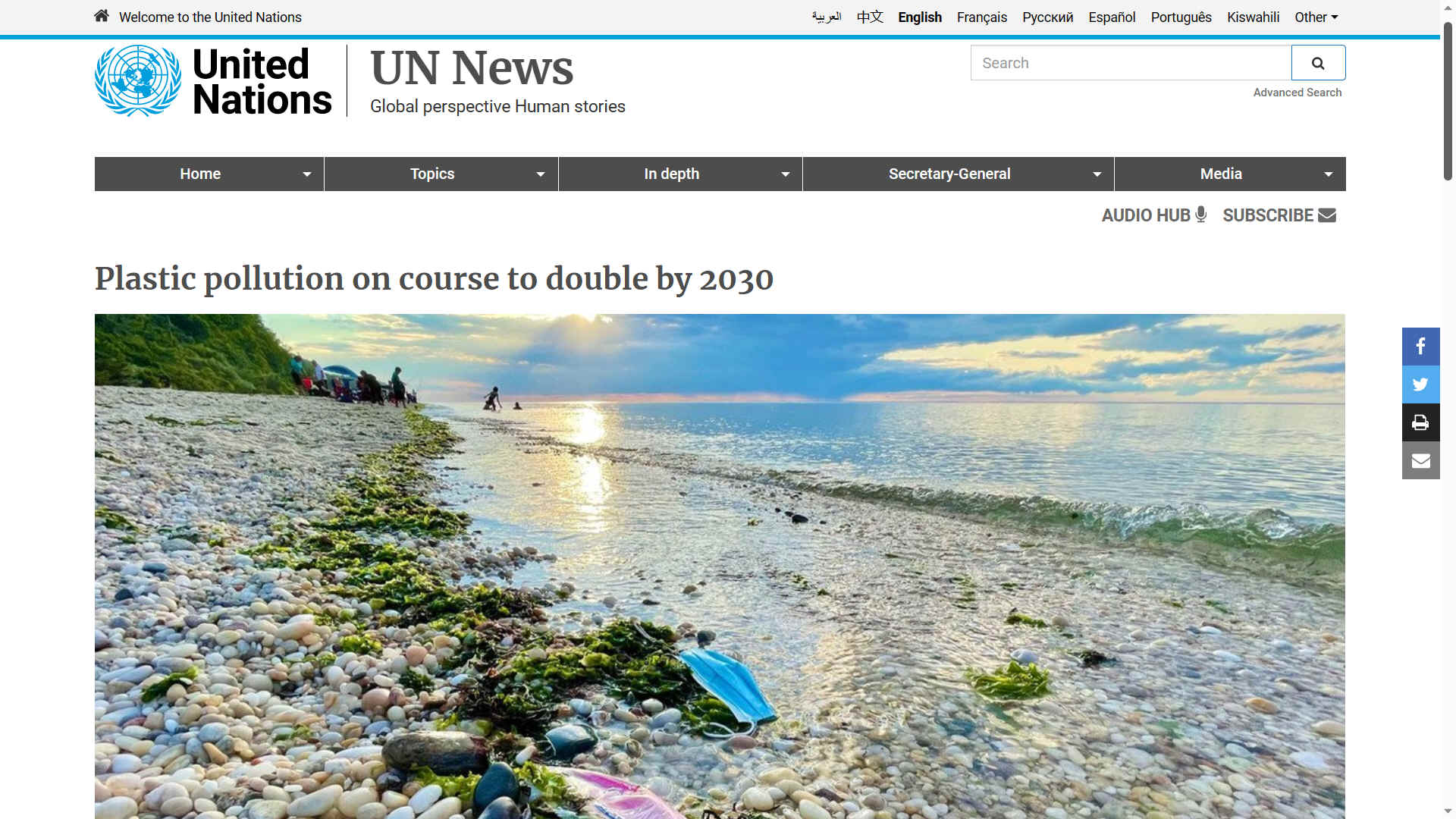 UNEP REPORT OCTOBER 2021 - Plastic pollution in our oceans is set to double by 2030, with recycling not enough (we told you so) and global cooperation needed (we told you so again). Don't let the politician spin doctors protract enacting a solution any longer. If shoppers were to boycott plastic wrapped products, apart from the fact they may starve, supermarket suppliers would be forced to switch to paper, glass and metal packaging - or face bankruptcy. The fact politicians allow them to continue as they are tells us that it is the policy makers who are to blame. And, they like it as it is, lots of money for them, backhanders (dividends) or not, taxes as income from plastic products is akin to procurement fraud - for any government involved.
As to ocean pollution, see our 7Seven Point Plastic Plan:
1. Supermarket packaging transformation (back) to paper predominantly
2. Glass bottles, metal cans, waxed cartons over plastic, unless genuinely biodegradable
3. Monitoring rivers and strict enforcement against micro-fiber spillages from treatment plants
4. Trackers for fishing nets and strict enforcement for dumping, unless accidents reported
5. Recycling of plastic to 95% with controlled incineration of non-reusable elements
6. Filtration on domestic machines to remove microfibres from clothing
7. Introduction of plastic credit (incentives) trading scheme to drive the clean up
Food is becoming more scarce as plastic and glass fibers makes seafood carcinogenic, and the climate continues to heat up as the powerful "Fiddle while Rome Burns."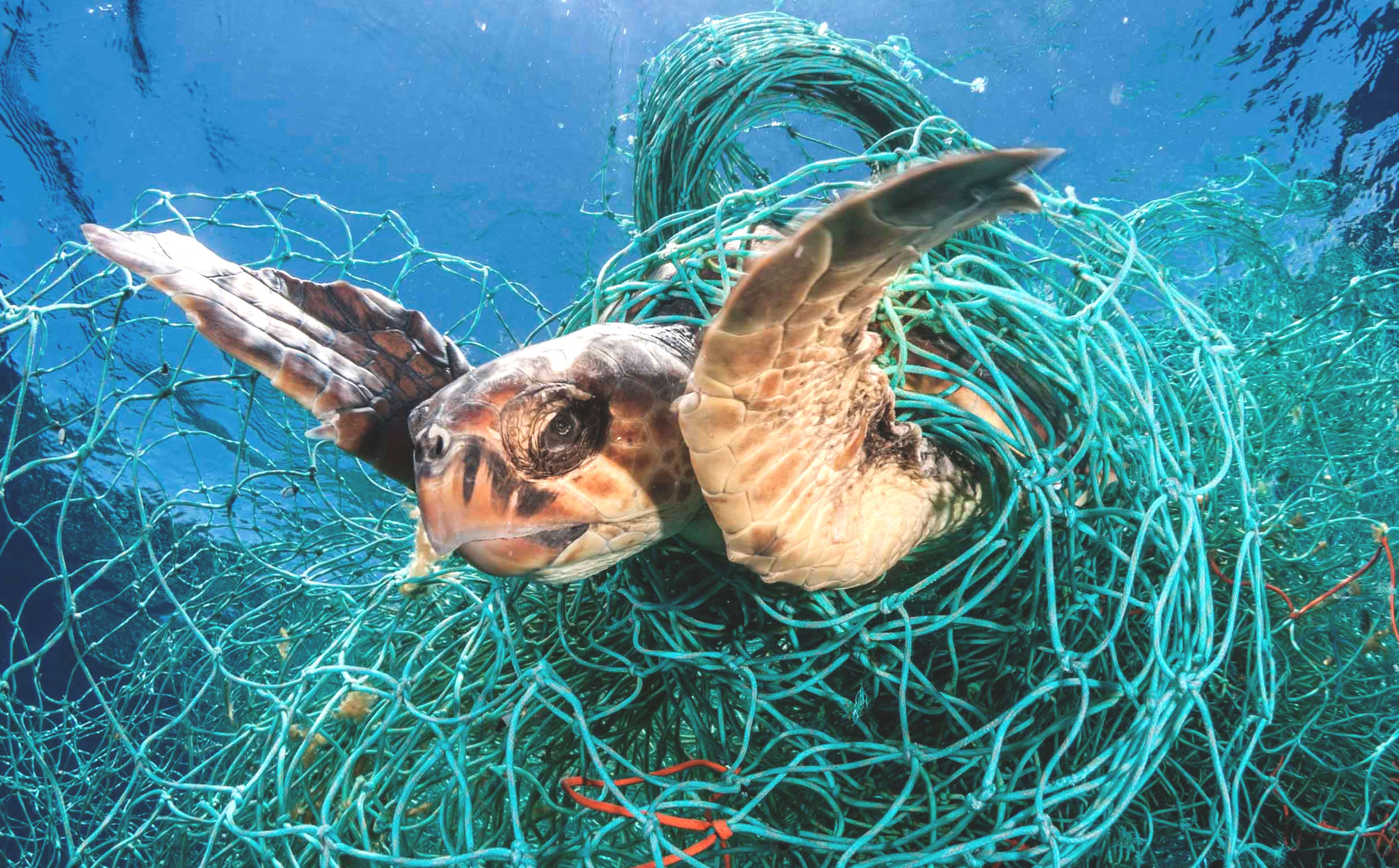 Space exploration has shown us that we cannot feasibly escape to Planet B. We are on a crash course - inevitably leading to more deserts, sea level and temperature increases - and human suffering on an unprecedented scale.
A study published in August 2020, confirms our belief that we must target the source of plastic pollution, such as rivers, product packaging and recycling - in addition to raising awareness of efforts to clean up plastic in the ocean - and especially discarded fishing nets that are strangling defenseless whales, like the fictional Kulo Luna. The G20 cannot pay to filter our oceans from economies that are battered by bruising corruption - and crippling complacency. Nor will they react, until we make them uncomfortable as to the facts, such that they cannot get elected without paying more then lip service to our plight.
In 2023 Orcas are attacking and sinking boats in the Strait of Gibraltar, presumably protesting against ocean pollution. It is like our Kulo Luna ocean awareness story, only for real.